A Guide to Blue Voyage and Sailing in Turkey Turquoise Magic: Fethiye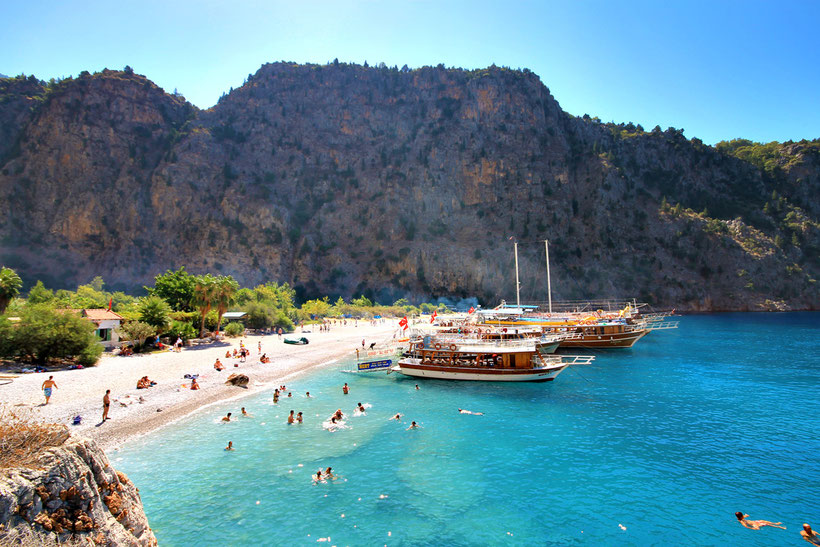 There's nothing quite like a sea breeze on holiday. For most of us, the majority of your time is spent working, or caring for your family, or trying to find ways to make ends meet. Finally, after months of planning it is time to set sail for your Blue Voyage through Turkish Turquoise Coast.
Planning a big sailing holiday can be a tad overwhelming, especially if you've never been sailing before. But don't worry. There are not only tons of beautiful photos that will get you excited about your trip to Turkey, as well as this helpful guide! Here are some tips and tricks to make your Blue Voyage along the Turquoise Coast of Turkey absolute perfection.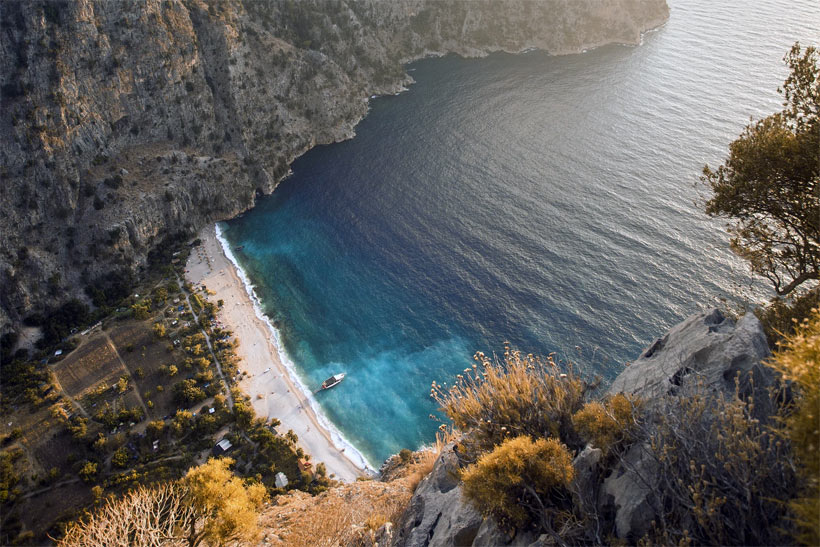 Pre-Sailing Planning
Finding your way to Turkey is simple enough. However, it's the renting of the yacht, finding hotels, navigating local areas, and so much more that make it stressful! Before you even set off for this enchanting country, you need to find a company or travel agency that will work with you to plan your holiday itinerary.
First things first, you need to figure out where exactly you'd like to go! There are so many brilliant locations along the Turquoise Coast that will give you an exotic holiday experience. Find cities like Fethiye, Bodrum, Marmaris, and so many others that will have what you need in a travel experience. This can be anything from amazing restaurants, to fantastic nightlife, as well as historical and ancient sites.
Next, you'll need to plan how the travel details of your trip. Sure, you can find tickets, and deals on your own, but if you've never traveled to Turkey before, and you don't speak the language, it's best to book a travel agency.
It's actually pretty easy to find a business that center around fully inclusive yacht holidays. They will not only plan your itinerary, but they will typically include plane tickets to your choice of airport, and make suggestions for accommodations on land. However, it's important to find the BEST companies through reviews, word of mouth, as well as the company history.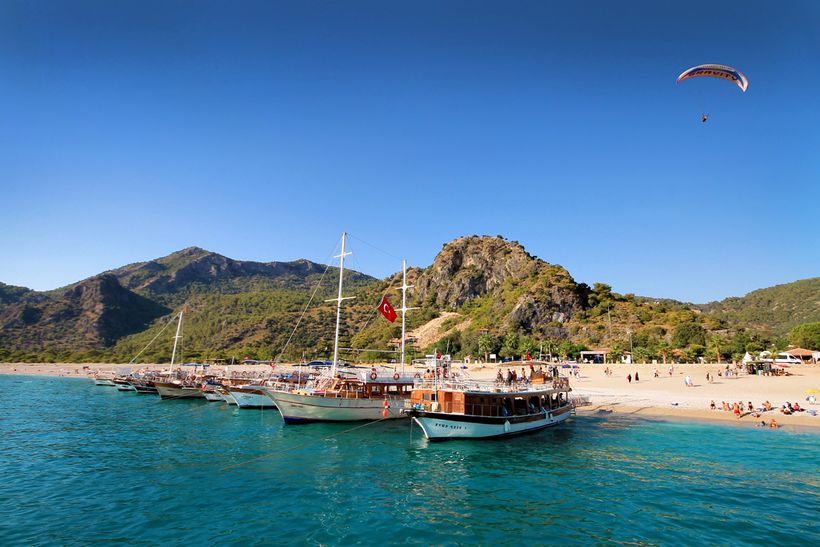 Starting Off Before Sailing Along the Blue Voyage
The Blue Voyage is the nickname given to a sailing holiday along the Turquoise Coast. Also known as the Turkish Riviera, the stunningly bright blue waters stretch from the provinces of Antalya and Muğla, and into southern Īzmir and Mersin. The warmth of the Mediterranean breezes, mixed with gorgeous temperatures make this a truly remarkable place to visit in the world.
Not only can you make your way from Istanbul, after possibly spending a few days visiting some must see spots, but you can also fly into the capital at Ankara. You can also choose to fly into smaller airports at Marmaris. Once you've arrived at the port of choice for your sailing holiday, it's time to really dive into the relaxation of your vacation!
One of the most stunning stops on the Blue Voyage is the city of Fethiye. Here you can take in the amazing natural sites of the bay, while enjoying the soft breezes from the ocean that are halted at the foot of the mountains. Here you will find a wondrous combination of both modern and ancient blending into one!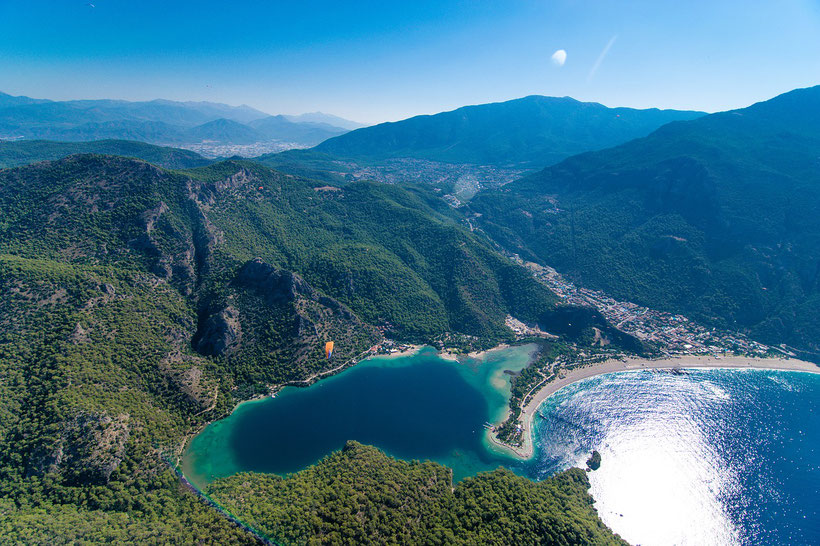 Fethiye Exploration!
Located on the site of the ancient city of Telmessos, this city has modern resorts and ancient ruins living in harmony. Here you can spend the morning basking in the sun on a sandy beach, then set off to explore the Hellenistic theater and the ruins at Telmessos. No matter how you spend your time on land, you will have so much to do here in this gorgeous place.
If you'd like to make port here at Fethiye for a few days, then you're in luck! Here are just a few things that you can do while you visit:
Visit the Rock-Cut Tombs. Located at the site of an ancient Lycian city, there are stunning rock-cut tombs in the mountains at Fethiye. Find a guide to take you back in time as you explore these ancient sites.
Visit the Fethiye Museum. Rich with ancient artifacts, this museum will walk you through the many civilizations that have called this city home. From the ancient Lycians, through late Antiquity, to the Ottoman Empire and beyond.
Local Shops, Bars, and Restaurants. This coastal city is simply busting at the seams with charming shops, fun bars, and a surprisingly large amount of restaurants! Stroll through the streets of Fethiye to get a chance to experience the welcoming and kind culture of the local Turkish people.
Water Sports. Not only can you relax on the beach, but you can also get in the water for some diving, snorkeling, as well as paragliding and whitewater rafting! Fethiye has a something for everyone looking for a bit of an adrenaline rush on holiday.
However you spend your time here, it is going to be a truly immersive and memorable experience. Whether you're excited about the local history, or you're looking forward to getting some sun on the beach, there is something for everyone at Fethiye.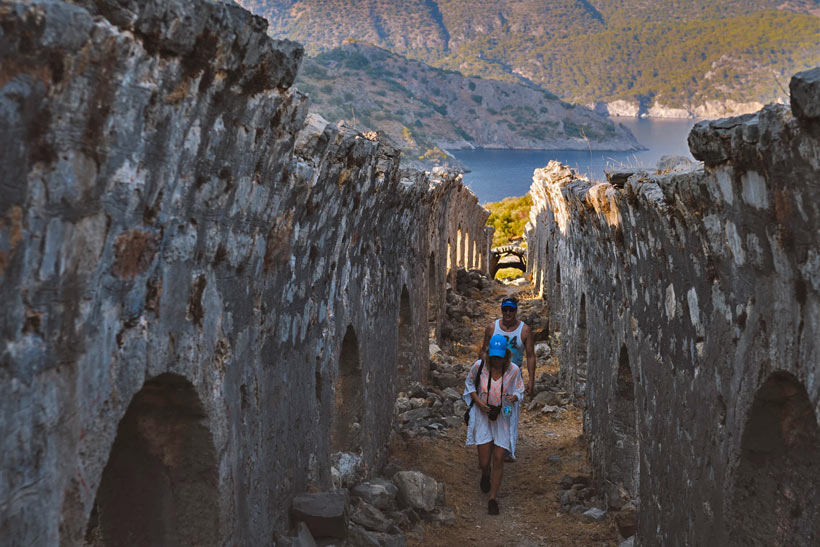 Sailing On the Turquoise Magic!
From Fethiye you can continue to explore other cities on the Turquoise coast. Your yachting experience is completely up to you and your experienced skipper! There are a few popular ports to set sail for along the coast that you will love.
Bodrum rests where the Aegean meets the Mediterranean, and is home to castles as well as resorts! Known as the birthplace of Herodotus, the ancient Greek historian, there is SO MUCH to see and do here. In Bodrum you can enjoy a tour of Bodrum Castle from the 15th century, and overlook the beautiful harbor. You can also try your hand at one of the many shops, restaurants, and fun family activities!
Marmaris is another hot stop along the Turkish coastline. It boasts one of the largest, and most stunning natural harbors in the world. Not only that, but it is surrounded by flourishing forests and several coves! Visit the museum that has been on site since around 3000 B.C., or travel to the center of town for fun and bustling cafes and attractions!
Your itinerary will reflect not only how you want to spend your holiday, but how you want to experience Turkey! You can hike up to ruins in the mountains, loaded with hot weather hiking gear, or you can get that bikini you've been dreaming about to lay in the sand. Whether you want to get up close and personal with ancient sites, or spend all day eating delicious Turkish food, you will want to choose the best possible yachting itinerary to fit your personality!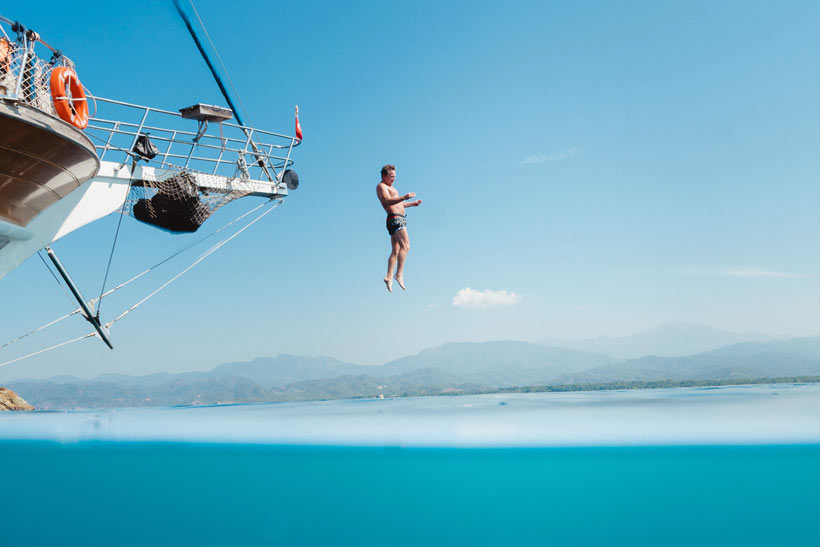 Sailing Along the Blue Voyage as You Visit the Turkish Turquoise Coast!
Now that you know exactly what to expect on your holiday along the Turquoise Coast, you can start to plan your holiday to Turkey! Visit the ancient ruins in Fethiye, go paragliding, spend time in the warmth of the Mediterranean sunshine, and then set off for other local ports. NO matter the itinerary you choose, you'll fall in love with the sights, sounds, and tastes of the Turkish Blue Voyage!
If you like this article, please share. Thank you!
 
 
 
 
 
 
 
 

 

ABOUT THE AUTHOR

 

Sabrina Iovino is the founder of JustOneWayTicket.com. She's half German, half Italian and has traveled to more than 50 countries around the globe. She feels weird to write about herself in the third person, so she'll switch now. Phew...much better! Let's restart:

Hi, I'm Sab! This is my blog and I write about the things I love. Mostly.

 

Follow me on Facebook | Twitter | Instagram | Pinterest | Google+ | Youtube

 

 
 
 
 
 
 
Enjoyed this article? Sign up for my Newsletter or follow me on Facebook and get notified about new posts.