I guess you want to know what this page is all about? Congratulations, you have come to the right place! Get a drink and some popcorn and enjoy reading. This blog is ranked as one of the best travel blogs on the Internet, measured by traffic. I'm your travel guide and I'm thrilled to share valuable tips, breathtaking photos and professional travel videos with you. I hope you get inspired and start traveling soon... 
And who am I? Sorry, almost forgot to introduce myself... I'm Sab, nice to meet you! I'm just another random girl from Berlin, almost non-stop traveling since 2008. Here you can read more about me and here are my most popular blog posts...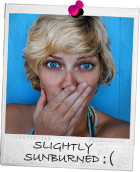 Hello from Bangkok! Thailand's capital is shining in all colors these days! The amazing Thailand Tourism Festival is happening from today on until 17 January! The festival features cultural heritages, dance performances, and the best food and products from five major regions – across all of Thailand. There are so many different things to eat here, it's an incredible opportunity to try the best of Thai Cuisine. I'll be here until the weekend. Come to Bangkok and get inspired!
We spent 6 weeks exploring Bali, Indonesia and witnessed amazing sceneries, from the rice terraces to white beaches with turquoise waters... This video shows Bali as we saw and experienced it. And we're so proud of this travel video!
PS: In case you've wondered how we were able to get such smooth footage, check out the Gimbal handheld, a must have gadget for your GoPro!
I'm on Instagram! Finally, haha. People kept telling I have to and well, I actived my account again. If you haven't followed me yet, you should do it now! Thank you!
Follow me on Instagram!
Guess where I am? In the beautiful Maldives!! Thanks to Bandos Resort for the invite! Gonna write soon about my amazing Maldives vacation. Excuse me, I'm enjoying the sun now :) Update 02/2015: Here is my blog post about the Maldives!
Kuala Lumpur, you never fail to impress me! I stayed at this amazing place and absolutely loved it! Rooms are only around $55 / €40 a night, fantastic value for such a place! Wanna stay there, too? If you book via Airbnb, I have a $25 / €20 voucher for you! Get it here! And here is the place with the fabulous infinity pool!
More news, mentions, interviews in Press