I guess you want to know what this page is all about? Congratulations, you have come to the right place! Get a drink and some popcorn and enjoy reading. This blog is ranked as one of the best travel blogs on the Internet, measured by traffic. I'm your travel guide and I'm thrilled to share valuable tips, breathtaking photos and professional travel videos with you. I hope you get inspired and start traveling soon... 
And who am I? Sorry, almost forgot to introduce myself... I'm Sab, nice to meet you! I'm just another random girl from Berlin, almost non-stop traveling since 2008. Here you can read more about me and here are my most popular blog posts...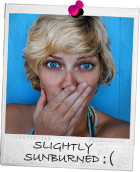 WORLD PREMIERE! I couldn't be more excited right now! :) Right on time for my birthday we finished our Philippines video! Finally!! The clip captures our 2 months trip all across this incredible country. Watch it and you will agree that the Philippines has some of the most spectacular seascapes in the world... Thanks to all our amazing friends who joined us on this trip, and became part of this video. It wouldn't be that great without YOU! 
All filmed with DJI Phantom 3 and DJI Osmo.
My 2 months trip in the Philippines is coming to an end :( I had an incredible time exploring the islands, from Palawan to Cebu, Bohol, Apo Island, Bantayan, Malapascua, Siargao, and many more... The Philippines is a wonderland. Here is one of my favorite shots, taken in Siquijor... (click to enlarge!)
What should I say? Go the extra mile, it's never crowded. Philippines = Paradise!
I'm on Instagram! Finally, haha. People kept telling I have to and well, I actived my account again. If you haven't followed me yet, you should do it now! Thank you!
Follow me on Instagram!
Guess where I am? In the beautiful Maldives!! Thanks to Bandos Resort for the invite! Gonna write soon about my amazing Maldives vacation. Excuse me, I'm enjoying the sun now :) Update 02/2015: Here is my blog post about the Maldives!
Kuala Lumpur, you never fail to impress me! I stayed at this amazing place and absolutely loved it! Rooms are only around $55 / €40 a night, fantastic value for such a place! Wanna stay there, too? If you book via Airbnb, I have a $25 / €20 voucher for you! Get it here! And here is the place with the fabulous infinity pool!
I got lost today and suddenly I found myself in this beautiful little alley...  Isn't that amazing? I should get lost more often... Cheers from Chiang Mai, Thailand!
More news, mentions, interviews in Press