10 ABSOLUTELY AWESOME THINGS TO DO IN BARCELONA AND AROUND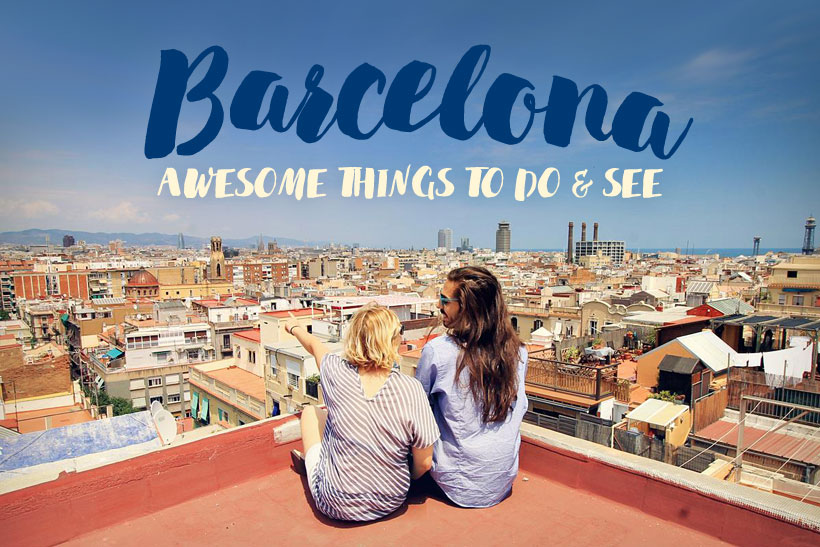 ¡Hola Barcelona! Once you've been in Barcelona you can't get enough of this city. Guaranteed. Its ideal location by the sea, warm sunny days, Gaudi's impressive constructions, the lively Ramblas and the finger-licking Spanish tapas will make you never want to leave this place.
Where to stay in Barcelona? Check out Airbnb and live like a local in the city! You can rent rooms or entire apartments on Airbnb, here are $30 travel credits for your first Airbnb booking!
No wonder the city in Spain attracts 7.5 million tourists every year! Once you're in Barcelona, you might get overwhelmed by what to do and see. No worries. I will tell you all about the highlights this colorful city has to offer. And let's not forget the surroundings of Barcelona too! There is plenty of things to do near Barcelona as well! But let's start with the city...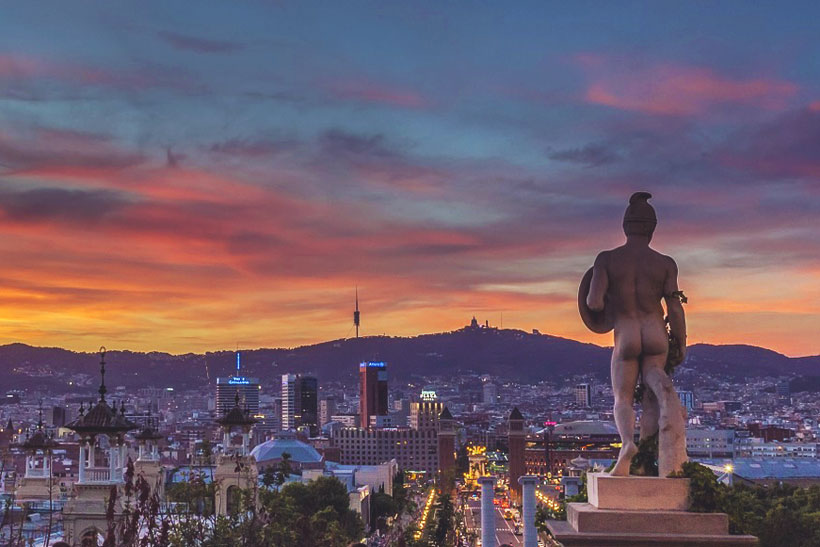 Explore the city
#1 Discover the city in a fun way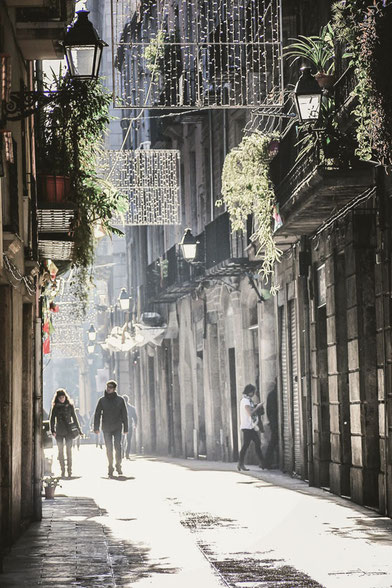 Barcelona is a well-organized city and has a very good public transport system (bus and subway). But there are also more fun ways to discover the city:
Why don't you rent a bike? With over 250 kilometers of bicycle paths, Barcelona is a perfect city to discover by bike. Even better: get yourself a guided-tour. While biking, a professional tour guide will tell you all about Barcelona's highlights and show you some of the hidden parts in the city.
Or hop on the Bus Turistic: a good way to see the city in a few hours. The bus drives three different routes through the city and you can board at any part of the route.
Of course there's another way of transportation: your feet! Many times walking will take you to some unexpected places and streets. But do make sure to pack a good pair of shoes to prevent those blisters.
#2 Visit Gaudi's Masterpieces
Due to the work of Catalan architect and artist Antoni Gaudi, Barcelona is one of the most beautiful cities of the world. Everywhere you go in the city you'll stumble upon something he created.
Sagrada Familia — Your first must-see is the Sagrada Familia! Gaudi's lifework and most iconic building in Barcelona. And no, it's still not finished. Gaudi started building it in 1882 and they expect to finish it somewhere in 2026. Make sure to book your tickets in advance, join a guided tour or stand in line early. You're definitely not the only one who wants to be fascinated by the stained glass windows or wants to see the amazing view over the city from one of the towers.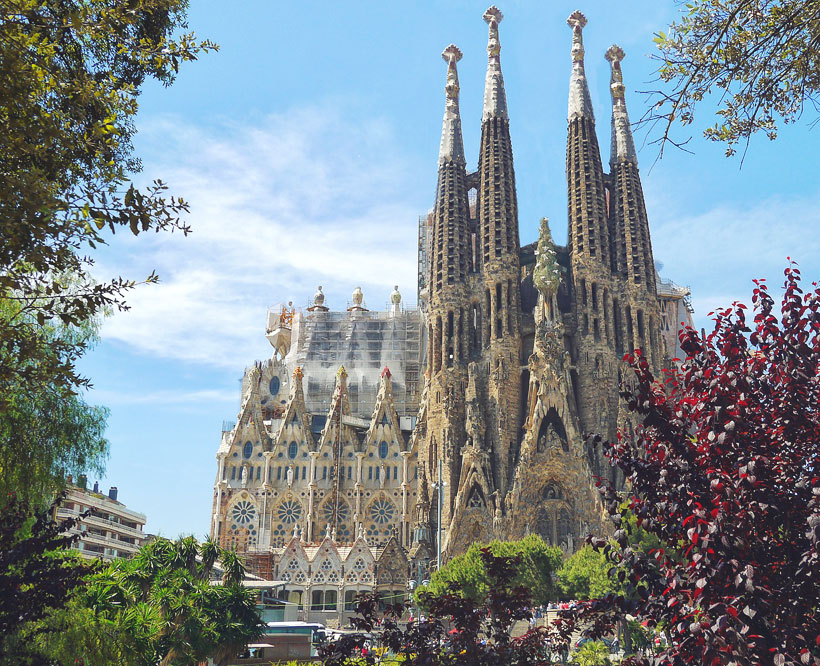 Casa Battló — Also don't miss Gaudi's Casa Battló, a.k.a. the 'House of Bones'. You'll soon discover why it's called that way. Gaudi dedicated this building to the Catalan Patron Saint Jordi. According to legend, he'd killed a dragon. When you stand on the roof, you'll see it has the shape of a dragon's tail.

Casa Mila — Another impressive house of Gaudi is Casa Mila (La Pedrera). It resembles Gaudi's imaginative mind and love for natural shapes. Not a single wall in this house is straight. Once you're on the roof you can enjoy a panoramic view upon the city and wander through a dune-like landscape with fairy-tale-like chimneys.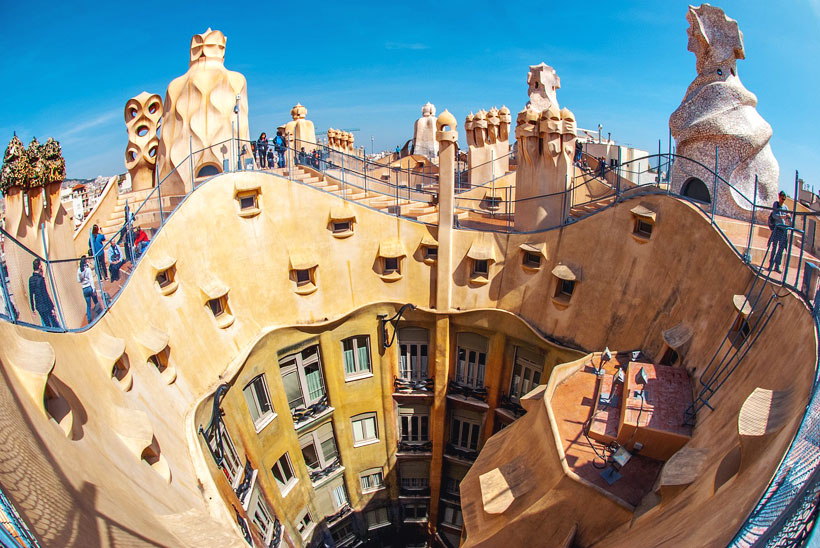 Park Guell — Last but not least on your Gaudi-to-do-list is: Park Güell. Also packed with Antoni Gaudi's creations. The ceramic salamander awaits you at the entrance and the large mosaic bench is there for you to take a seat. Wander around in the gardens and be surprised by all the special buildings you'll come across. It's the perfect place to enjoy a picnic or listen to musicians play their favourite tunes.
Other creations of Gaudi in Barcelona are: Casa Vicens, Casa Calvet, Palau Güell, Colonia Güell, Cascada Fountain and El drac de Gaudi.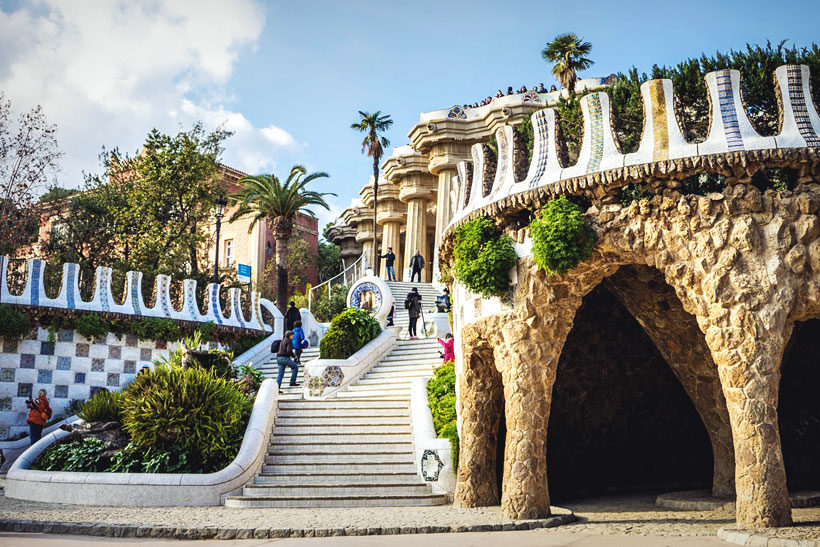 #3 Strolling down the Las Ramblas
Las Ramblas — This boulevard forms the lively heart of Barcelona. It basically divides the city in two. It starts at Plaza Catalunya and ends at the harbor. It's 1.2 km long and it takes about ½ hour to get from the beginning to the end. That is, if you don't stop along the way for some delicious Spanish food and wine or watch all the street performers.
The boulevard is surrounded with restaurants, (souvenir) shops, flower stands and cafes. It can be very busy and touristic, so be aware of pick-pockets at all times!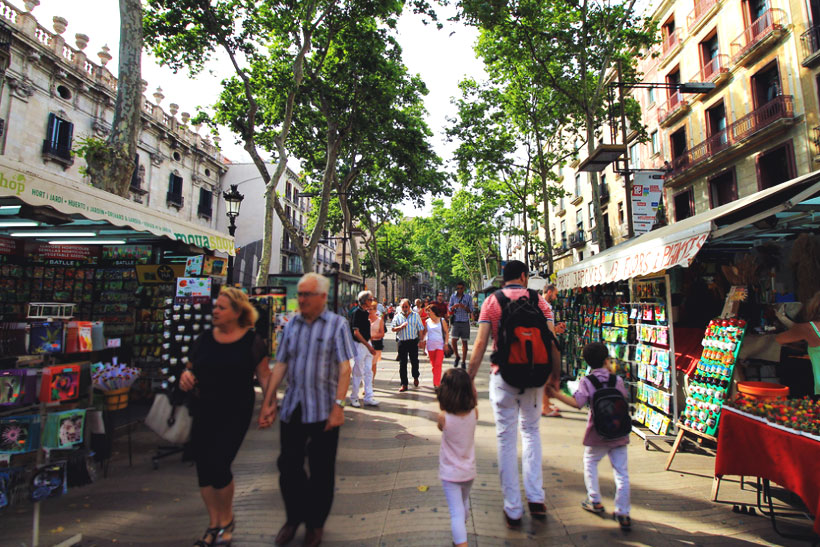 La Boqueria — Nearby is the famous market La Boqueria on Ramblas 91. It's considered to be on of the best food markets in Europe. Sometimes it's packed with tourists and locals trying to get their fresh fruits, vegetables, meat and seafoods. You can take some great pictures here!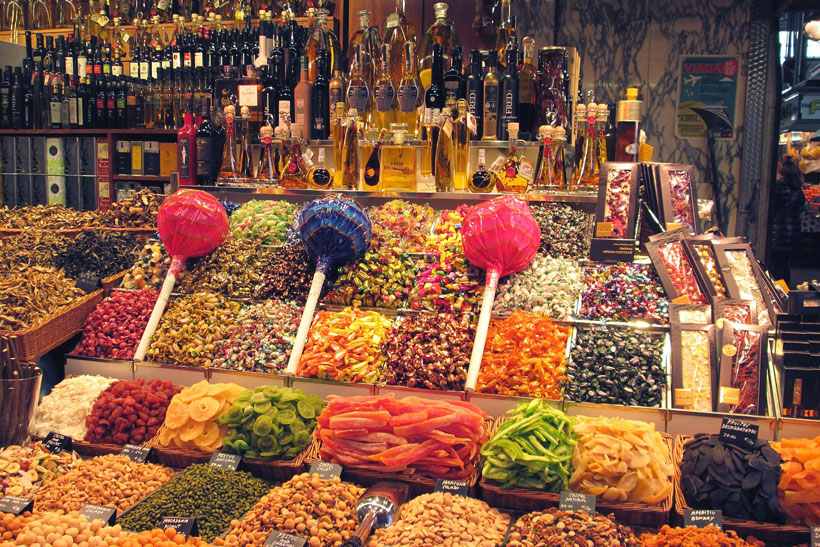 #4 Indulge yourself in the Catalan Cuisine
Of course you cannot leave Barcelona without experiencing the Catalan cuisine: tapas! Here's a list of tapas you must try: gazpacho (cold soup), patates bravas (spicy potatoes), calamar a la romana (deep fried squid rings), olives, croquetes (chicken-ham croquettes), pernil iberic or pata negra (iberian ham), formatge manchego (manchego cheese) and if you dare caracoles (snails). And for dessert choose the crema catalana (creme brulee).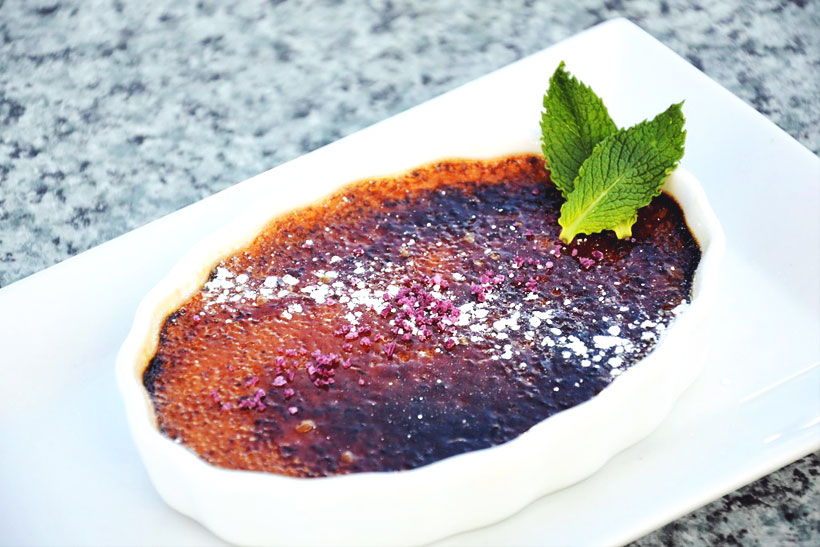 If you really want to enjoy tapas among the locals try these restaurants: Cal Pep (well-known in Barcelona), Can Culleretes, Los Caracoles, (two of the oldest restaurants), La Flauta (famous for their 'las flautas'. Little sandwiches rolled up with various fillings), La Esquinica (best patatas bravas in town), Tickets and Bodega 1900. For these places it's wise to arrive early or make a reservation in advance.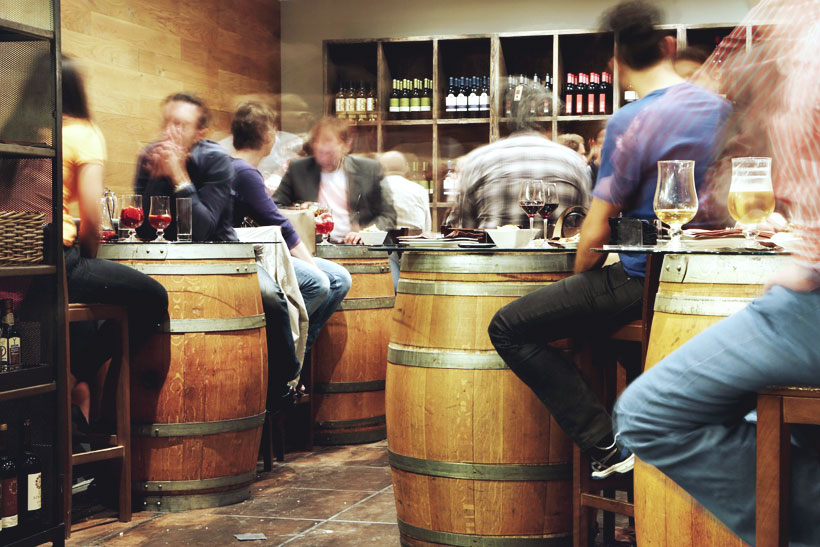 #5 Get your kicks at Camp Nou
Every football fan must visit this famous stadium: Camp Nou. It can accommodate nearly 99.000 fans, so there's always a seat for you. Make your trip unforgettable and get your tickets for a match! You can also go on a guided tour through Camp Nou or visit the immense gift shop for your FC Barcelona souvenir.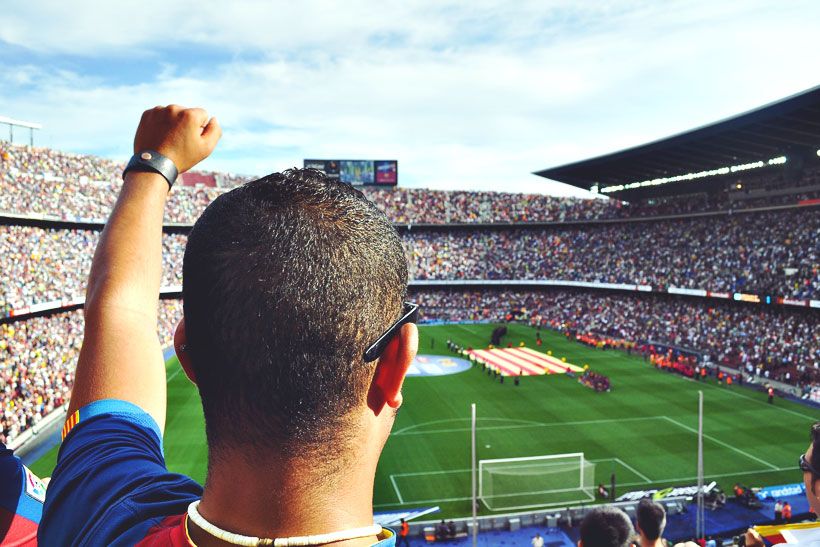 Escape the city
#1 Vamos a la playa
Ready to take a break and leave the city center? Just a few minutes outside of the city there's over 5 kilometers of sandy beach! Most popular is the beach of Barceloneta. Along the boulevard there are lots of restaurants and nightclubs. A perfect way to end your sunny day at the beach. But if you really want a break from the tourists and street vendors, go a bit further: to the quieter Bogatell beach.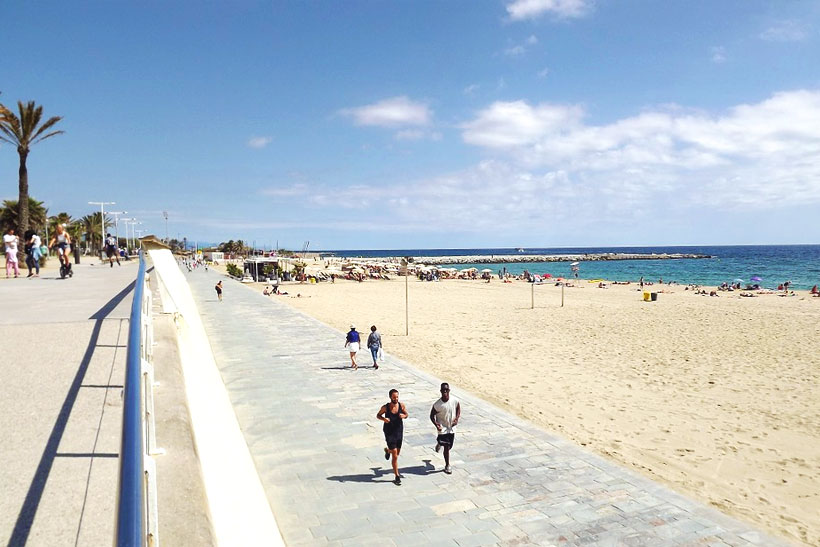 #2 Go for a ride at Tibidabo Mountain
Many locals also escape the city at Tibidabo mountain. You can get there by car, but you can also take a tram from the city. From the parking lot it's a short walk to the church and amusement park. Although the amusement park is a bit outdated, it's still very nostalgic. The church is quite impressive and the view over the city is absolutely amazing.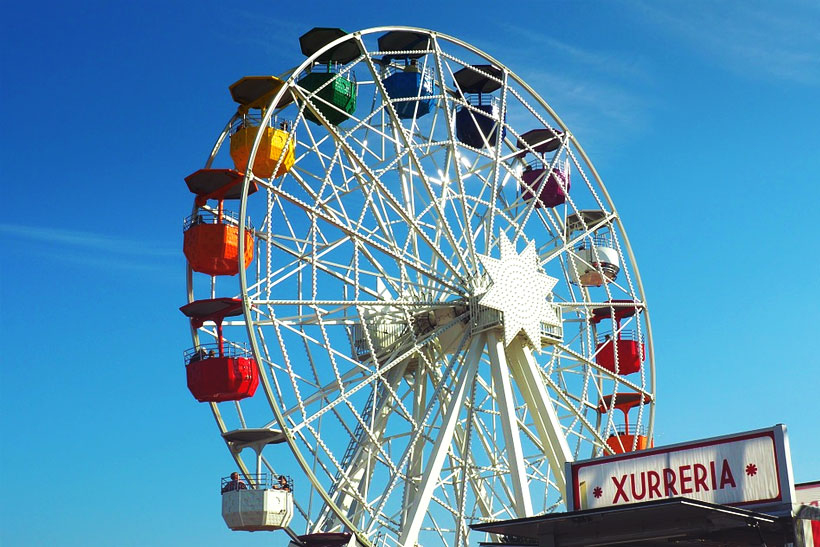 #3 Climb the hill Montjuïc
Montjuïc is a hill located near Plaça Espanya. On top are some of the most exciting museums: Fundació Joan Miró and Museu Nacional d'Art de Catalunya (MNAC). In front of the MNAC is the magical fountain. At sunset the fountains start spraying water, with light effects, on the rhythm of the music. The hill also houses the Olympic Stadium, themepark Poble Espanyol and Montjuïc Palace.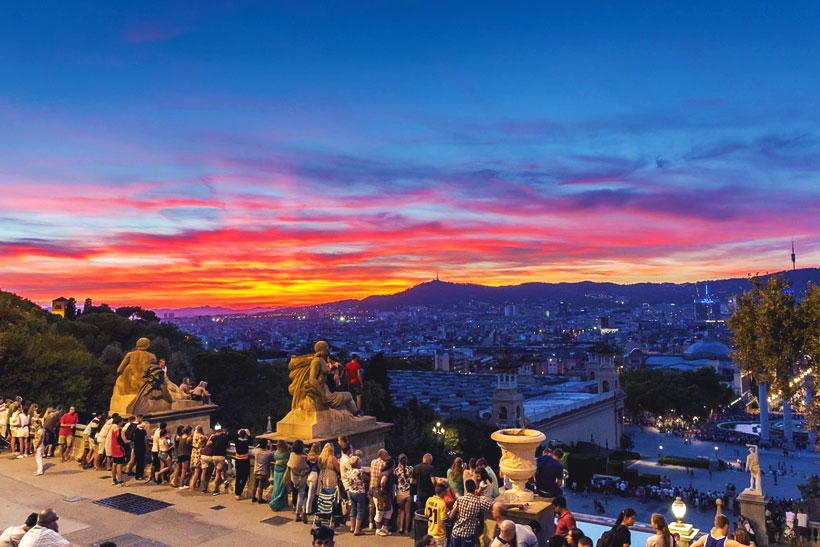 #4 Hike and bike the Carretera de les Aigües
Want to something out of the ordinary? Not too far outside Barcelona is the Carretera de les Aigües.
A perfect place for a bike ride, walk or run while enjoying the views over Barcelona city. It's almost 10 kilometers long.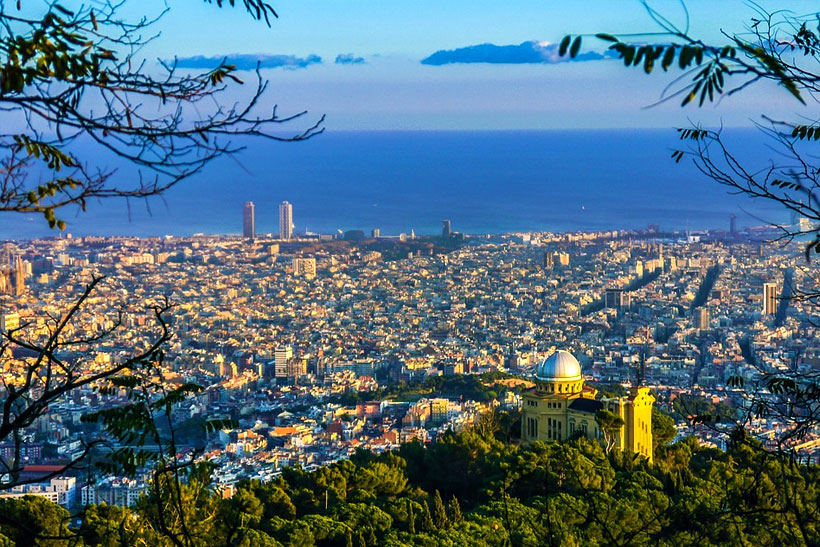 #5 Rent a car and see the surroundings
Make your trip extra special by visiting some cities surrounding Barcelona. It's more fun to rent a car and spend a day discover more of Spain's culture! Where to book a car? Use a comparison website like EasyTerra to get the best deal on your rental car in Barcelona.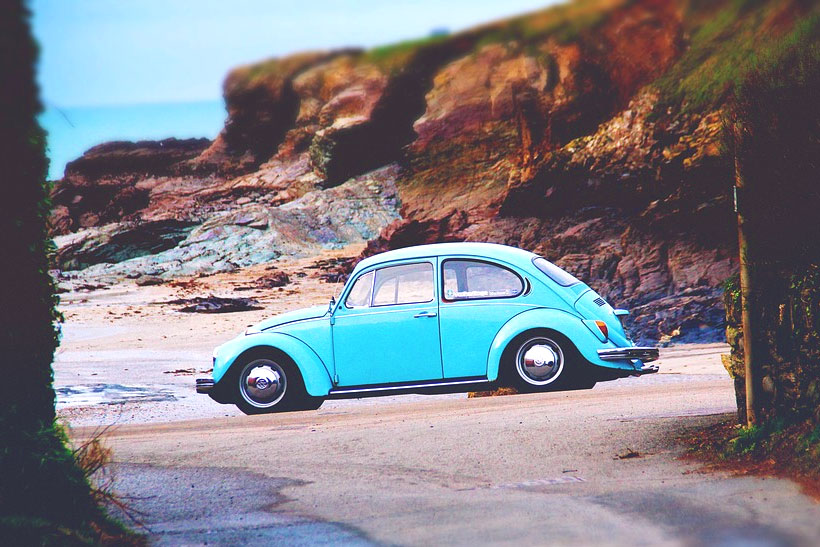 Head to Girona, just an hour's drive. It's a small, walkable charismatic town. Take one of eight bridges to cross the Onyar River and in no time you're in the medieval cobbled city center. Visit one of Girona's Cathedrals or the remains of Força Vella, walk the city walls and see the peaks of the Pyrenees in the distance.
Shop in one of many jewelry store or get a seat at the best restaurant in Spain: 'Celler Can Roca'. It's owned by three brothers and rewarded with three Michelin Stars!
Or visit Montserrat, the spiritual heart of Catalonia. It is about 50 kilometers from Barcelona, also an hour's drive. Montserrat means 'Sawed Mountain' and is a sacred place for many pilgrims and locals, but is also very popular for climbers and hikers. It's one of the most visited pilgrimage site of Catalonia. On top of the mountain you can visit the monastery and the Basilica.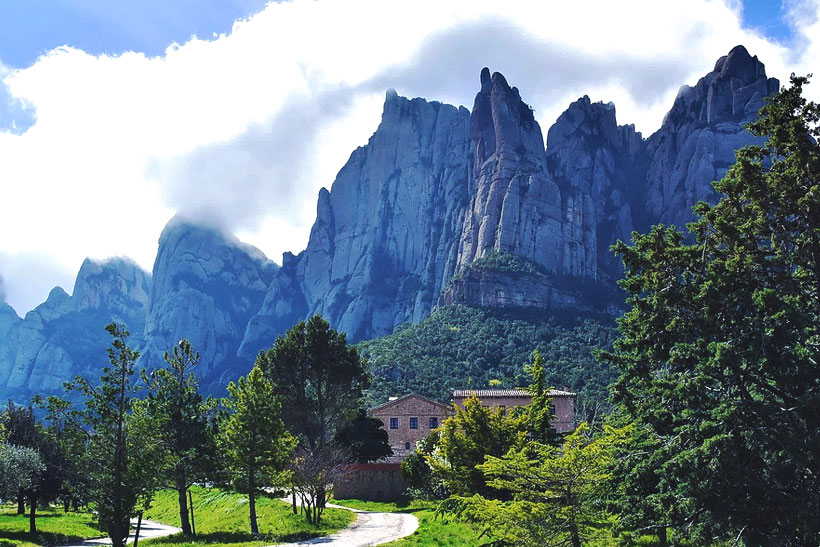 I hope this article gave you plenty of ideas on things to do in Barcelona and around... If you have more ideas, please leave them in the comments. And if you like this article, please share. Thank you!