Travel like a VIP with the Priority Pass, get access to over 1200 Airport lounges, enjoy complimentary WiFi, food and beverages and relax before you get on the plane...
No matter if you're a frequent flier or a hardcore backpacker who is traveling around the world, this post is for you! A few years ago I traveled around the world, within 14 months I traveled to almost 30 countries and boarded a plane for about 50 times. I remember how often I slept at airports because of long layovers, or massive delays... I wish back then I would have known about the Priority Pass, because it would have make my travels a lot more comfortable and enjoyable.
I'm not backpacking anymore, but I still fly a lot, about 30 - 40 times a year. Can you guess how many hours of waiting that is? And I'm one of those people who always arrives at the airport at least 3 hours before, because I'm too scared to miss my flight. The ironic part is that I have never missed a flight in my life!
So... How to kill time at the airport? I usually hang out at Starbucks, spending 20 bucks for coffee, a sandwich, and a bottle of water, trying to get some work done on my laptop while fighting with other travelers for the outlets. Sounds good? Actually, not really, right? Here is a better idea to make your waiting times at the airport more enjoyable: The Priority Pass!

What is the Priority Pass (and what are the benefits?)
The Priority Pass is a little black card, and let me tell you upfront, this plastic card is the most precious thing I carry with me when I travel... How come? Let me tell you more about  it! The Priority Pass is the largest independent lounge access membership and comes with plenty of benefits, such as


Access to over 1200 airport lounges worldwide (no matter which airline you booked)
Enjoy complimentary WiFi, food and beverages, and relax before take-off
Easy lounge access via the app (no need to bring the membership card)
24-7 multi bilingual customer service
Now that sounds good right? And that's not even all, many of the lounges also include free alcoholic beverages, massage chairs, spa access (for a fee), showers, working desks, comfortable couches for a nap, and so much more. 
The Priority Pass will make your time at the airport so much more enjoyable, spending time at the lounge before boarding the plane became quickly one of my favorite things of every trip! Let me show you some photos from my recent travels with the Priority Pass...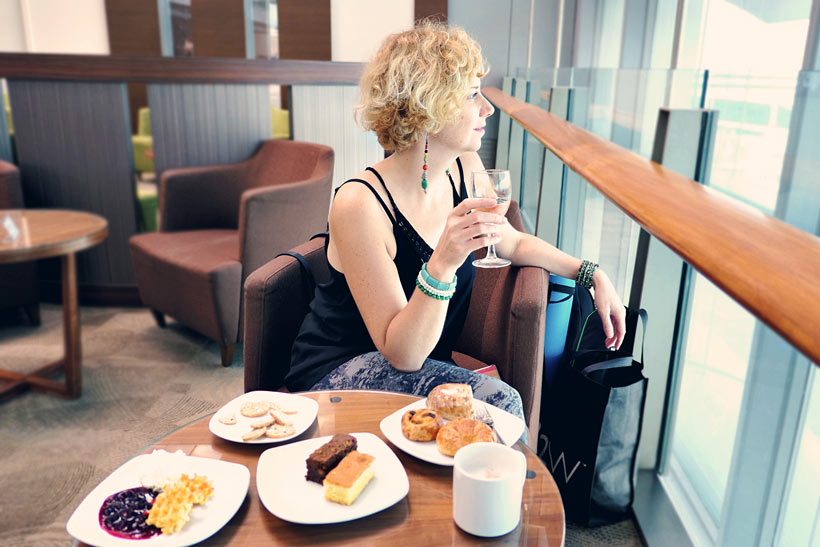 Dnata Lounge, Terminal 3, Changi Airport, Singapore
Dnata Lounge was the first time I used my Priority Pass and it was a good lounge to start with. Singapore's International Airport, also called Changi Airport, offers access to more than 10 lounges with the Priority Pass. However, I only needed one, so I had to make a quick decision. The Priority Pass App gives you an overview about all the lounges, so it was easy to decide which lounge to go. I went for convenience and the closest lounge to me was Dnata Lounge at Terminal 3. Good decision as it turned out.
Lounge access was a breeze, I just opened the Priority Pass App and showed my digital membership card and seconds later I was allowed to enter. Plenty of seating areas to relax, from dining tables to couches with lower tables.
I was excited when I saw the buffet,  because I had such an early flight that I didn't have time for breakfast. They offered a good selection, from cooked meals to different kinds of breads, cakes, breakfast spread, and of course coffee, tea, sodas, and alcoholic drinks.
I grabbed a glass of white wine (I know it was early but I can never say no to a free glass of wine), combined with a veggie pesto sandwich, croissant, waffles, and some pieces of cake. Just when I thought I have enough on my plate, the staff came back refilling the buffet with pasta, fried vegetables and potatoes. Let's say I had a big breakfast.
There were showers as well but because I was busy with eating, I didn't have time to freshen up. Well, still very much enjoyed my time at this lounge, so both thumbs up!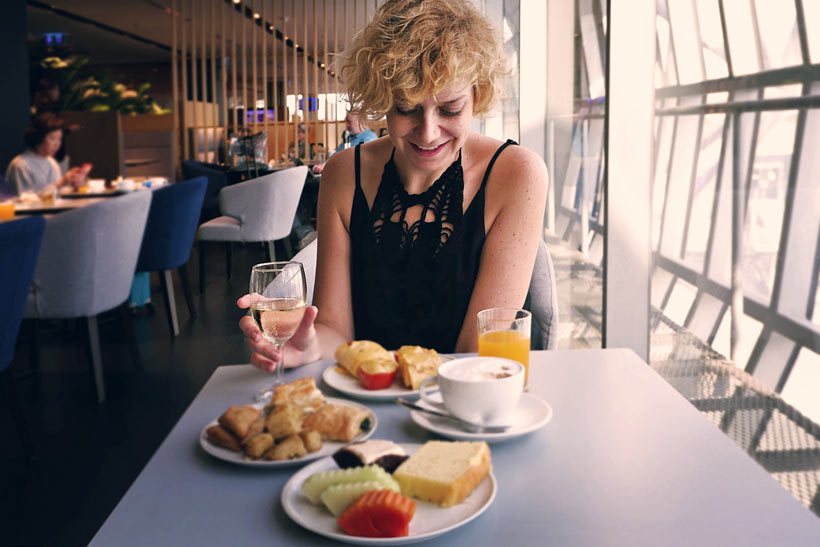 Air France - KLM SkyLounge, Suvarnabhumi Airport, Bangkok, Thailand
A couple hours later I had a layover at Suvarnabhumi Airport in Bangkok. Once again it was time to decide which lounge to go. I heard great stuff about the Oman Air Lounge, but decided to keep it for another visit and went to the Air France - KLM SkyLounge instead. Turned out as a great decision. The lounge was spacious, bigger than the previous lounge in Singapore, plus it had a nice view over the runway.
Later on it was announced that my flight would have a delay and I would have to spend 2 more hours at the lounge. Well, looking at the lounge facilities, I was delighted to stay.
The food selection was excellent, noodles and rice meals, fresh fruits and plenty of veggie choices which always makes me happy! I took some samosas, spinach puff and mushroom pie, combined with a plate with fresh papaya, pineapple and watermelon. Of course there was also a big selection of cakes and tarts, it was quite hard to resist... (Warning, too many lounge visits may increase your body weight).
Once again, I got myself a glass of white wine, followed by orange juice, cappuccino and tonic water. I know what you think, weird order, huh? There were plenty of liquors which I usually ignore when I fly. To my surprise I saw some massage chairs to use for free, beside an office area with several desks, computers and printers to use.
Overall a great lounge, my waiting time just passed away to quick, it was such a great place to enjoy and relax before taking off. Without the Priority Pass I would have been stuck at the gate, waiting for hours... This card is a lifesaver!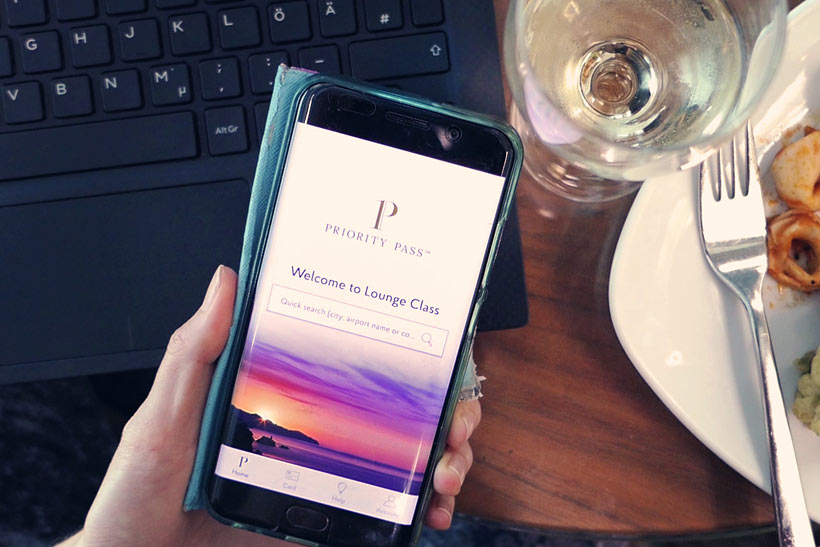 How much is the Priority Pass?
I was debating for a while if it's worth it to get a Priority Pass, and after all I decided it is definitely worth the price. I don't regret a second purchasing the pass. They have 3 types of memberships, let's have a look at them.  
Is the Priority Pass worth the money?
The short answer is, it depends. If you fly just a few times per year, it might not be worth it. Think about this: How much money do you spend on average at the airport while waiting for your flight?
Food and beverages are expensive at airports, a cup of coffee, a meal, a bottle of water and sometimes I have to pay for WiFi, overall I spend easily $25 every time before I board a plane. 
The Standard Plus membership offers 10 free lounge visits for $249, that makes roughly $25 per visit. If you fly at least 10 times a year, it's already worth it for me. Not forget to mention that relaxing in a quiet lounge - rather than at a crowded gate - is priceless. I get work done and feel relaxed and refreshed before getting on my next flight.
The Prestige Membership is only interesting for those who fly a lot! For an annual fee of $399 you get unlimited lounge access, no matter which airline you booked.
Do you have experience with the Priority Pass? Please tell me more about it in the comment section!
Thank you for reading.
If you like this article, please share.
 
 
 
 
 
 
 
 

 

ABOUT THE AUTHOR

 

Sabrina Iovino is the founder of JustOneWayTicket.com. She's half German, half Italian and has traveled to more than 50 countries around the globe.

She feels weird to write about herself in the third person, so she'll switch now. Phew...much better! Let's restart:

Hi, I'm Sab! This is my blog and I write about the things I love. Mostly.

 

Follow me on Facebook | Twitter | Instagram | Pinterest | Google+ | Youtube