A trip to the Palestinian Territories is more than just checkpoints, weapons and soldiers. The West Bank offers an exciting mix of history and beautiful landscapes.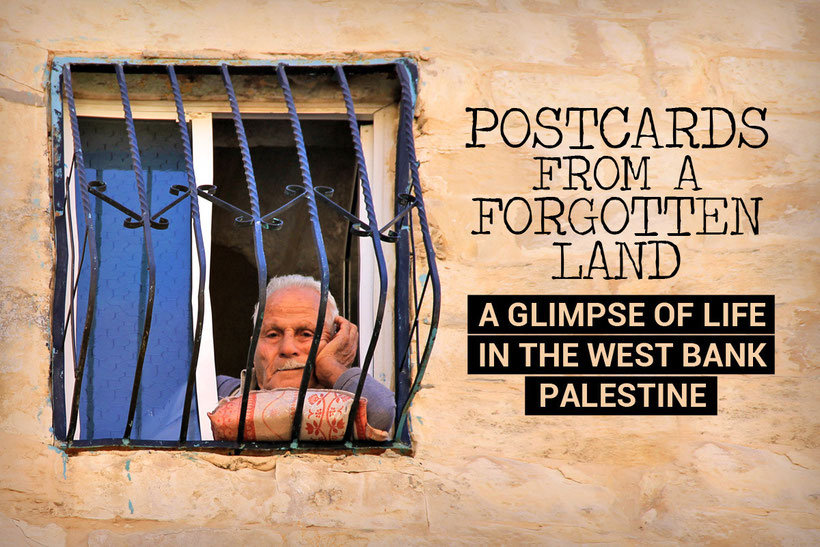 "What is the reason for your visit to Israel?"
asked me the young lady at the check in counter of Israir in Berlin Schoenefeld Airport.
I replied with "I'm meeting some friends in Tel Aviv and I will stay a few days in Jerusalem." She smiled at me. "OK. Anything else?" I was thinking... And then I added "I might go for a few days to Palestine." She suddenly lost her friendly face, then she turned around and walked away from me. I was confused.
A minute later she came back. "Follow me, please." - What? I just wanted to check in and now that? She directed me towards a small room and told me I should wait there. Then she closed the door and left. Another five minutes later two guys came in and started to ask me questions. A lot of questions. I assume this was confidential so I won't give some examples here.
---
---
After an hour of questioning I had to open my luggage so they could put every single item out. Not just a few, no - they put every thing out. Thank god there was nothing embarrassing in my backpack... like... you know what I mean, right?! They analyzed all my stuff with something that looked like a dust wiper. Then they walked away with my ebook reader because it gave them apparently some bad signals. Oh boy... Another forty-five minutes later we were done. Well almost. I had to pack my backpack again. By myself. Ugh.
Whoever has been through the tight security checks of going to Israel might know what I'm talking about. But let's cut to the chase: I made it, I arrived at my gate 10 minutes before departure and surprisingly I felt extremely safe during the flight. Who wouldn't, after such a detailed check.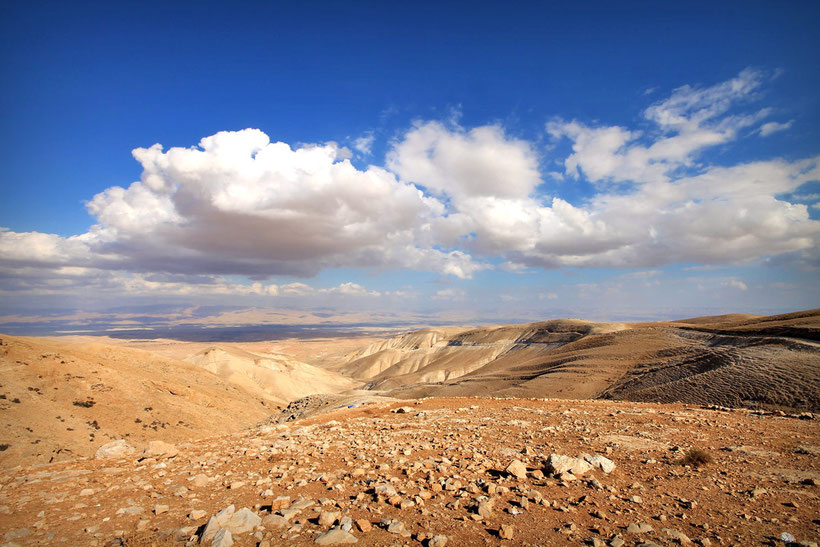 So what did I learn? Under no circumstances mention the word "Palestine" in front of any Israeli airline staff. Or at the airport. Or anywhere in Israel. It leads to confusion, trust me.
Actually I prefer to say "Palestinian territories". I'm trying to do this politically correct but in case I'm offending anyone, I'm sorry. It's not because I'm pro Arab or pro Israel or pro anything or nothing, it's because simply I don't know any better.
This is just a photo essay of my 2 days in the West Bank. No discussion about the conflict. Just images of the people, the food and the places.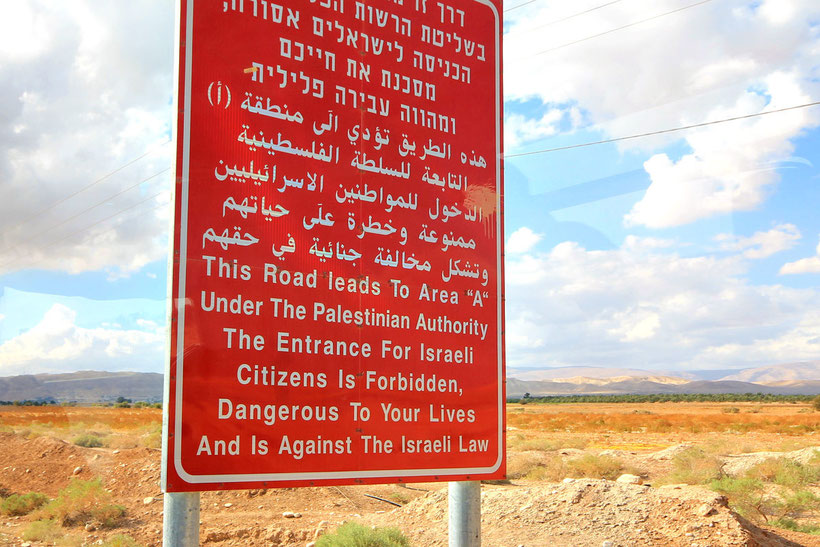 "The entrance for Israeli citizens is forbidden, dangerous to your lives." - Passing from Jerusalem to the West Bank. 
Why travel to the Palestinian Territories?
Good question. Just for the record, I've only visited the West Bank. The Gaza Strip was certainly not on my itinerary. Is it possible to travel easily to the West Bank? It actually is. Well. Unless you're from Israel.
---
---
I do recommend to go on a guided tour. It will help you to understand the story of the conflict better. Traveling beyond the standard attractions in Israel will definitely wide your horizon. The West Bank offers an exciting blend of history combined with a stunning scenery. A detailed list about the best things to do in the Palestinian Territories can be found on Tripadvisor.
Palestinians are generally welcoming and friendly, and often curious about why you visit the Palestinian Territories. Foreign travelers will get a lot of attention, especially if you're female and blonde or at least one of them. If you're a woman, dress appropriately.

The following images are taken during the "Best of the West Bank Tour", offered by Abraham Tours.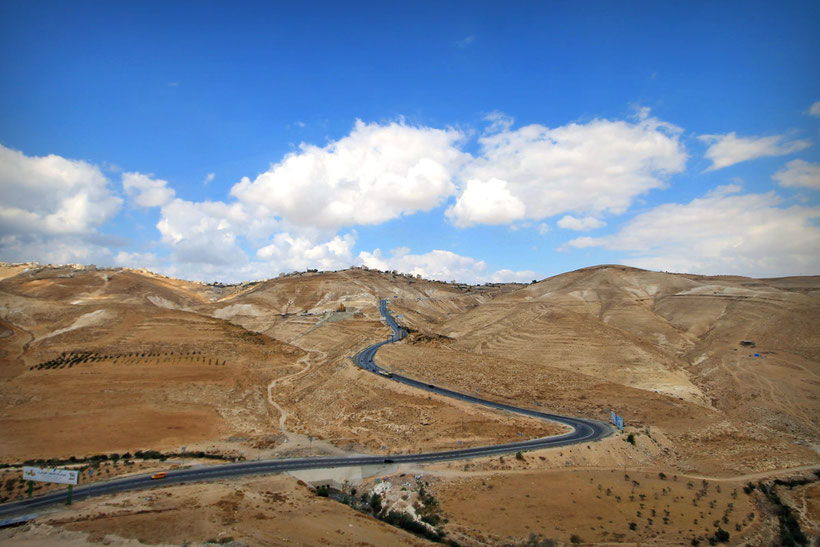 The journey through the West Bank offers some wonderful scenery.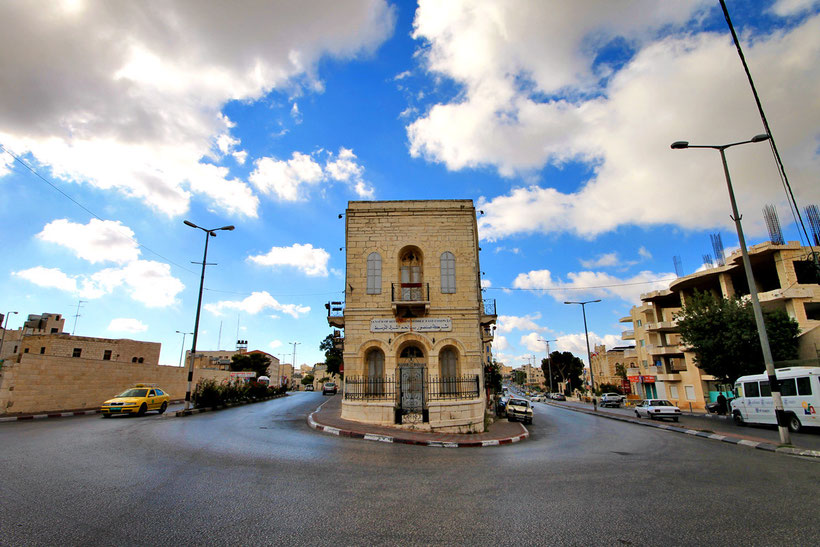 Welcome to Bethlehem, birthplace of Jesus.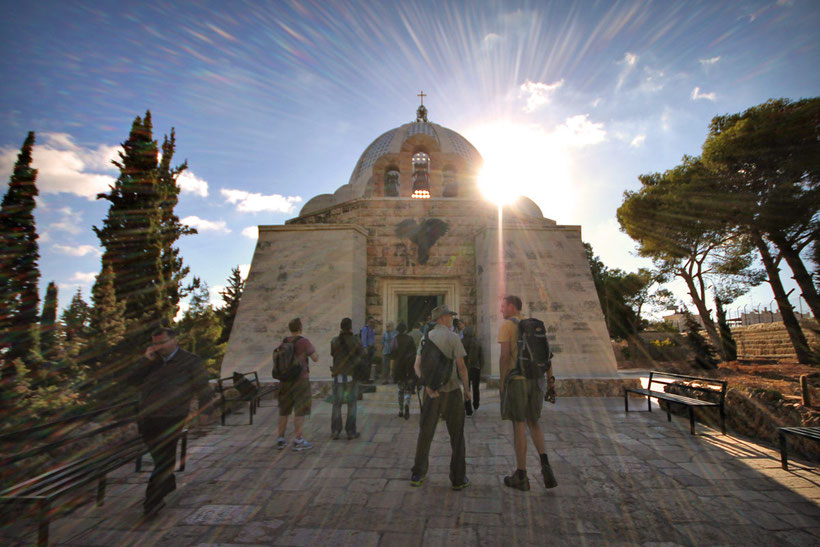 Shepherd's field near Bethlehem.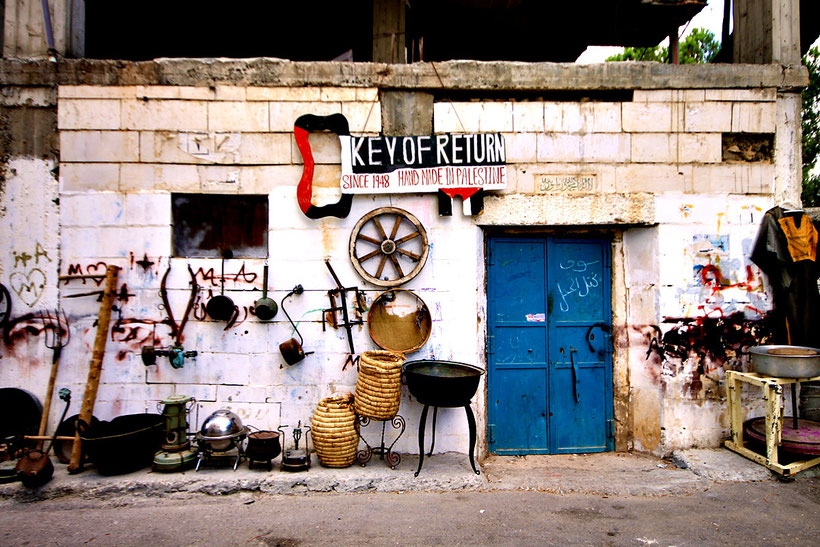 Ayda, a Palestinian Refugee Camp near Bethlehem.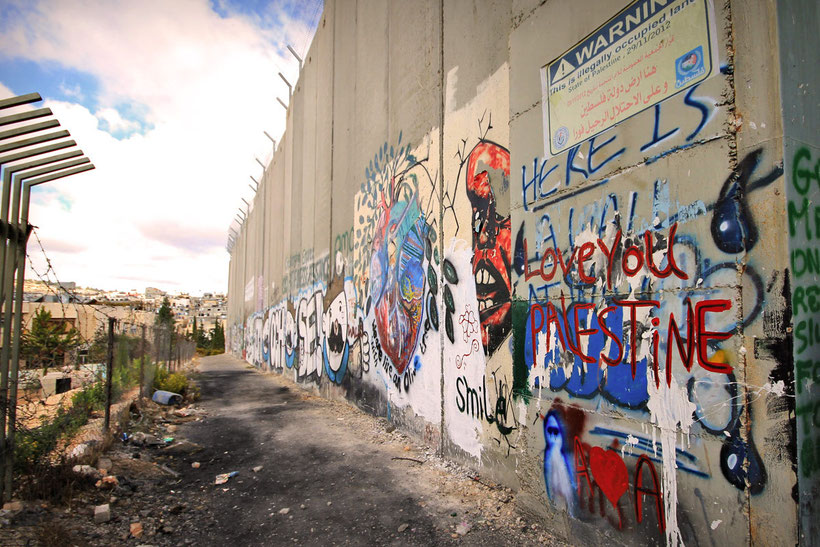 A walk along the separation barrier in Bethlehem...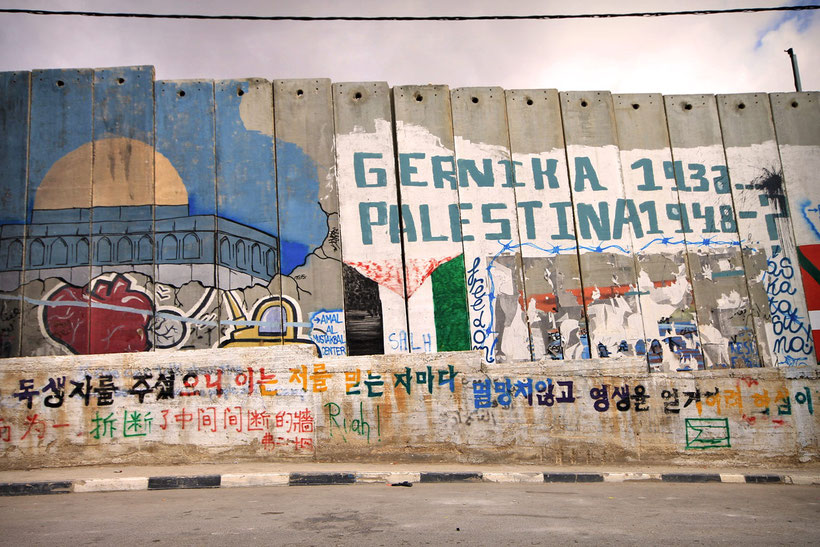 The separation wall that divides Bethlehem in the West Bank from Jerusalem.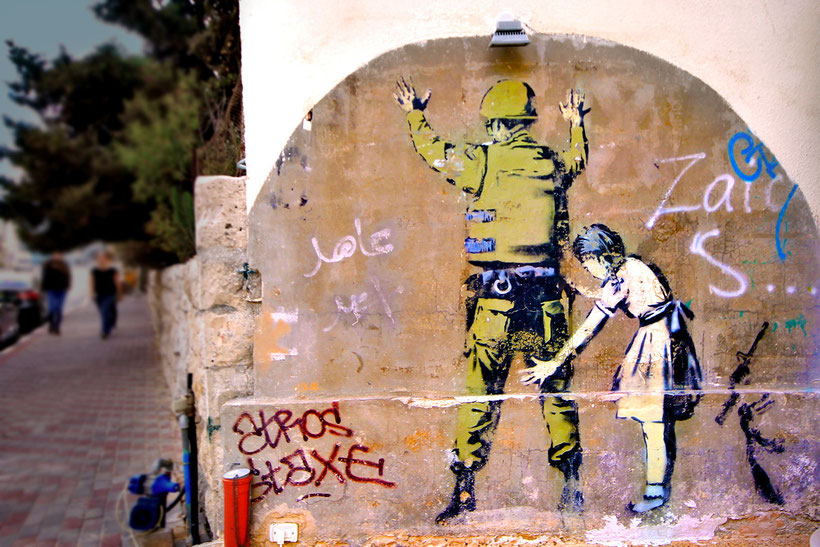 The British graffiti artist Banksy visited the West Bank in 2005 and painted several images along the separation wall and in the town of Bethlehem. Some of them have been washed away because the people didn't understand them or either felt insulted. Apparently since the artwork came up, suicidal bombings along the wall decreased in Bethlehem.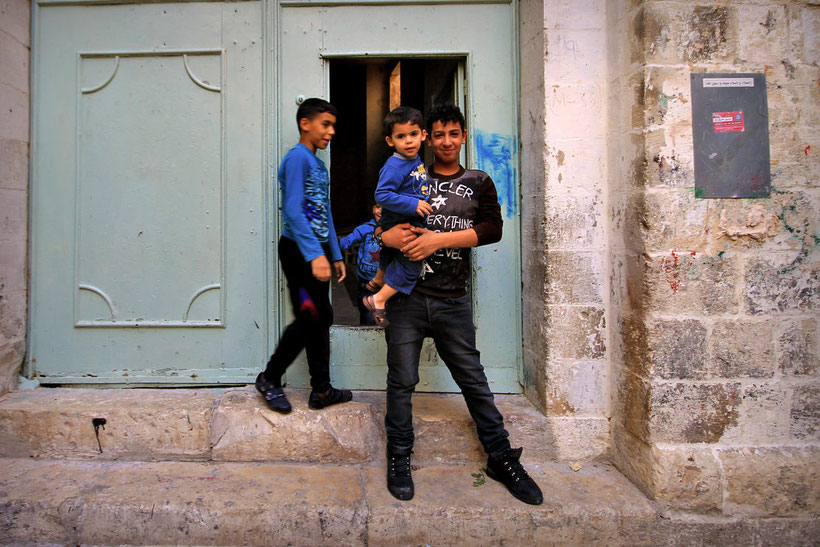 Despite the tensed situation, most kids are smiling. Look at the door behind. A door in a door...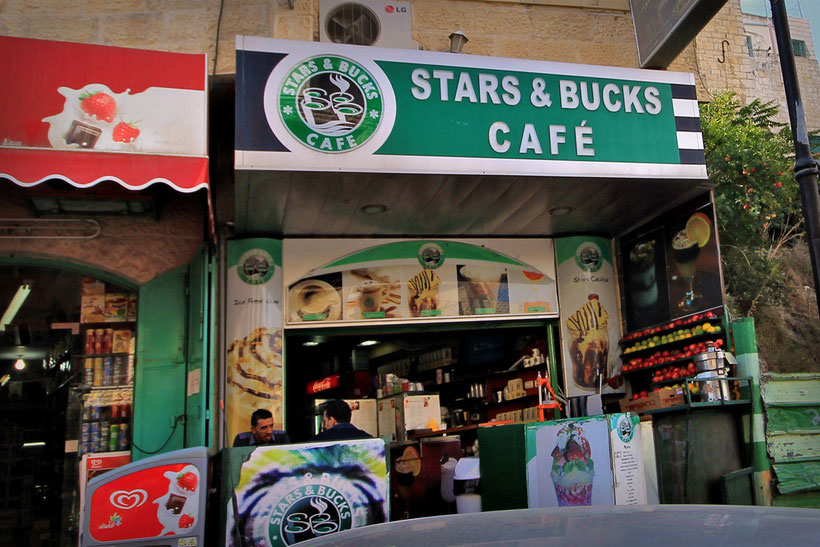 There is no Starbucks in Bethlehem. But there is Stars & Bucks...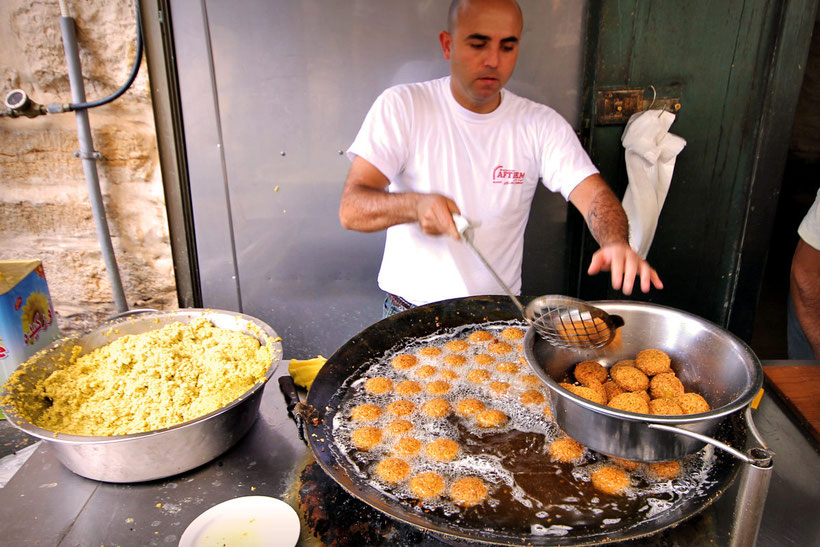 Lunch time in Bethlehem, Arab Style. Hot Falafel at Afteem Restaurant. Cozy place and delicious food...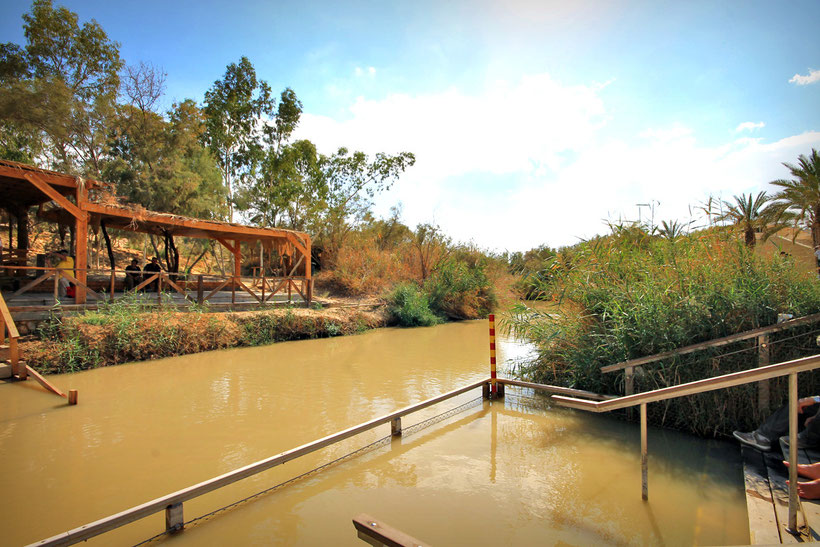 After lunch we carried on to Qasr el Yahud, the ancient baptism site of Jesus on the banks of the Jordan River. Basically the river is Israel's border with the kingdom of Jordan. Crossing the river is not recommended. A few of the people in our group jumped into the river for the ultimate baptism experience. However, looking at the water, I passed on this one.
Jericho, the world's oldest city (10,000 years old) is the lowest place on earth, 1,300 feet below sea-level.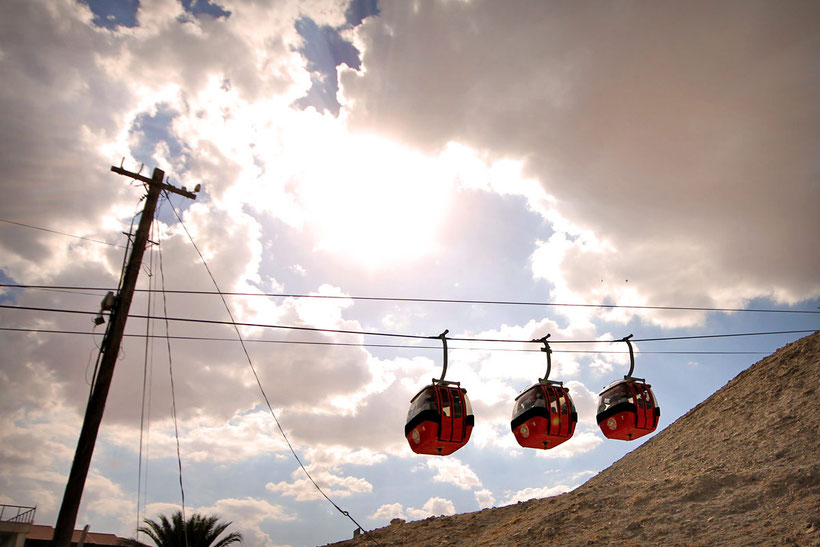 Cable cars to the Mount of Temptation in Jericho...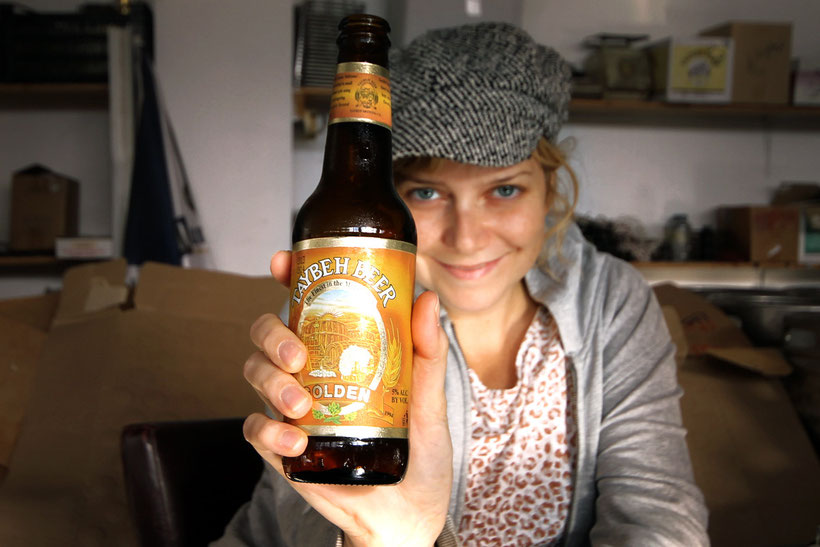 My personal favorite of the day was a our stop in Taybeh; the village is famous for being home to the Taybeh Brewery. I really liked the beer, not too bitter. If you like beer, buy a few bottles, the beer is half of the price compare to Jerusalem.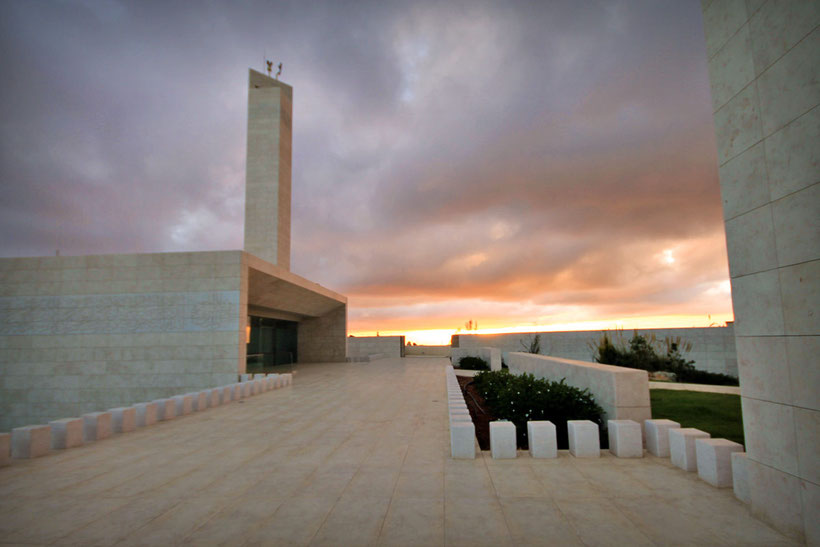 In front of the Mausoleum in Ramallah that contains the tomb of Yasser Arafat. Arafat died in 2004 at age 75. On a side note, the sunset was pretty dramatic that day.
---
---
The other day I went on a second trip to see more of the West Bank. 
Abraham Tours offers several half and full day trips so it's actually hard to choose as all of them sound very interesting. Finally I decided to go on a tour called "Nablus, Refugee Camp and Samaritans" - the trip covered the Northern part of the West Bank and took me to some religious sites.
Both trips to the West Bank were accompanied by our tour guide Tamer Halaseh, a witty and hilarious Palestinian guy. He was more like an entertainer than a guide and did a fantastic job to keep the group in a good mood. Getting to know him was definitely one of the highlights of the tour.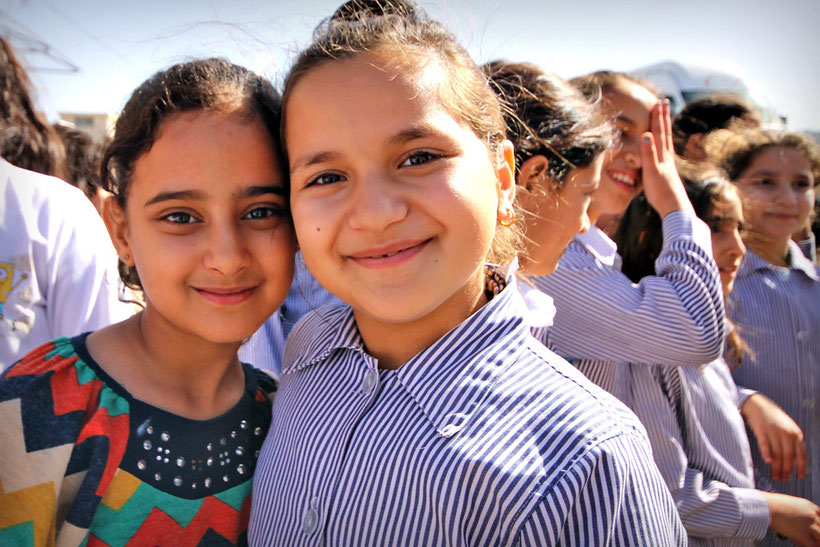 I ran into a group of Palestinian school girls at the Sebastia Archaeological Park, an ancient Roman city in the Northern West Bank...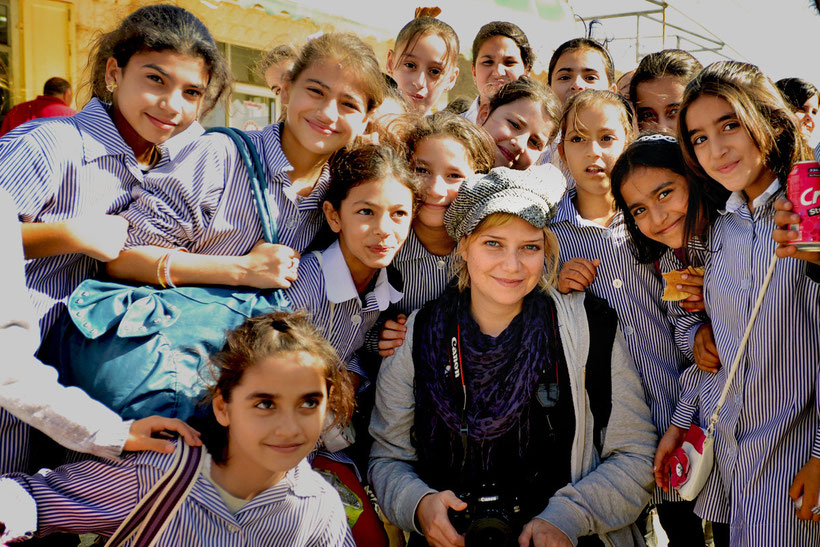 ... and the girls were pretty excited to pose with me for a photo. OK I was excited, too!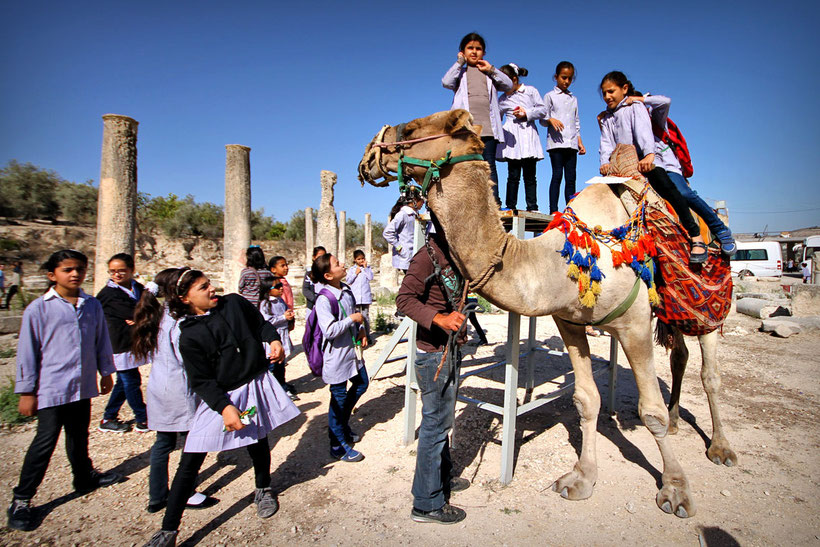 Shortly after the girls were offered to ride a camel, so eventually they lost any interest on taking more images with me. It's OK. Honestly, I wanted to ride that camel either.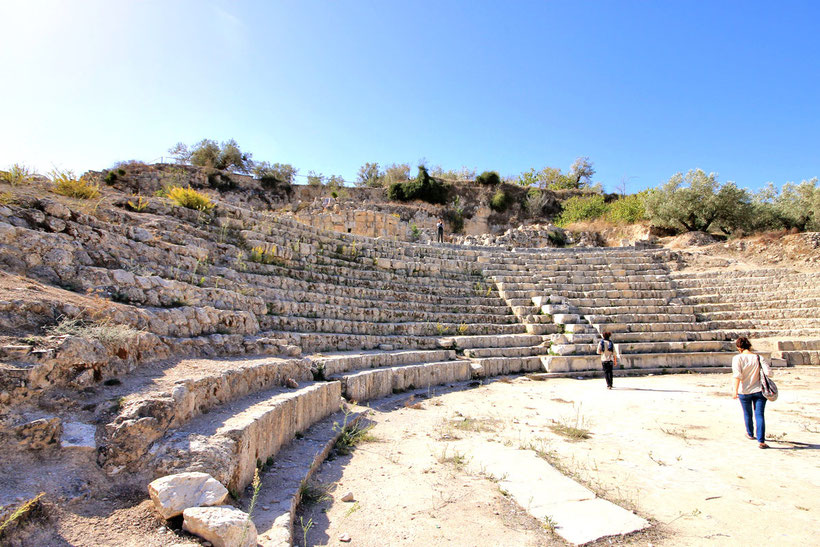 The Roman city Sebastia is known for a number of significant archaeological sites.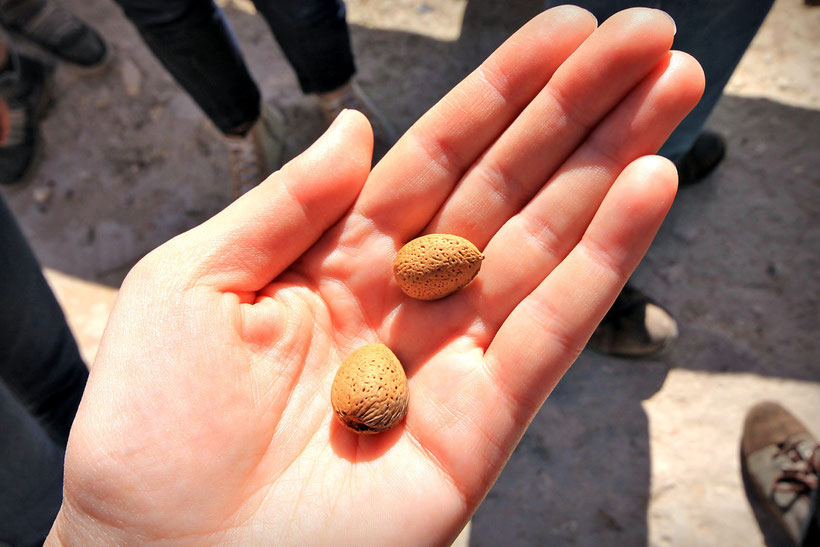 Fresh almonds, picked from the tree. Too bad I didn't had a nut cracker with me.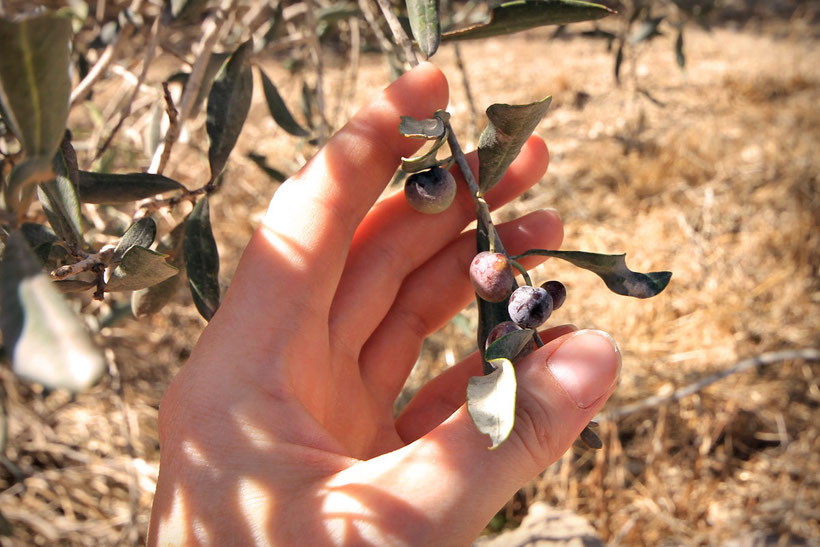 Sebastia Archaeological Park is rich in olive trees, which were - unfortunately - not ripe yet.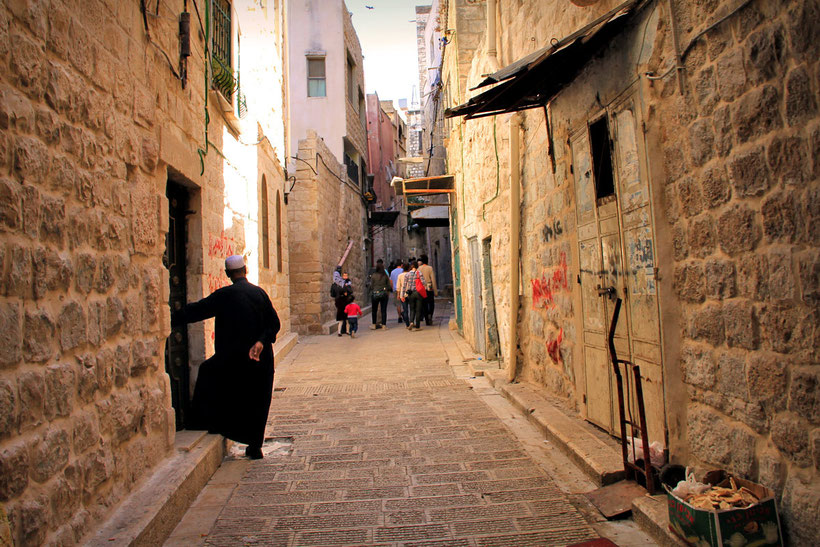 Next stop was the ancient city Nablus, one of the oldest cities in the world. The Old City is maze of narrow streets and tiny shops. Nablus is known for its Knafeh (will tell you later what it is) and... Soap!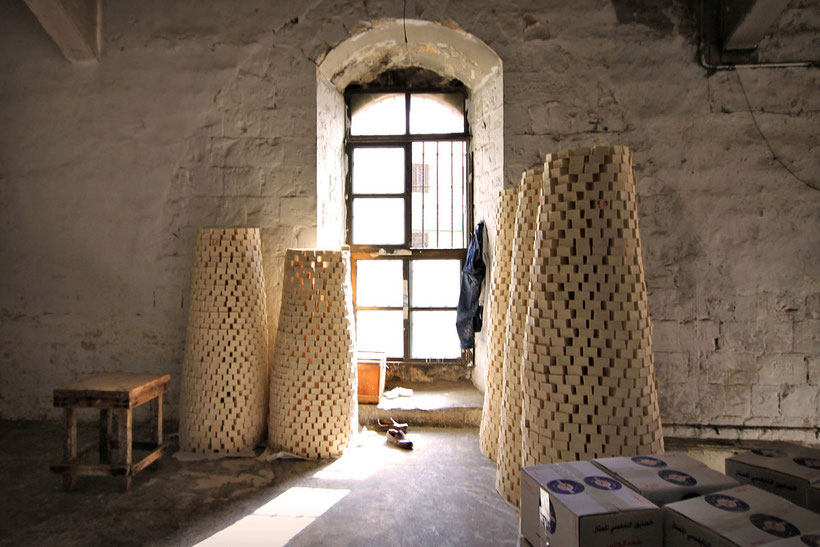 These are Soap stacks, in a soap factory in Nablus. The soaps are 100% organic and made of virgin olive oil, water, and an alkaline sodium compound. I bought two of them. I wish I bought more. They're so smooth.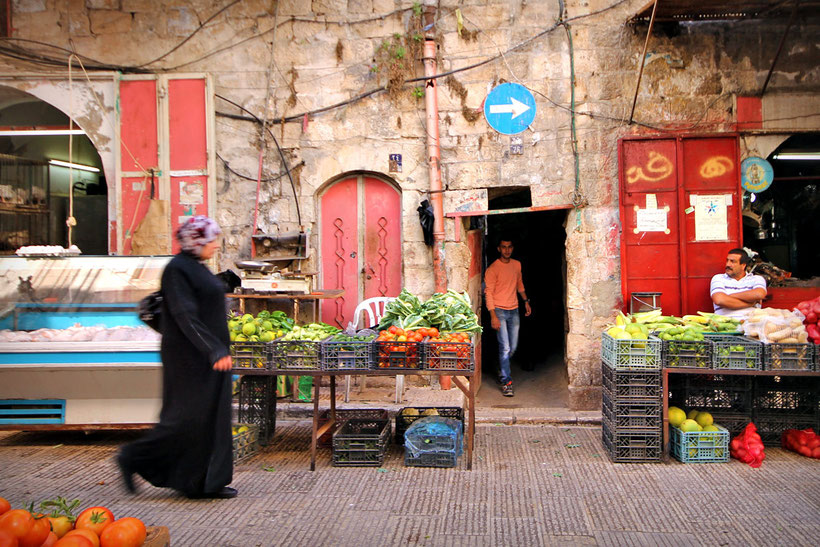 The Old City of Nablus...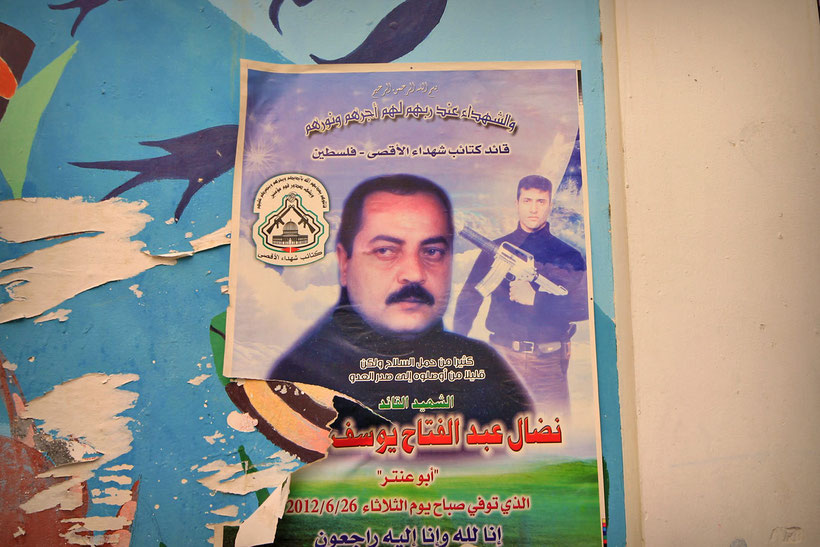 The town is covered with posters of suicide bombers, or how the locals call them "Martyrs".
It's very strange for me and difficult to understand. So I don't even try. 
Here is an interesting article about Nablus: City of Martyrs or City of Terrorists
---
---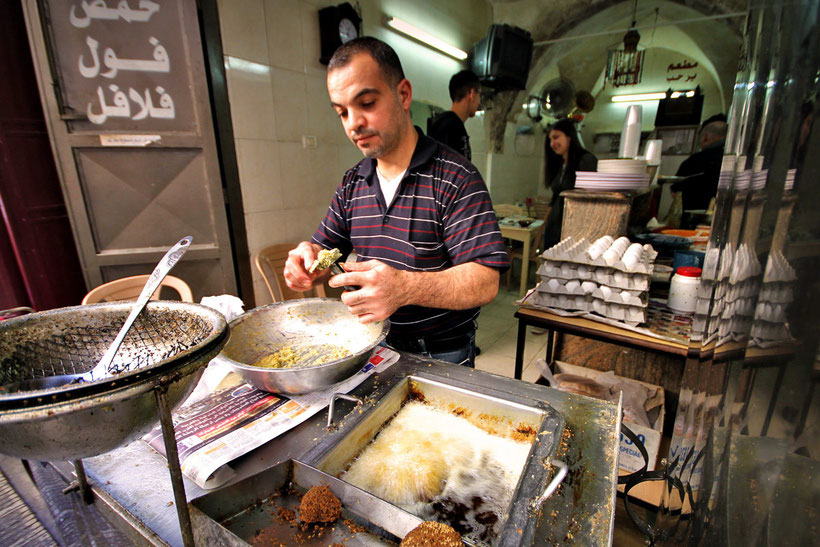 Lunch time in the Old City of Nablus.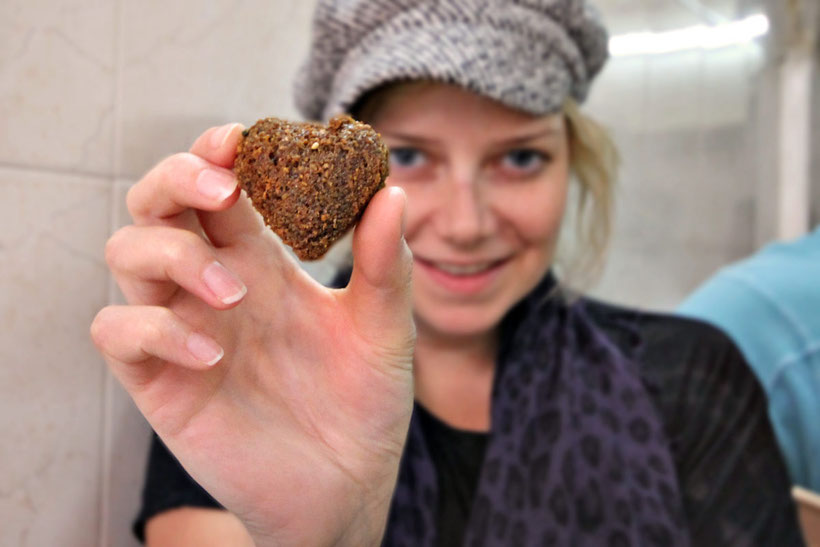 Well done! A Heart-shaped Falafel <3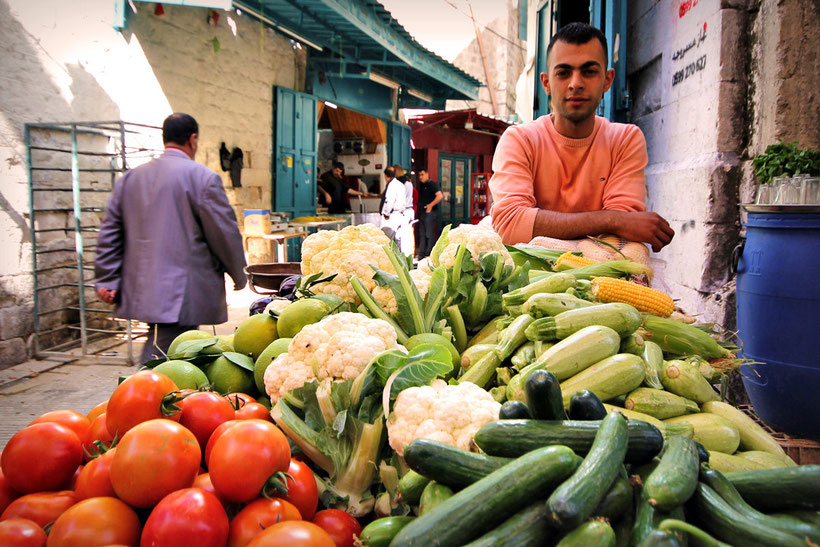 A young man selling veggies in the streets of the Old City of Nablus, Northern West Bank.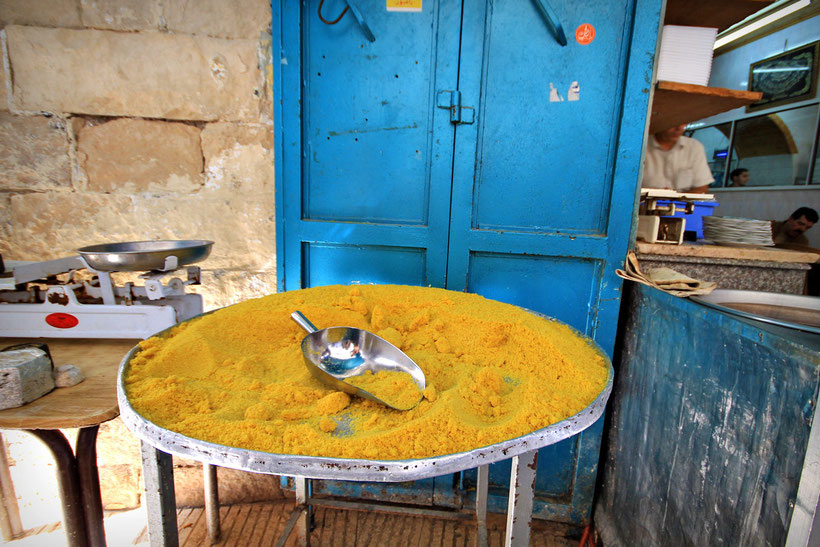 Orange food color, an important ingredient for Knafeh. So what is Knafeh...? Hold on!!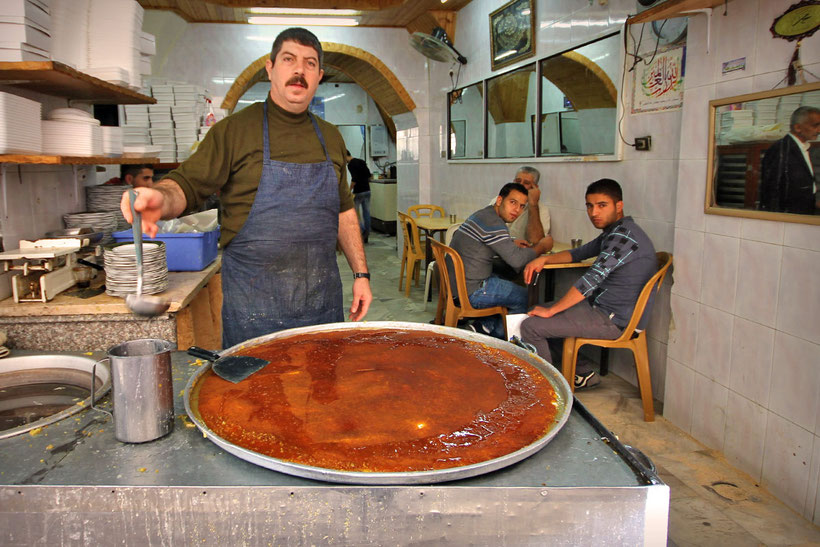 Knafeh (also spelled as Kanafeh or Kunafeh) is a delicious cheese pastry, soaked in sugar-based syrup with melted goat cheese on top. How does that sound? DE-LI-CIOUS!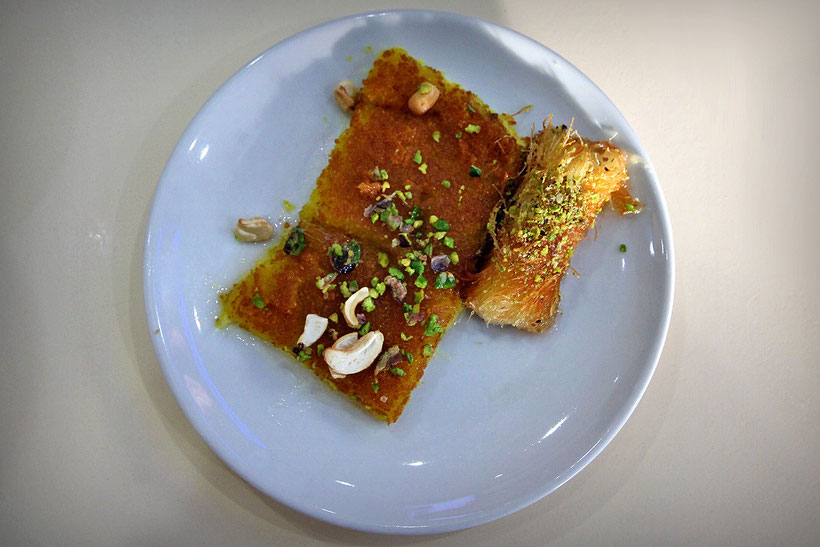 Knafeh!! Yummy! Sweet and cheesy is always a great combination!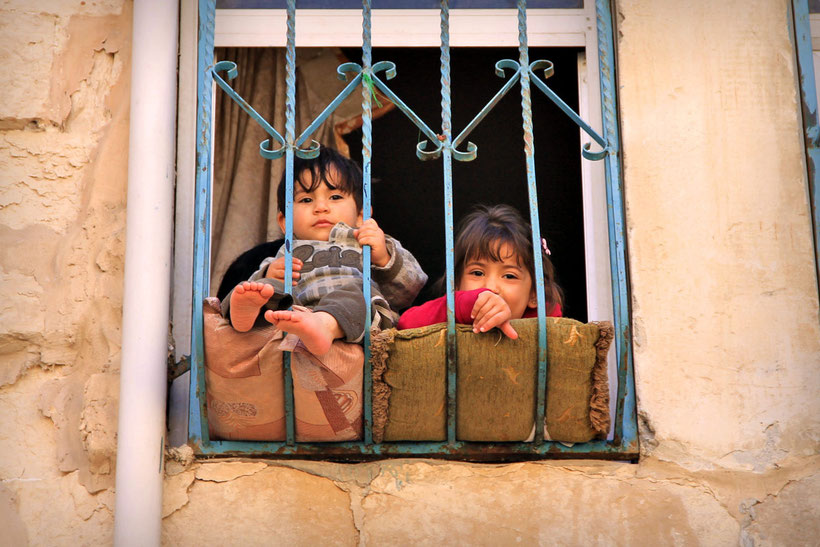 Kids sitting behind the window in the Old city of Nablus...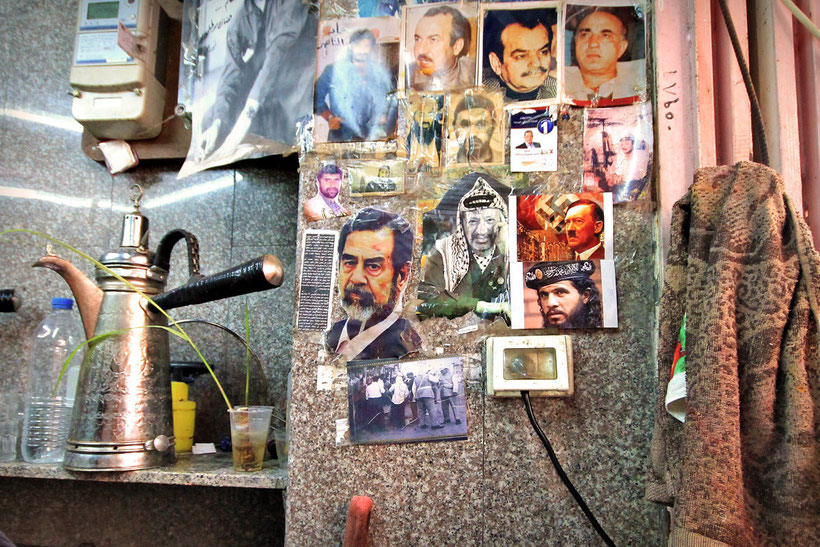 We had a brief stop in a juice bar and I was slightly irritated when I noticed the pictures on the wall:
Saddam Hussein, Osama Bin Laden, Yasser Arafat, and... wtf... Adolf H.?! Not exactly the kind of company I would enjoy a glass of fresh juice...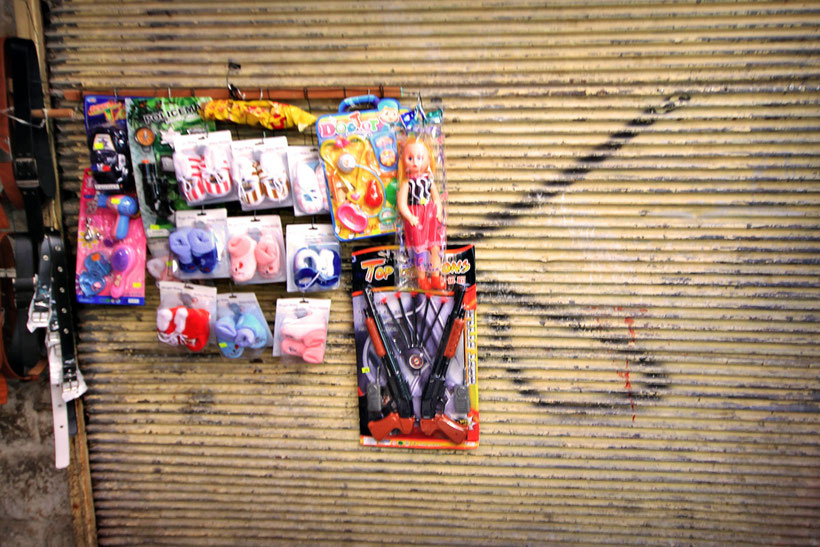 Street markets in the Old City of Nablus... Toys for kids..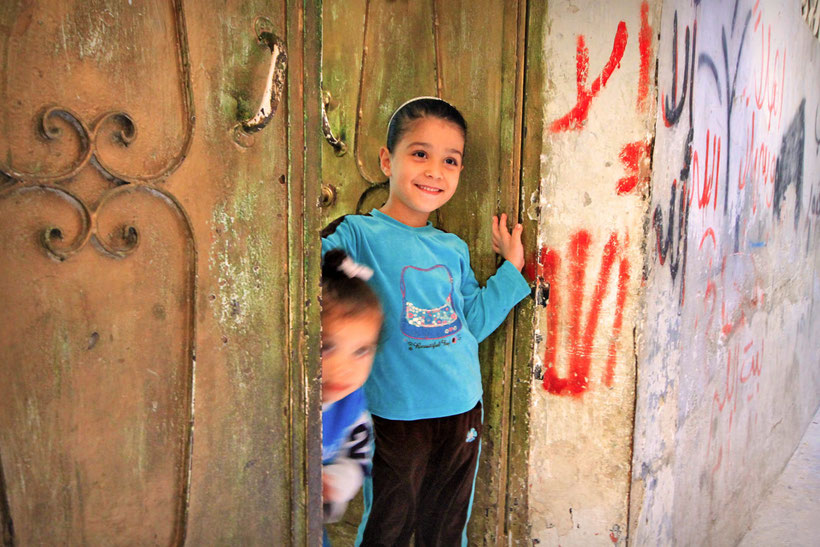 In the afternoon we visited the Balata Camp, a Palestinian refugee camp in the northern West Bank.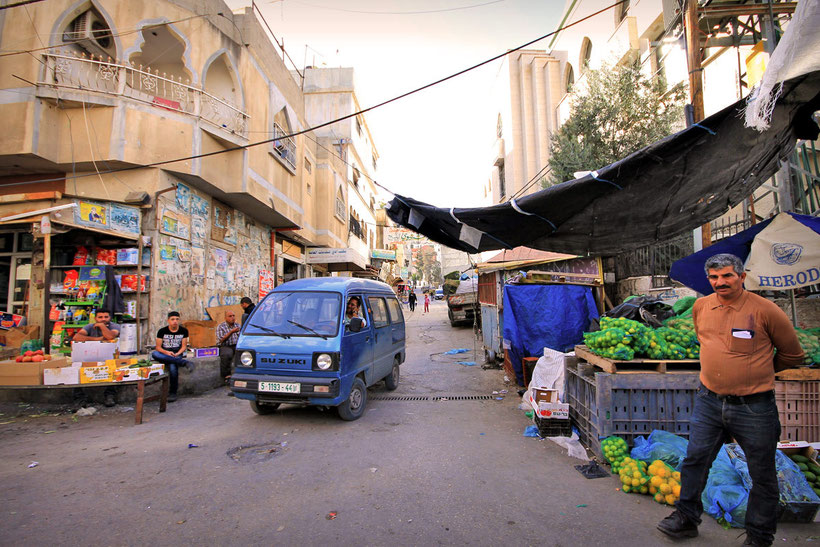 More than 30,000 people live here in an area of less than a half square kilometer. The place is the largest refugee camp in the West Bank. 
---
---
In the evening we left the West Bank and drove back to Jerusalem. It was a very insightful day and it's even hard for me to find words that could describe how I felt when I saw all those damaged houses in Nablus, the refugee camp, the posters of martyrs and bullet holes in some of the walls. It was very moving.
Honestly, it took me forever to get this blog post together as I wasn't sure how and what to write about the conflict. After a week in Tel Aviv and Jerusalem it was interesting to hear stories from the Palestinian side. However, in the end I just decided to let the images speak for itself.
I'm grateful I had the chance to get a deeper view of the Palestinian culture and see what life is like beyond the separation wall.
Thank you for reading.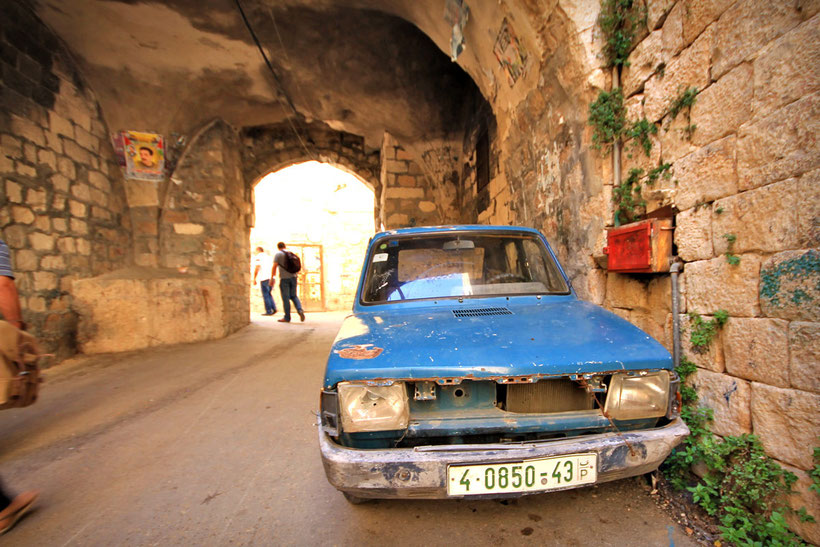 ABOUT THE AUTHOR

 

Sabrina Iovino is the founder of JustOneWayTicket.com. She's half German, half Italian and has traveled to more than 50 countries around the globe. She feels weird to write about herself in the third person, so she'll switch now. Phew...much better! Let's restart:

Hi, I'm Sab! This is my blog and I write about the things I love. Mostly.

 

Follow me on Facebook | Twitter | Instagram | Pinterest | Google+ | Youtube