Istanbul is a city like no other, located on two continents - sharing East and West, Asia and Europe - nowhere else you will find such an incredible mix of history, art and cuisine.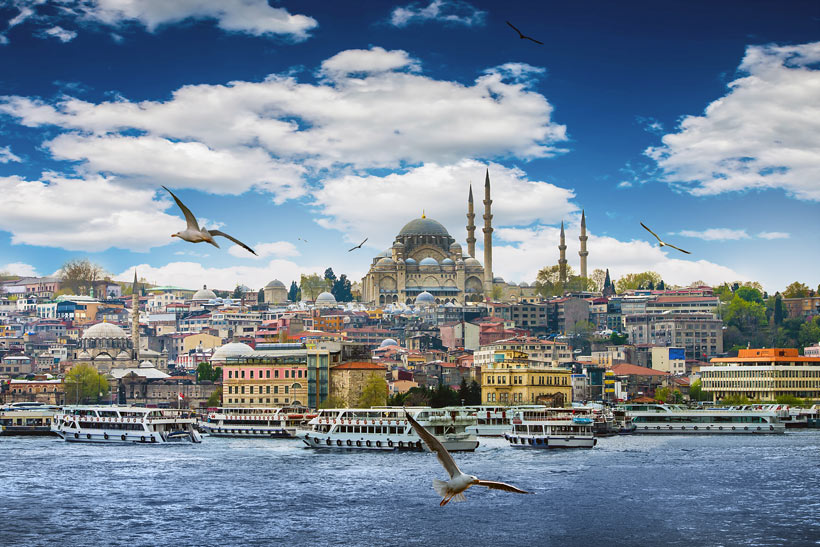 Visiting Istanbul is all about the experience, the ancient city is less about the historical sights and more about the living, breathing city. Although there are plenty of things to see and do here you will love just wandering the streets and taking in the place with all your senses.
Istanbul is steeped in history, with its past as the Byzantine capital Constantinople to the takeover of the Ottoman Turks very apparent in the Old City. The cities location, sat between Europe and Asia, has given it a unique mix of cultural influence you won't find anywhere else.
There is also a modern side to this city, with is exclusive restaurants, the Istanbul modern art museum and lots of great shopping drawing a new hip crowd. Foodies, fashionistas and artists all flock here to enjoy the cooler more contemporary side of Istanbul.
Late Spring is a great time to visit Istanbul as the weather is warm but not strikingly hot like the summer months. You will be comfortable walking exploring the city and taking advantage of the many outdoor cafes and coffee shops.
Istanbul in Turkey is a destination you should add to your bucket list right now, maybe even bump it to the top. Here's some inspiration to make that happen...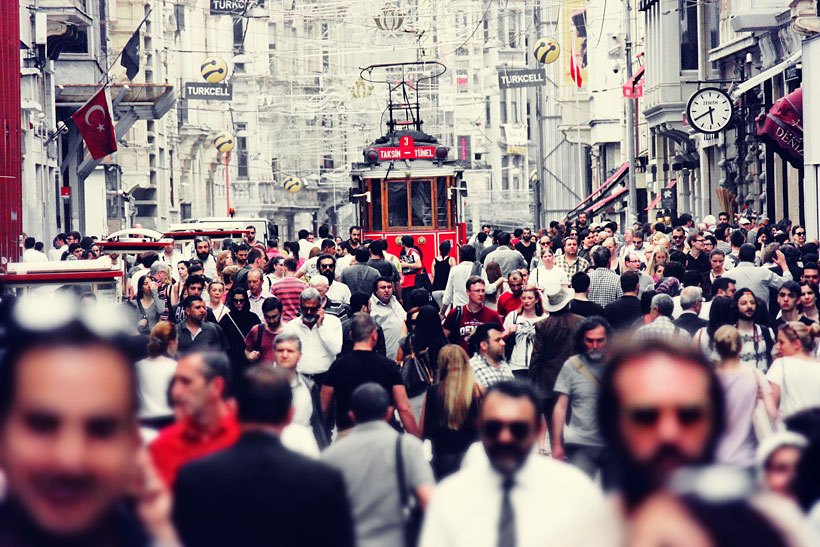 Top Things to do in Istanbul
01. Topkapi Palace
If walls could talk this historic Ottoman Palace would have endless tales and stories to tell. The large palace is entered through an Imperial gate then through to the four courts, the massive Harem and the Imperial treasury. The palace is beautifully decorated with intricate mosaics and spectacular architecture.
Opening times are every day but Tuesdays between 9 am and 4:45pm in winter and until 6:45pm in summer and admission is TL40 (US$12).
Photo © sabinoparente/Depositphotos.com 
Photo © valphoto/Depositphotos.com 
02. Shopping in Bazaars
You can't come to Istanbul without doing some shopping in the sprawling market Bazaars. You have never seen shopping like it, the Grand Bazaar in Sultanahmet is like entering another world. With more than sixty covered streets and between three and four thousand shops open for business it's easy to get lost in this world.
Remember if you want to get a bargain then you need to haggle. Don't be worried about it, that is just how business is done here, and you will have fun too! Get some great souvenirs and enjoy the shopping experience.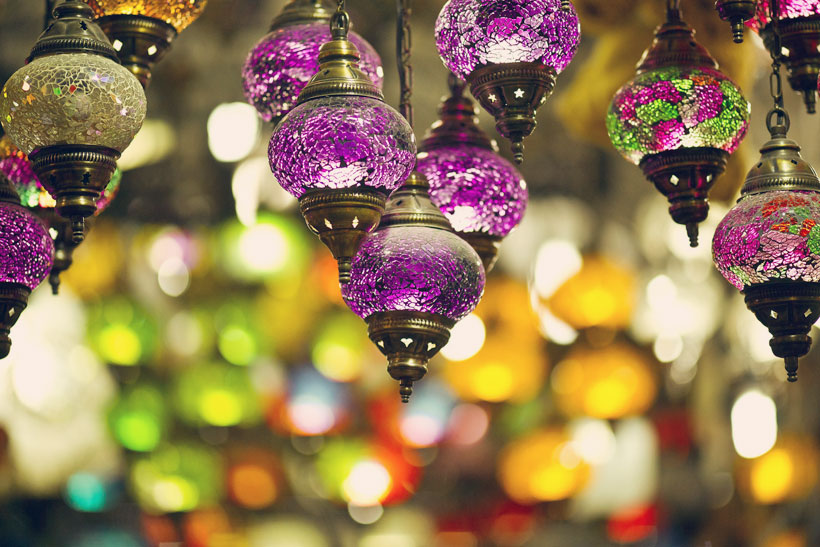 3. Hagia Sophia
Constructed in the 6th Century this architectural masterpiece was originally a Greek church, then an Ottoman mosque, and now it is an amazing museum. There are 30 million gold tiles inside the vast sprawling space. Don't expect a blank space though, every corner is full of intricate and detailed decoration.
Located in the central area of Sultanahmet, this attraction is easy to find and close to other places you might want to visit too. The cost to enter is TL40 (US$12) and you should plan around two hours to visit and explore Hagia Sophia.
Photo © alexlukin/Depositphotos.com 
Photo © saiko3p/Depositphotos.com 
04. Istanbul Modern Museum
This museum is Turkey's first modern art museum. You can experience temporary and permanent exhibits, a photography hall and a cinema and video art area. The museum and galleries vision is to collect, preserve, exhibit and document Turkey's modern and contemporary art.
Exhibitions are rotated in the permanent hall where you will find collections such as 'Artists in their time' and Turkeys masters of cinema. You are easily guided by texts explaining the works and exhibits. Opening times are between 10am and 6pm Tuesday to Sunday with extending opening hours until 8pm on Thursdays and entry costs TL25 (US$7).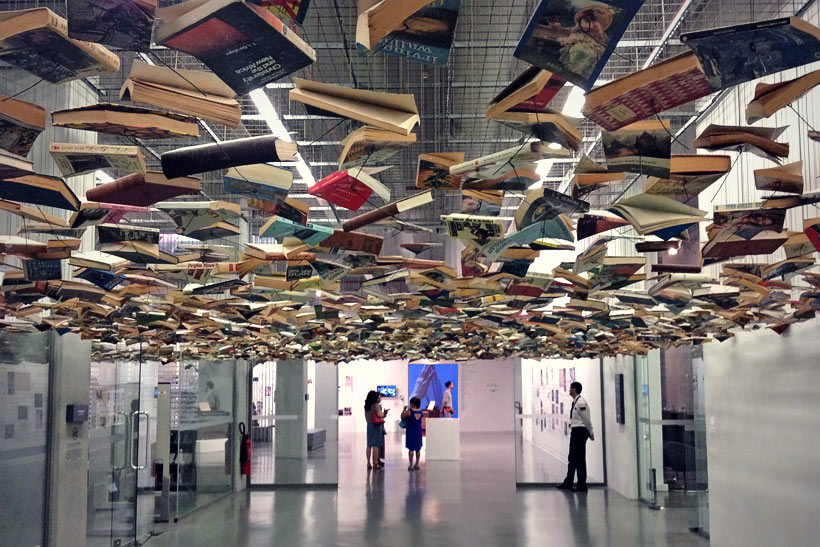 05. The Blue Mosque
The most iconic sight to visit in Istanbul. It is uncertain how the mosque received the name Blue Mosque. Some say it's the blue İznik tiles decorating the interior. Others say it is the colour of the sea reflected against the walls as seen by sailors. Although the mosque welcomes visitors, tourists cannot enter during prayer times. If you wish to pray you can enter, however taking photos is not allowed during prayer time.
To enter the mosque as a female you need to be covered up so it is a good idea to bring along a scarf, or you can borrow one at the entrance.
Photo © Violin/Depositphotos.com 
06. Bosphorus Strait
You need to take a ride on this body of water just to say you have sailed between two continents, seeing each side as you go by. A Bosphorus Cruise is a fantastic way to get a view of some of the large palaces from the water and take a break from walking around the city. Ticket costs vary greatly depending on which ferry or tour you choose. However, it is best to walk past the touts and make your way directly to the ferry port to get the best deal on your journey.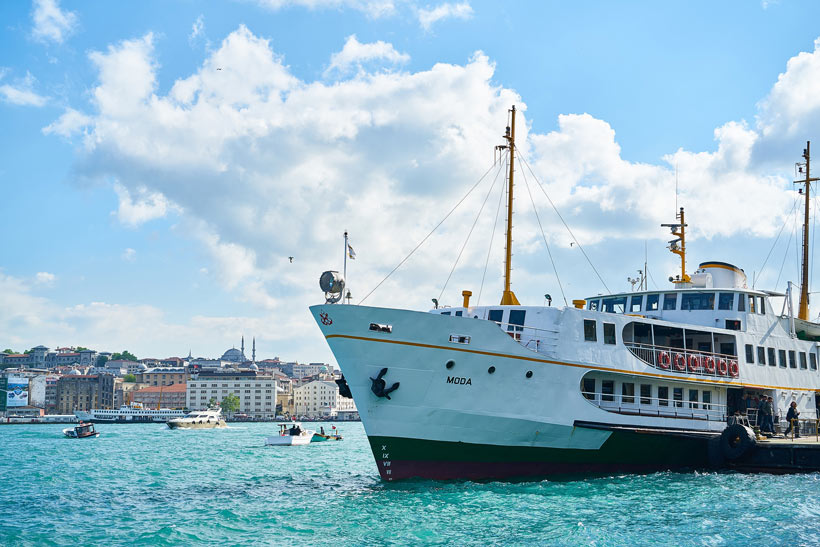 07. Sultanahmet Square
A beautiful park with views of both the Hagia Sophia and the Blue Mosque, a truly unique place to relax in Istanbul. A great place to sit and people watch any time, as it is always bustling. The fountains are spectacular too especially at night when they are lit up. It's a perfect location to meet, have a bite to eat at the restaurants and try some locally made Turkish ice cream. Use as a base to exploring the wide range of sights to see in this area.
08. Dolmabahce Palace
This huge and sumptuous sultan's palace dates to the 19th century. The palace is split into two halves, the public and the private, or the Selamlık and Harem. Each can be entered as a separate ticket or you can buy a joint ticket for about TL40 (US$12).
You will be amazed by the crystal staircase when you enter, and the massive amounts of gold used in the decoration across the palace. As you continue to through the palace the décor continues to impress. Take it all in to memory as you cannot take photos here.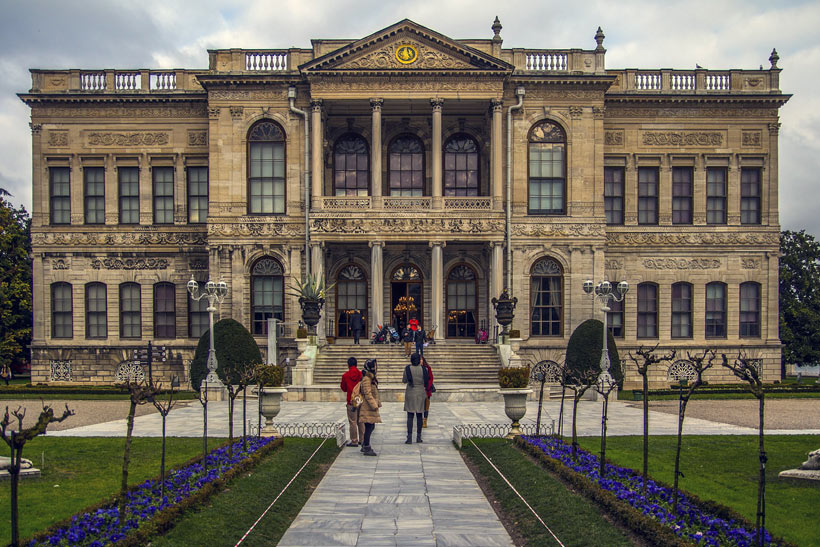 09. Galata Tower
This tower has long dominated the skies of Istanbul, dating back to the 14th century it offers its visitors 360 degree views across the city. For tourists today, there is a lift and one flight of stairs to gain access to the top balcony for the view. There can be quite a long queue and it can get quite crowded as it is a small place for such a popular sight.
Entrance costs are TL25 (US$7) per person and you can find it located in the Beyoğlu district. There are loads of small shops, art galleries and cute cafes in that area, you can easily plan an entire evening there. The restaurants opposite of Galata Tower are a great place to watch people.
10. Pera Museum
If you love paintings then you will really enjoy your visit to this museum. The second floor is dedicated to Turkish Orientalist themed paintings which give you a great insight into the glamorous Ottoman world. You will also find historic ceramics and weights and measures on the first floor and the cosy Pera café on the ground floor.
Entrance costs are TL20 (US$6) for adults and TL10 (US$3) for children and guided tours cost extra.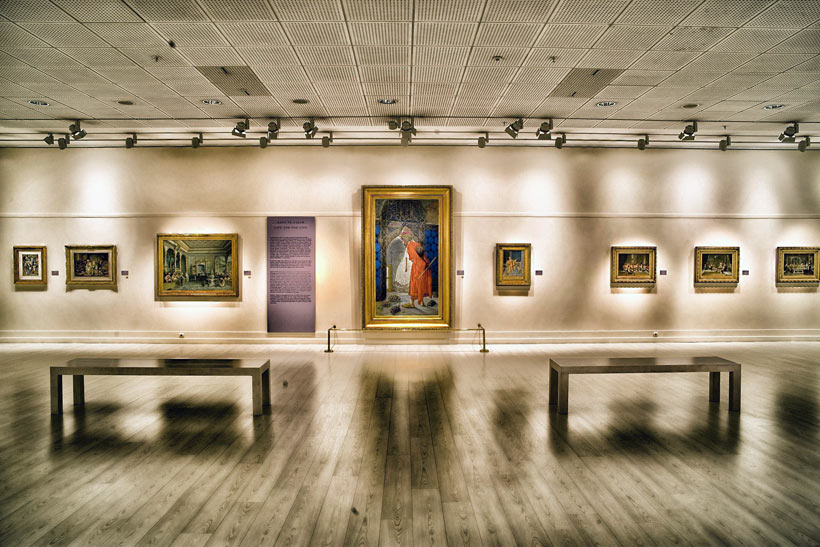 If you are planning on visiting even a few of the museums and sights, then it's a good idea to purchase the Museum Pass Istanbul. It is valid for 120 hours (5 days) from the date of entry to the first museum and costs around TL85 (US$24). You will get access to eleven museums and discounts to several others including Topkapi Palace and Hagia Sophia. It also gives you fast-track entry to the big sites, so you can skip those lengthy queues. Remember most museums are closed on Mondays.  
Where to eat? Best restaurants in Istanbul
Which restaurants should you try? As an internationally renowned city you will have your pick of excellent restaurants to try. Here are the top places to try in Istanbul right now:
Byzantion Restaurant - Best International Cuisine
This restaurant has rave reviews and offers a wide range of cuisine to its guests. It is great for a proper but what can also be a simple meal if you have had enough of spice. International dishes are served alongside local Turkish cuisine. You have your pick of delicious food to suit all tastes. You can find this restaurant at Ordu Cad. Selim Pasa Sok. No: 9, Fatih, Laleli, Istanbul.
Birecikli - Best Turkish Food
Here you can try local food from the heart of Istanbul. Any kind of Turkish cuisine you wish to try you can find it on the menu here. Birecikli is highly rated for its's excellent service, good food and value for money. Particularly highly recommended is the meat selection and the kebaps which are great quality and delicious. Find this restaurant at Hocapasa Mah. Hocapasa Camii Sok. No:2/B, Sirkeci-Fatih, Istanbul.
Deraliye Ottoman Palace Cuisine Restaurant - Best Fine Dining 
You can dine in ottoman opulence here with its beautiful décor and excellent service. The menu is varied and the food is lovingly prepared and presented. Deraliye Ottoman Palice cuisine is frequented by locals and visitors alike and doesn't have the typical tourist atmosphere some restaurants do in this area.
If you are looking for an unpretentious but superb culinary experience in Istanbul, then look no further. Find this restaurant at Ticarethane Sokak, No 10, Sultanahmet Istanbul.
Where to stay? Best Hotels in Istanbul
With so much choice in a big and busy city it might be hard to decide where you want to stay. Well some of the hard work has been done for you, here are three fabulous hotels in Istanbul to suit all budgets.
Top Luxury: Tomtom Suites
As a member of Small Luxury Hotels of the world, and located in a historic building in Istanbul's Galata district, it is a great choice for luxury seekers in Istanbul. Every room has a private spa bath, and you get Marmara Sea and Sultanahmet views from the roof top terrace. Taksim square is only a 10-minute walk away, and is rated as a great location in the city especially with couples.
Top Mid-Range: Lampa Design Hotel (photo below)
This hotel is in a perfect location in the central neighborhood of Şişli. From facade to rooms it is art-filled with contemporary design architecture. This urban design hotel offers 20 stylish and comfortable rooms for an excellent price, starting from US$50/night include breakfast. They also have a great coworking space called Lampa Lab where you can work with your laptop while enjoying some complimentary coffee and homemade cake.
Top Budget: Arven Boutique Hotel
This hotel is a great deal in a good location. This small and friendly hotel has everything you need for your budget stay in Istanbul. There's breakfast included, private bathroom, free Wi-Fi and is only a five-minute walk away from the Blue Mosque and Hagia Sophia. You'll be surprised about how much you get for your money! Prices start from US$19/night which includes breakfast. Located at Cayiroglu Sokak NO 06, Sultanahmet, Istanbul.  
Looking for private accommodation? If you want to live like a local in Istanbul, check out Airbnb! You haven't tried it yet? Here are $30 travel credits for your first booking!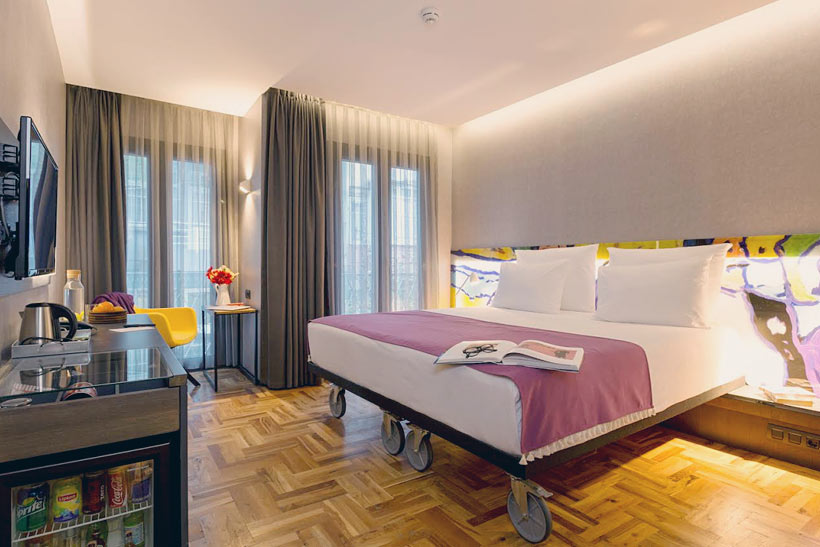 Flights to Istanbul
Many well-known international airlines fly to Istanbul, including Etihad, Qatar Airways, KLM, Air France and Turkish Airlines. It's easy to get to this city from all over the world. I recommend Skyscanner for finding the cheapest flights to Istanbul. 
Getting from the airport to the centre is easy too, with a few options to choose from. Taxi, Airport Shuttle, Private Airport shuttle, hotel transfer or public transport. The best option is your hotel transfer, especially if they offer it free or charge. The next most popular option is to take a taxi but make sure you have your hotel address, plenty of Turkish Lira in change and agree your price. Don't accept to pay in US$, it's a rip-off. If you're on a budget, take the metro, it's fast and cheap, too.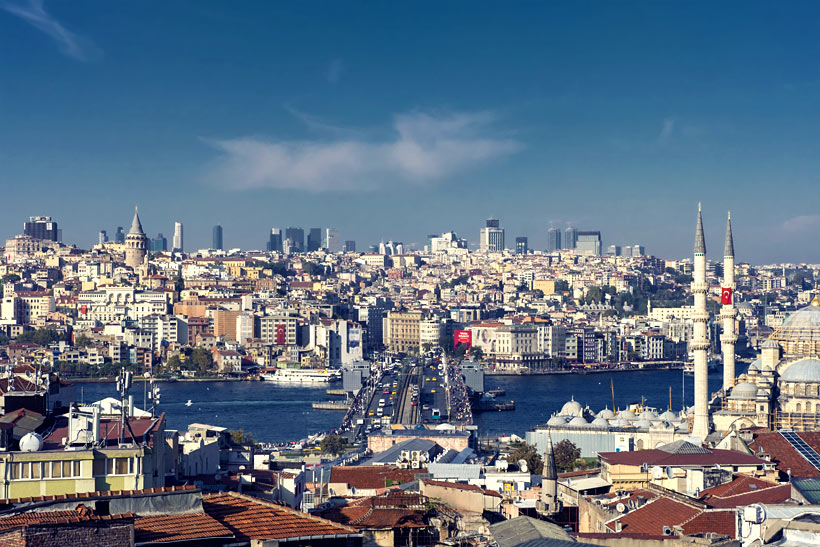 Istanbul is a city of many faces, ancient history mixing with modern life and everything in between. Whatever you love about taking a city break, you won't be disappointed when visiting here.
What do you think? Is Istanbul on your travel bucket list? Do you have any tips to share for taking a trip here? Happy travels! 
Thanks to John Miller for contributing this wonderful guide to Istanbul. John is a blogger who just loves to travel and write about his adventures on his blog at Pretravels.com.  
Follow him on  Facebook and Twitter. 
If you like this article, please share.
 
 
 
 
 
 
 
 

 

ABOUT THE AUTHOR

 

Sabrina Iovino is the founder of JustOneWayTicket.com. She's half German, half Italian and has traveled to more than 50 countries around the globe.

She feels weird to write about herself in the third person, so she'll switch now. Phew...much better! Let's restart:

Hi, I'm Sab! This is my blog and I write about the things I love. Mostly.

 

Follow me on Facebook | Twitter | Instagram | Pinterest | Youtube