One of Europe's most romantic destinations seducing visitors with enchanting caves, archeological sites, picturesque beaches and the best of Mediterranean food...
The last seven years I spent the majority of my time in Asia, but this summer I decided to go back to the roots and explore Europe. And with back to the roots I'm speaking of Italy. If you're a longtime reader of my blog, you probably know already that I'm half Italian, even though I don't look like one.
So, Italy, yay. What do I actually know about Italy? Not much to be honest. I know that about a third of all Italian men in their thirties are still living with their parents. Which brings us back why I don't date an Italian guy. They look nice though. But hey, I'm getting lost in details...
What was this about? Ah... Italy! The country of art, wine and olive oil, pizza, coffee and gelato... And of course the two wonderlands in Southern Italy: the Amalfi Coast and the Cilento Coast. Let's begin.
The Amalfi Coast - Legendary in Southern Italy
The legendary Amalfi Coast, a fifty kilometer long stretch that runs down the Southern part of the Sorrentine Peninsula, is considered as the most scenic coastline in Italy.  
As I reached the Amalfi Coast, I found myself overwhelmed with its beautiful villages terraced into hillsides, steep cliffs, turquoise waters and charming little beach towns with pastel-colored houses. I was mesmerized by the region's Mediterranean climate together with the epic views I got en route from Naples to Amalfi.
With its natural diversity and physical beauty, the Amalfi Coast has been declared as a UNESCO World Heritage Site as a cultural landscape. Aside from the spectacular Mediterranean landscape, the Amalfi Coast offers some superb hotels and excellent dining experiences. If you're thinking about visiting Italy, put this coastal gem at the top on your list!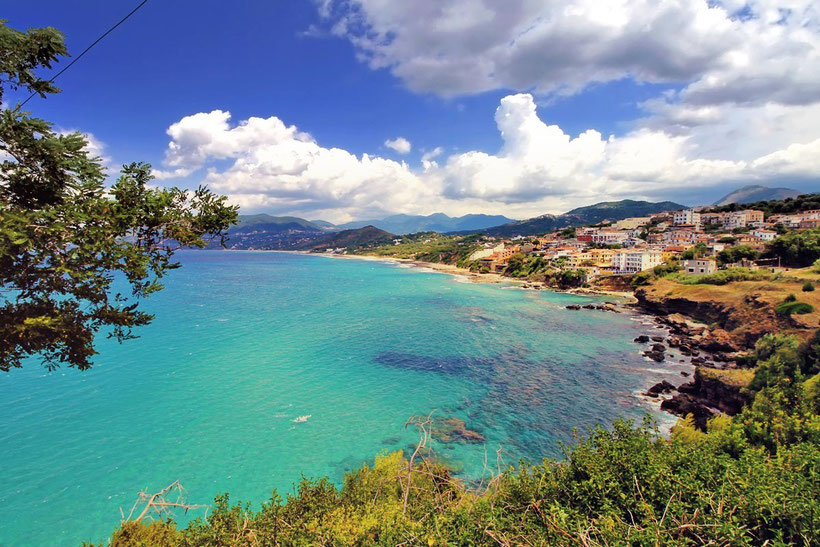 The Cilento Coast - Undiscovered paradise
While in Italy, I observed that most foreign tourists would go to the Amalfi Coast when the country's very own citizens would drive past Amalfi without a brake to the Cilento Coast. What's there? I found myself asking. There is something that is attracting Italy's very own people, I thought. And so I decided to drive two hours further South to find out what's the fuss about it...
The Cilento Coast is a quiet, peaceful region with some of Italy's cleanest sea water (thanks to the marine reserve). A way less people compared to the Amalfi Coast. Fabulous wine and ice cream were enough reasons for me to stay there for days.
But there is so much to discover: I came across historical towns and romantic villages, isolated bays and untouched beaches, archeological sites with century-old ruins, and in the end, I was like... I don't want to travel anymore, I want to stay here!! 
If you have already made up your mind to visit the Amalfi Coast, never miss the chance to see the Cilento Coast as well, as it is situated in the same vicinity. 
There are a number of gorgeous towns and villages along the coastline from Amalfi to Cilento. This blog post is your guide to Amalfi and Cilento and I'll tell you which places you shouldn't miss. Let's start with the to-do list. But first a map. I'll describe each place detailed further down.
Places to visit along the Amalfi Coast
Amalfi Town
Amalfi Town is a busy but lovely beach village that has a lot to offer for visitors: Beautiful landscape, a rich heritage and many delicious traditional restaurants. Amalfi's origin dates back to the time of the Romans.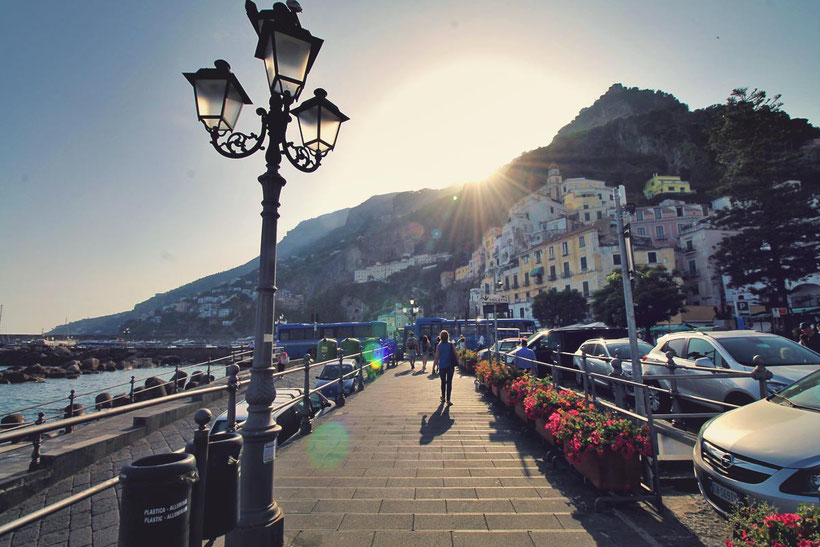 Don't miss the cathedral in Amalfi Town, the church was built in the 10th century. Get lost and walk down the town's back streets and stumble upon several shops and restaurants. I almost forgot to mention how stunned I was to see those huge lemons in Amalfi Town. They were almost the size of my head. I had to double check if they actually were lemons.
Maiori
Being on an exploration spree, I was drawn to the historical village called Maiori by talks about its rich history, ancient architectures, splendid landscapes and of course the longest beach that exists on this side of the peninsula.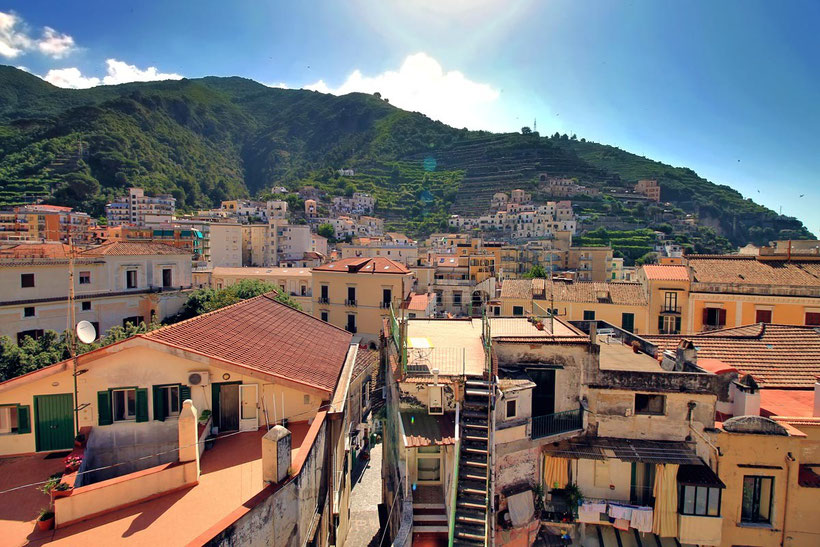 Besides witnessing the natural beauty of Maiori, I got the chance to see several monuments, such as the Catholic Church Chiesa Collegiata S. Maria A Mare with its sacred sculptures. I had to climb several steps up to reach the ancient church, but the effort was worth it as I got stunning views of the surrounding areas from the top.  
Ravello
About 6 kilometers up from Amalfi town on zigzag mountain roads and there it was, Ravello, a romatic town on a hill with spectacular landscapes. After a 20-minutes stroll through the old city I found myself at Villa Cimbrone, a historic villa from the 11th century. Situated on a rocky cliff with breathtaking views over the water, Villa Cimbrone is popular among tourists because of its preserved architectural designs.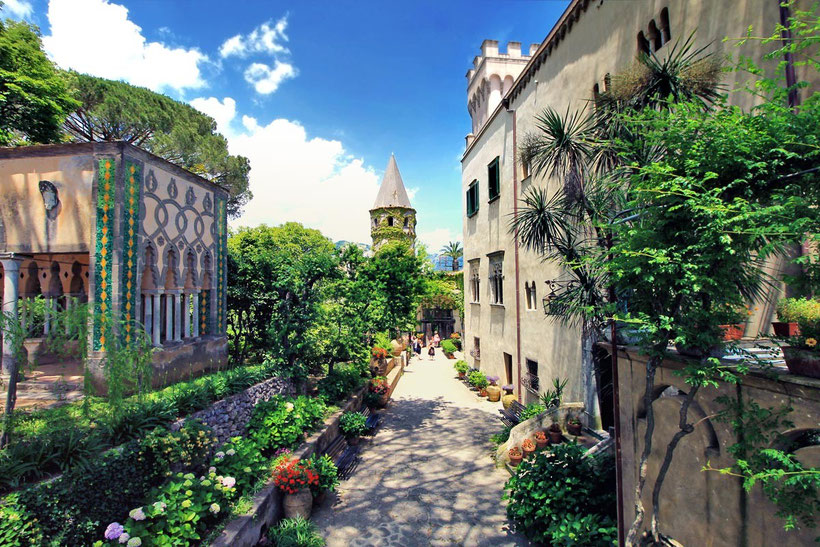 Villa Cimbrone has now been converted into a luxury hotel with beautiful and scenic gardens that are open for the general public. I wish I could have spent more than a day there, but staying at this exquisite villa was clearly above my budget. Even if you don't stay there, make sure to visit Ravello for a day, the charming town has plenty of beautiful villas, lovely cafes, museums and traditional restaurants.
Cetara
Situated along the Tyrrhenian Sea, Cetara is a heaven for people who have a passion for fishing. This authentic and charming village is still not overloaded with mass tourism.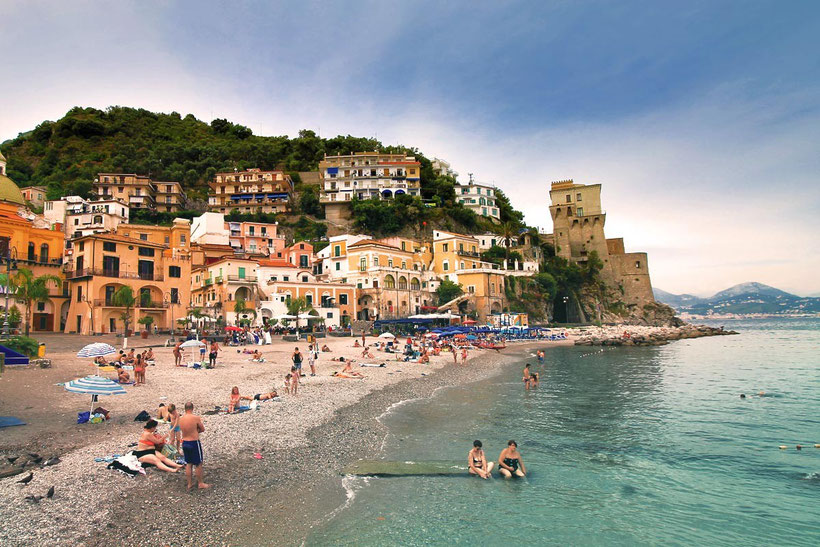 You can expect excellent cuisine, Cetara is the gastronomic hot spot in this region and famous for breeding tuna fish and anchovies. Aside from the great food, Cetara has some delightful beaches, perfect for swimming and sunbathing. 
Places to visit along the Cilento Coast
Paestum (Temple Valley)
Paestum, also known as the Temple Valley is the place to find the best preserved Greek temples and ruins in the world. The archeological site was founded 600 B.C. with three temples, a gymnasium, city walls and tower ruins. It also houses a small museum and a restaurant.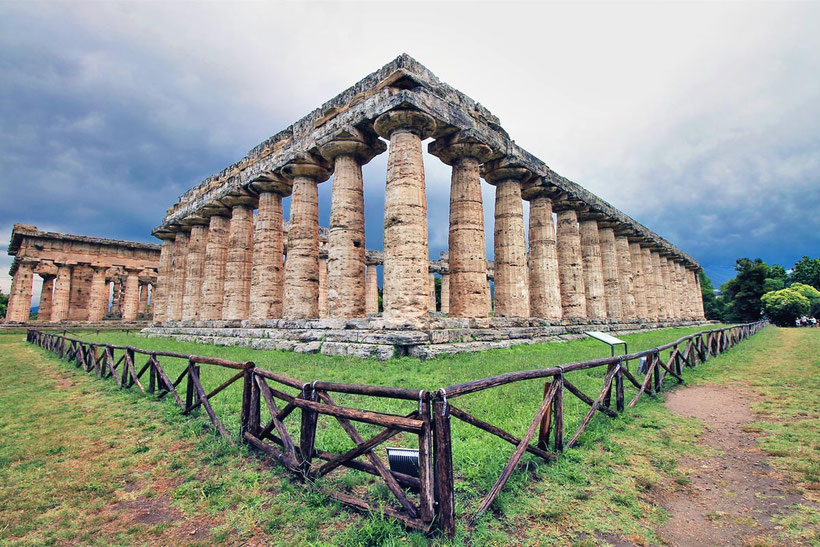 UNESCO has declared Paestum as a World Heritage Site. Unfortunately the weather was rainy during my visit, so for most of the time I sat in the cafe next to temples and enjoyed some ice creams and coffee which wasn't bad either.
Acciaroli
Acciaroli is a dreamy little village with a scenic seaside walkway and a charming old town. It's such a delight to walk through the small streets and alleys and take photos of the old houses. It looked surreal, like being on a film set (see picture below.)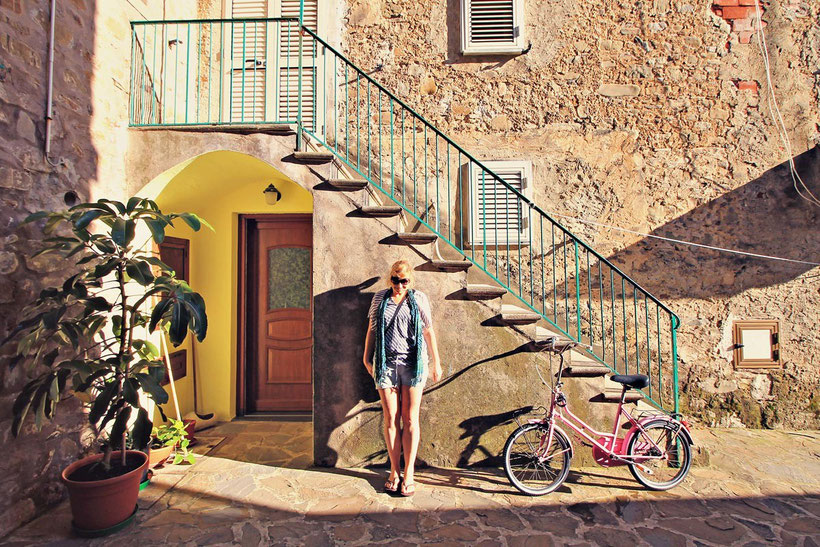 Fishing is among the important businesses there and what I loved most about Acciaroli was its long, sandy beach with clean, deep-blue sea water. There are barely tourists in Acciaroli, I recommend to polish your Italian language skills and have a conversation with the locals.

Have you read the bestselling novel "The Old Man and the Sea?"
Famous writer Ernest Hemingway wrote the novel after visiting Acciaroli and he is said to have met this old man in this historic port village. If these are not enough reasons for you to check it out, I don't know what else will.
Palinuro
No words can describe my awe-inspiring experiences in Palinuro! This place is all about natural wonders. Palinuro is an idyllic village by the sea, blessed with amazing beaches and crystal clear waters.  
The landscape around Palinuro is jaw-dropping, with plenty of enchanting caves along the coastline. Cruising around the massive lime stones and exploring the caves are Palinuro's main attractions.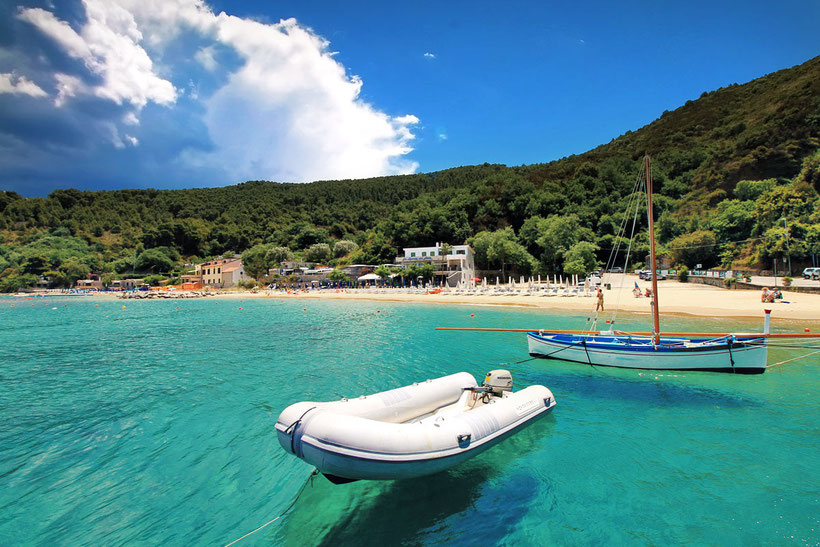 The village of Palinuro itself is small and picturesque, a couple local restaurants and cafes, and a shop where you can buy tickets for boat and cave tours. The rest of the town can be explored in a short time. 
If you're looking for more adventurous activities, explore Capo Palinuro by kayak or try diving. 
Fabulous Dining Experiences
Amalfi and Cilento Coasts are offering some of the best Mediterranean food in Italy, seafood is abundant and fresh. Here are some of my favorite meals and below a list of the best restaurants I've visited in this region.
Calajanara Restaurant in Conca Dei Marini (Amalfi)
That's the place I fell in love with the delicious Italian foods. Fish and seafood are the restaurant's specialties. Having my dinner on the sea view terrace with lights twinkling on Capri Island was literally a mesmerizing scene.


Acqua Pazza in Cetara (Amalfi)


One of the most recommended restaurants in Cetara: Acqua Pazza is popular for serving the freshest tuna and anchovies, delicious pasta with monkfish, wine and local artisan beer. 

If you want to travel to Cetara, definitely stop here and enjoy the cuisine at this fabulous restaurant!


Re Mauri in Salerno 
This restaurant has an award-winning chef. Re Mauri is a Michelin starred restaurant, situated in Vietri Sul Mare, a few minutes from Salerno. My expectations were high and this place did not disappoint. The food was exquisite and well presented in a stunning ambiance overlooking the sea.


Restaurant Il Rosmarino at Oleandri Resort in Paestum (Cilento)
Oleandri a hotel that calls itself "shabby chic resort". I didn't stay at this lovely decorated resort, but I had the pleasure to enjoy lunch there which was fabulous. Mediterranean cuisine, homemade pasta, a rich buffet of raw and cooked vegetables and desserts to die for. They also have pizza from the wood-fired oven. Amazing food in a gorgeous setting.



Places to stay in Amalfi Coast and Cilento Coast
I stayed at several hotels and resorts during my visit to the Amalfi and Cilento coasts. If you're traveling on a budget, I need to disappoint you. It's hard to find places below $50/night. You best budget option might be Airbnb to rent a room or apartment from a local! Here are $30 travel credits for your first Airbnb booking!
In general, the less touristy Cilento Coast tends to be cheaper than the Amalfi Coast. 
Hotel Club 2 Torri in Maiori (Amalfi) 


Impressive from the outside:

2

 Torri

 is located on a hill, rises out of a cliff and facing the sea. 

Rooms are bright and spacious with big balconies. Absolutely breathtaking views from the rooms, overlooking the beach of Maiori. 

The most delightful experience was having breakfast on the rooftop veranda.


Lloyd's Baia Hotel in Salerno 


If you need to stay in Salerno, this is a good option. Lloyd's Baia Hotel is situated on the coast and at walking distance to town. Rooms are spacious and clean, but without balcony (at least mine was). Avoid the

E

ast side rooms because they face a busy port. The Michelin-starred restaurant Re Mauri is on the lower floor, reason enough to stay and indulge there!


Palazzo Belmonte in Santa Maria Di Castellabate (Cilento)


Palazzo Belmonte

is

 an extraordinary place to stay, perched along the shoreline

. This

 17th century castle

is the

 home

of

 a prince -

n

o joke! My room was a spacious two bedroom suite with two bathrooms, jacuzzi and two balconies. A perfect fusion of modern and traditional architecture and designs, surrounded by a large garden and nestled by the sea. 


Grand Hotel San Pietro in Palinuro (Cilento)


This was probably my favorite place during my trip in Southern Italy. It was not the

fanciest

 place but a Grand Hotel in a true sense. Beach beds and infinity pool with superb views,

wel

l-

sized

 rooms all facing the sea. The picture below shows my balcony view. Not too bad, huh?
I have to praise them for their great service and the super friendly staff. I didn't ha

ve

time to take my breakfast as I left Palinuro early in the morning, so they packed my breakfast in a take

-

away bag. Thumbs up for that!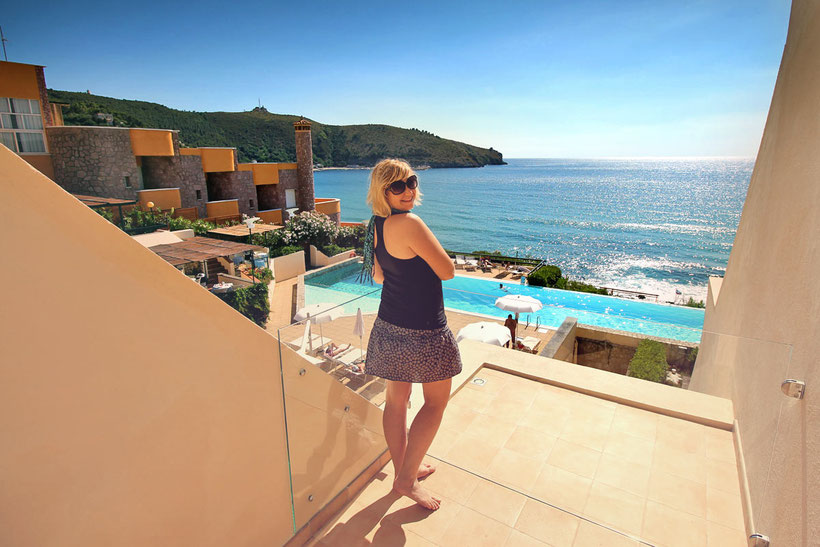 Best time to visit Amalfi Coast and Cilento Coast
Avoid high season in July and August, it will be hot, busy and hard to find rooms or parking spaces. I recommend to go in Europe's Spring which is from March to June. Also Autumn can be a great time to visit, from September to mid October. After October it gets more chilly and rainy.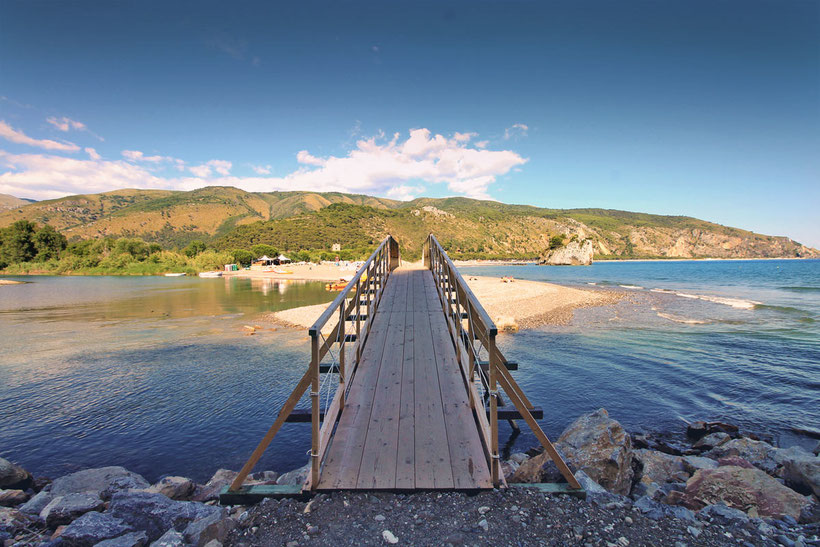 How to get there and around
If you want to get really quick to the Amalfi and Cilento Coast, get on an airplane straight to Naples, also known as Capodichino Airport. The majority of travelers use Naples as a transit point. I recommend using Skypicker to find the cheapest airfares to Naples.
To move on to your destination from the airport, you can either hire a car (I recommend Europcar or Avis) or use the public transportation. The airport is not served by any trains. Trains are connecting Napoli Centrale with Salerno and Sorrento. If you opt to take the train, you'll have to go to Salerno to catch a regional train that runs along the coastal areas. 
Buses are not a bad option either, the SITA local bus network travels all over the Amalfi Coast with stops in Sorrento, Positano, Praiano, Minori, Cetara, Vietri and onwards to Conca and its Emerald Grotto. There are also local buses from Amalfi to Ravello, Furore, Pogerola, Agerola and Napoli. 
You can also get to the area by boat. If you are travelling in summer, you can easily catch a ferry from any of the nearby ports, such as Capri, Salerno and Paestum. 
But after all, I highly recommend to rent a car from Naples Airport if you want a comfortable travel experience and enjoy the Amalfi and Cilento coasts at your own pace.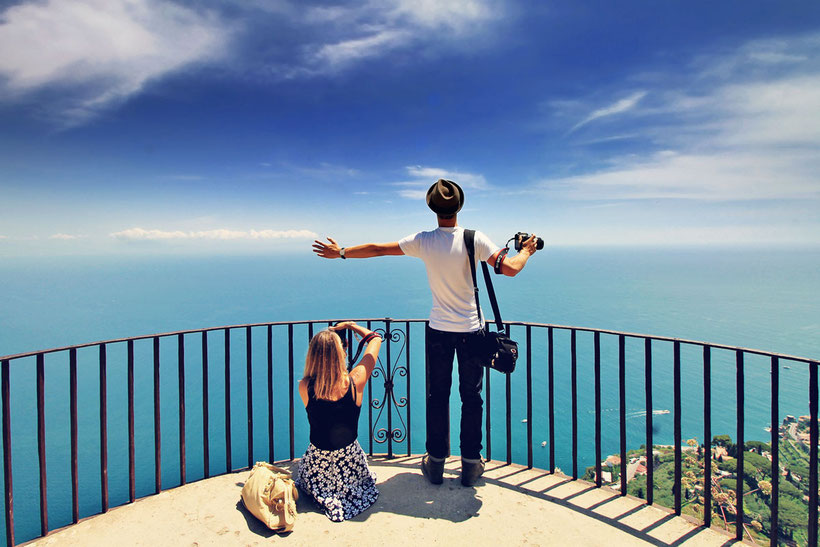 I hope you enjoyed this guide and I wish you a wonderful journey to Italy's magical Southern Coast. And please send me a postcard when you visit Amalfi or Cilento Coast!!
Thank you for reading.
If you like this article, please share.
 
 
 
 
 
 
 
 

 

ABOUT THE AUTHOR

 

Sabrina Iovino is the founder of JustOneWayTicket.com. She's half German, half Italian and has traveled to more than 50 countries around the globe. She feels weird to write about herself in the third person, so she'll switch now. Phew...much better! Let's restart:

Hi, I'm Sab! This is my blog and I write about the things I love. Mostly.

 

Follow me on Facebook | Twitter | Instagram | Pinterest | Google+ | Youtube

 

 
 
 
 
 
 
This trip was made possible by TBNet, Confesercenti Provinciale and the tourism board of Salerno.
All opinions are my own. #SalernoC2C