You can't afford that flight to the other side of the world? I have good news: It's no science! You can actually learn how to find the cheapest flights around the world!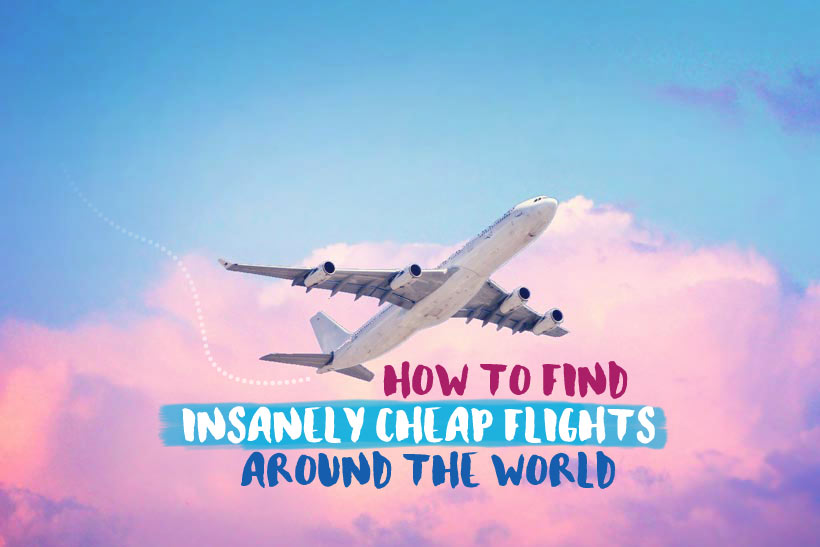 As a travel blogger, I obviously fly a lot. I have multiple airline cards, but that doesn't help me with the price of my flights! So I thought I'd introduce you to a friend of mine who is really great at finding cheap tickets, and she has a lot of strategies to show us! 
Meet Beck Power. A former travel agent turned full time traveler and digital nomad, now in Bangkok (where I met her) - she shows people how to get cheaper flights. Beck won some national awards while she was a travel agent, and she credits most of her success to her flight hacking strategies.
Flight Hacking
Let's talk about flight hacking. There are several flight hacking strategies Beck uses, and I'm going to reveal to you one key method she uses to "discover" cheaper flights. This strategy is mostly for adventurous people who think the idea of a free stopover sounds awesome.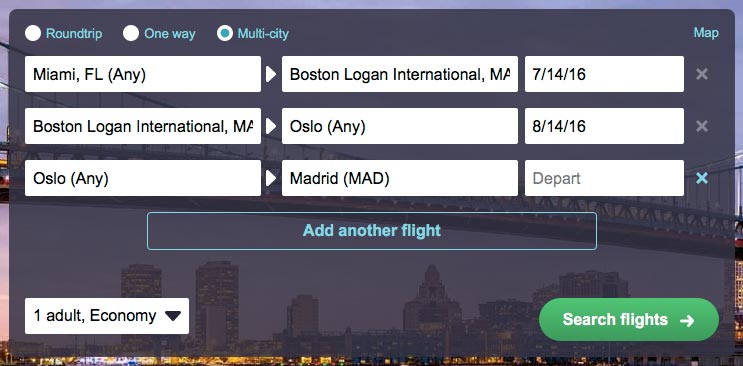 If you've ever booked a plane ticket before, you might have noticed the segments on it:
New York to London and back, for example, is two segments.
Miami to Baltimore to Oslo to Madrid is three segments. One city to another is called a segment.
Anyway - usually people make one ticket purchase with more than one segment on it, you could have a RTW (round the world) ticket for example with 16 segments, but you'd only have one ticket number - because you bought it all at once.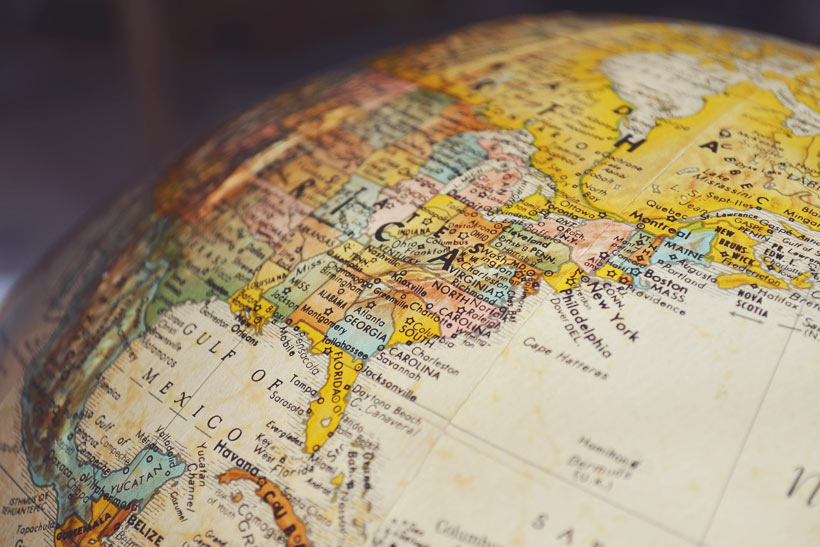 So here's the secret - more often than not, if you divide the itinerary up and book segments separately, they're cheaper. Beck recommends buying one way tickets to travel to multiple destinations - sometimes the destinations are even free or cheaper than free. How's that possible? you ask. Stay with me.
Let's say you need to fly from Bangkok to Boston. You could go to your search engine and search between those two cities, for approximately $500 one-way.
Or you can fly to Bangkok to Cologne for as little as $209 and get a separate ticket for Cologne to Boston for as little as $161.
Who doesn't want to stop in Germany? Germany is great. My parents live there.
Bangkok to Boston for $371 - not a bad deal, huh? Found on Skyscanner.
Now you've just saved over $100 which you might want to spend on a night in Cologne with a beer and something to eat. Sounds too good to be true? Here is another example:
Kuala Lumpur to Johannesburg. If you fly one-way, it's around $700, but if you get two tickets, one Kuala Lumpur to Mauritius, and one from Mauritius to Johannesburg, you can save $150. And you get to see Mauritius. Yay!
And that isn't all! Beck found plenty more amazing deals, such as New York to Oslo to Rio de Janeiro for only $380! Or how about Baltimore to Reykjavik to Barcelona for $256?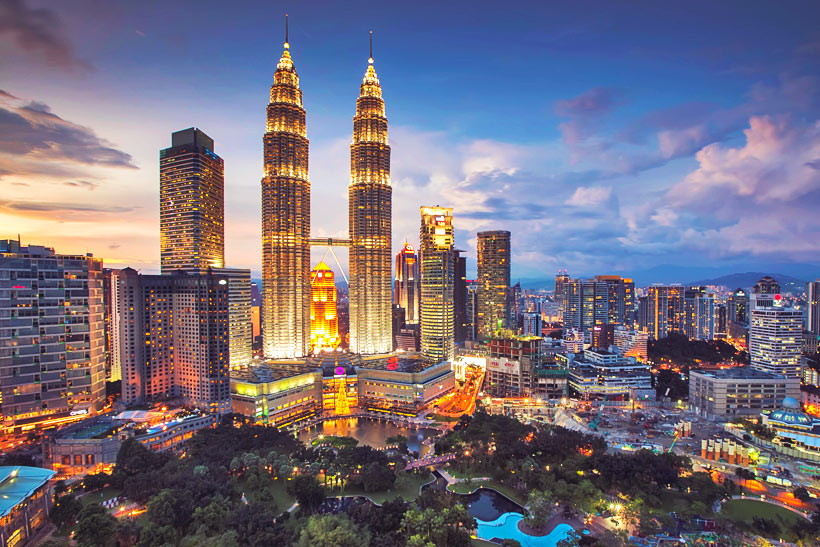 Learn how to become a flight hacker and get the cheapest air fares possible
Rather than booking tickets and keeping it to herself, Beck actually shows people how to find these kinds of deals themselves. She created an online course program called NomadFly, a membership where you actually get access for life to a course with everything you need to know, and it's updated all the time.
I had a chance to check it out myself and I have to say, I'm impressed. There are helpful tutorials, a members-only Facebook group, videos and lots of deals, as well as a free copy of the ebook Flight Hacking for Adventurous Travelers.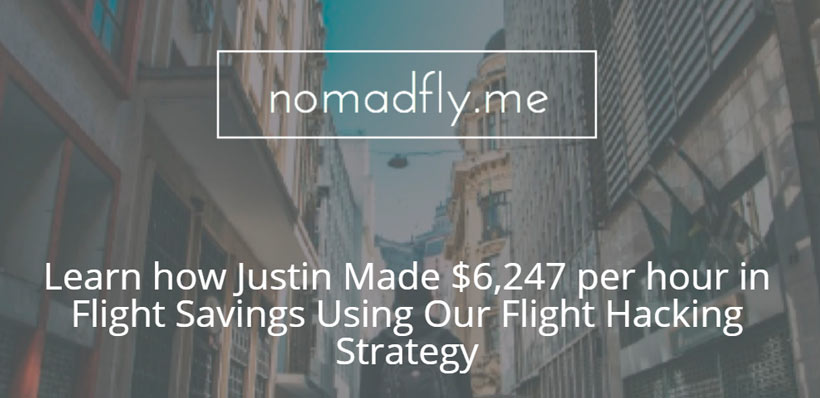 Beck is also making the first Nomad Flight Network, that will be released to members later this year. Everything she makes for NomadFly will not cost members anything extra - Beck told me the price will go up for non members, so get in quick! Here is a screenshot from the online course.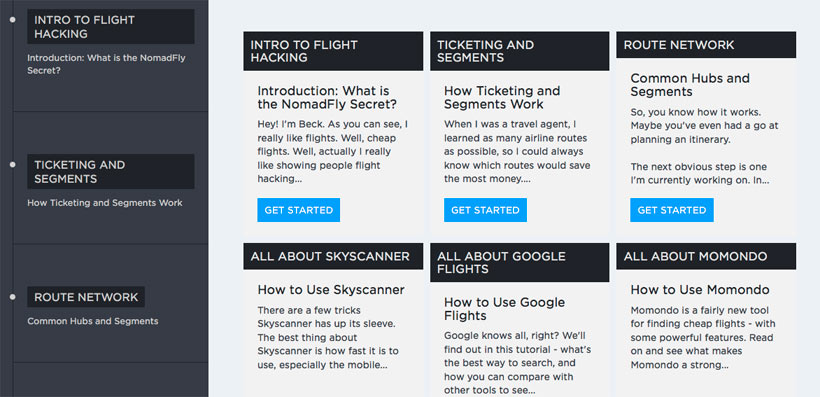 How much does it cost?
Subscribing to Beck's newsletter is free. Beck offers an ebook for only $10 that will teach you strategies to find cheap flights.
But here comes the real deal: The ultimate NomadFly Flighthacking Course. It's only $49 to become a member for life! You'll get the ebook for free if you buy the course.
Get NOW 20% off until the end of November!
Exclusively, readers of JustOneWayTicket.com get 20% off the Flighthacking Course, until the end of November 2016!! So actually you can get the NomadFly membership for only $39 now! 

Enter the code justonewayticket when you buy the NomadFly Flight Hacking Course and you get 20% off!
I already joined, and I can tell you I've learned a lot, even just from talking to Beck and seeing what amazing deals other members have found! The online course is well organised and updated regularly.
What do you get as a member of the NomadFly Flight Hacking Course?
5* rated ebook

Online course

Private Facebook group membership

Discounts on lots of nomadic stuff

Access to all new products released to NomadFly FOREVER.
If you take more than one flight a year you will learn enough from your NomadFly membership to make your money back. So what are you waiting for? See you in the group!
Beck Power asked me to test the NomadFly Course (and I loved it!!). All opinions are, as always my own.
Thank you for reading.
If you like this article, please share.
 
 
 
 
 
 
 
 

 

ABOUT THE AUTHOR

 

Sabrina Iovino is the founder of JustOneWayTicket.com. She's half German, half Italian and has traveled to more than 50 countries around the globe. She feels weird to write about herself in the third person, so she'll switch now. Phew...much better! Let's restart:

Hi, I'm Sab! This is my blog and I write about the things I love. Mostly.

 

Follow me on Facebook | Twitter | Instagram | Pinterest | Google+ | Youtube