My experience with Kiwi.com: No worries about delays, super short layovers or missed flight connections! Kiwi.com got you covered and will find the cheapest flights for you!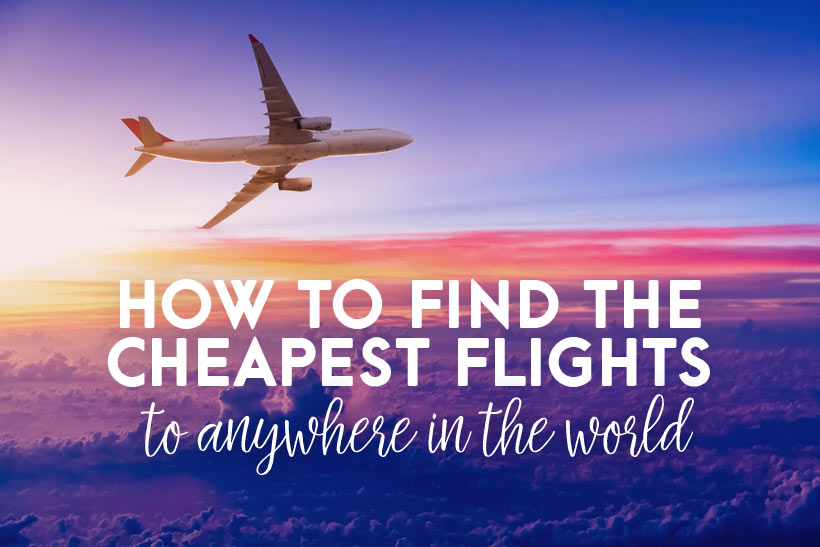 UPDATE 2020: I NO LONGER RECOMMEND KIWI.COM
Personally, I did not have any bad experiences with Kiwi.com, however, the amount of negative comments and reviews about Kiwi.com lead me to the decision to no longer recommend them. Thank you.
---
I'm taking between 40-50 flights every year and even though travel bloggers get a lot of free flights, there are still plenty left that I have to pay myself. I was always wondering how to find cheap flights and tested several flight comparison sites. After experimenting with different websites I'm pretty sure that I have finally found the best flight search engine on the Internet...
While most flight search websites work in a similar way, Kiwi.com was different from all the others and literally blew my mind.
I can't stress enough how awesome this website is to find cheap flights. And nope, this is not a sponsored post, I'm not paid for writing this. 
What is Kiwi.com?
Excellent question. As mentioned above, it's a flight search engine that uses an advanced algorithm to find the cheapest flights possible. 
There's no need to be redirected to other websites to book your tickets yourself and they will recommend the best flights, as well as offering you the cheapest and shortest routes. 
Let's get started. Here are 6 of their best features!
01 | Save Money by Combining Different Airlines
Kiwi.com is able to tie together almost all of the flights in the world. They will combine low-cost carriers with big airlines, for example Emirates + Air Asia. Or Air France + Ryanair. You would never be able to book this combination on any of the airline websites.
Let's do an example. You want to fly from New York to Kathmandu; Kiwi.com will show you the direct flights and the ones operated by a single airline and their partners.
But that's not all. They will also give you all possible routes – perhaps you will fly to Stockholm with one airline, Dubai with another, and on to Kathmandu with a third. That means, on this route, you can save around €500 ($536) by not flying with one single company.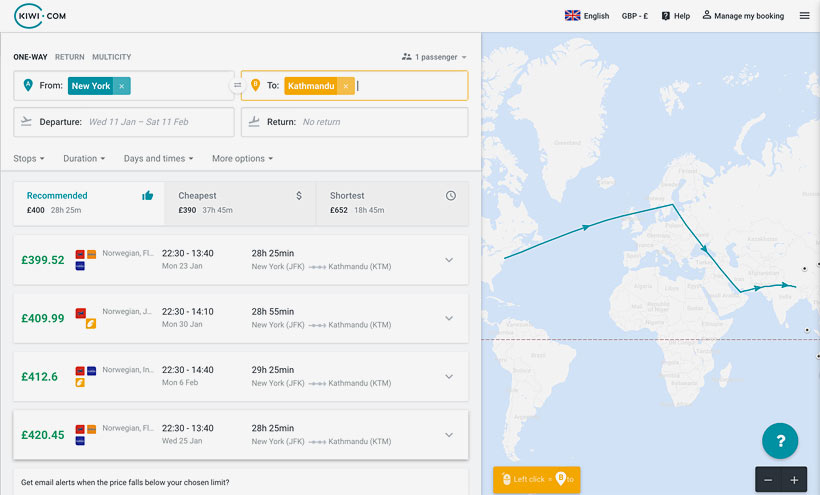 02 | Radius Search
This is by far one of my favorite features of Kiwi.com: The Radius Search. Let's say you're sunning yourself on a beautiful beach on the French Riviera but you know you need to book a flight to your next destination.
You don't mind where it is, as long as it's somewhere near Buenos Aires, and where you fly from isn't a problem, as long as it's the cheapest. So just draw a circle from the area where you'd like to depart.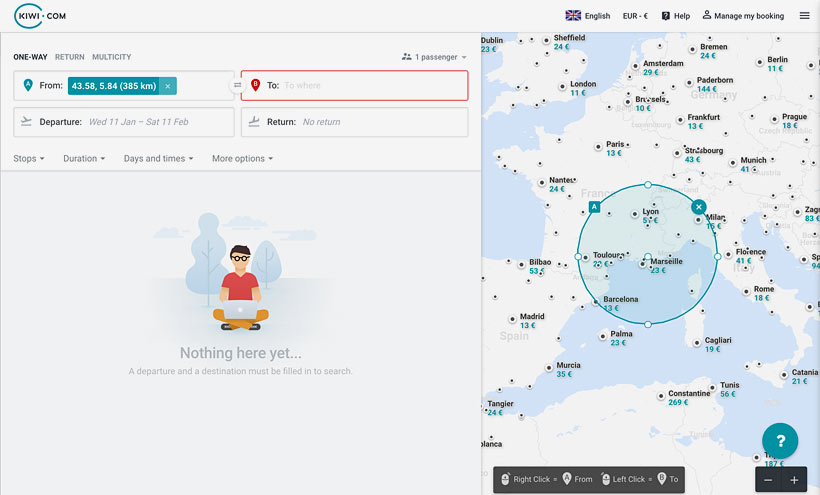 How to open a circle? Choose the option in the search box and it will ask you to click on the map. When you do that a circle will appear, and you can drag it as far as you are willing to travel to an airport. Kiwi.com will then search all the flights in that area. This is fun, isn't it?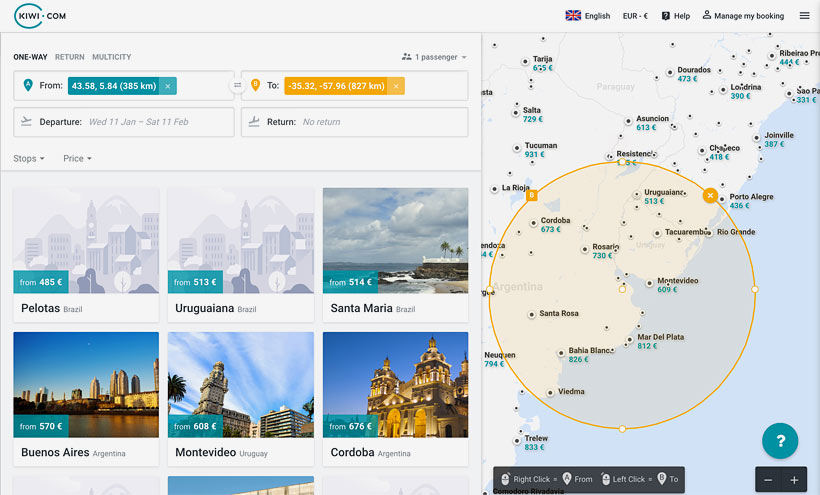 Let's do the same for Buenos Aires (although you don't have to use a radius search for both). Click, a circle appears, and you drag it out to whatever size you want. You will see the air fares to these places.
How about Pelotas for €485 ($520)? Never heard of it?! Who cares, it's in Brazil and it has some culture and beaches. Perfect, I'd take that.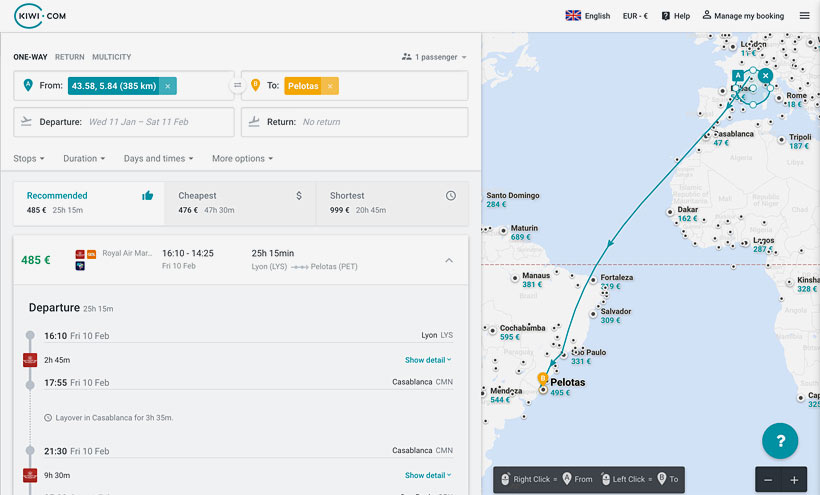 The radius feature is a dream for every backpacker. Imagine you're traveling across South East Asia and you know, your next destination will be Europe. Just open a circle over Asia, and another one over Europe, and Kiwi.com will show you the cheapest flights between Asia and Europe.
03 | Tour The World
Now this is something for real world travelers! Head over to Kiwi.com and look above the search bar. There's the word MultiCity. Click that. Now we're going on a journey around Europe.
Let's start in London, shall we? And we'll choose the cheapest flights we see, unless they take us backwards. Düsseldorf, then Romania, and Brussels, Warsaw, to Eindhoven, Copenhagen, and finally Prague. You can choose how long you'll spend at up to eight destinations.
What's the cost for this trip? €136 ($146) for a month and a half's worth of travelling through Europe. You couldn't beat that with a big stick.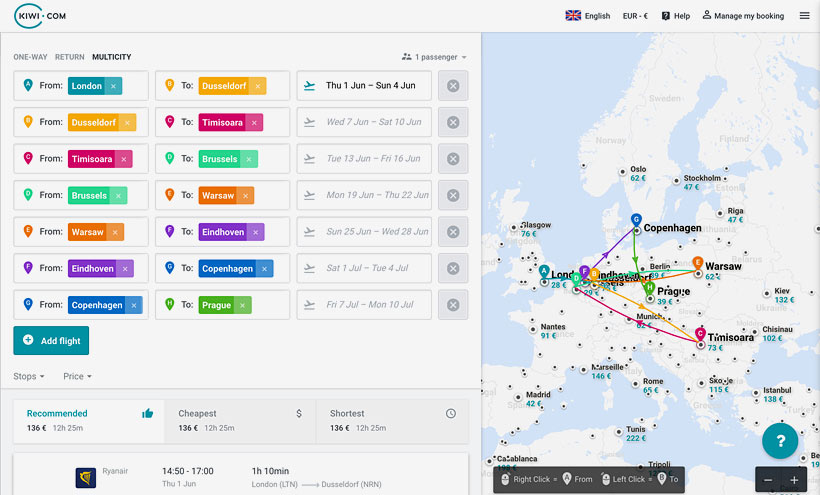 04 | Fly Anywhere
Let's try another example. Beijing's become a tad too smoggy for my liking, time to get out for some fresh air! Choose the option for Anywhere in the destination box and away you go...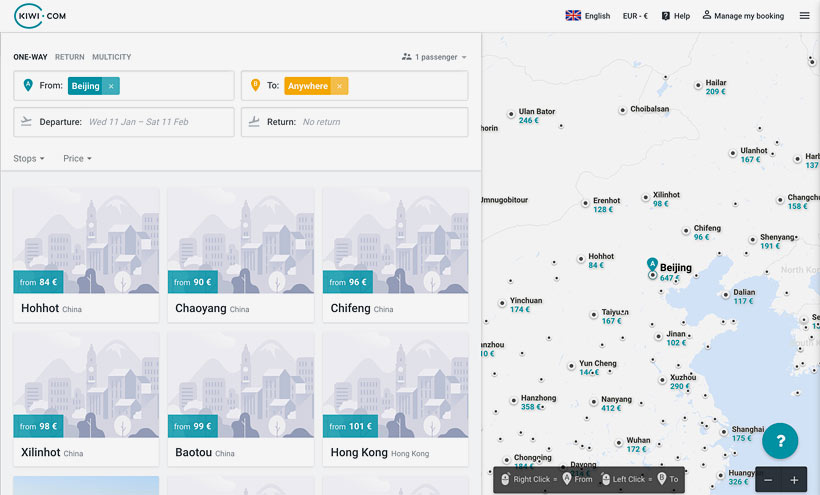 Let's see what we get... Hohhot? Never heard of it. Hong Kong is available €101 ($108)... Uhm I've been too many times. Oh look, Taipei for €140 ($150)! I would love to go to Taiwan!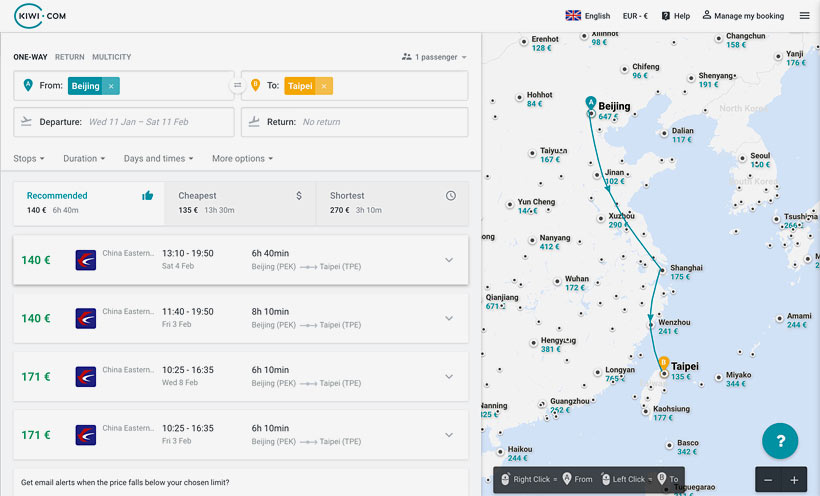 05 | Filter Your Flights
Some people prefer to save time rather than money – others will take the cheapest option they can get. But most people are somewhere in between. Kiwi.com has a filter for each of these people. They will show you the recommended, cheapest and shortest flights with the click of a button. Let me explain...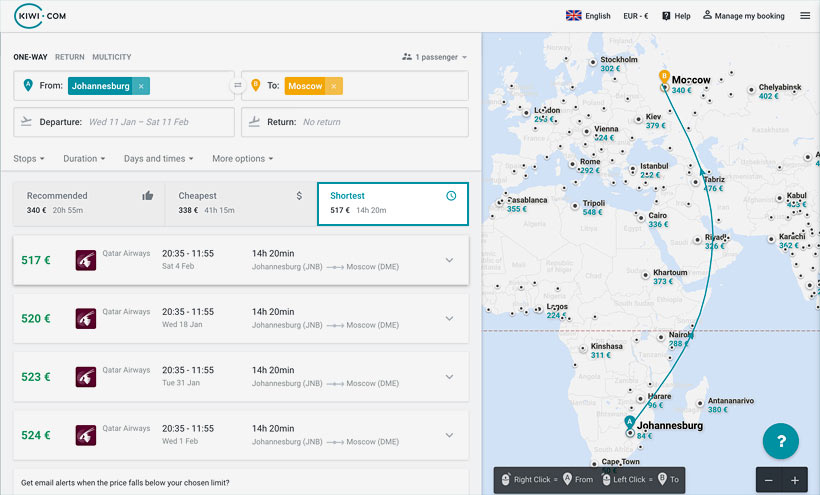 Let's say you need to get from Johannesburg to Moscow as fast as possible. The shortest connection is fourteen hours. Not the cheapest option, but certainly the quickest way to get to your destination.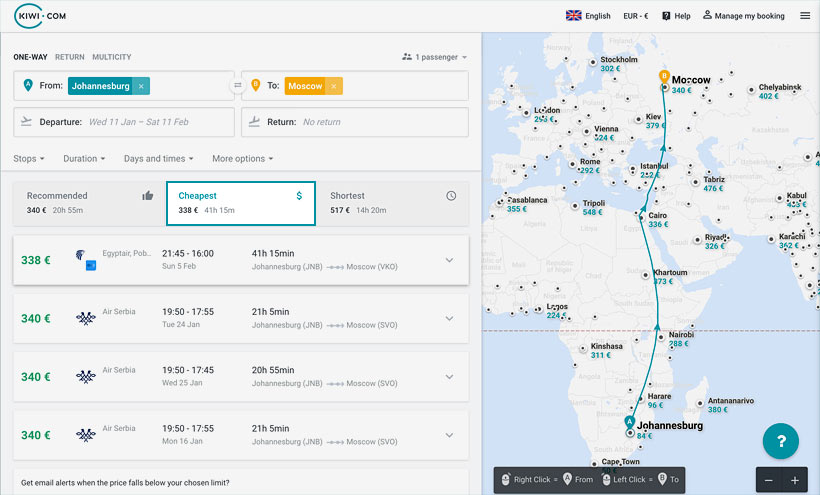 You're planning on backpacking to Yakutsk and need to save as much money as possible, while giving yourself enough time to see the pyramids in Cairo on your way. Choose the cheapest option.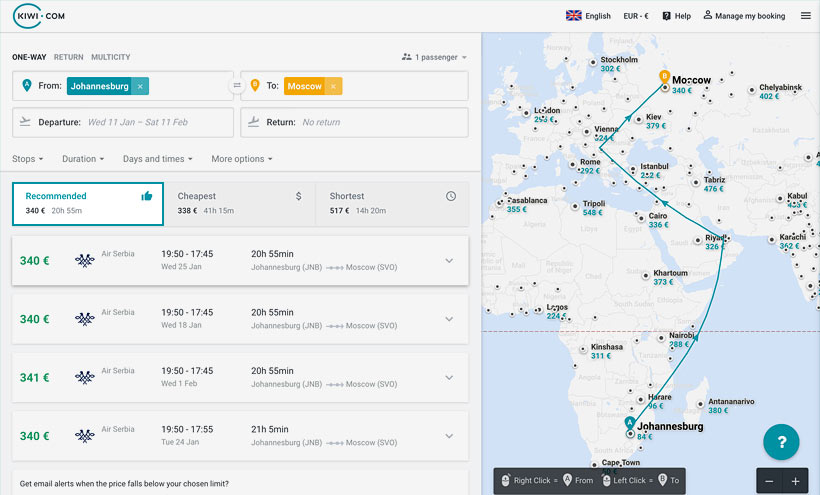 Most people would probably pay those extra two euro and save themselves twenty hours on the journey.
06 | The Kiwi.com Guarantee
We all know that flights get cancelled or delayed for plenty of reasons. With Kiwi.com you might be flying with different airlines to your final destination. These airlines might not talk to each other about your journey and that means you could get stuck if you miss a connection. 
If this happens, get immediately in contact with Kiwi.com, you can call or chat (24/7) with them.
They will book a new flight for you at no cost. If there is no flight available on the same day, they will cover your hotel costs up to €50 ($53). Additional you'll €10 ($11) for food if you have a delay of more than four hours. Just make sure to keep all receipts.
You can find more details about the Kiwi.com guarantee in their terms and conditions.
My Experience with Kiwi.com
From my experience I must say that Kiwi.com was in most cases cheaper than any of the other flight comparison sites. I love that you can book your flights right away on their website and you see all the information on one page.
I used them multiple times, and I had one case where I booked a flight on Kiwi.com, with two different airlines and a short layover. Normally I would have never booked such a connection, I'm already worried when a stopover is less than 3 hours.
When I found out that Kiwi.com offers a guarantee for missed connections and flight cancellations, I decided to give it a try. But because I'm a paranoid person, I called their customer service upfront, just to make sure they were aware of their promises.
First of all, the customer support was super friendly. They told me that their system will check me in online, and email me the boarding pass as soon as it's available. During my layover, I just have to drop my baggage if I have any. If not, I can just proceed with my new boarding pass that I should have received via email. 
Well, in the end it all went smooth, my boarding passes arrived on time and I made my connection despite a short layover of only 2 hours. 
Still having doubts? Check out the reviews on TrustPilot and see what other people said about Kiwi.com. 
Kiwi.com is great! Just one website with everything you need to find cheap flights to fly anywhere in the world.
And now go and book yourself a flight! Or even better, book some multi city flights! Happy travels.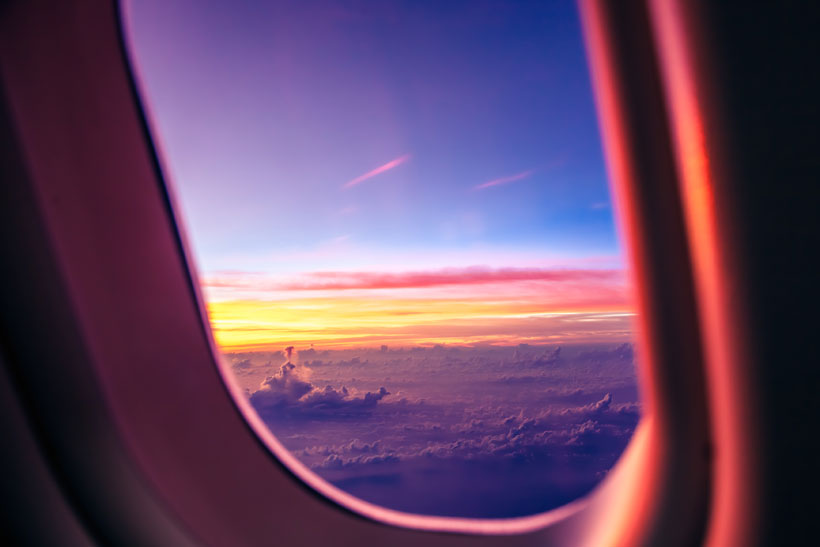 UPDATE 2020: I NO LONGER RECOMMEND KIWI.COM
Personally, I did not have any bad experiences with Kiwi.com, however, the amount of negative comments and reviews about Kiwi.com lead me to the decision to no longer recommend them. Thank you.
Thank you for reading. If you like this article, please share.
---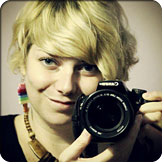 About the Author:
Sabrina Iovino started JustOneWayTicket.com in 2012. She's half German, half Italian and has traveled to 70+ countries around the globe. She feels weird to write about herself in the third person, so she'll switch now. Let's restart:
Hi, I'm Sab! This is my blog and I write about the things I love. Mostly. 
Follow me on  Facebook | Instagram | Pinterest | YouTube | Twitter
---