Skip the hotels on your next trip to Boracay and rent an apartment that offers more than your standard hotel, such as kitchenette, a residential neighborhood and a feel of home.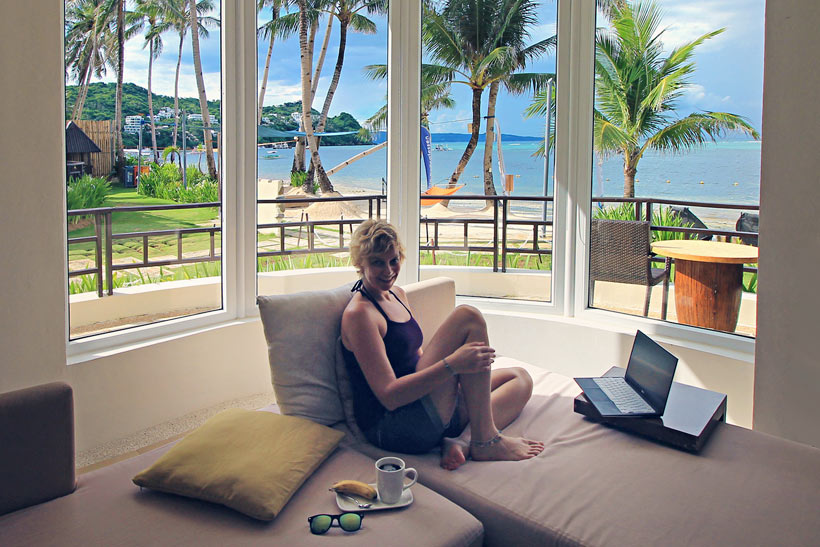 Hello again from Boracay!!! This was my 7th visit to this beautiful island, I keep returning to Boracay since I came here the first time, back in 2009. Previously I wrote articles about Boracay, you can find them here and here, and this is my third guide to this island.
But this time I decided to do something different. In the past I would just book hotels in Boracay on Agoda, but the more I travel, the more I value some basic cooking facilities. Unfortunately, most hotels do not come with a kitchenette. So I had a look at Airbnb to find some rooms which would offer an opportunity to cook some meals myself.
If you haven't heard of Airbnb yet, sign up now. It's a website where you can book unique accommodations around the globe, from city apartments, castles on the country side to villas on an island. Airbnb is a real treasure when it comes to accommodations. If you haven't used the platform yet, sign up now and get $30 travel credit for your first stay! It's worth it!
Let's begin, let me show you where I stayed in Boracay!
01 | Shambala Terraces - Boracay Apartments
I actually visited this place back in 2012. Back then I was a couchsurfer and fortunate enough to get hosted by a wonderful lady who happened to live there. I was thrilled to return and have this fantastic apartment all to myself this time.
The hillside apartment is absolutely gorgeous and offers incredible panoramic views over 270°. You can see the sunset from its spacious terrace and easily host a nice barbecue party up there, it's plenty of space for a bunch of people - but check first with your host if that's OK. If you're lucky, you might be able to spot some flying foxes which usually appear after sunset. The terrace is all open, you could also just lay on the sun lounger and watch the stars at night. 
The apartment is located in Balinghai, a more quiet area, about 10-15 minutes away from White Beach by vehicle. It's a fantastic place to escape the crowds and enjoy Boracay at a low pace. Plus you get a glimpse of the local life on the island, since this is a more residential area. The people I met who lived nearby, were all very friendly and welcoming.
There is shared pool to use on the lower floor. It's more like a plunge pool, perfect to chill down on a hot day. The apartment itself is well-equipped with everything I needed, an open kitchen with stove, toaster and electric kettle, a sunny bathroom with rain shower, and a spacious bedroom with dimming lights and beautiful sea views.
Enough with the talking, look at the photos below and decide yourself if you would like to stay there! In low season, you can get this awesome pad for only $35 a night which is a steal! They offer airport transfer, island tours and activities. They even offer all guests a welcome kit that includes a free sim card, VIP card for island discounts, and guide book with map!
You can book this fabulous apartment here! There have several apartments listed on Airbnb, if this one is not available, you can find more units here. If you're new to Airbnb, sign up now and get $30 travel credits
on your first stay with Airbnb!
Shambala Terraces in Balinghai, Boracay. From $35 a night! Book here
02 | 7Stones -  Boracay Suites
7Stones is truly an amazing place. When I saw that they sell units there, I couldn't resist and checked about prices. Well, let's say for now only renting fits my budget. 7Stones is the perfect holiday home, it's right on the beach, many of the units have gorgeous sea views and it offers several tastefully furnished units that will make you feel like home, probably to the point that you might not want to leave. It's possibly even better than your home.
The property is located right on Bulgabog Beach, it takes less than 10 minutes walk to reach White Beach. It's close to D'Mall, the commercial center of Boracay, where you can find plenty of restaurants and shopping opportunities. Overall the location is very quiet at night, despite its central location, don't worry about noise, the double paned windows guarantee a good sleep.
If you stay at 7Stones, breakfast is included, and I highly recomment to try the restaurant there. It's called 7th Note Cafe.  When I told the chef that I'm vegan, he came up with a new menu - just designed for me! He prepared some amazing meals, such as homemade hummus with pita bread, vegan burgers and tofu scramble... 
They even offer a gluten-free menu, including house-made breads.  Don't worry if you're not vegan, you'll love it even more. They have imported cheeses and other culinary delicacies available, Steak Night on Saturdays and great happy hour bar prices.
I stayed in one of the beachfront suites with spectacular sea views, from the bedroom and the living room. My suite was extremely spacious, with an open kitchen, a large living room and an attached private terrace. The bathroom had a jacuzzi and a separate shower. There is even a swimming pool with a pool bar which you can take advantage of. I did not use the pool since I was literally 10 steps away from the sea, but I guess it's nice to have one. To sum it up, this was one of the best places I've stayed in Boracay, you won't be disappointed. Ask them for airport transfer, and you'll get there in a breeze!
They are several units for rent at 7Stones, you can find them here on Airbnb (sign up now and get $30 travel credits on your first stay!). The smaller units are available for less than $100 a night, look out for special discounts during low season. I stayed in this amazing beachfront suite, see photos below...
7Stones - Boracay Suites in Bulabog, Boracay. From $100 a night! Book here
03 | BaleMi
BaleMi is more like a family-run guesthouse, it's not your typical Airbnb experience. It's an excellent value for its price though, and good for those who are traveling on a budget. The guesthouse is very centrally located, between Bulabog and White Beach, although much closer to Bulabog Beach. It takes less than 10 minutes walk to White Beach and D'Mall.
The room did not have a kitchenette, but there was a toaster oven, a kettle, a microwave, a fridge and a sink which was convenient. I was able to prepare easy breakfasts, I even used the oven to make some baked potatoes, so overall it was almost a kitchenette, just the stove was missing.
The room's layout is like a large open studio, it's quite spacious and I loved the furnitures and decoration. It was super cozy, the bed was incredibly comfortable, it's an orthopedic mattress, I slept like a baby. 

There are no doors to the bathroom, just curtains. Something to consider when staying with friends or your partner. Unfortunately the room itself was a bit dark, there is not too much day light getting in. If you spend most of your time outside exploring the island, this probably won't bother you. But keep that in mind if you need to spend a great amount of time inside the room. 
The staff was super friendly, there was security 24-7. I felt extremely safe while staying at BaleMi. I got sick for two days, the manager Erlie came to look after me and brought some bottled water and medicine to my room, which was very kind of her.
I stayed at this unit on the ground floor, but there are several other units you can find here on Airbnb. Look for the one that says BaleMi. Rates start from only $25/night. If you haven't used Airbnb yet, sign up now and get $30 travel credits on your first stay!
BaleMi in Bulabog, Boracay. From $25 a night! Book here
Do you use Airbnb when traveling? Or have you stayed in an Airbnb in Boracay? Please tell me about it in the comments? Happy travels!
Thank you for reading.
If you like this article, please share.
 
 
 
 
 
 
 
 

 

ABOUT THE AUTHOR

 

Sabrina Iovino is the founder of JustOneWayTicket.com. She's half German, half Italian and has traveled to more than 50 countries around the globe.

She feels weird to write about herself in the third person, so she'll switch now. Phew...much better! Let's restart:

Hi, I'm Sab! This is my blog and I write about the things I love. Mostly.

 

Follow me on Facebook | Twitter | Instagram | Pinterest | Google+ | Youtube