No more worries about expensive roaming fees! Just bring your RoamingMan - a fast WiFi device that works without SIM cards or cables in more than 130 countries!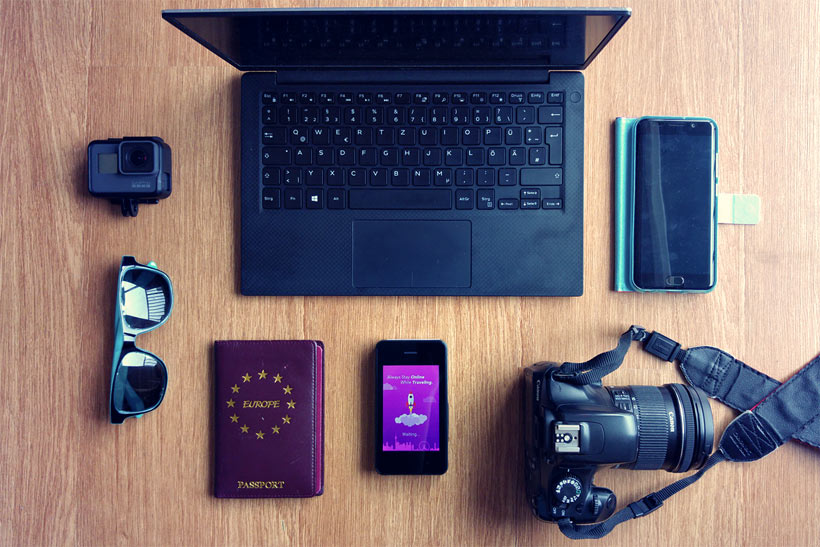 Some links below are affiliate links. At no additional to you, I will earn a commission if you make a purchase.
All I need is WiFi. And love. But first I need WiFi. I'm not kidding. My entire income comes from the online world, and as a blogger, having a good internet connection is everything. 
I'm traveling a lot, for leisure, as well as for work. Travel Blogging is my livelihood and sharing content from the road is part of my job. Terrible internet connections can make it hard for me to get work done, so I stopped relying on public hot spots or WiFi in hotels. It might work most of the times, but also a lot of times the connection in hotels can be slow, expensive or simply not available at all. So how to fix this?
Previously I would always buy a SIM card as soon as I touch down at a new destination. Sometimes it's pretty easy to purchase local SIM cards, i.e. in the Philippines you can get free SIM cards right at the arrival hall, and also in Thailand you can just buy a local card right at the airport.
But then there are other countries which make it more difficult to obtain a local SIM card. When I was in Turkey, I had to pay $50 to unlock my phone, otherwise it would have not worked with a local SIM card. The whole procedure took several days. If you're only a weekend in that country, buying a local SIM i not an option.
Also, Germany doesn't make it easy for travelers. People who wants to purchase a SIM card need to provide an address in Germany, plus often must have a bank account in the country, in order to transfer money to the SIM card to buy data plans.  And this is exactly where a device like the RoamingMan can help.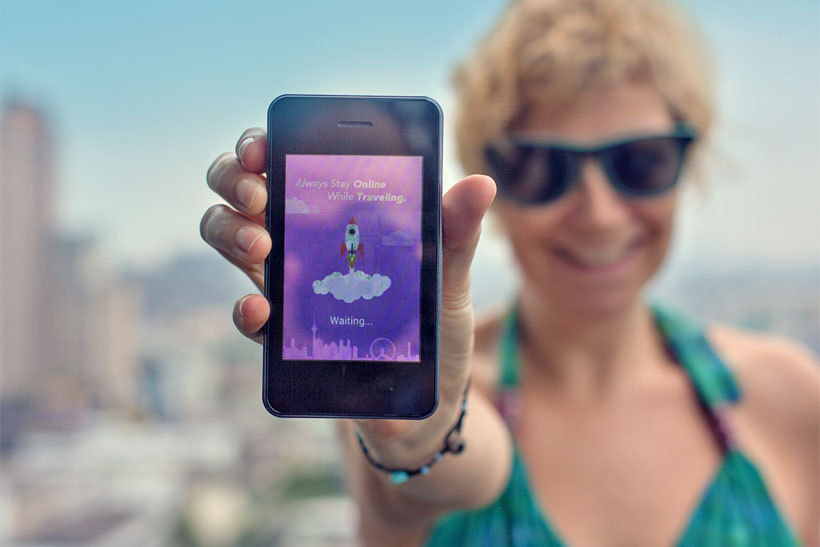 The people behind RoamingMan reached out to me a couple of months ago, and asked me to do a review. Sure I said, send it over and I'll try it... And there was my new best friend, the RoamingMan. This little thing simplified my search for WiFi. As soon as I land at a new destination, I just switch it on and I will have Internet before I'm even stepping off the plane. Forget roaming charges... Sounds awesome, right? Here's more details about it...
What is the RoamingMan?
It's a WiFi device that works without SIM cards or cables. RoamingMan offers a mobile internet service in 68 countries all around the globe. You can connect up to 5 devices, including smartphones, tablets or laptops.
The RoamingMan automatically connects you to the local carrier's network with the strongest signals based on your location. No more worries about roaming fees, bill shock, locked phones, language barrier, hacking risk, or juggling among different local SIM cards...
It's extremely convenient, just turn the RoamingMan WiFi device on and start surfing the Internet... No need to install or configure anything, just switch it on, connect your laptop or phone with it, use the password on the display and you'll be online. The battery of the RoamingMan device lasts up to 15 hours and can easily be recharged via USB. You can also use the device as a power bank.
How fast is the Internet connection with RoamingMan? Is it reliable?
I tried the RoamingMan device in Bangkok, Bali and in Davao (Philippines) and I was amazed how fast the Internet was. It's 4G LTE high-speed internet access, up to 150Mbps for downloading and 50Mbps uploading. No contact or subscription, you just pay as you go.
I must say, the RoamingMan device was 100% reliable in all tested locations. It was always able to connect and get me a stable WiFi connection, even in the most remote islands in the Philippines, and along the rice terraces in Bali. Thanks to the RoamingMan I was able to get some work done, upload photos and videos to my Instagram, and stay in touch with friends and family. It's perfect for digital nomads who need WiFi while they travel and work.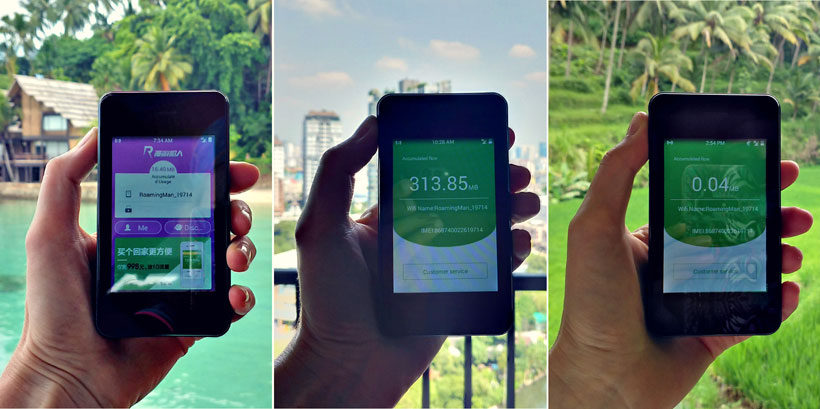 Testing the RoamingMan WiFi device in the islands of the Philippines, Bangkok and in Bali.
Where can I get the RoamingMan?
You can rent it from the RoamingMan website for the amount of time you need it. Just place an order on the website, and choose the starting date and ending date of your trip. The device will be delivered to your address two days before your departure day. After your trip, you just use the return label in the package and send it back.
How much does it cost to rent the RoamingMan device?
It's $9.99 per day to enjoy unlimited worldwide data in more than 130 countries around the globe. The price includes the rental for the device. For longer trips this seems a bit pricey, but for shorter trips I think this is a brilliant solution. What do you think? Check it out yourself and maybe on your next weekend getaway or business trip you gonna bring the RoamingMan with you... Happy travels!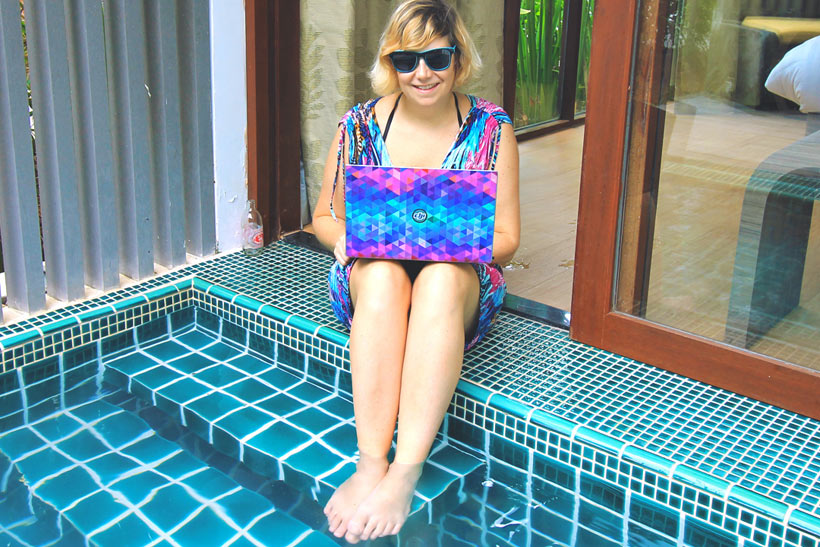 Disclaimer: RoamingMan sent me a device to test and review it. All opinions are my own.
Related Blog Posts
Thank you for reading. If you like this article, please share!
---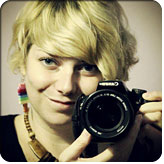 About the Author:
Sabrina Iovino started JustOneWayTicket.com in 2012. She's half German, half Italian and has traveled to 70+ countries around the globe. She feels weird to write about herself in the third person, so she'll switch now. Let's restart:
Hi, I'm Sab! This is my blog and I write about the things I love. Mostly. 
Follow me on Facebook | Instagram | Pinterest | YouTube | Twitter
---