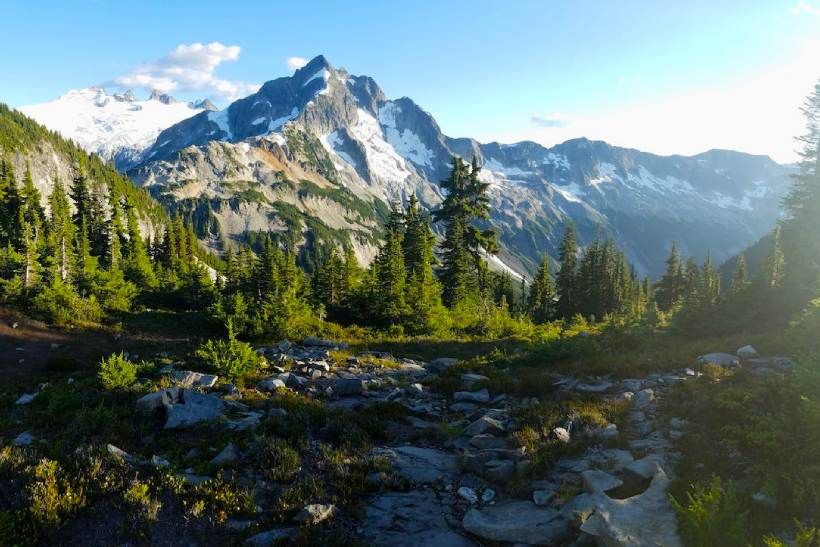 Surrounded by the stunning Great Smoky Mountains, Gatlinburg, Tennessee, serves as a haven for vacationers. This magical town offers something for all, featuring a variety of outdoor activities, attractions for the whole family, and lively local culture.
Gatlinburg draws over 12 million tourists annually, proving its popularity. But why is it the perfect holiday destination? We'll explore nine reasons that contribute to Gatlinburg's unique allure in this article. So, let's discover the numerous treasures that Gatlinburg has to offer!
The Great Smoky Mountains National Park
The park offers a wealth of natural beauty within its vast territory, such as over 800 miles of trails, mesmerizing waterfalls, and a wide variety of wildlife.
While visiting, make sure to hike to famous spots like Clingmans Dome or plan your trip during the fall season to marvel at the incredible display of autumn colors, which draws numerous enthusiasts each year. The Great Smoky Mountains National Park is a must-see destination that provides a refreshing escape from the hustle and bustle of daily life.
Comfortable Accommodations
Regarding accommodations, Gatlinburg presents an impressive array of choices, ranging from opulent resorts to quaint cabins. As you search for the perfect place to stay, consider the amenities you desire, such as stunning views, proximity to attractions, and on-site entertainment options. Additionally, it's essential to find a lodging option that caters to your unique needs and preferences, ensuring your stay is as comfortable as possible.
For travelers seeking comfort and convenience, research and find the perfect hotel in Gatlinburg that checks all your boxes. An ideal accommodation not only offers exceptional amenities, but its prime location also grants guests easy access to Gatlinburg's most exciting attractions.
Thrilling Attractions
Excitement abounds in Gatlinburg, with a diverse array of attractions catering to thrill-seekers of all ages. Prepare for an adrenaline rush as you ascend into the sky on the Gatlinburg SkyLift Park or bravely traverse the Gatlinburg SkyBridge, which challenges visitors to overcome their fear of heights. For a unique outdoor adventure, Anakeesta Park beckons with its exhilarating ziplines, treetop canopy walks, and charming mountaintop village.
Here, you can indulge in retail therapy, savor tasty dining options, or simply unwind while soaking up the vibrant atmosphere. In Gatlinburg, the opportunities for heart-pumping fun are seemingly endless, ensuring visitors of all ages will leave with unforgettable memories.
Rich Appalachian Culture 
Immerse yourself in the fascinating Appalachian culture that thrives in Gatlinburg. A visit to the Great Smoky Arts & Crafts Community, North America's most extensive collection of independent artisans, presents an opportunity to explore traditional crafts such as pottery, woodworking, and quilting. You can also support these talented local artists as you admire their handiwork.
Moreover, Gatlinburg takes pride in its cultural heritage by hosting various events highlighting the region's music, dance, and storytelling traditions. Whether an art enthusiast or a casual visitor, Gatlinburg offers a fascinating glimpse into the vibrant Appalachian culture that will leave a lasting impression on you.
Family-Friendly Activities
Gatlinburg is an ideal destination for families, boasting many attractions and activities catering to every age group. Some highlights include:
Ripley's Aquarium of the Smokies: Discover diverse marine life and enjoy interactive exhibits that captivate kids and adults.
Ober Gatlinburg: This amusement park and ski area offers year-round excitement for the entire family, from thrilling rides to winter sports.
In addition to these popular attractions, Gatlinburg is teeming with family-friendly experiences, from scenic hikes and wildlife viewing to mini-golf and go-kart racing. Families visiting Gatlinburg will create lasting memories as they bond over exciting adventures and explore the unique charm of this enchanting mountain town.
Mouthwatering Cuisine
A visit to Gatlinburg is incomplete without indulging in its delicious Southern cuisine. Throughout the town, you'll find a plethora of dining options to satisfy your taste buds. Start your day with a hearty breakfast at the renowned Pancake Pantry, where you can savor fluffy pancakes and other morning favorites. For an authentic Southern culinary experience, treat yourself to a finger-licking barbecue at Delauder's Smoky Mountain BBQ, which will leave you craving more.
Additionally, while exploring Gatlinburg, take the opportunity to sample the region's famous moonshine. Numerous distilleries dot the town, offering a unique chance to taste this iconic spirit in various flavors. From delectable meals to distinctive beverages, Gatlinburg's cuisine promises a delightful gastronomic adventure for all.
Scenic Drives and Overlooks
One of the best ways to appreciate the stunning natural beauty of Gatlinburg and its surrounding areas is by embarking on a scenic drive. As you navigate routes such as the Roaring Fork Motor Nature Trail and Newfound Gap Road, you'll be treated to breathtaking vistas and fascinating insights into the region's storied past. Along the way, pause at the numerous scenic overlooks, where you can capture awe-inspiring photographs of the Smoky Mountains that will serve as lasting souvenirs of your trip.
Whether you're a seasoned traveler or a first-time visitor to Gatlinburg, these picturesque drives provide an unforgettable opportunity to immerse yourself in the area's captivating landscapes and create cherished memories that will last a lifetime.
Unwind and Relax
Amidst the excitement of Gatlinburg's numerous attractions, it's essential to relax and rejuvenate. The town's idyllic mountain setting offers the perfect backdrop for unwinding and reconnecting with your inner peace. Treat yourself to a soothing massage at a local spa, where skilled therapists help you release tension and restore balance. Alternatively, take a leisurely stroll through Gatlinburg's charming streets, soaking in the sights and sounds of this picturesque mountain town.
And, of course, don't forget to relish the tranquility of your chosen accommodations. Whether a luxurious resort or a cozy cabin, Gatlinburg offers numerous options to help you recharge and re-energize. Your trip to this enchanting destination will leave you feeling refreshed and ready to tackle whatever life brings your way.
Seasonal Events and Festivals
Throughout the year, Gatlinburg comes alive with vibrant seasonal events and festivals that showcase the region's distinctive culture and breathtaking natural beauty. Each event offers visitors the chance to immerse themselves in the local traditions and atmosphere, creating unforgettable memories along the way.
In the spring, the annual Wildflower Pilgrimage highlights the area's stunning flora, while the Smoky Mountain Harvest Festival in the fall celebrates the bountiful harvest and changing landscape colors. No matter when you visit Gatlinburg, you can expect to find a lively event or festival that captures the essence of this enchanting destination. So, be sure to include these festivities in your itinerary to experience Gatlinburg's full charm and allure.
Conclusion
Gatlinburg truly is the ultimate vacation spot for travelers seeking adventure, relaxation, and cultural experiences. With its stunning natural landscapes, exciting attractions, rich Appalachian heritage, and mouthwatering cuisine, there's something for everyone in this charming mountain town. Whether you're visiting with family or seeking a romantic getaway, Gatlinburg's unique allure will create lasting memories. Don't wait any longer; start planning your unforgettable Gatlinburg adventure today!
More Blog Posts 
Thank you for reading. If you like this article, please share!
---
About the Author:
Jennifer Anders is a freelance writer who has traveled extensively and enjoys exploring off-the-beaten-path locations around the world.
She loves hiking national parks, windsurfing, and photographing wildlife.
Aside from all those crazy activities, you'll also find her eating plenty of local street food. She is absolutely fearless when it comes to trying new things.
---