This has been one of the most crazy things I've ever done: I got lost in a haunted 49-floor tower, downtown of Bangkok. Insanity is sometimes the best state of mind.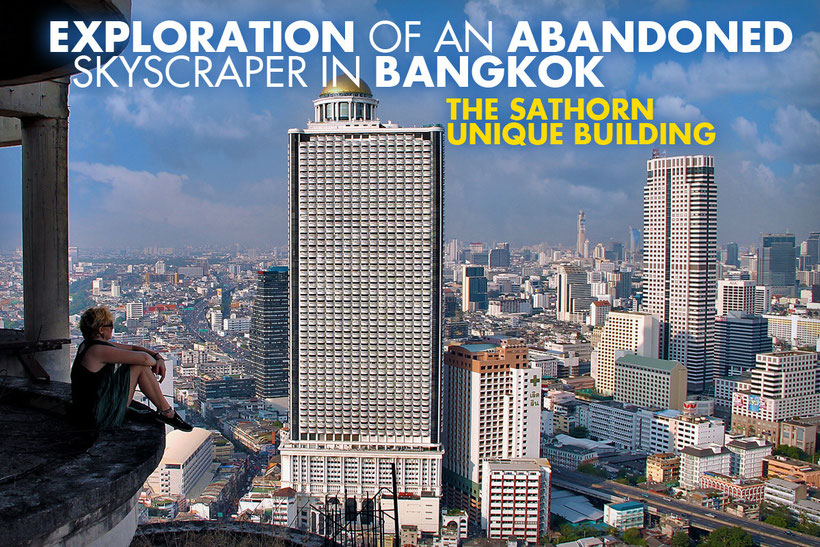 ABOUT THE BUILDING
The Sathorn Unique is a 49-story building, located in downtown Bangkok, built in 1990. At 80% construction, it was abandoned in 1997 and never completed. Locals insist, the skyscraper is haunted and call it the "Ghost Tower". They sternly instructed me to not enter the building.  Well, I don't believe in ghosts so guess what I did... But more on that later.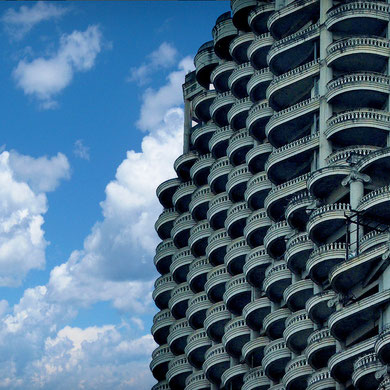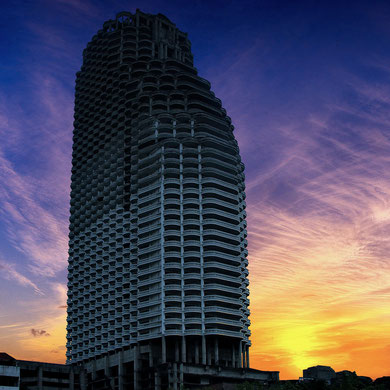 The building was meant to be one of Bangkok's most exclusive and luxury residential projects. A skyscraper with 659 residential units and 54 retails, in addition to a spectacular panoramic view of the Chao Phraya river.
The project was designed by Rangsan & Pansit architecture Co., Ltd. Nowadays the building is owned by Doctor Rangsan's son, who offered to sell the building for 1.800.000.000 Baht ($60 Million USD).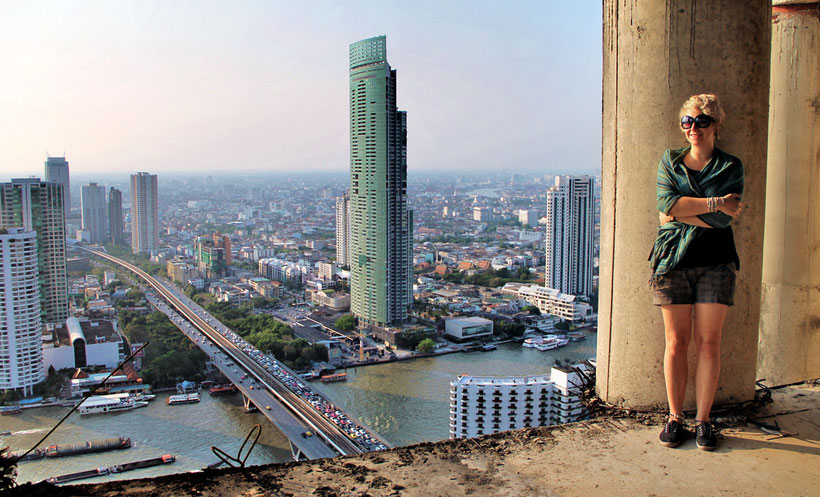 WHY WAS THE SKYSCRAPER ABANDONED?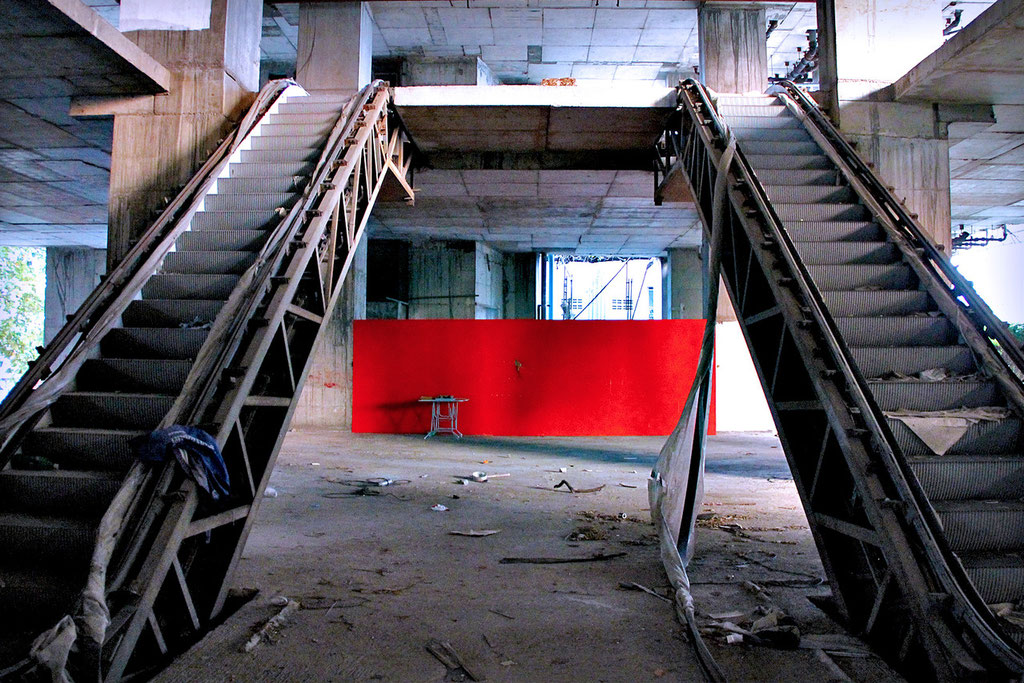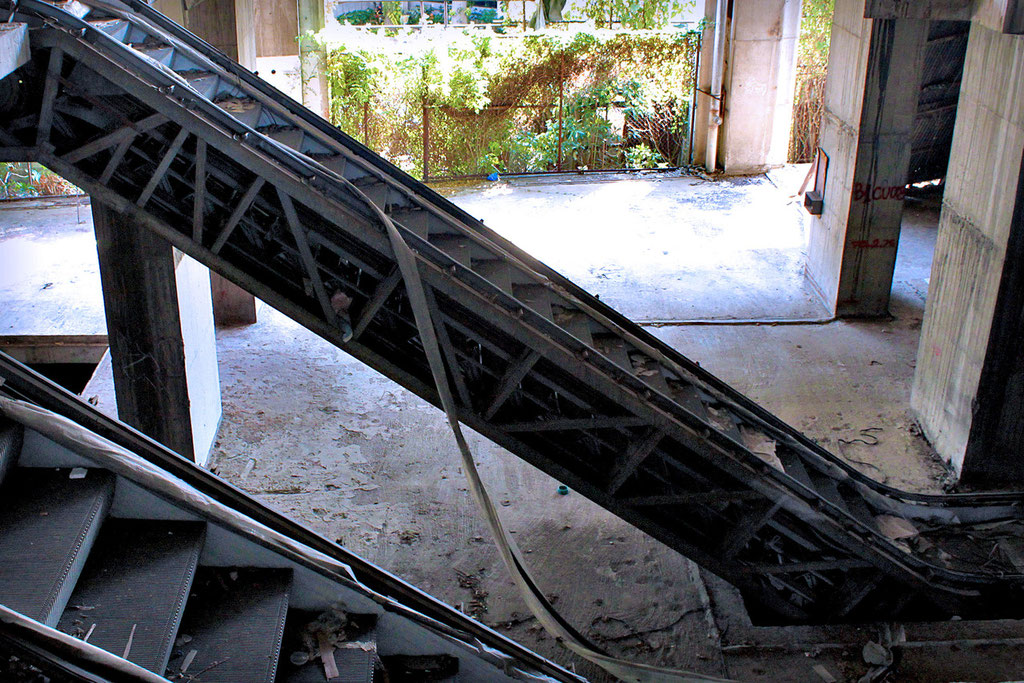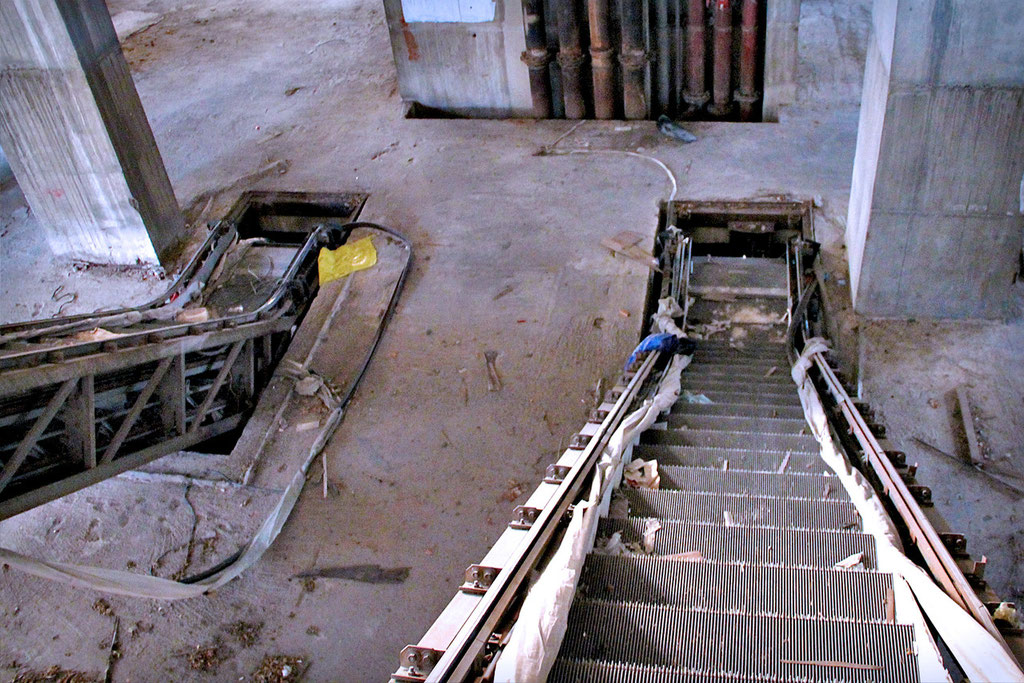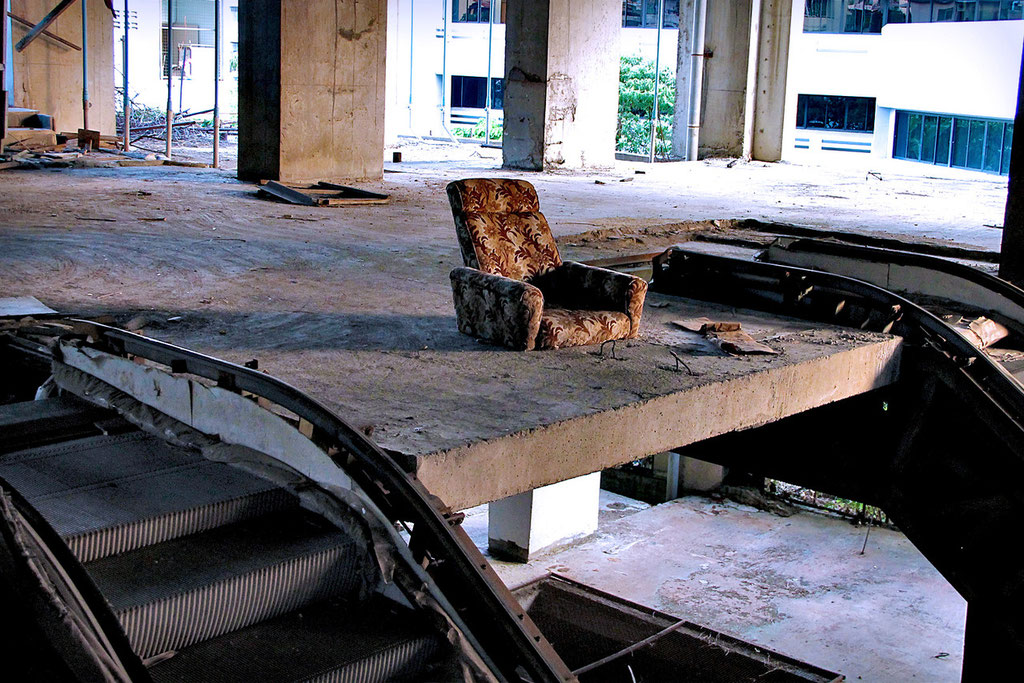 HOW TO GET IN?
Before you're getting excited now, let me tell you some important things: 
Entering the Sathorn Unique Building is illegal.
Climbing to the top is very dangerous.   
I do not recommend entering the Sathorn Unique Building!  But if you are insanely curious like myself, do so at your own risk! People who fear heights should definitely not enter because there are no railings whatsoever to protect you from falling off the building. The stairways are incredibly dark, without a flash light you will get lost!  It's important to take extra precautions as you walk and beware of where you place your feet. The structure is fragile, there are unsealed shafts and many holes in the floor. Lastly, beware of animals. Some wild dogs stroll around the first floor and they are very aggressive.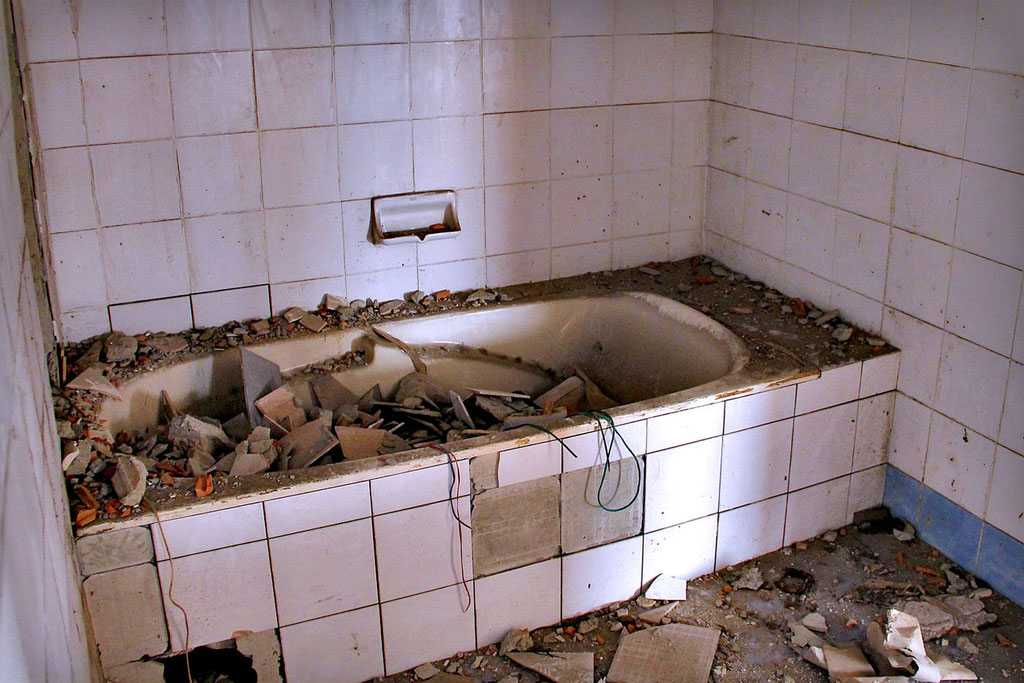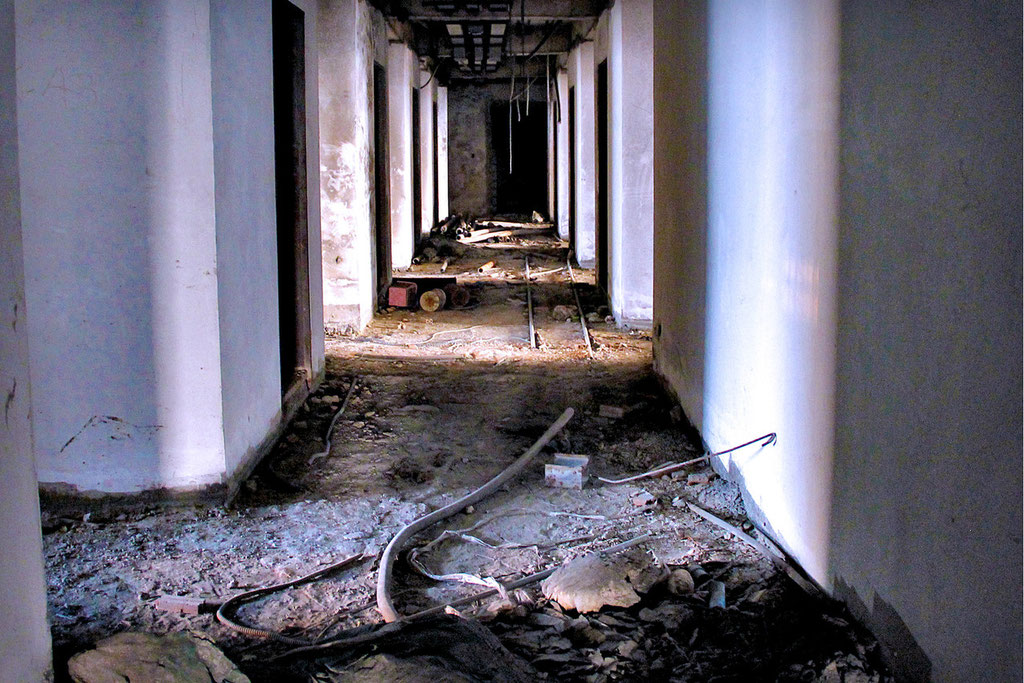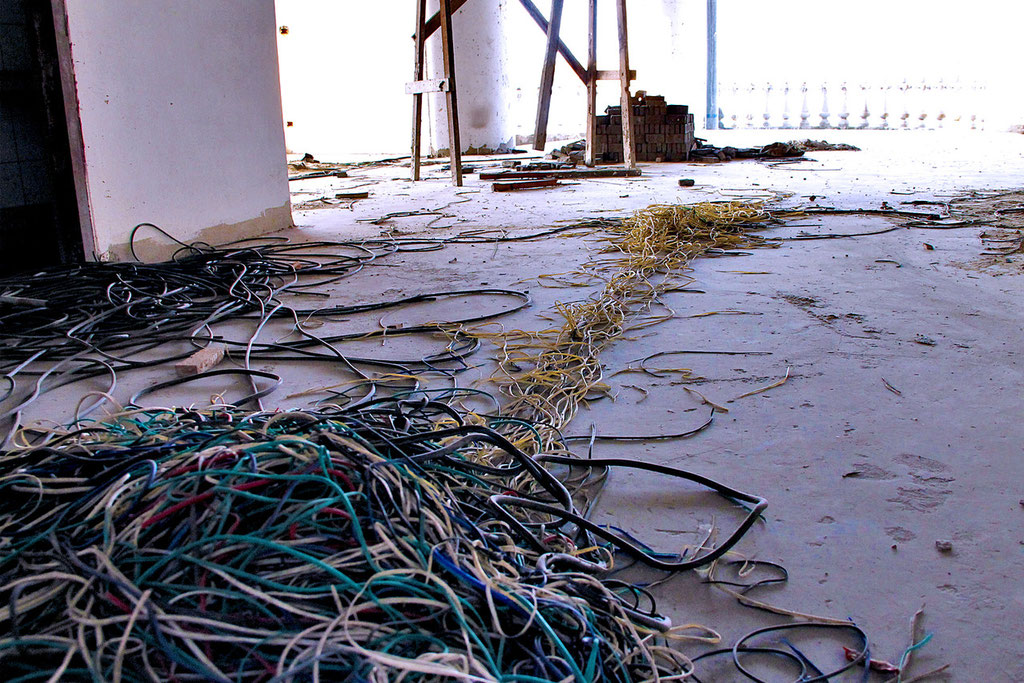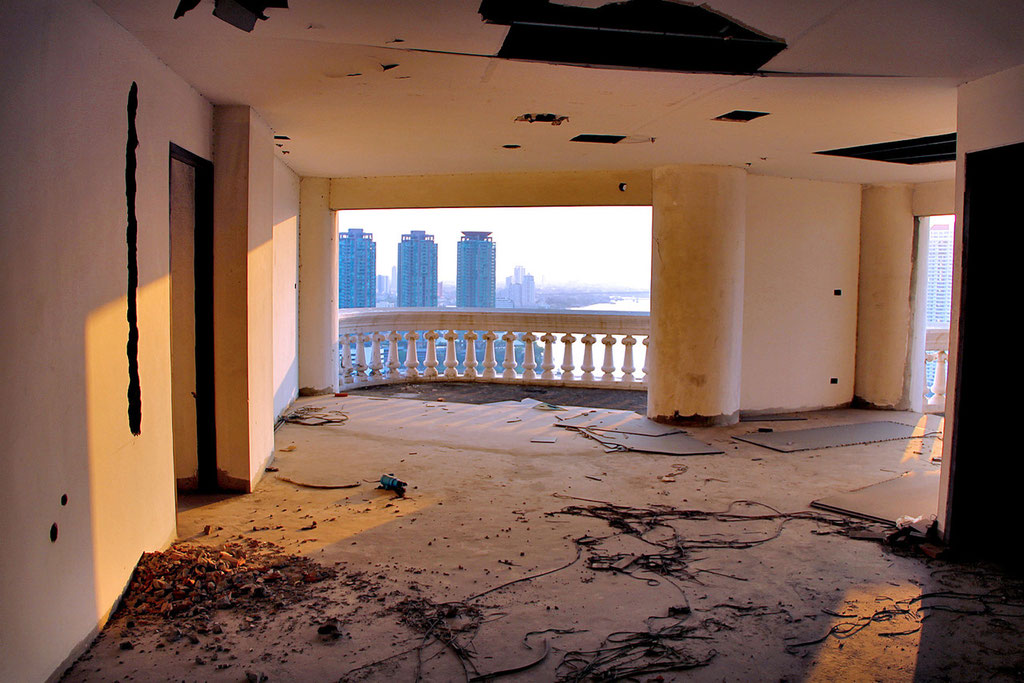 Nonetheless, I did get in, so let me tell you my story...
Getting into the building was truly a challenge. The main gate was locked and there was a fence around the whole tower.  But I found a hole in the fence and was able to slip through. Another small climb got me into the lobby area. I discovered something like a tent and a plastic sun bed so I got curious and walked towards it.  Lying there was a woman holding a child in her arms. She looked up at me, showing no sign of surprise that a foreigner would dare enter the building.
---
---
I mumbled "hello" and walked towards the stairway that lead up the stairs. She yelled something to stop me so I paused. Then she said I could go a few levels up, but no further since the door was locked. But of course, for a certain amount of money, she would come with me and unlock the door. Now she smiled at me and asked for 1000 Thai Baht ($30 USD). Damn it! Of course I had to bribe her but I wasn't willing to spend too much. I thought "that's kind of a lot for such a small favor of opening a door."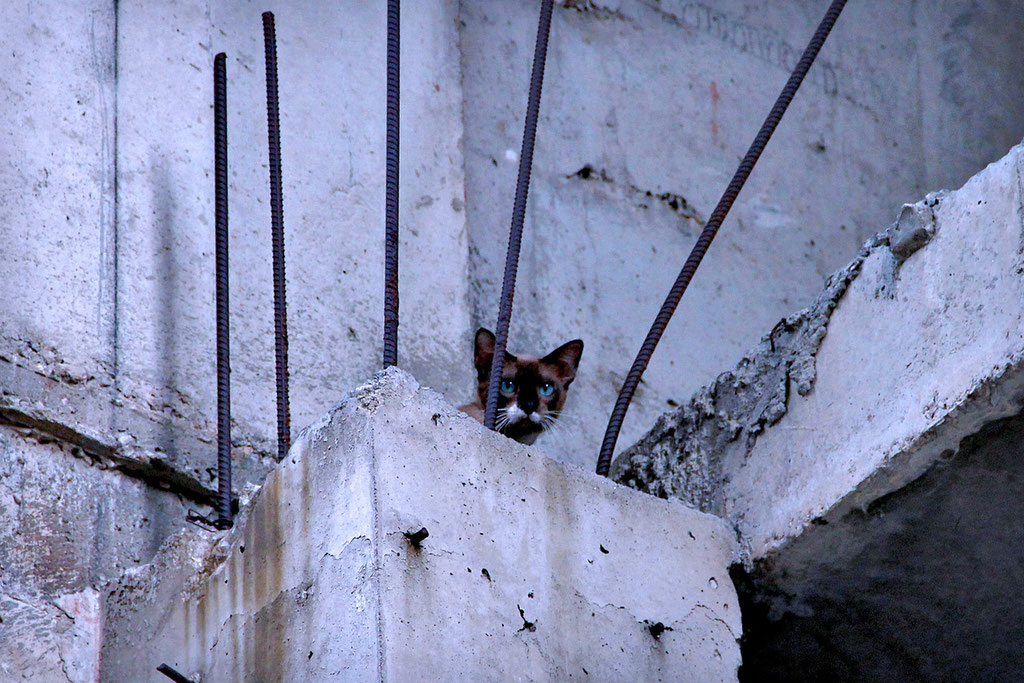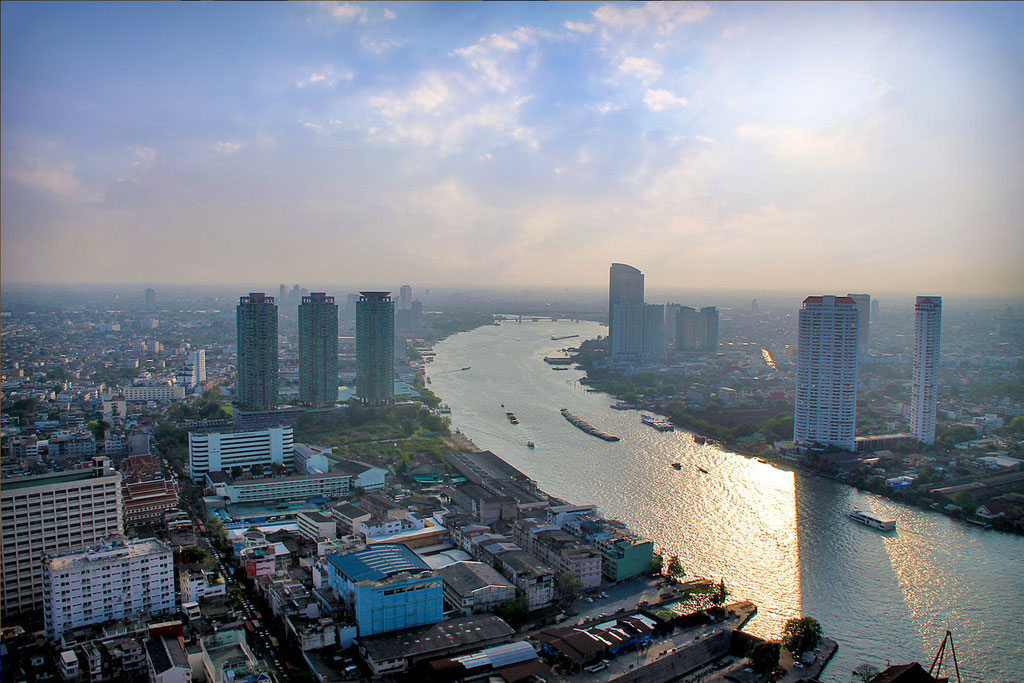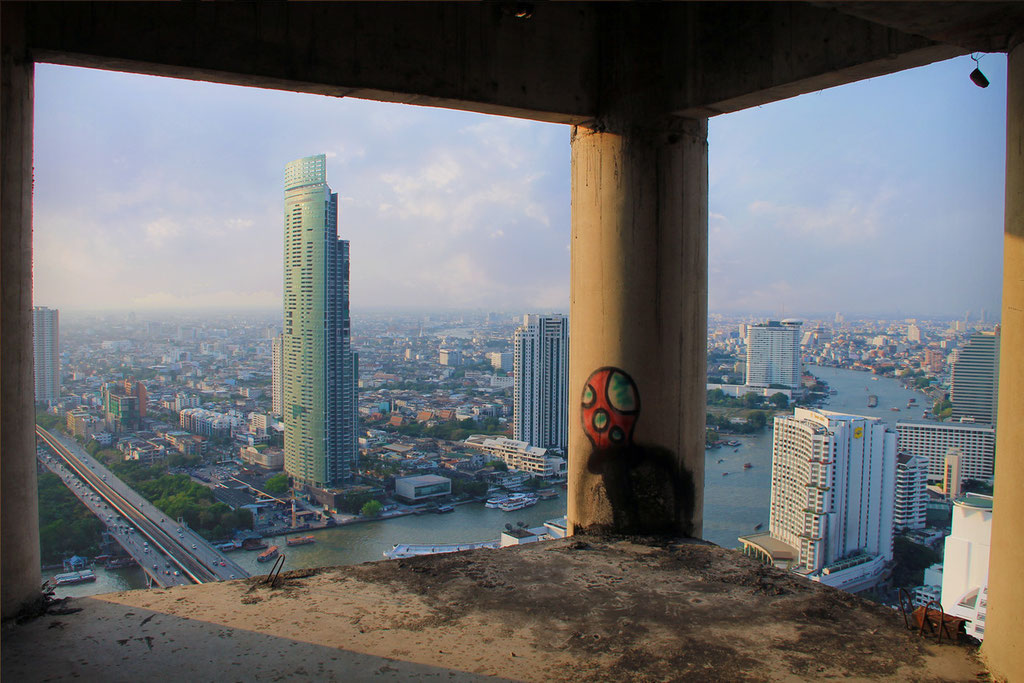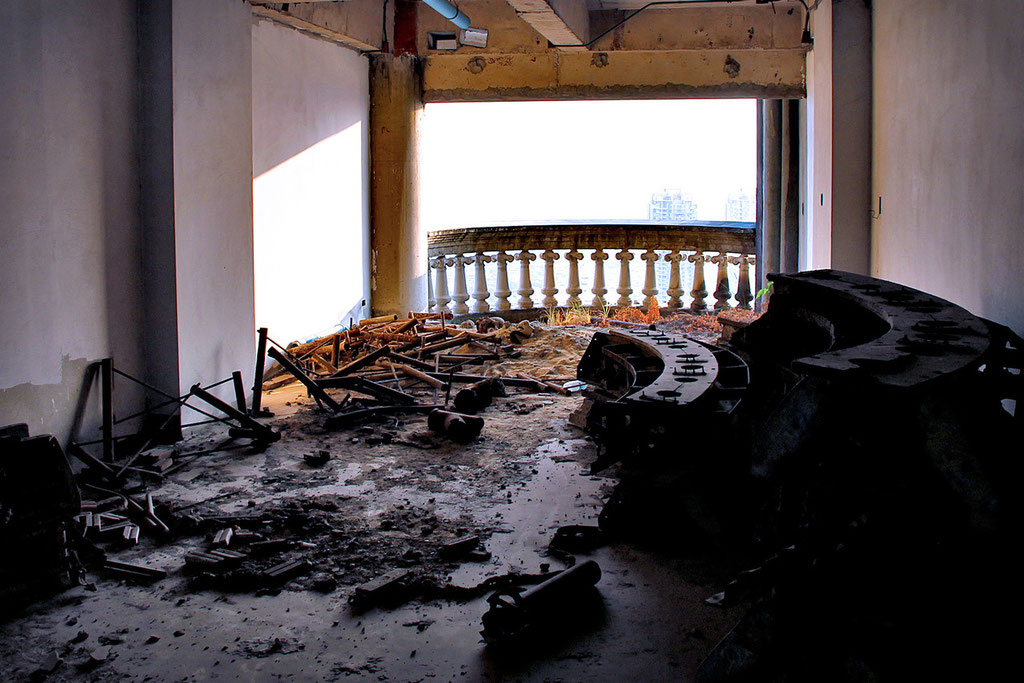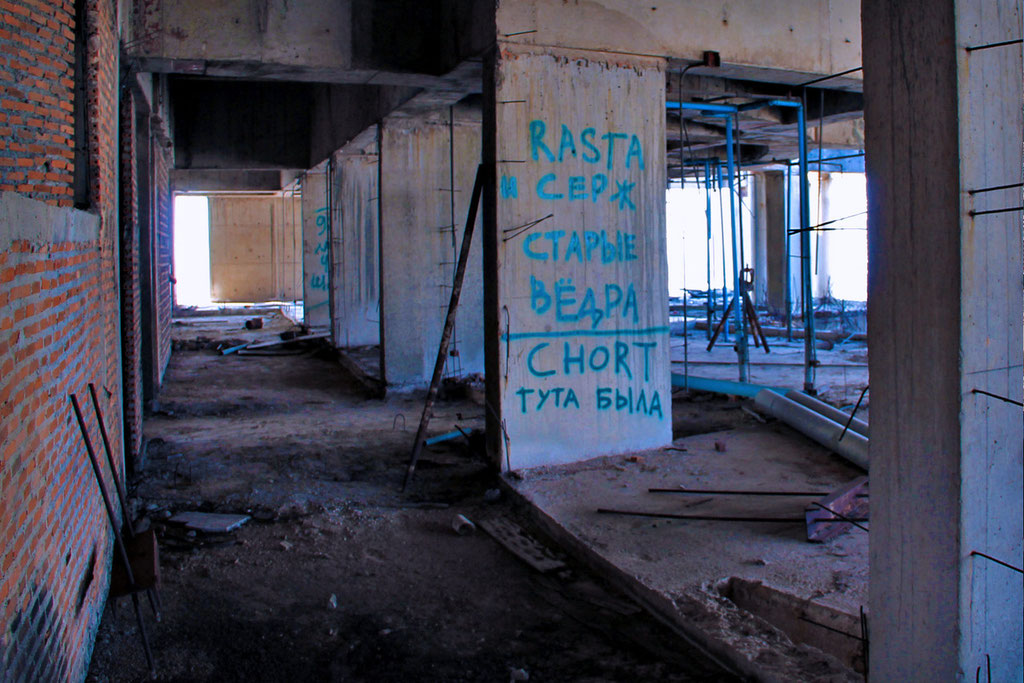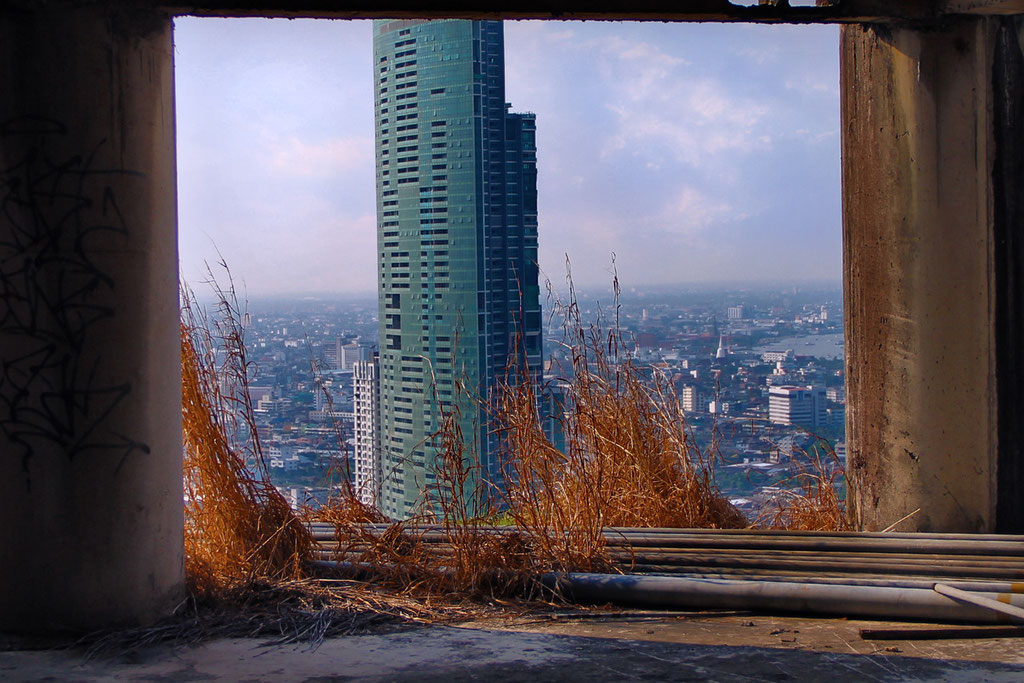 I offered her 100 Baht and smiled back. She shook her head with scorn and walked back to her tent. Then her daughter approached me. "Money! Give money!" She looked at me with sad big brown eyes. Jesus! I opened my backpack and gave her a bottle of juice and a sandwich from Seven Eleven. She took it and walked away, eating my food which was suppose to be my lunch. Awesome.
I decided to not give up so quickly. "Listen..." I said to the lady "I gave your daughter my lunch pack"  as I waved some bills in the air, "and I'm willing to give you 200 Baht. Or I go home and you get nothing. You chose!" Ha, that always works! She sneered at me, then reluctantly grabbed a bunch of keys. I followed her slowly up the stairs and watched her unlock the gate to hell...
---
---
HOW IS IT INSIDE?
The interior atmosphere was daunting. I felt like I was in a set of some horror movie. Decades of rubbish was scattered all over the place. Cables, construction tools, old shoes... It was a huge mess. Open walls showing the building's pipe network. Wires and outlets were left uncovered. The stairs were scary and dangerous. No railings, small, uneven and dark. It was impossible to get up there without a flashlight.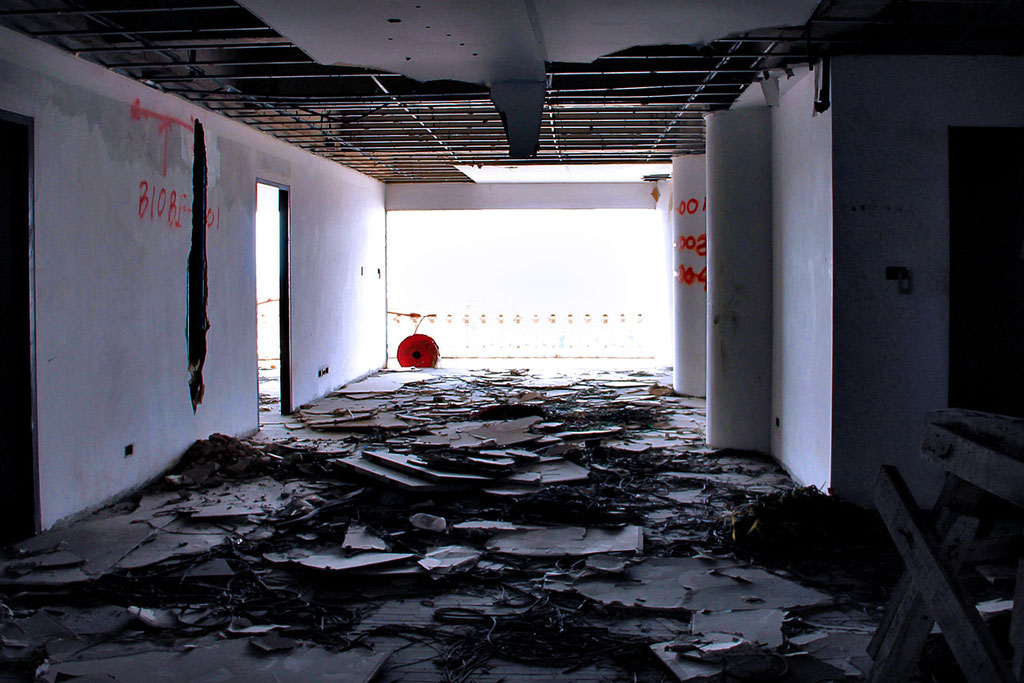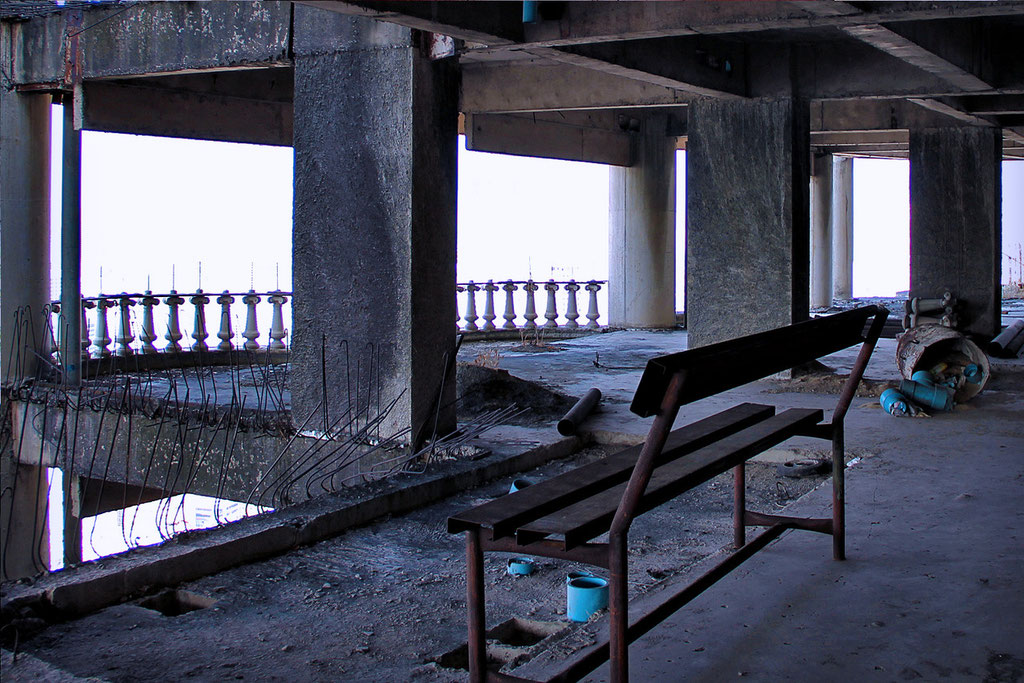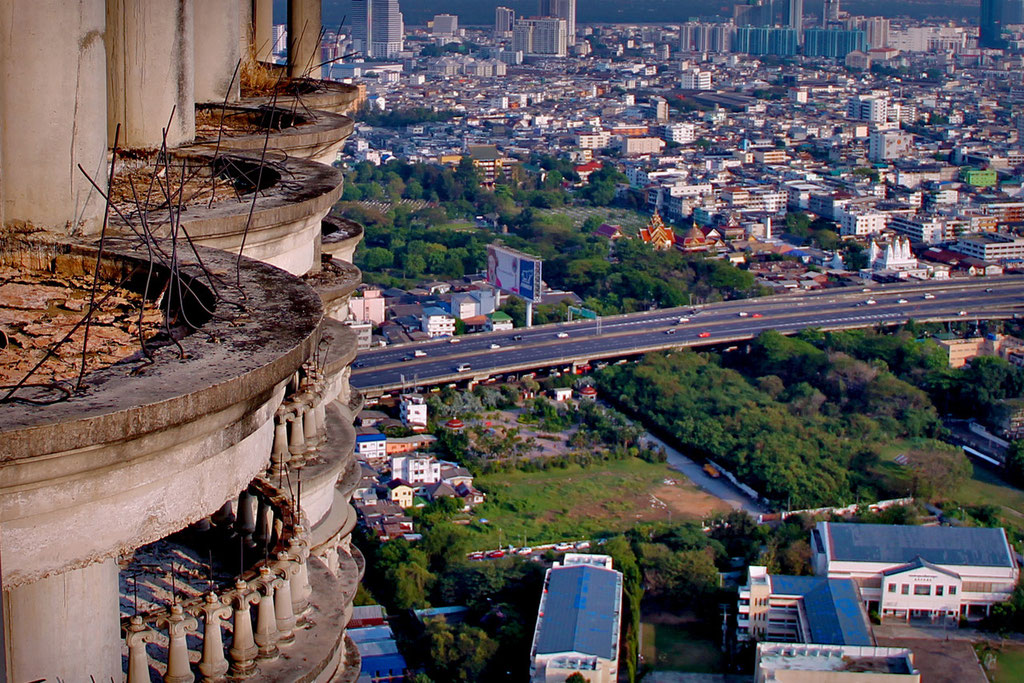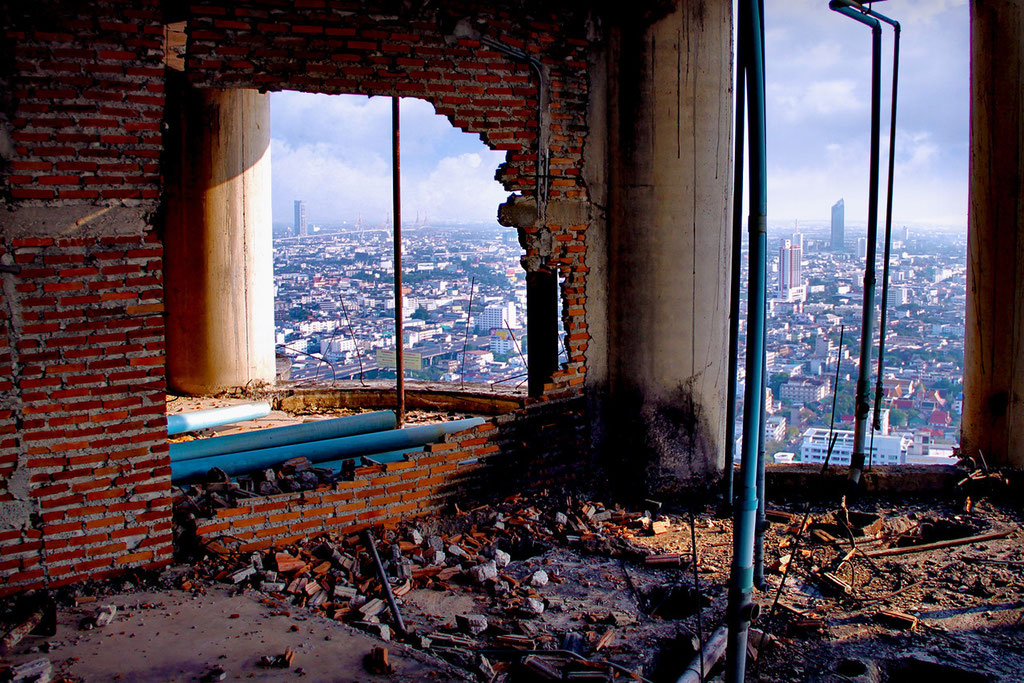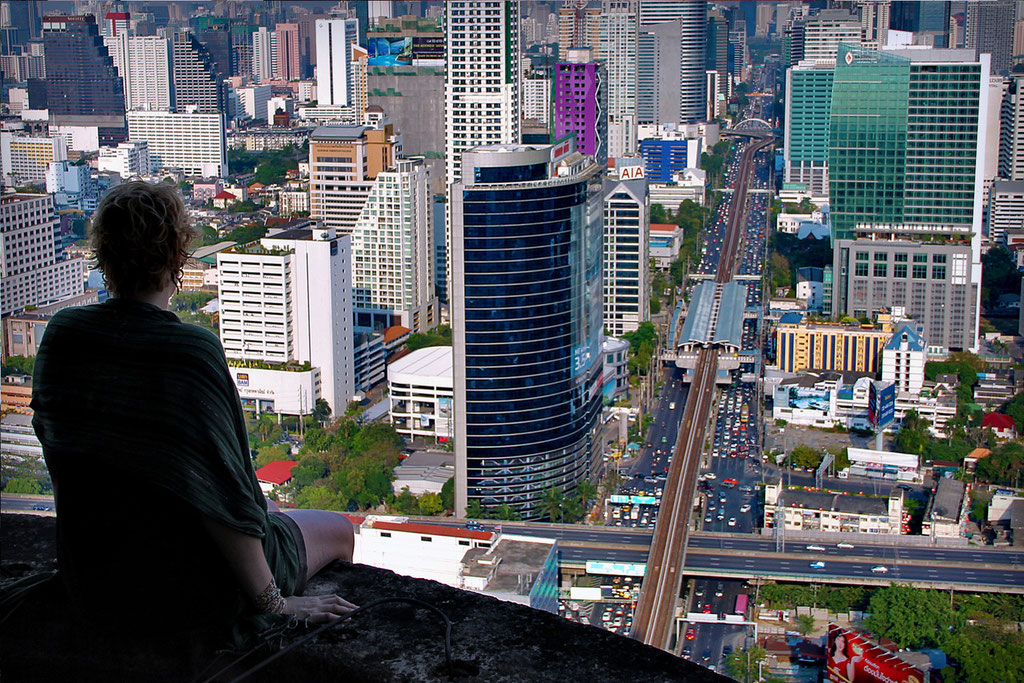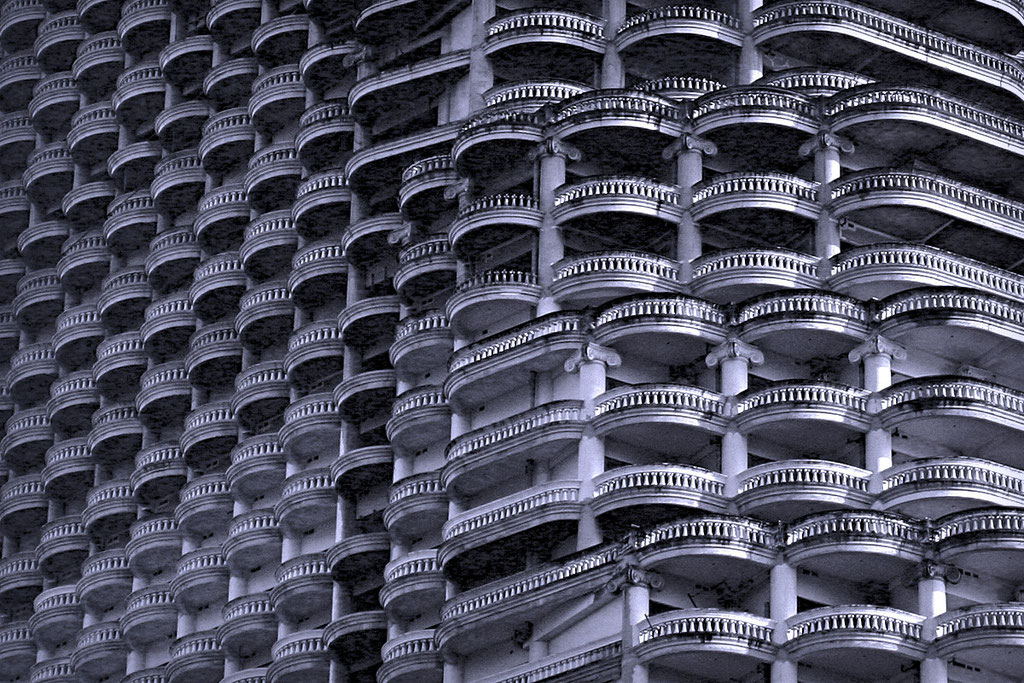 The apartments in the first 20 or 30 floors seemed almost finished, with installed wooden floors, toilets, bath tubs, plumbing and fire safety systems. After 30 floors it felt like walking through a skeleton. There was a myriad of holes in the floors and the structure seemed very fragile. I had to be cautious where to place my feet every step of the way.
---
---
It was an exhausting hike to reach the top: 49 floors, no elevator, 30°C temperature and 90% humidity. Not exactly the perfect conditions to climb a skyscraper. But hell... Is was all worth it! The view from the top of the building was priceless. I kinda felt like I conquered the world. Queen of the city. Goddess of the skies. It was simply amazing.
What a shame that a building, with such a breathtaking panoramic view of Bangkok, remains unfinished.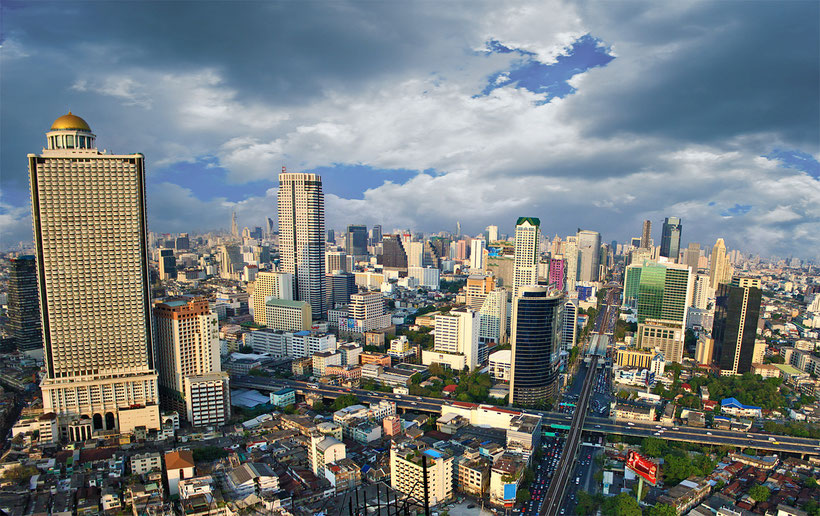 HOW TO GET THERE?
I took a taxi, which should be less than 100 Baht from Khao San Road, but if you're close to the subway, take the metro and get off at the station "Saphan Taksin." The Sathorn Unique Building is close to the cross road between Charoen Krung and Sathon Tai. Well, just look up, it's a skyscraper and hard to miss.
LAST BUT NOT LEAST...
I highly recommend you, DO NOT enter the Sathorn Unique Building. If you do, you are responsible for your own actions. This article should not be taken as a "Things to do in Bangkok - Guide". OK, enough with this... 
You're old enough!! Don't break any locks! And don't go in the dark!
---
---
If you consider going, make sure to bring the following:
- Good Shoes, no flip flops!
- Torch / Headlamp / Flashlight
- Money and food to bribe
- Lots of water and snacks. The trip to the top takes 30-45 min, depending on how fit you are.
Have you been to the Sathorn Unique Building? I would love to hear your story about it. Please let me claim one more time, that I don't want to encourage people to get into the tower or on top of it. It's hell dangerous!
If you liked this article, please share! Thank you for reading.
PS: You need some travel guides, sightseeing tips and destination infos? Have a look at Tripadvisor!
If you need help in finding accommodation in Thailand or Bangkok, check out Agoda, I highly recommend them!
I enjoyed reading your blog but I must admit I would be nervous walking past the wild dogs! I would also have been worried if the lady had locked the door after I had gone up the stairs and I would have been locked in.
Do you mind if I post on my Thailand Travel News ?
I will put your name down of course and link to your blog ?
What do you think ?

#10

Wow, I just re-read my response. Those are some horrible editing mistakes. Sorry to pollute your wall with that.

Any other tips you'd offer prospective Sathorn explorers?

Regards,
Ben

#9

Thx Benjamin, for featuring my blog! Looks great :)

#8

Sabrina,

Thank you for whiting this interesting article. Inenjoyed it so much that I featured it as a reblog on my own site, including using one of your photos as an example. I noted your copyright and linked to your site.

If you'd like me to take them down, you need only say so.

Thank you for the intriguing post.

Regards,
Ben

#7

great job Sabrina.. Did not know about this. Will have to add that to my list of to dos...

#6

So brave little traveler.
Hat off, baby!

#5

Thank you Darmon, actually I read your blog before :). Good luck with getting up. After I posted this article, a few couchsurfers in Bangkok went up there 2 days ago. So it's still possible. But please, take good care about yourself! And don't go again at night!!

#4

Nice work.

Personally, I travel the world just to find places like this one. I recently found some massive abandoned military tunnels in China, as well as dozens of strange Soviet sites across Russia and Kazakhstan.

Anyway, I have been to the Sathorn Unique as well - but I visited at night, and I met nobody to bribe! I spent a long time trying to squeeze through gaps in the fence or even climb up the outside of the building(!), but in the end I could get no further than the top of the escalators.

Thanks a lot for this information. I'm going back to Bangkok in a few months, so I'll have another go at getting to the top, based on your tips.

In the meantime, feel free to check out my report, or any of the others on my blog:

<a href="http://www.thebohemianblog.com/2012/11/urbex-fail-sathorn-unique-thailand_30.html">Bohemian Urbex</a>

Cheers!
Darmon

#3

One of my favourite things when travelling is exploring abandoned places! This is a great and very interesting article, hopefully I can find it next time im in BKK!

#2

Splendid photos.

#1

OMG. That's so cool!