The paradise Island Phuket has become very popular in the recent years for yogis and wellness seeking travelers. If you're thinking of doing a yoga retreat, this is for you!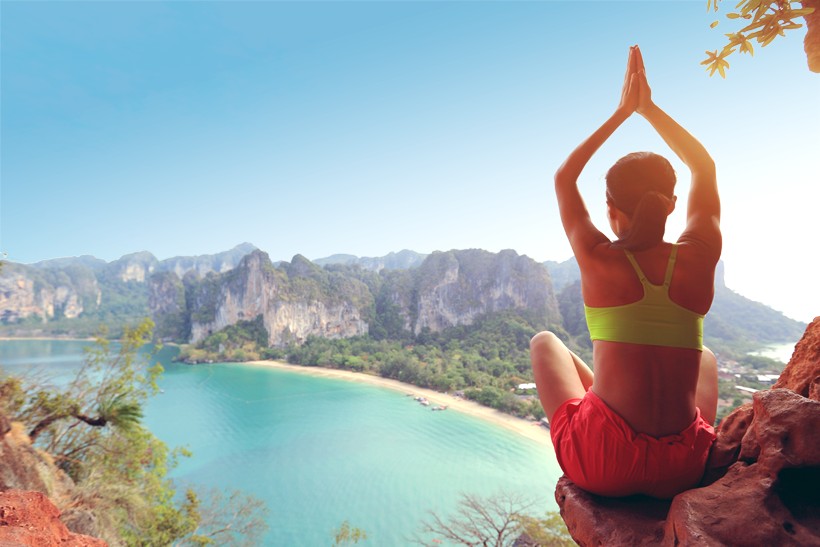 Disclaimer: This article contains affiliate links.
I have spent the last 4 months in Phuket, the biggest island of Thailand. Traveling around I discovered there are amazing yoga retreats all over Phuket. For this reason, I decided to make a list for anybody who is thinking of joining one.
I have participated in several yoga retreats in Italy and the UK, but I have never tried one in Thailand. However, I can tell you I will definitely take part in the ones I am going to describe below! Believe me, I know what a yoga retreat should offer and I know I would not be disappointed if I took part in any one of them.
If you are looking for a yoga retreat in Phuket's paradise stay tuned and keep reading this post. I promise it will answer all your questions about these fulfilling experiences!
What is a Yoga Retreat?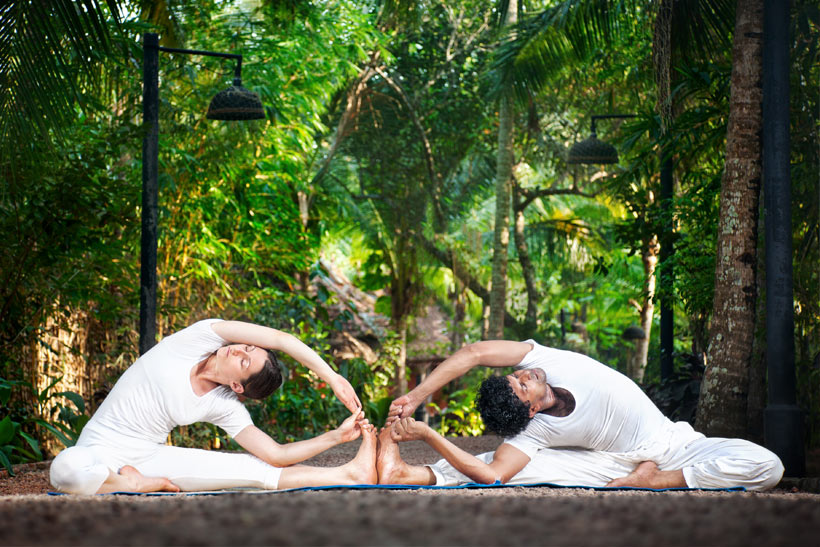 A retreat is a period of time you spend in a specific location where you can focus on an activity that brings wellness to your body, mind, and soul. Yoga retreats are one of the most famous types of retreats: in particular, they concentrate on practicing different styles of yoga and developing habits we can all apply to our daily routine. Also, yoga retreats teach you how to approach this discipline and how to make it an effective tool for transforming your life for the better.
A yoga retreats' duration can vary from a few days up to several weeks. It can be solely focused on yoga or introduce other practices like meditation, sound healing, and massage therapy. During these retreats, the structures can also offer other activities like tours, excursions, cooking classes, and many more.
It is all based on your specific needs and goals. The good thing about a retreat is that it can be very flexible and adapt perfectly to you: in fact, you can find retreats for all yoga levels, from beginners to advanced. Make sure you state clearly what you are looking for when booking and the staff will tailor a perfect plan to your skills.
In the most recent years, it has become a valid alternative to a traditional holiday: that is because holidays can be very stressful and once you are back you would need a holiday from your holiday, right? However, with a yoga retreat, you will focus on relaxing and recharging your batteries. If you would like to know more about retreats in general, here is an in-depth guide about it!
Is Phuket famous for its Yoga Retreats?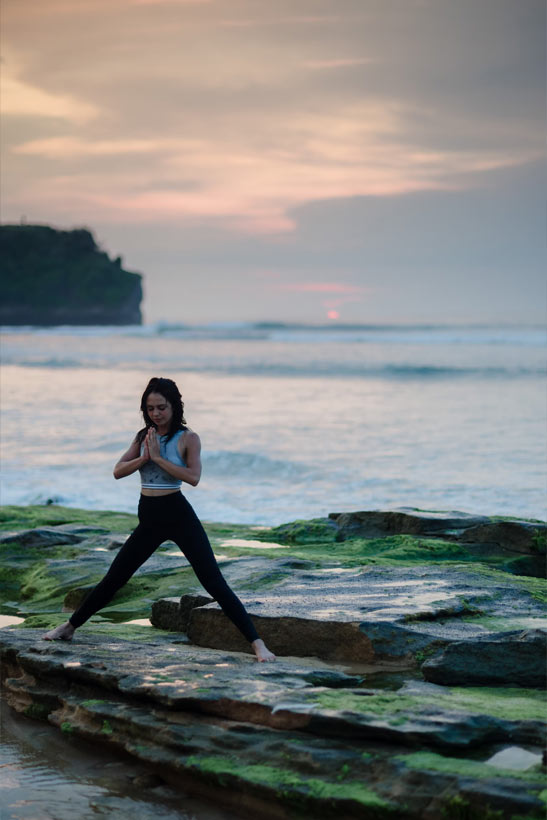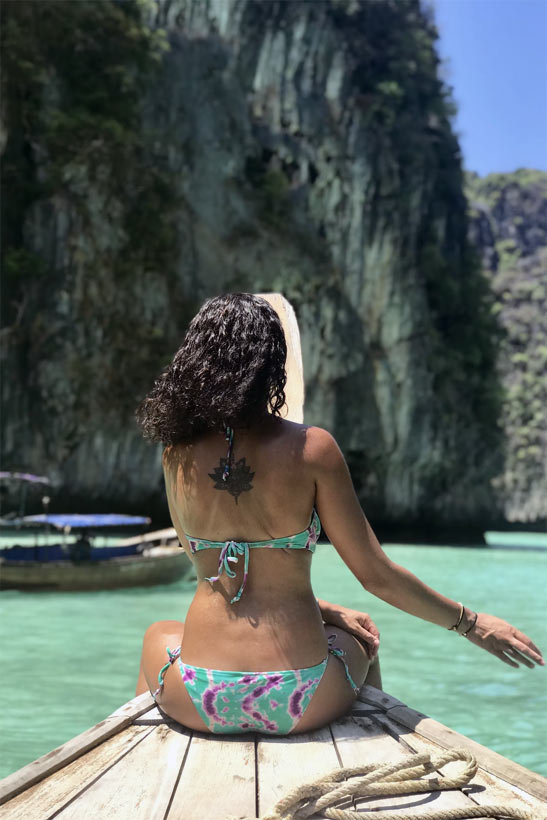 Let's say first that Thailand in general is quite famous for yoga. Although the most famous country for yoga was and remains India, Thailand can be considered the second one. In fact, a lot of the Indian culture, history, and religion are similar to the one here in Thailand and yoga found the solid foundation to grow and thrive.
If you then think that Phuket is an amazing tropical paradise, with dreamy white beaches, breathtaking viewpoints, and wonderful blue-green seawater, you will understand why anybody who loves yoga would like to practice it here.
At the same time, yoga retreats here in Phuket are very popular. You can find some of them in all the biggest towns inland like Phuket and Chalong or at the sea like Karon Beach, Rawai Beach, and Surin Beach. Personally, I love Rawai beach because it is such a vibrant and active area, so if I had to choose I would definitely pick one there, but there are so many beautiful spots it is difficult to pick.
BEST Yoga Retreats in Phuket
Let's finally dive into what we are all here for! This list I created covers all the island's areas and includes retreats from the highest to the lowest prices. Moreover, it gives different options in terms of activities offered in the packages. At the end of the list, I have created a table that highlights all the different options for each retreat and compares it with the others. I hope you are ready to plan your next yoga retreat holiday in Phuket. Let's go!
1. Twin Palm Resort
Five Day Change Your Life with the Law of Attraction Yoga and Meditation Retreat in Phuket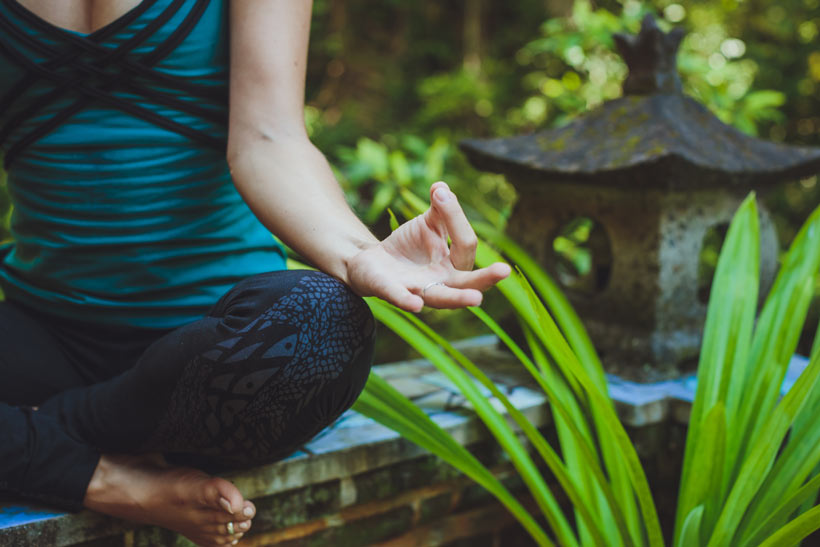 Location
Twin Palm Resort is located near Surin Beach in Phuket. This 1-km-long beach can be found along Millionaire's Row on Phuket's west coast. In particular, it is an excellent spot for sunbathing on fine and white sand, with the Andaman Sea stretching out before you. Moreover, it's surrounded by boutique shops, high-end resorts, and residences.
Structure
This amazing luxury resort includes swimming pools, spa service, restaurants, bars, and much more! You can find all the details and prices for the different rooms on Agoda or Booking.com.
Yoga Activities
This amazing retreat includes yoga activities for all levels from beginners to advanced, with classes taught in English. In addition, the practice can involve a maximum of 20 people per time. During your stay, yoga classes are offered twice a day, one in the morning and one at the afternoon or evening; however, you can pick extra private sessions during the day with an extra price.
The teacher has got a lot of experience in teaching yoga all over Thailand. But, from the website it is not clear what type of yoga you are going to practice. That is probably because each class will be tailored to the audience's experience.
Wellness Activities
This incredible pack offers other amazing activities alongside yoga:
Daily meditation and breath-work.
Daily visualizations.
Thai Chi classes.
Thai or foot massage.
Sound healing sessions.
Other Activities
It is not all about yoga! In fact, you have got included in the package:
Yacht tour through Phang Nga Bay (with the iconic James Bond Island!).
Dive introduction class.
Cooking classes.
Elephant sanctuary tour.
Canoeing and other water sports.
Food
All food is included in the package. There are also vegan and vegetarian options. All drinks are included in the price, except for alcohol. However, there are plenty of bars outside where you can enjoy fabulous cocktails!
Things to consider
Some of the customers have complained because the place can be extremely quiet. In fact, there are no activities after dinner and the facilities close early. As mentioned above though the area around the resort can offer some evening entertainment. I would suggest to anybody who wants to travel a bit inland to rent a motorbike, the prices are ridiculously low and the travel distance is really short to very lively areas.
2. Traditional Ashtanga Yoga Shala Phuket
Eight Day Water Fasting Detox and Yoga Retreat in Phuket
Location
The Traditional Yoga Shala is located in Chalong, an important and vast area stretching along the east coast of Phuket island. While the name is well known because of the famous Wat Chalong temple, there is no real town and not much to do. It is only known for the 2 long piers and notorious traffic jams.
Structure
The retreat is based in Clubhouse at Land & House Park. In the center, there are some rooms where participants can stay. Also, the Clubhouse has got the swimming pool, sauna, and massage center. You can have a look at the their accommodation solutions. 
Yoga Activities
The retreat offers yoga classes for beginners, intermediate and advanced yogi. The styles practiced are Ashtanga Yoga, Nidra Yoga, Power Yoga, Dynamic Yoga, and General Yoga. There are 2x yoga classes a day, 1 pranayama practice, and a yoga workshop as well. It is well specified on the website that each schedule is designed individually depending on the single needs of the guest.
The classes are held by two teachers with years of experience in teaching yoga all over the world. They both have great credentials and titles that make them great experts. You can also have a free consultation with a yoga therapist throughout the entire process to adapt the practice to your journey.
Wellness Activities (included in the price)
Acupuncture.
Daily meditation and breath-works.
Medical Cups.
Thai massage.
Ice water treatment.
Cleansing procedure (please see below "things to consider" section).
Other Activities
Outside of yoga and wellness activities the program does not offer outside events. However, you can explore the island on your own, at your expense, in your free time.
Food
Food is only served on the first and last day. The rest of the retreat is based on water herbal tea detox (please see below "things to consider" section).
Things to consider
To be clear I put this package only for the yoga activities. I do not agree with the part that includes detox and water fasting. Personally, I think for this level of intense activities I would suggest to anybody to eat nutritious and healthy food! I do understand it is said every person's circumstances will be analyzed when planning the program out, but still the concept of detoxing is just something I don't agree with.
Furthermore, I would suggest to anybody to consult their doctor if they are willing to proceed and follow this plan.
3. CC's Hideaway Resort
Eight Day Phuket Sandbox All-Inclusive Yoga Holiday in Karon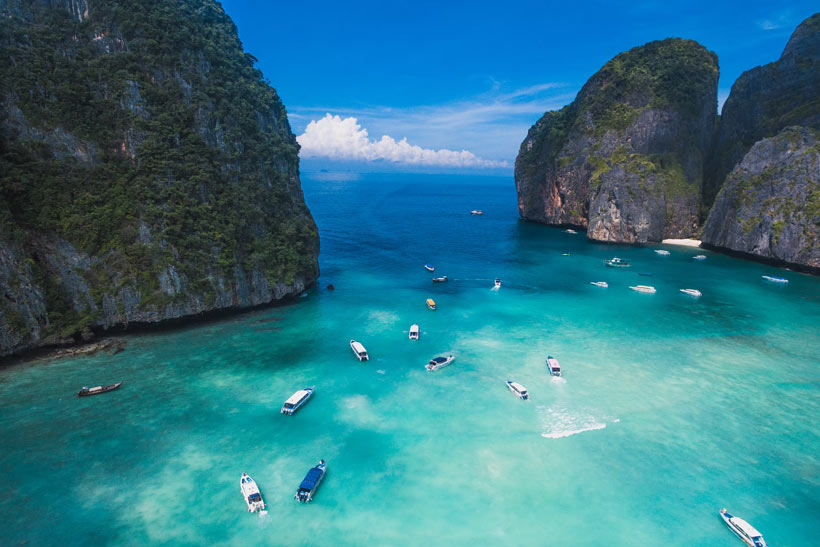 Location 
CC's Hideaway Resort is located in Karon is one of the longest beaches in Phuket. It is a 3 kilometers stretch of white sand, a decent choice of dining and nightlife. The best thing is that it never seems to draw crowds of tourists and remains always quiet and calm.
Structure
The yoga retreat got all the facilities you would find in a 4-starred resort in Thailand, with pools, restaurants, and bars. If you would like to see the structure and the rooms offered you can see them on Agoda or Booking.com.
Yoga Activities
This retreat focuses its yoga practice on beginner and intermediate levels. The styles of yoga classes are Hatha, Aerial, and Acrobatic. There is the possibility of practicing yoga up to three times a day depending on your plan. Furthermore, yoga classes are typically offered in the Rooftop Yoga Studio or other nearby beaches and parks. All the yoga classes include guided asana practice, pranayama, meditation, mantra, and chanting.
There are three yoga instructors with worldwide experience. They always have an eye on the participants and help and support if needed. You can't be reunited with nature more than when doing yoga, watching the sunset, and listening to the birds in the Rooftop Studio.
Wellness Activities (included in the price)
Thai massage.
Spa treatments.
Muay Thai classes.
Other Activities
Visit to Wat Chalong Temple.
Visit the Big Buddha.
Jungle trekking.
Zip line.
Trek through the rain forest.
Old Phuket Town Tour.
Blackrock, Windmill, Promthep Cape viewpoints.
Bon Island tour with a long-tail boat.
Cooking class.
Food
All food is included and they also offer a variety of options for vegan, vegetarian, gluten-free diets, and more. The non-alcoholic beverages are all included, but alcohol is not.
Things to consider
People that choose this package had some issues with the position of the resort that appears to be a bit isolated and far from shops and restaurants. However, the hotel offers free shuttle transport.
Other visitors suggest to not go looking for a family structure as it is not created as a children-friendly location. Kids might get bored in there. Also, some of the reviews indicated that the food might be a bit repetitive, but again you can go to local restaurants and enjoy different options!
4. Aochalong Villa
Eight Day Summer Meditation and Yoga Retreat in Phuket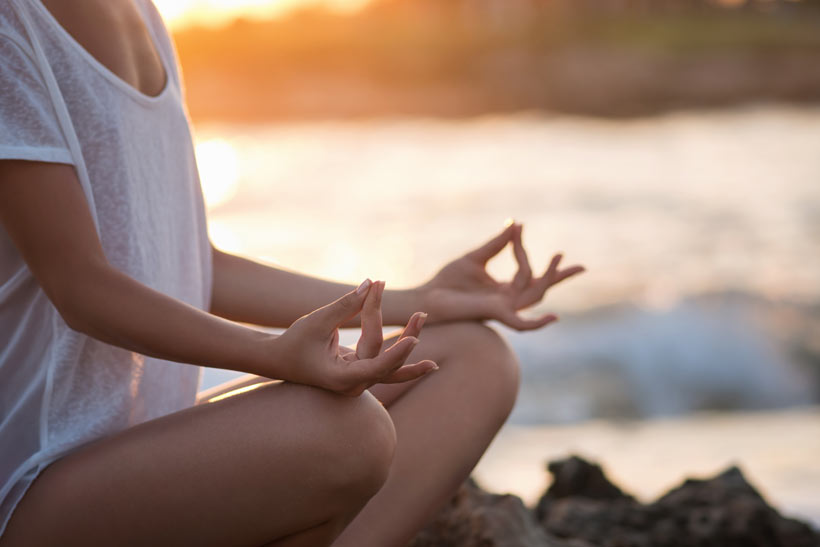 Location
Aochalong Villa is located in Chalong Bay, a tranquil area rich in natural beauty. The area is the same as  the second retreat in this post, with the only difference this one has a sea view.
Structure
The hotel is very near to the Phuket Yacht Club, facing the sea. Accommodations include full villas and rooms. If you want to have a look at prices go to Agoda or Booking.com.
Yoga Activities
As the last resort, this package offers yoga practices to beginners and intermediate yogi. The styles mostly practiced are Hatha and Yin. Yoga classes are on Tuesday, Thursday, and Saturday 3 x times a day. The rest of the days are dedicated to other wellness activities and more touristy events.
The yoga instructors have got more than 50 years of experience combined together. They will create and tailor the perfect yoga plan for your retreat.
Wellness Activities 
Daily meditation session (included in the price).
Spa treatments (not included)
Other Activities
There are no activities planned as part of this package. You can participate in guided tours organized by local companies and rent a motorbike to visit the rest of the island.
Food
The only meal included in the price is breakfast. Everything else is at the customer's expense.
Things to consider
As you can see from the above description there are not many services included in this retreat. Apart from yoga and meditation everything else should be added to the final prize. The good thing is that Phuket is not really expensive.
However, be prepared to organize all your outside visits alone because the hotel staff has shown poor knowledge according to some of the reviewers.
5. Mangosteen Ayurveda and Wellness Resort
Eight Day Pure Mangosteen Yoga Retreat in Rawai, Phuket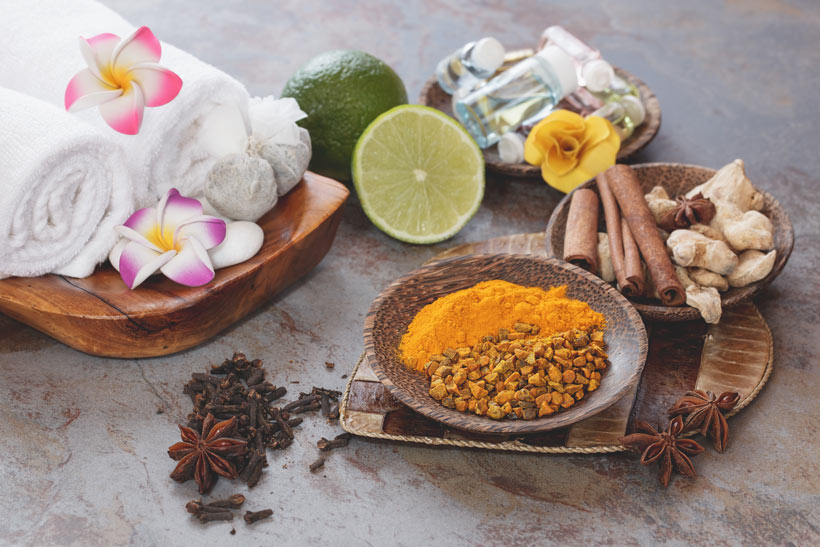 Location 
Mangosteen Ayurveda and Wellness Resort is located in Rawai Beach, at the south end of Phuket Island. It's not a beach suitable for swimming, but it offers beautiful views on the nearby islands and has a peaceful local atmosphere. Rawai has a discreet charm with more things to do than most people think.
Structure
The retreat offers 50 independent villas as accommodation. It has its own Spa center, sauna and steam room, swimming pools and Jacuzzi. Be aware the structure is for adults only. If you want to look at the options, go on Agoda or Booking.com!
Yoga Activities
Yoga in this Phuket resort allows all skill level yogi to participate. Also, it offers different styles such: Hatha, Vinyasa, and Yin. Each day includes 2 classes of yoga, one in the morning and one in the afternoon.
There are 6 different yoga teachers, specialized in many styles of yoga. Their experience is really wide and they will make sure you will meet all your goals for the retreat. You can ask for a particular type of yoga and add an extra class to the regular ones at any time.
Wellness Activities
30 minutes massage.
Daily meditation and breath-works.
Free Ayurveda consultation. :
Oil, dry powder, Thai, Ayurveda massages (not included).
Stream of medicated oils or decoctions (not included).
Nasal cleansing with herbal oils (not included).
Herbal pouch therapy (not included).
Ayurvedic face massage (not included).
Other Activities (not included)
Batik classes.
Diving class.
Canoeing.
Thai cooking classes.
Food
All meals are included in the price as well as non-alcoholic drinks.
Things to consider
Some of the guests of this retreat said that the yoga classes at times may be too simple or a bit repetitive. Make sure to book a private class of your favorite style of yoga and vary the practices. Also, highlight it to the staff and make sure they adapt the program to your needs.
In the program online I have also noticed the day plan is always the same and you might like some change. However, be aware you do not have to strictly apply to it and you can adapt your day based on what you most fancy at the moment.
Very few reviews commented also that the food is pretty much the same every day and would like more variations. If you get tired, make sure to visit Rawai beach and its fabulous seafood and Thai restaurants at the beachfront!
6. Amatara Wellness Resort
Seven Nights Amatara Yoga Retreat Program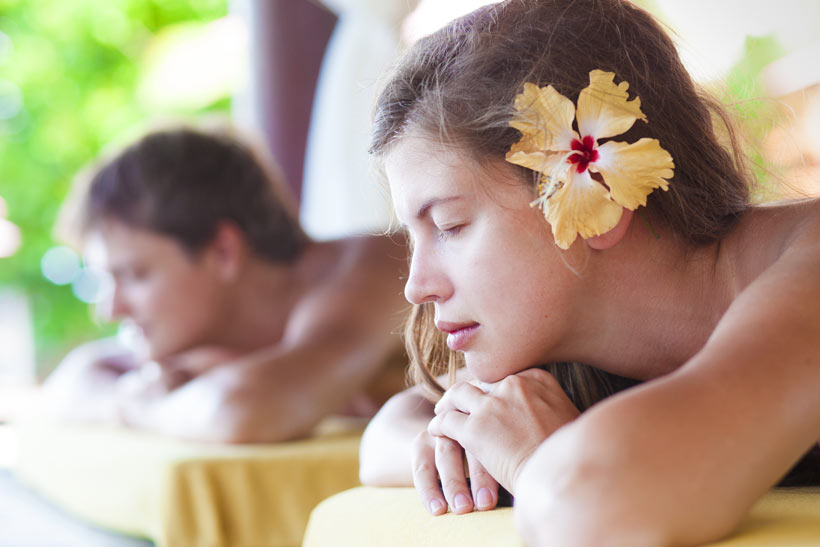 Location  
Amatara Wellness Resort is located in Cape Panwa, a lovely spot for those seeking peace and quiet. However, there are some first-class restaurants and interesting attractions in the region but don't expect too much excitement after dark. More in detail, Cape Panwa is a quiet but remarkable part of Phuket's east coast, home to some stunning yet little-known beaches.
Structure
The resort takes full advantage of the beautiful setting of Cape Panwa. In fact, it has beautiful views across Chalong Bay and Lone Island. It has got luxury villas, apartments, and condos, most of them at the seafront. The resort has several restaurants, bars and lounges, Spa center, sauna, gym and fitness center, a pilates studio, and a public swimming pool. Furthermore, 35 of the villas also have private swimming pools. If you would like to book a room at this incredible resort you can go to Agoda or Booking.com.
Yoga Activities
The package includes an initial yoga consultation that will allow you to set up goals with your yoga teacher. Also, you will then have a mid-review to adjust anything it needs fixing and the final consultation that wraps up all the experience. You can then have access to all the group yoga sessions they have in the structure plus 5x50 minutes private yoga classes. Moreover, before you get home you will be given a 'Take Home guide to yoga practice'.
The styles you can practice are mainly Hatha, Vinyasa, and yoga for beginners. However, in your private lessons, you can ask to practice a more specific style if that is what you would like. All the teachers are professional, registered yoga teachers with years of experience worldwide.
In addition to all that you will also have a session on yoga and life philosophy that sounds super interesting!
Wellness Activities (included)
Naturopathy consultation (60 minutes)
Jala Neti shatkriya (30 minutes)
Pranayama - The art of yoga for breathing (60 minutes)
Abhyanga Ayurvedic massage (90 minutes)
Indian Head Massage (60 minutes)
Kati Vasti (60 minutes)
Shirodhara (60 minutes)
Chi Nei Tsang abdominal massage (60 minutes)
Thai Hammam journey (105 minutes)
Thai Salt Pot Therapy (90 minutes)
Daily infrared sauna or steam
Other Activities 
If you choose this package your day will be focused on yoga and wellness, so there are no other activities included in the price. Though, as always you can organize something privately.
Food
Breakfast, lunch, dinner, and snacks are all included. There are various options for all dietary needs. Non-alcoholic beverages are included in the package.
Things to consider
I would personally love to participate in this program, but I admit it is quite pricey (we are talking about more than 6000$ - see the table below for the right amount). I do not say it is not worth it, I mean did you see the number of activities included? But it would take me a lot of thinking and savings before participating in something like that, especially if I would have to add the price of a flight and maybe extra for excursions and tours. However, if yoga is your main interest this is certainly something you should go for!
A Comparison of all these Yoga Retreats in Phuket, Thailand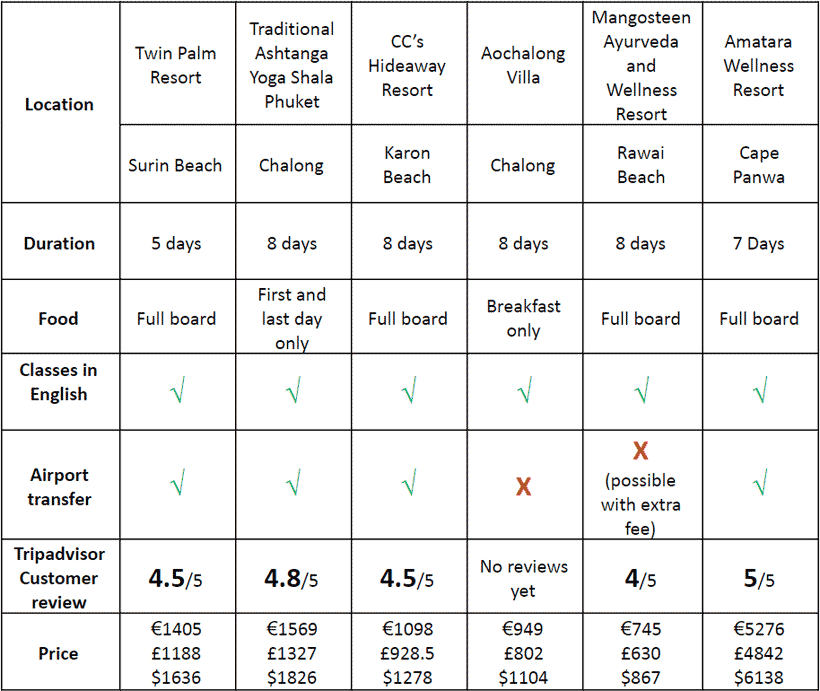 The Author's opinion
As a passionate yogi myself I would love to participate in something like the Amatara package offer. However, I know that when I travel to another country I also like to visit and spend time on adventures, especially on a 7-day vacation. That is why, if I had to pay that price, I would definitely choose something that includes other activities alongside yoga.
For these reasons, I would definitely choose the third option in Karon. Also considering the budget, it seems the one that integrates yoga and sightseeing. Also, I particularly love the area around Karon because it is not to crowded as other areas on the Island like Patong. The beaches are white and paradisiac and there are several viewpoints where to admire the sunset. Really a wonderful place!
I know I said at the beginning that Rawai is my favorite beach, and I will stick to it, but if I had to consider the full experience I would go to Karon. The first time I came here I was told the top part of the island was the liveliest and fun, but in my experience, I would have no doubts about choosing something more south. I find the beaches nicer and the whole atmosphere more authentic. On the other side, be aware that when you fly here the airport is about a 1-hour distance from Karon, Kata, Rawai, and Cape Panwa, while it is relatively close to Surin beach, Patong, and Bang Thao beach.
I hope you enjoyed reading this article and please if you have any questions about living and traveling to Phuket do not hesitate to contact me at francesca.lamberti91@gmail.com. 
About the Author
Francesca sent me this comprehensive blog post about yoga retreats in Phuket, and I couldn't help but share this with you. She is very acknowledgeable about yoga, travel and wellness. Francesca shares her stories on her blog Travel Heal Love. Originally from Italy, Francesca has lived in UK for almost 8 years. She loves traveling, but about one year ago she decided to take a break from her nurse job and move to Australia. Currently Francesca resides in Thailand, planning to move soon to Bali.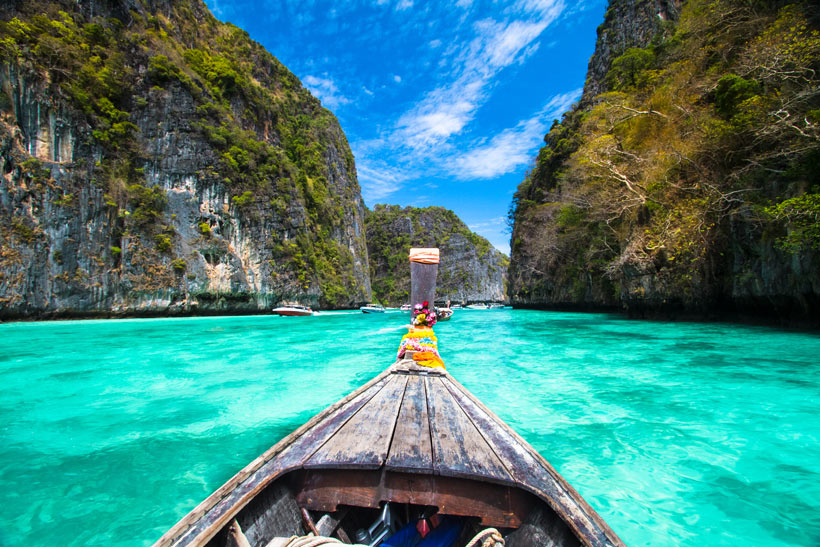 Are you ready To Travel To thailand?
Are you ready to fly to Thailand? Here are some quick booking links and resources that I use myself for travel planning. These websites will help you to get started with your Thailand itinerary!
Cheap Flights to Thailand
Skyscanner is my favorite search engine for finding cheap flights to Thailand, from anywhere in the world. I always start my flight search here! 
Transport within Thailand
Bus, boat, and trains: 12Go.Asia is one of the most reliable websites in Southeast Asia when it comes to booking buses, ferries and railway. Get an instant seat confirmation and start your overland travel worry-free.
Taxis: Grab is my go-to app to call a cab. Less hassles with taxi drivers who don't like to use the meter, which is very common in Thailand. I recommend to pay with credit card through the app, drivers mostly have no change.
Find a place to stay in Thailand
In case you're staying beyond your wellness retreat, here's where you can find affordable accommodation:

Hostels, hotels and resorts: Agoda is excellent if you're looking for hotels from budget to luxury! It's one of the largest hotel booking websites in the world. Plenty of options to book now and pay later, or even pay at the hotel. Risk-free booking, many with free cancellation. 
Apartments and houses: Airbnb is a fantastic option if you prefer staying like a local, and looking for a unique accommodation! I'm using it for years and got amazing places through it! If you have never used Airbnb before, you can get $45 off on your first booking!
Fun Tours and Activities in Thailand
Get your Guide has plenty of fun activities in Thailand, such as island hopping, hiking tours and city sightseeing trips. There is plenty of choices to keep yourself entertained!
Klook is similar than the one above, but offers additional options such as airport transfers, SIM cards, and food & dining experiences. It' a great way to meet other travelers while exploring a new place!
SIM Cards in Thailand
Klook is not only good for tours and trips, you can also buy your sim cards for Thailand here! You can order it online and pick it up at the Airport right after your arrival.
Travel Insurance worldwide
SafetyWing is a super affordable Travel Medical Insurance, starting from only $37 per 4 weeks. It's perfect for travelers and digital nomads! They will help you with financial help when have to see a doctor, or if there's an emergency and you need to go back home. Don't go overseas without travel insurance!
Do I need a Visa for Thailand?
Travelers from most countries are allowed to enter Thailand visa-free, for a period of 30 days. You can check on iVisa.com whether you need a visa and how long you are permitted to stay.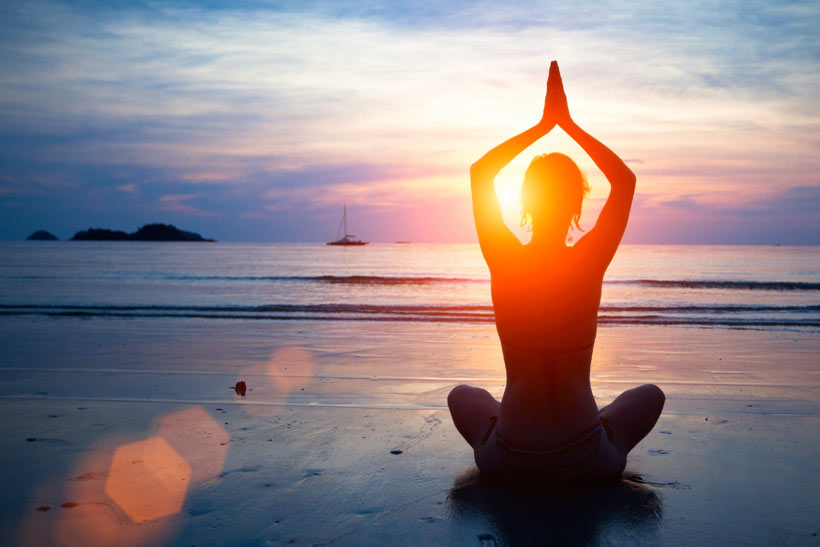 More Blog Posts about Health, Wellness and Yoga Retreats
Thank you for reading. If you like this article, please share!
---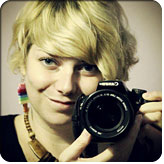 About the Author:
Sabrina Iovino started JustOneWayTicket.com in 2012. She's half German, half Italian and has traveled to 70+ countries around the globe. She feels weird to write about herself in the third person, so she'll switch now. Let's restart:
Hi, I'm Sab! This is my blog and I write about the things I love. Mostly. 
Follow me on Facebook | Instagram | Pinterest | YouTube | Twitter
---