Can you visit one of the most beautiful islands in the world on a low budget? Yes, you can! I'll show you how to enjoy Boracay on less than 1000 PHP ($23 / €17) a day.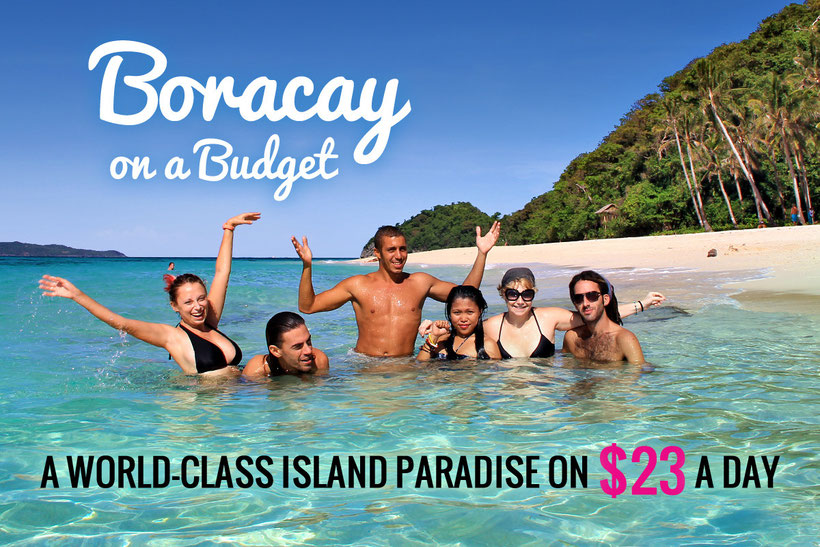 Welcome to paradise. Situated in the heart of the Philippines, Boracay is the Côte d'Azur of Asia. A place where actors and models escape to and lounge in the sun. The island is only 10 km² (4,000 sq mi), and is located 300 km (190 mi) south of Manila, the capital of the Philippines.
Boracay is the kind of island you will never want to leave.
I've traveled to more than 50 countries and there are not many places
where I've returned 5 times. Boracay is one of them.
The instant I set foot there back in 2009, I knew was in love. The place was incredibly beautiful and laid back.
I had found my own paradise; one with the most perfect white-sand beaches, coconut trees, and turquoise-blue water. Without a doubt, Boracay is one of the top beach destinations in the world.
Recently the magazine Leisure and Travel ranked Boracay as #2 on the list of the world's best islands of 2013. Last year, Boracay was even the number 1. 
I always wondered why people told me that Boracay is oh-so-expensive. I understand, people probably assume it's pricey to stay in one of the most beautiful places on earth. Here is the good news! It's not if you read this post and follow my tips! I spent almost a year in total in Boracay, trust me, I know this island better than my own kitchen.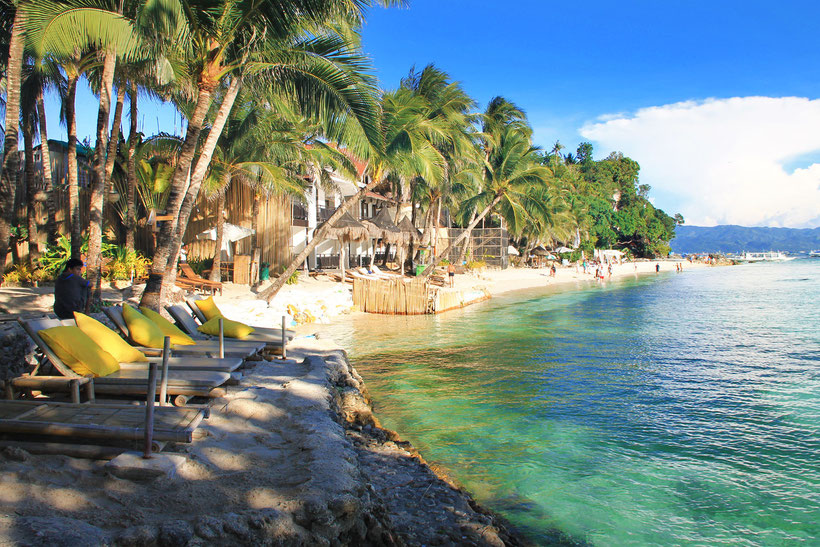 In this article I will calculate everything in Pesos (PHP), the currency of the Philippines. I want to show how you can have an awesome time in Boracay with a daily budget of only 1000 PHP. But how much is 1000 PHP? The actual conversion at the time of this post (September 2013) is:
1000 PHP  =  23 USD  =  17 EUR
So... just for the record, for 17 EUR I could probably have a decent meal and a beer in a middle class restaurant in Germany. In Boracay this is enough to pay for accommodation, breakfast, some lunch snacks, dinner and some cocktails or beers. Sounds impossible, right? 
Let's get started! This is how you do it: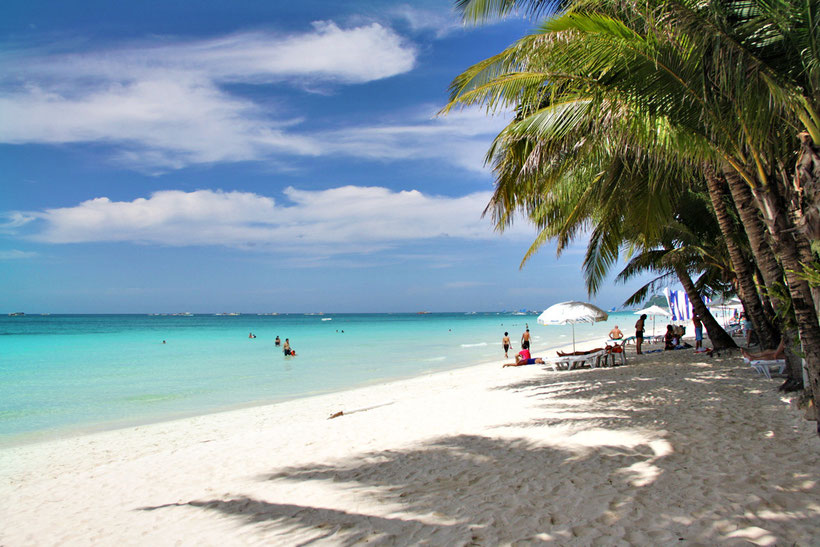 CHEAP ACCOMMODATION
Most important rule: Avoid the Peak Season!
---
Here comes the part that will eat a big chunk of your travel budget. I'm trying to limit my expenses to maximum 300 PHP per night (per person). How to find cheap accommodation in Boracay? Most likely, not on the Internet. Just a few of them are online, I'll give you the links in point # 03!
The cheapest places to stay are mostly run by local families, and most of them don't even have a website, so you have to find them. It's actually not that hard. Just follow my tips and your chances of getting a great hotel-deal in Boracay will be pretty good.

# 01.

DON'T TRAVEL IN PEAK SEASON! 
Avoid Christmas, New Years Eve and the Holy Week. Prices are more than DOUBLE and the beach is way too crowded, so forget about that! If possible, avoid the high season, too. High season is from November to June. Actually right now (September) is a great time to score a cheap deal.
The low season starts in early June and ends October 31. I prefer low season over the high season because of less people. You'll have the beach to yourself, and rooms are half price. Don't fear the weather just because it's the rainy season. The weather is unpredictable anyways.
In September 2009 I spent a whole month in Boracay, and there was barely any rain. Actually, I love walking in the rain - as long as it's warm outside. I would always return to Boracay, whether it's monsoon or not.
# 02.

 CHEAP ROOMS ARE AT STATION 3 AND ALONG THE MAIN ROAD! 
Forget Station 1! You won't find cheap there. Walk down to Station 3. Honestly, I never get the hype about Station 1. The sea is too shallow and the beach is always packed with people. In my opinion, Station 3 is better to swim and more peaceful. The cheap accommodations are certainly down there.
But OK, you really want to stay close to Station 1? Get away from the beach. The main road is only 5 minutes walk from the beach and prices are lower there. On a side note, you like the photo you see below? That's Station 3. Not bad, huh?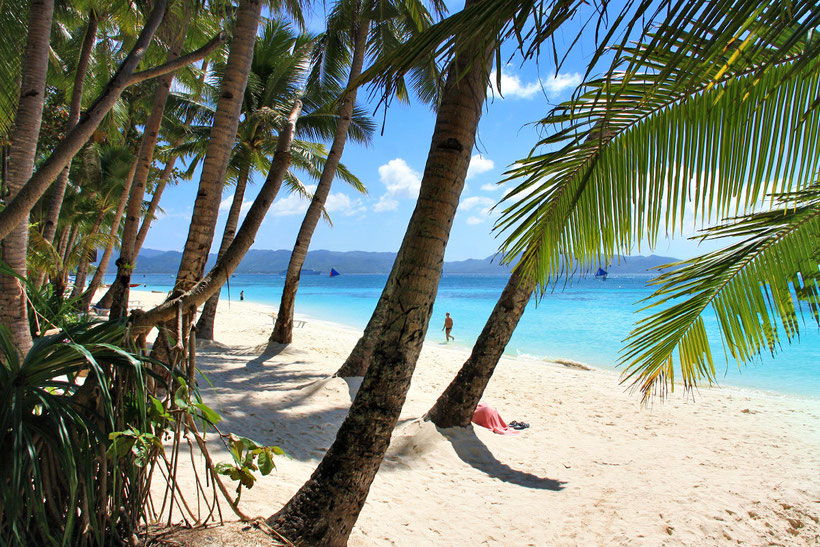 SO LET'S TALK ABOUT PLACES!
If you travel alone, your cheapest bet is to stay in a dormitory for 200 - 300 PHP a night. 
If you travel as a couple or 2 friends, you should be able to find a basic double room with fan for max. 600 PHP a night. 
So, you probably wanna hear names, right? Here we go:
The Boracay Treehouse (photo below) is a beachfront resort at Station 3 (Angol, Manoc-Manoc) and offers a bed in a dormitory for 300 PHP/night. Contact: damariotreehouse@yahoo.com 


White Beach Divers, located beachfront at Station 3 offers basic double rooms with TV, WiFi and fan for only 400 - 600 PHP! They also have dormitory beds for 200 PHP/night. If you're a large group, check out the family room for 3-4 people, only 800 PHP per night. All prices are for low season (June 1 - October 31). 


The Orchids is actually one of my fav places. Station 3, 1 minute walk to the beach. Beautiful and spacious rooms. A double room with fan starts from 600 PHP in low season.
All these prices are per night. If you stay more than 5 nights, don't forget to haggle! Prices are always negotiable. If you stay a month, you should get 30-50% off. If you offer to pay in advance, your chances are higher to get a discount.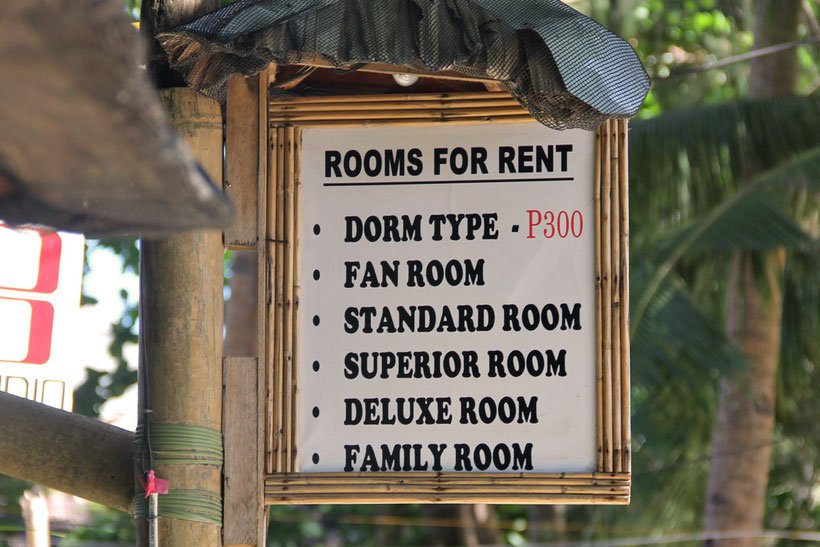 # 03.

BOOK ONLINE! 
Here is the thing: You'll definitely find cheaper places by walking around, checking places and haggling, but sometimes you don't want to run around and waste half the day in order to find a cheap hotels in Boracay, right? I understand. No worries. You can also find cheap deals online, specially in low season (June - October).
Agoda is by far the cheapest hotel booking website with discounts up to 75%. I just checked them for you and I found some amazing deals. Please note that the prices can change quickly, so hurry up if you want to book something! Just click on the link and enter the date. 
(The following list was updated in December 2016)
#04. STAY LONGER!
It's a fact that renting a place for 2 weeks should cost you about the same as staying 1 month. You can rent basic places at a monthly rate of 7,000 – 15,000 PHP. Share the place with a friend and it's even half.
But where to find places in Boracay on a monthly rate? Before you run and check a dozen guesthouses now, ask for help. Trust the locals. Along the beach are plenty of helpful guides who know everything about the island and are happy to help you find a place that suits your budget. They won't charge you anything because they'll get a commission from the hotels if you book one of them. Just tell them your budget and they will run for you.
I stayed this year (April 2013) in Boracay, right after the Holy Week and my bf and I got a nice room for 2 weeks for only 7,000 PHP. That's only 250 PHP per night and per person. Not bad for high season.
# 05.

HAGGLE!
Bargain. Seriously. Bargain hard. Especially if you stay longer. If they want 20,000 for a month, put 10,000 on the table. I noticed if you pay in advance and put all the money right out there, people are very tempted to have that money and give you the room for a big discount. But always check the place clearly before making such an advanced payment.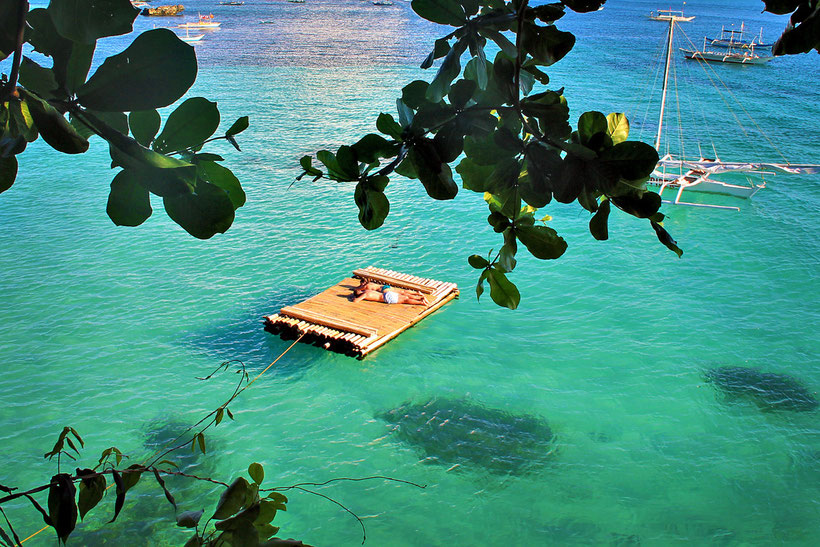 CHEAP FOOD
Find delicious food without spending too much.
---
Finding cheap restaurants in Boracay can be challenging. You might get frustrated when you stroll along the beach and compare the prices of each restaurant. The good and cheap places are a bit hidden, but I'll tell you where to find them.
Smoke Resto, they have 3 branches around D'Mall.
Delicious Filipino food for a low price. Try the Kaopad (140 PHP), the Chili Chicken (120 PHP) or the Pancit (80 PHP). I never had a bad meal there, everything is fresh and damn tasty. Open 24 hours. My absolute favorite restaurant in Boracay.


Shenna's Restaurant, Station 2 on the beach, near D'Mall.
One of the cheapest beachfront restaurants in Boracay. I always go there for breakfast. The pancakes, omelets and crepes are yummy and all below 100 PHP. They also have cocktails for a small price: Pina Colada or Tequila Sunrise for only 60 PHP. Perfect place to watch the sunset and sip on a drink.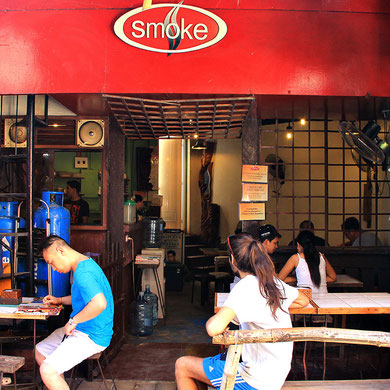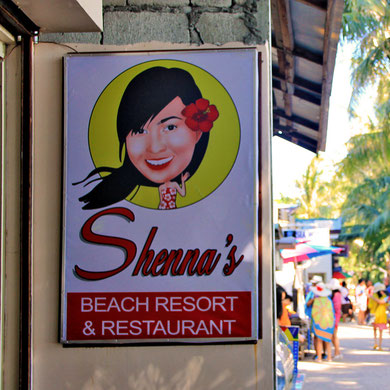 Jonah's Fruit Shake & Snack Bar, Station 1, on the beach.
This place is legendary for their shakes. There are obviously cheaper shakes on the island, but these ones are all worthy! A shake is around 100 PHP, unless you want something extraordinary like strawberries. The shakes are big (half liter) and so addictive. Try the Avocado shake, love it!


Andoks, several branches on the island, at D'Mall, main road, Station 3 beachfront
Andoks is a Filipino fast food chain. Not exactly my favorite, but open 24 hours, which comes handy after a party night. They offer decent meals between 60 - 140 PHP. 
TIP: If you're on a really tight budget, walk along the main road or look in the small streets which leads to Bulabog beach. You'll find small Filipino eateries that offer meals for 50 PHP or less.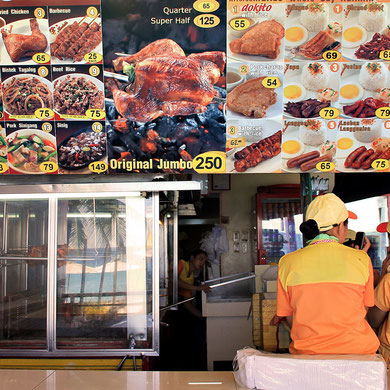 The following places are only for take out or for a cheap snack...
Leylam Shawarma, 2 branches on the island: Station 2 beachfront and along the main road.
Perfect for a fast snack on the beach. I really like their Shawarma Rice and it's only 65 PHP.
If you're really hungry, you might wanna eat 2 of them. Open 24 hours.


Master Siomai, Station 2 beachfront, right next to Leylam Shawarma.
If you like dumplings, you will love them. They offer beef, shrimp and pork dumplings, 4 pieces for 40 PHP. Open 24 hours.


Julie's Bakeshop, D'Mall.
The bakeshop sells various cakes and bread for 5 - 20 PHP. I always buy a few pieces in the afternoon, especially if I head out for a picnic at Puka Shell Beach.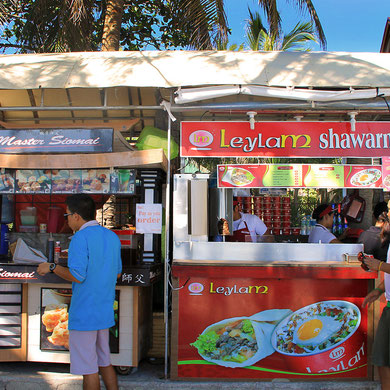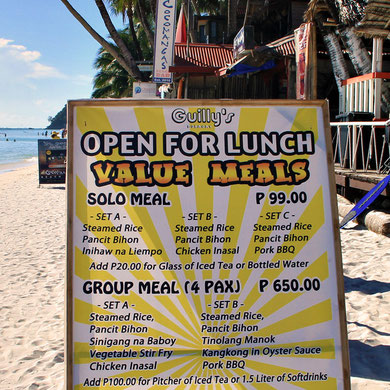 CHEAP BARS
Get drunk for less.
---
Let's talk about my favorite hour in Boracay: Happy Hour. There are some long happy hours on the island. Forget buying your booze at the supermarket, some bars in Boracay are even cheaper than that!
Look at this photo below! Just a quick reminder, 100 PHP is equal to 2.30 USD or 1.70 EUR. That means every drink on the menu is about $1, or less than €1. This is not a happy hour, this is SUPER happy hour.
You probably want to know which bar this sign belongs to, right? Hold on, I tell you in a second.
By the way, have you seen cheaper cocktails in Asia? Please tell me where!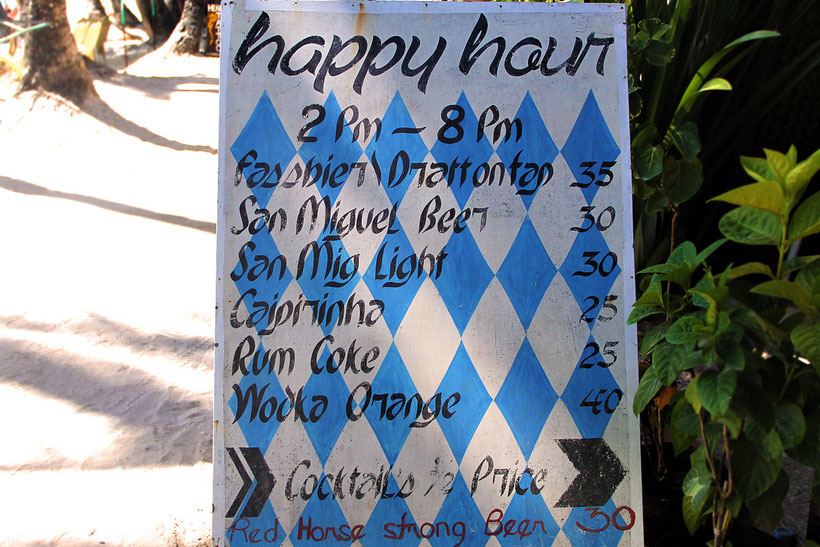 Bei Kurt und Magz, Station 3 beachfront. Happy Hour from 2PM - 8PM. 
Yes, the photo above belongs to Kurt & Magz, a Snack Bar & Restaurant owned by a German. Caipirinhas for 25 PHP? How could I resist? Great place to watch the sunset as well.


Shantal's Resto Bar, Station 3 beachfront, right next to Kurt & Magz. Happy Hour from 2PM - 8PM. Shantal's Resto is another great Beach Bar (left photo below) offering beers and cocktails for a really small price. The place is always crowded. Good spot to meet other backpackers.


Exit Bar, Station 1 beachfront between the Red Coconut and Bom Bom Bar. No Happy Hour.
One of my favorite places, such a cozy little bar. You'll meet kite surfers, expats and friendly locals here, always up for some conversation. Great vibe and cheap drinks (beer or rum coke for 50 PHP).


Shenna's Restaurant, Station 2. Happy Hour from 5PM - 9PM.
I mentioned Shenna's before as they have cheap and tasty food. But also their cocktails are great and strong! Here a photo from their menu (right pic).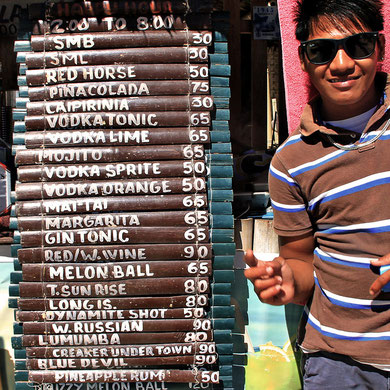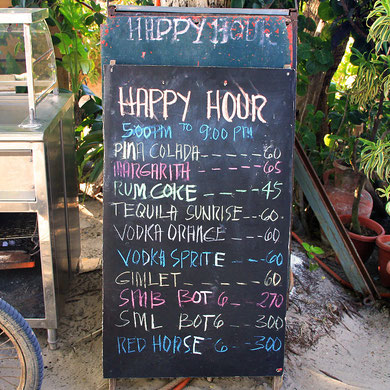 FREE THINGS TO DO IN BORACAY
Save your money and discover the island by yourself.
---
There is no need to spend every day money on expensive activities. Here's some fun and free stuff!
Cliff Diving. While many people go to Ariels Point and pay a fortune for drinks and cliff diving, here is the free version: Walk all the way to the end of the beach of Station 1, then along the water on the rocks. Halfway before the path turns right (leads to Diniwid Beach) you'll see dozens of kids jumping from the rocks. If kids can do it, you might be able to do it as well! But please don't dive, the water can be shallow sometimes.
Meet the locals. Boracay is not only White Beach.
Get out of the touristic center and discover a completely different scene on the other side of the island. The local people are usually very friendly and courteous. The island is only 8 kilometers wide, so walk a bit and get lost!
Enjoy the sunset. Boracay has one of the most spectacular sunsets I've ever seen. Don't take it for granted. Every night offers a different stunning view. 
Soak in the sun and get a tan. That's what Boracay is for! Enjoy one of the most beautiful beaches in the world! Float in the water or go snorkeling (bring your own snorkel gear).
Go for a night swim. I love swimming at night. Don't worry, Boracay is a relatively safe island. Just leave all your things in the room and enjoy a night swim. The water feels much warmer than at day time. And if it's not clouded, you'll see thousands of stars in the sky.
Build a sand castle or watch the locals doing that. It's actually pretty impressive, they do this every day and some of them are huge. Be creative and make some sand art!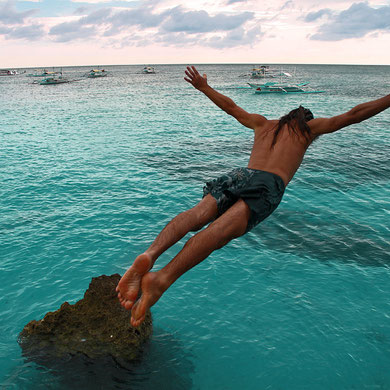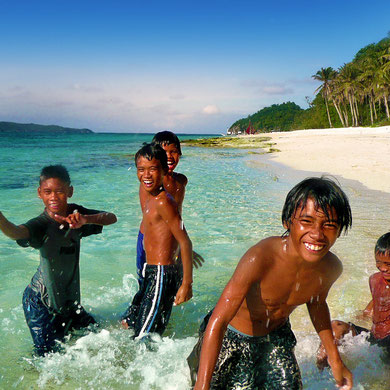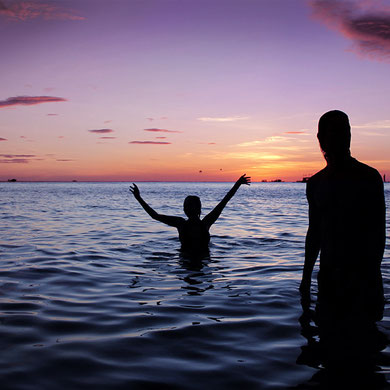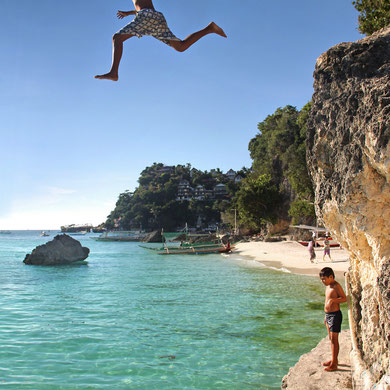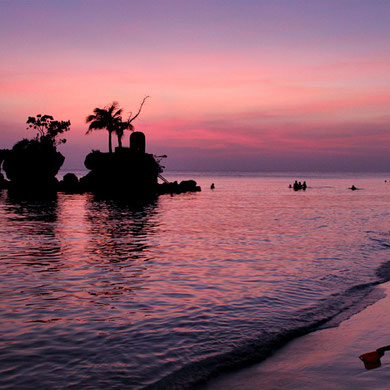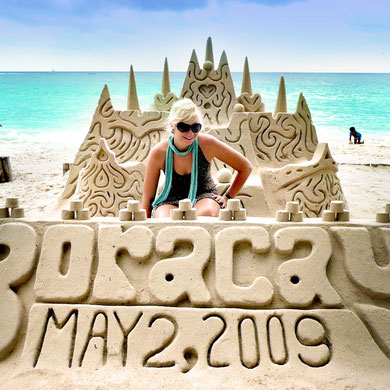 SPENDING ON ONE DAY In Boracay
Let's do the math. Can you really spend a day in Boracay on $23? Yes you can!
---
Let's calculate my expenses
        Room (in a dorm or if you share a double room)
        Breakfast (Omelet + Tea) at Shenna's Restaurant
        Avocado Shake from Jonah's around lunch time
        Snacks from Julie's Bakeshop in the afternoon
        1 Mango and a few Bananas from a local shop
        Sunset Cocktail, 1 Pina Colada at Kurt & Magz
        Dinner at Smoke Resto (Chili Chicken, rice + free water)
        2 Beers at Exit Bar, each 50 PHP
        Midnight Snack, Dumplings at Master Siomai
        Big bottle of water (it's cheaper if you refill)
PHP
300 PHP
120 PHP
100 PHP
20 PHP
30 PHP
60 PHP
120 PHP
100 PHP
40 PHP
50 PHP
 USD
$ 6.87
$ 2.75
$ 2.29
$ 0.46
$ 0.69
$ 1.37
$ 3.21
$ 2.29
$ 1.14
$ 0.92
 EUR
€ 5.15
€ 2.06
€ 1.72
€ 0.34
€ 0.51
€ 1.03
€ 2.06
€ 1.72
€ 0.68
€ 0.86
---
Total expenses on one day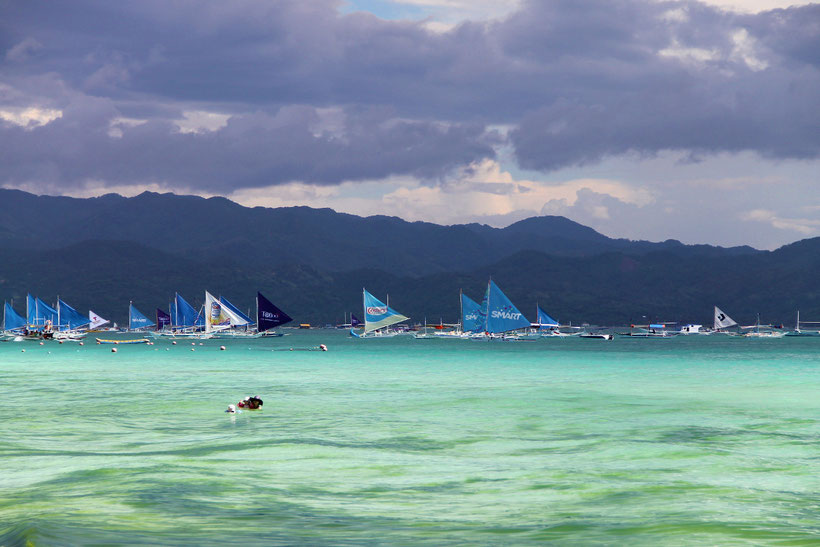 Summary: 940 PHP for a whole day incl. some alcoholic beverages. Not so bad, huh? Actually that would be an expensive day. You can make it even cheaper:
Instead of dining in a restaurant, eat at the local Filipino eateries where you get meals for 50 PHP. Skip the alcohol for one day. Now you'll have enough cash left to pamper yourself with a massage at the end of the day (usually 350 PHP for an hour, you can haggle it down to 300 PHP at some places).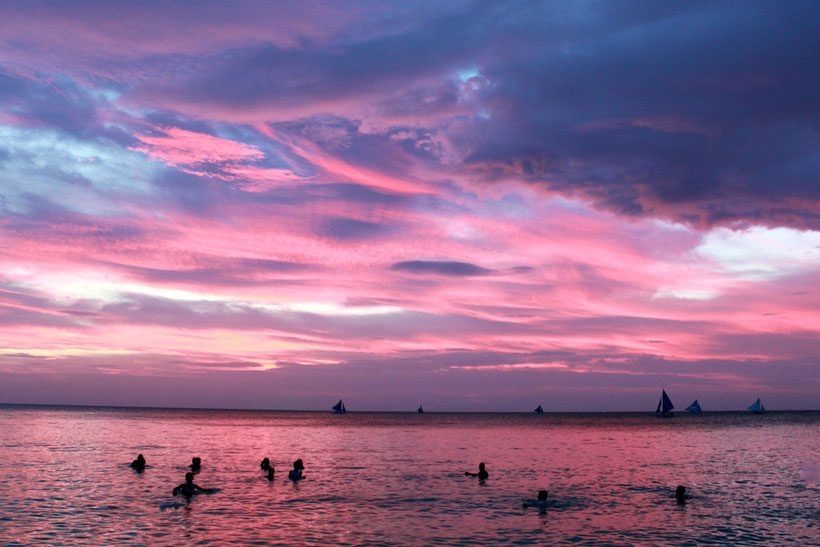 I didn't include the tricycle fare, as I barely use them (but don't worry, they're cheap, too!)
Here is some last information about the transportation, as they often overcharge people:
Using a tricycle cost 10 PHP between Station 1, 2 and 3. If you go further like Puka Shell Beach (you have to go there, it's amazing!) it's usually 25 PHP per person or 150 PHP for the whole tricycle. 
From the Jetty to Station 1, 2 or 3 it's 20 PHP or 100 PHP for the whole tricycle. Don't pay too much, tell the driver he should pick up more passengers if he asks for the whole tricycle rate.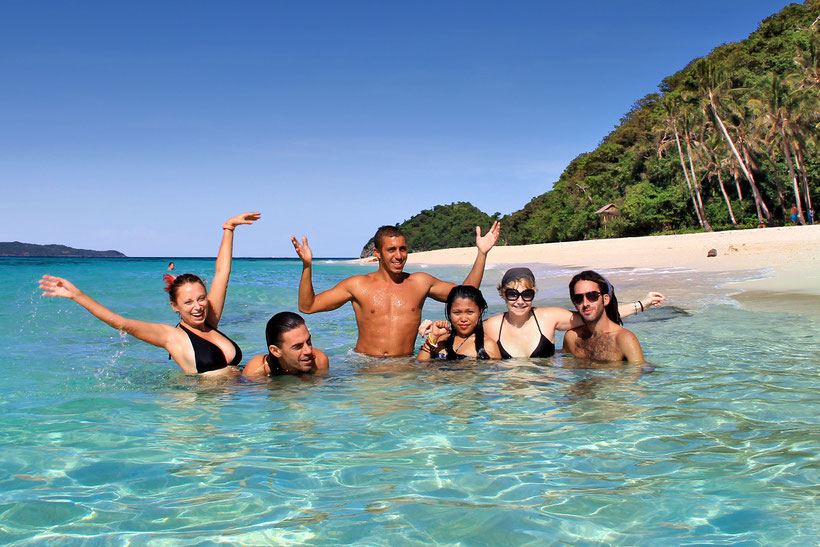 AND NOW, GO AND ENJOY BORACAY!
If you visit Boracay for the first time, everything can seem so fancy and expensive. Many travelers and backpackers can get frustrated quickly and leave the island before even finding all the the cheap treasures. I hope these tips will help you to save some money and enjoy Boracay to the fullest.
Cheers to the long Happy Hours in Boracay! I'll be back soon...
Thank you for reading.
Update: I wrote a new guide about Boracay. You can read it here:

Boracay - Still A Paradise? A Travel Guide To Philippines' Most Visited Island
PS: For the cheapest airfares to the Philippines, or from Manila to Boracay, check Kiwi.com!
Have you been to Boracay? Did you like it or not? Do you know some cheap places I didn't mention here? I would love to read about it. Just comment below.
If you like this article, please share.
 
 
 
 
 
 
 
 

 

ABOUT THE AUTHOR

 

Sabrina Iovino is the founder of JustOneWayTicket.com. She's half German, half Italian and has traveled to more than 50 countries around the globe. She feels weird to write about herself in the third person, so she'll switch now. Phew...much better! Let's restart:

Hi, I'm Sab! This is my blog and I write about the things I love. Mostly.

 

Follow me on Facebook | Twitter | Instagram | Pinterest | Google+ | Youtube