I tried Panchakarma for one week, one of the most effective detox experiences - possibly the best thing you can do to heal yourself and reconnect with your body, mind and soul.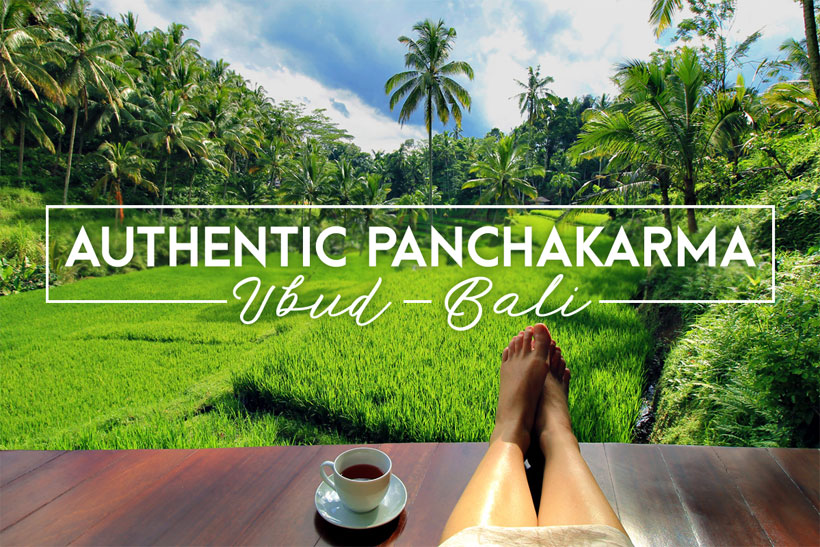 Last month I returned to Bali for another detox retreat. Ever since my first experience last year at the Sukhavati I became hooked on wellness retreats. My previous stay in Bali left me in a relaxed state of mind, and in such better condition physically. I was very keen to return to the Islands of Gods for another blissful week, filled with relaxing treatments, nourishing food, and landscapes that inspire peace of mind. 
When I heard about OneWorld Ayurveda and saw pictures of the retreat, I instantly wanted to fly back to Bali and see this place for myself. It looked surreal on the brochure, I couldn't wait to see this place with my own eyes.
What drew me to this place in particular, was its incredible location. OneWorld Ayurveda is located directly beside Tegalalang, possibly Bali's most famous rice terraces. The place is stunningly beautiful, hundreds of tourists come every day to take pictures of the massive rice paddies.
OneWorld Ayurveda couldn't be in a better location than in Ubud. The whole area surrounding Ubud is absolutely gorgeous. The town and its surroundings is a heaven for those who search for spirituality, inner peace and health. It's also a mecca for yoga and meditation retreats. If you have never been to Ubud, put this magical town at the top of your bucket list!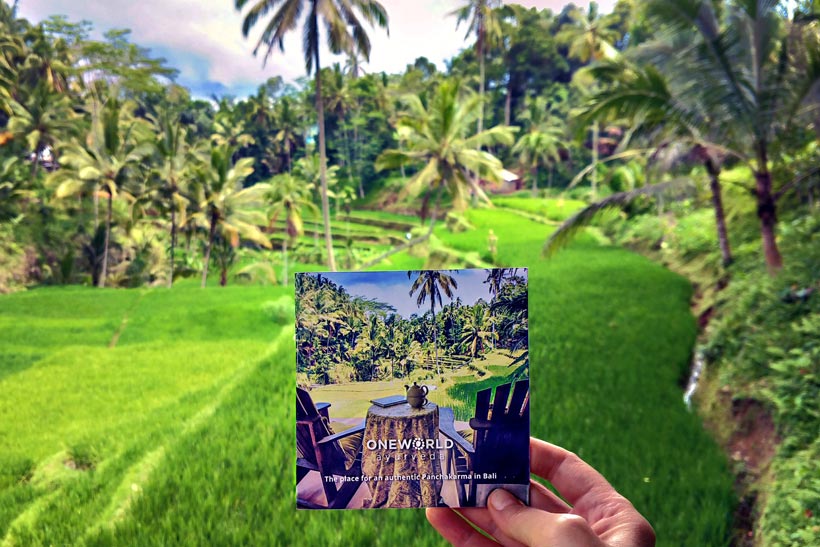 Oneworld Ayurveda - Panchakarma Centre
What is Panchakarma?
If you have not heard about Panchakarma yet, let me explain to you in a few words what this actually means. Panchakarma is an Ayurvedic practice, which originated in India. It has been refined and developed over several thousand years, it literally means five actions (pancha = five, and karma = actions).
Panchakarma is one of the very special and unique gifts that Ayurveda has to offer. It promotes a healthy lifestyle, aims for purification and rejuvenation, it will detoxify your body and correct any imbalances.
The five actions which consist of:
Vamana (Therapeutic Emesis)
Virechana (Purgation Therapy)
Basti (Therapeutic Enema)
Nasya (Errhine Therapy) - nasal cleansing
Rakta Mokshana (Blood Letting) - purification of the blood
Since these therapies have evolved and become modernized, the number of procedures included is not always five, it varies according to an individual's mind-body type and health concerns, which OneWorld Ayurveda really focus on, with their personalized treatments and highly educated Ayurvedic Doctors.
The healing program of Panchakarma should be between one week and 28 days. Stay as long as you can! The results are amazing, expect to feel an incredible boost of energy, reduction in weight, a faster metabolism, a relaxed mind and a more spiritual balance in life.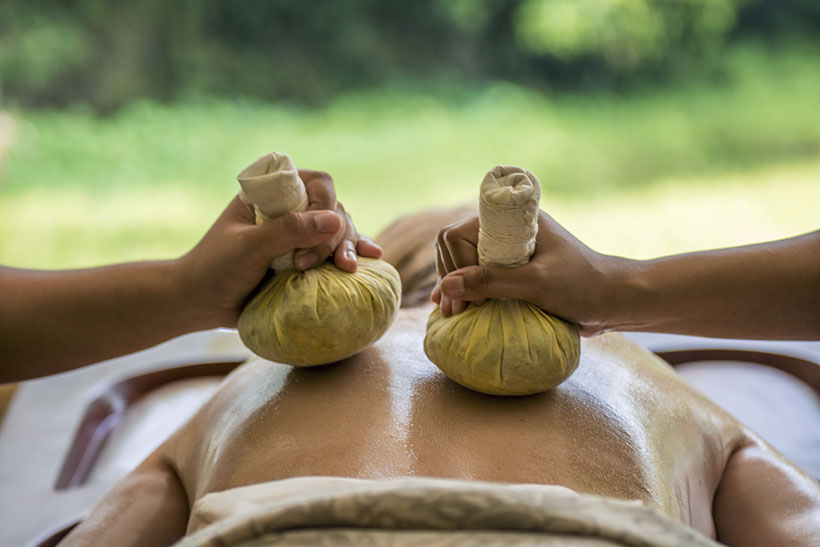 Why detox?
Most people are not able to maintain a healthy lifestyle. Poor nutrition, not enough sleep and insufficient exercise may leave toxins in your body and make you feel unbalanced and exhausted. Sometimes, it's not just the body that needs a restart, but also giving the mind space to find calmness. Doing a detox is giving yourself some personal time to focus on your body, mind, and soul.
The Panchakarma system at OneWorld Ayurveda turns detoxification into an enjoyable experience. It's a paradise location to cure yourself, release all the toxins from your body, nourish yourself and leave refreshed and rejuvenated. The treatments include daily massages, herbal treatments and medicines, healthy Ayurvedic meals, meditation and yoga.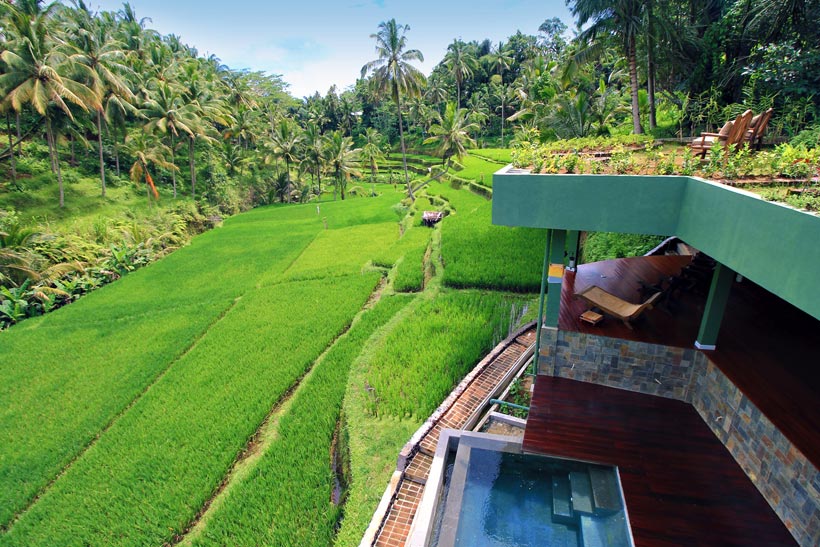 Arrival at Oneworld Ayurveda
I flew from Bangkok to Bali, and as soon as I left the airport, I was picked up by a friendly representative of OneWorld Ayurveda. It was an hour and a half's drive to Ubud, passing through countless small villages and endless rice fields. Bali is so lush and green, it's such a wonderful, scenic drive across the island.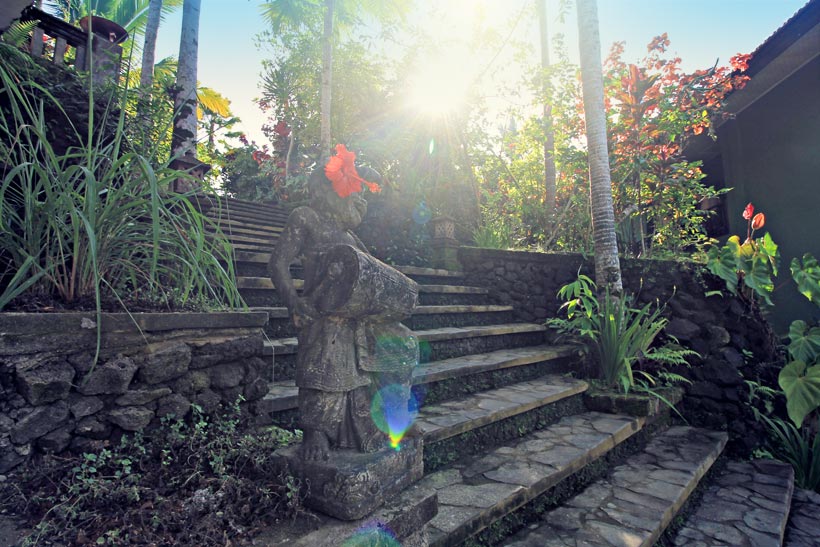 With just a 20-minute ride north of Ubud, the retreat is bordering the stunning Tegalalang rice fields that breathes peace and calmness. After a friendly welcome and a quick check-in, I was brought to my room, surrounded by the exotic colors and sounds of the jungle.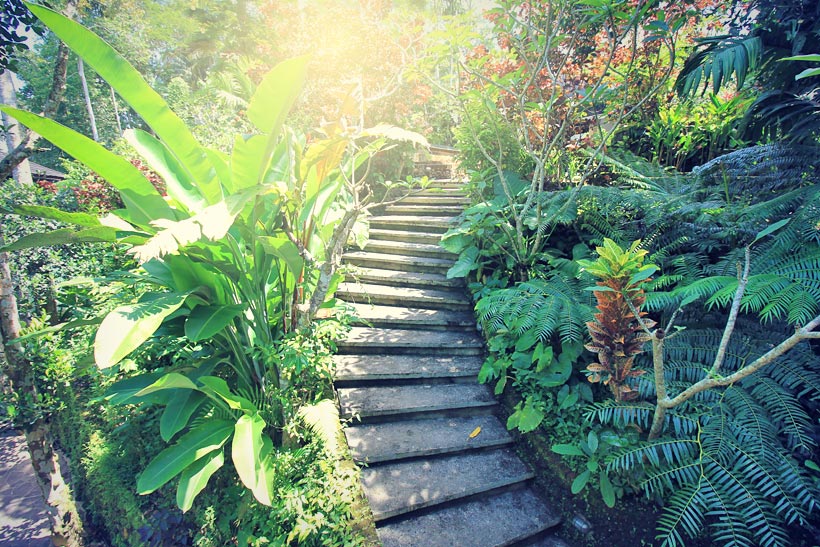 Unpacked and ready to explore, I found myself wandering around the gardens, smelling the sweet aroma of the flowers. The scent of nature really allowed my mind to unwind and relax for a bit. 
Accommodation
All bungalows at OneWorld Ayurveda are nestled in a lush tropical garden, surrounded by gorgeous areas of bamboo forest, filled with vibrant flowers and homegrown herbs and spices that they use for Ayurvedic cooking. 
Each room is unique and beautiful on its own. In total, there are twelve spacious rooms, all beautifully designed and extremely comfortable. All of them come with a private balcony or terrace, overlooking the garden and the rice paddies. I loved my room from the second I entered, with stunning views overlooking the garden and into the jungle, a truly amazing place to wake up.
Ayurvedic treatments
My first day started with a purification ritual at Tirta Empul, a nearby temple with a sacred spring. It is one of the most important temples in Bali, because of its holy water that is used for cleansing. Locals and foreigners were gathering within the holy spring water to pray and bathe. There was a sincerity and respect towards this ancient temple, it was quite a moving and spiritual experience.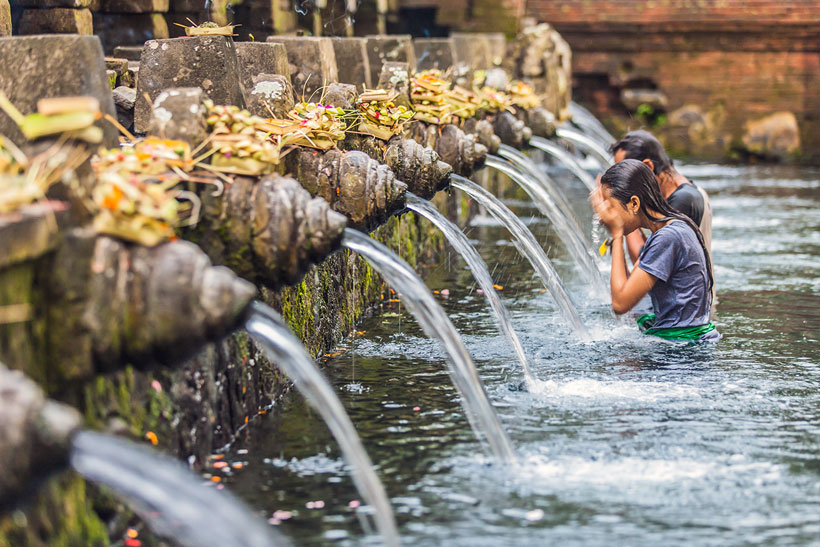 The following day I had my consultation with the Ayurvedic physician, Doctor Ninnu Sudarshan. He was very gentle and asked me several questions about my lifestyle, while holding my wrist to check my pulse. This is known as Ayurvedic Pulse Diagnosis, which is the science of detecting the existing status of a person's body and mind condition.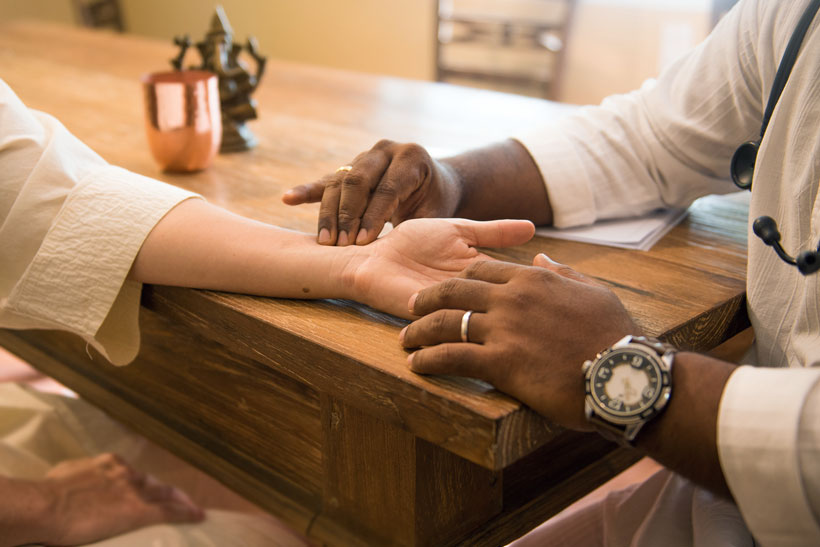 Later on I met the other Ayurvedic physician, Doctor Aparna. She told me what I would expect over the next few days. I instantly felt that I was in good hands. After my diagnosis, they created an individual schedule of treatments for the next few days.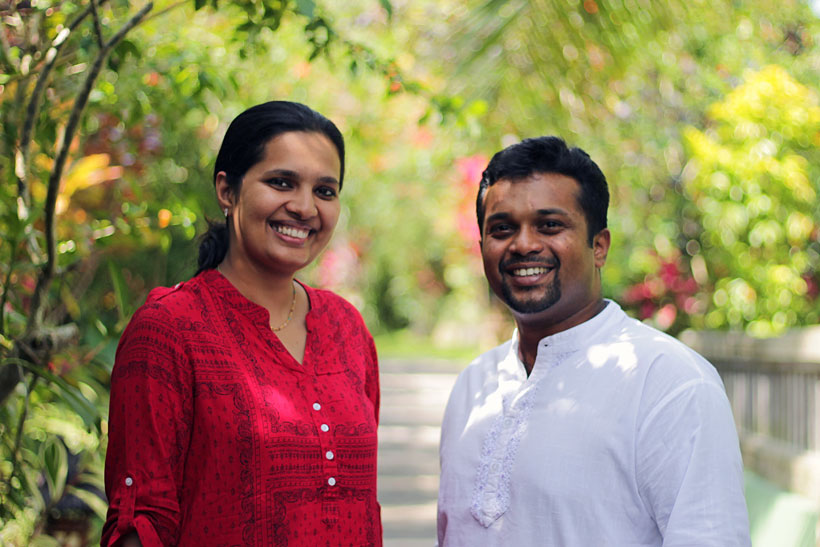 Both doctors were very knowledgeable and explained to me in detail which treatments would be best for my condition. They were very patient and took their time to answer all my questions. Afterwards, they sent me to the treatment centre where I received a one hour massage by two therapists. I was so relaxed, I fell asleep immediately.
The spa therapists were incredibly gifted, very gentle, kind and caring. Every massage I received felt like a healing experience. The synchronized massage, done by two therapists was absolute bliss. I felt better, day by day. My energy levels went up, my skin started to glow, and I let go of all the stress that I had.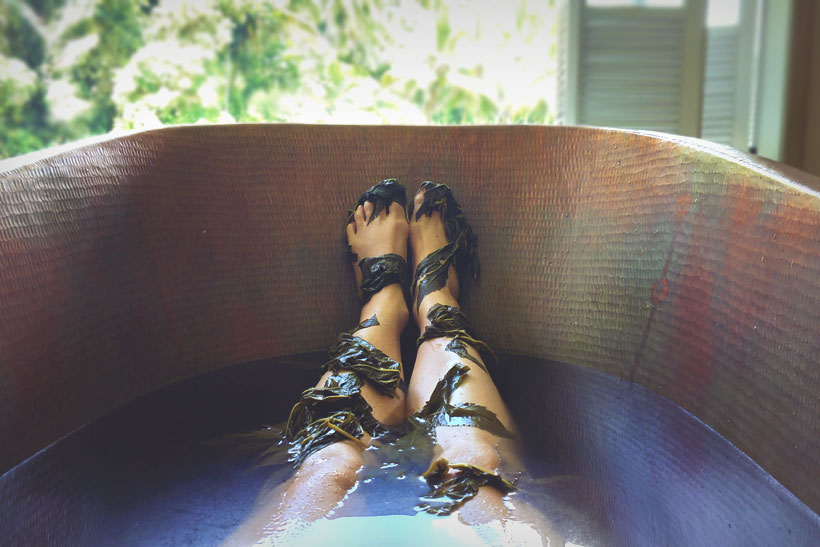 The following seven days were filled with garden walks in the morning, talks with the doctors about my condition, wonderful massage treatments, relaxing herbal baths, nourishing food, meditation, and gentle yoga lessons.
I made some great new friends while staying there and sharing meals and conversations with other guests. This place is a little paradise, every day was magical, and I enjoyed every moment of it.
Most hours of the day I actually spent at the treatment centre, which is the heart of OneWorld Ayurveda. There was an attached terrace where you could relax after the treatments, while drinking a cup of ginger tea. I'm not exaggerating, but from that terrace I had some of the most stunning views in Ubud. Proof below.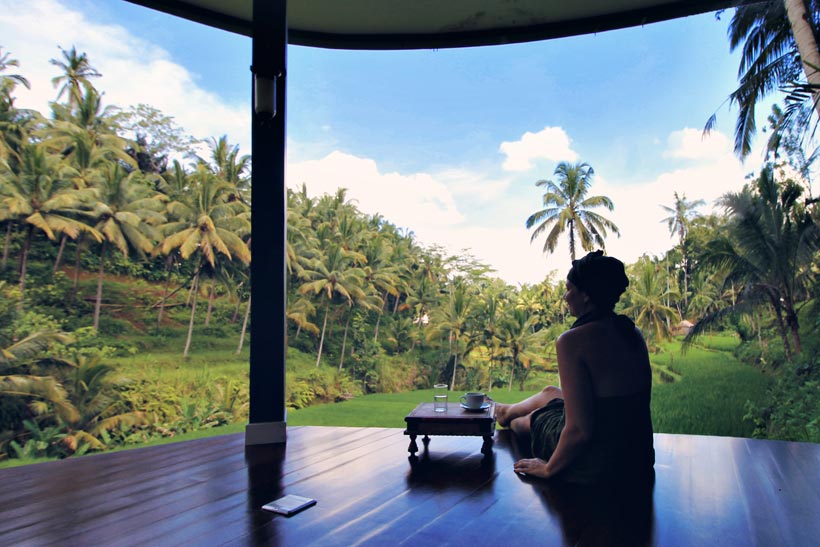 Ayurvedic Nutrition
In Ayurveda, the key to greater life balance starts with the right food. Ayurvedic food consists of six main tastes, which are sweet, sour, salty, bitter, pungent and astringent. Each taste has a specific effect on the body tissues and can either balance, pacify or aggravate Vata, Pitta and Kapha doshas.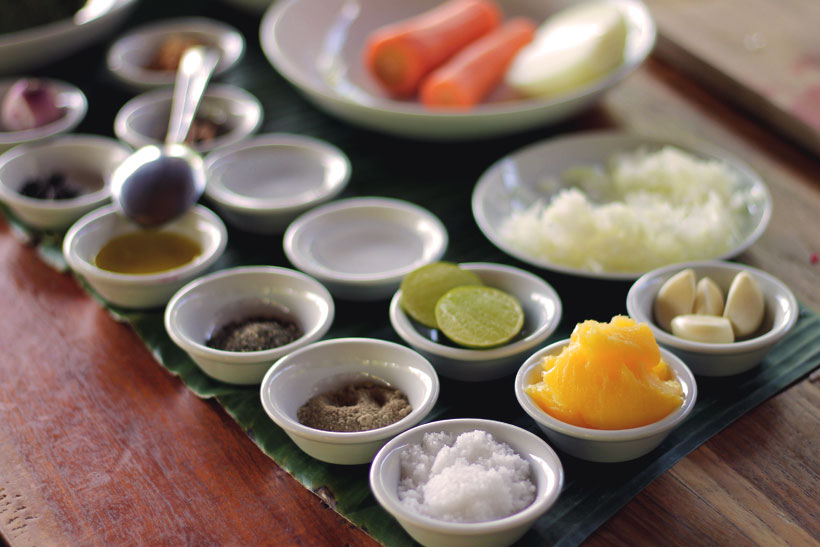 If you're on an Ayurvedic diet, you should ensure that all six tastes are present in a meal. However, a person with an aggravated dosha should take care to balance the diet with either adding or removing a specific type of food. For example, sweet, sour and salty food aggravates Kapha, while it pacifies Vata.
A person with aggravated Kapha should be mindful when consuming sweet, sour and salty.
Bitter, pungent and astringent food increases Vata and stress further increases Vata. Such persons must avoid bitter, pungent and astringent food.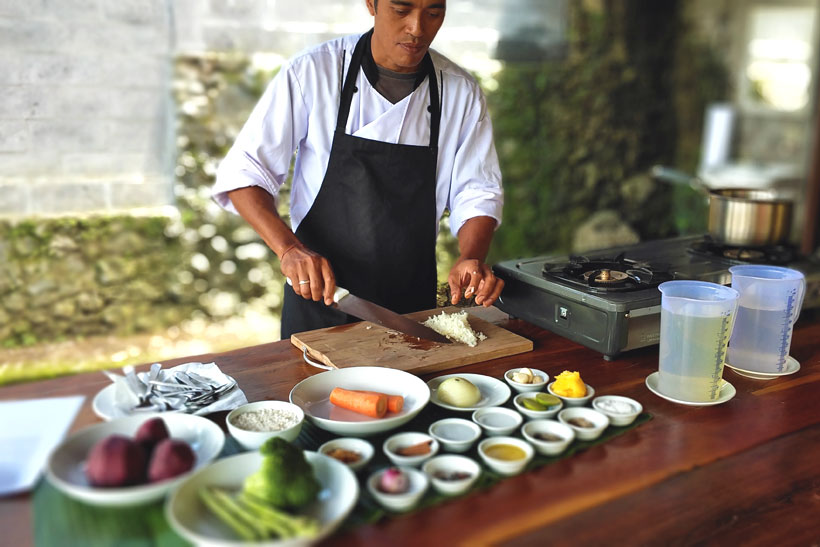 That's a lot of theory, but you don't need to worry about this. The chefs at OneWorld Ayurveda will cook the perfect Ayurvedic food for your condition. All meals were prepared and cooked with absolute dedication, every single meal was delicious and nourishing. Let me show you some more pictures.
How I felt after 7 Days At OneWorld Ayurveda
In three words: So much better. When I arrived in Bali, I was quite stressed from work, and my sleep cycle was erratic. Within the first few hours after my arrival, I already felt more relaxed. I began to find harmony in my daily routine, and I loved waking up with the sun and doing yoga in the morning. I felt at my most peaceful state of mind during these days.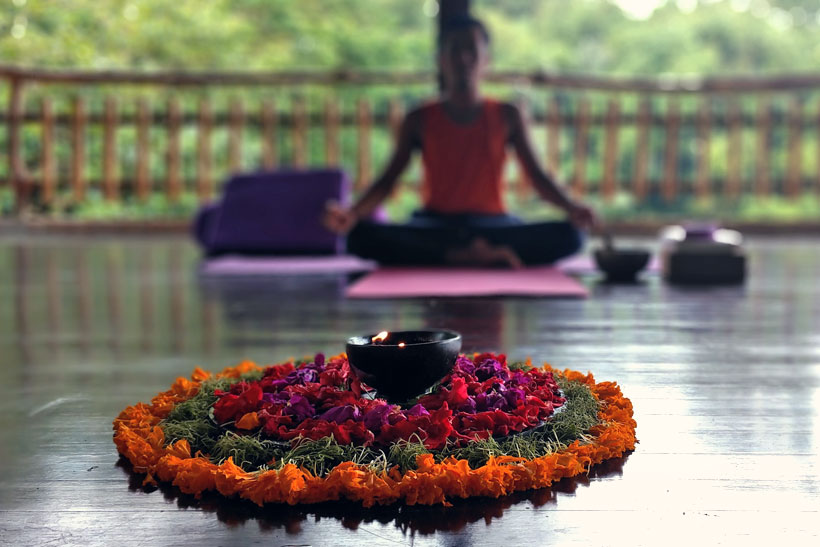 The massage treatments totally allowed my body to relax any tensions, and release toxins from my body. I must say thanks to the incredible staff at the treatment centre. They were so kind and gentle with everything they did. Day by day, I felt more relaxed. After a few days, I let go of all the stress I had, and felt a sense of inner peace wash over me.
The food was delightful, it's a heaven for vegetarians! If you can't stay at the retreat, at least come for their cooking class and enjoy some of the nourishing meals. I can't wait to cook these dishes at home. I was so happy when I got a booklet with the recipes!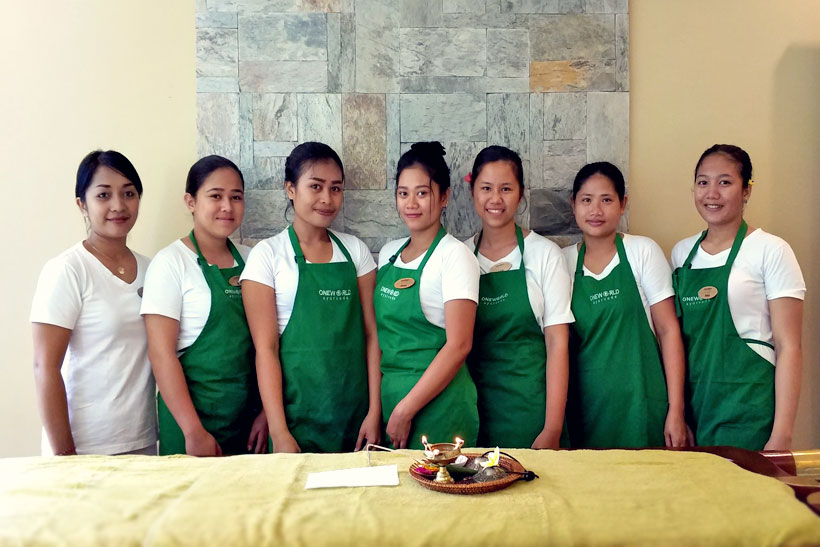 So overall, would I do it again?
Definitely. I'm even at that point where I want to make it a priority to do Panchakarma at least once a year. And I highly recommend trying Panchakarma at OneWorld Ayurveda, it's such an amazing and healing experience, thanks to the support from Doctor Ninnu Sudarshan, Doctor Aparna and the entire team.
It's incredible how one week can make such a difference - I wonder how I would have felt after staying there for a month... All I can say is, I must come back to find out! Next time I'll stay longer, for sure.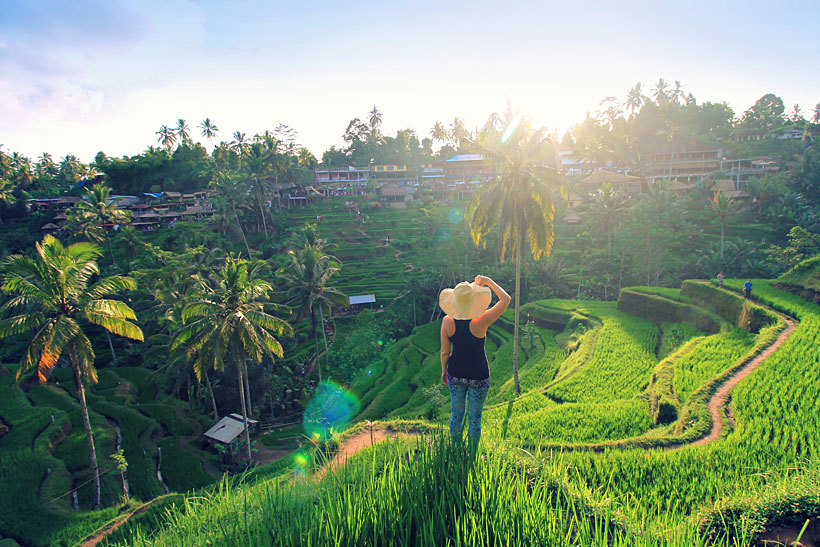 Thanks to OneWorld Ayurveda for hosting me and offering this wonderful experience.
If you're considering visiting the retreat, you can find more info at www.oneworldayurveda.com.
 
 
 
 
 
 
 
 

 

ABOUT THE AUTHOR

 

Sabrina Iovino is the founder of JustOneWayTicket.com. She's half German, half Italian and has traveled to more than 50 countries around the globe. She feels weird to write about herself in the third person, so she'll switch now. Phew...much better! Let's restart:

Hi, I'm Sab! This is my blog and I write about the things I love. Mostly.

 

Follow me on Facebook | Twitter | Instagram | Pinterest | Google+ | Youtube

 

 
 
 
 
 
 
---