Visiting rooftop bars is one of the coolest things to do when traveling to big cities. We looked around in Bangkok and found some impressive rooftop bars in Thailand's capital...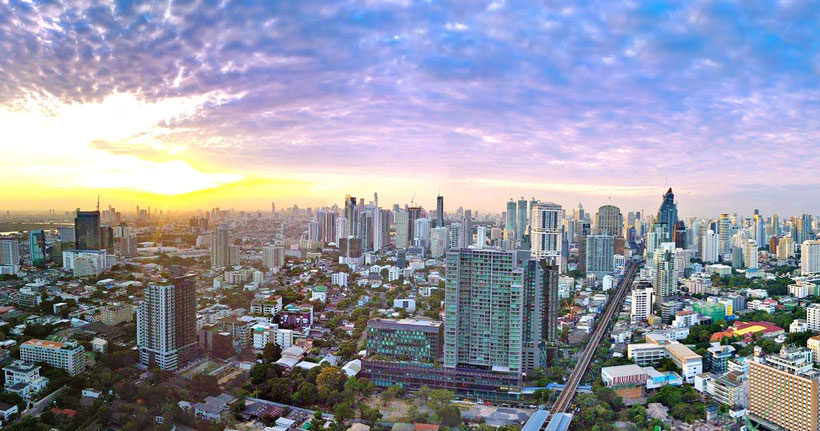 Looking for a fancy place to stay in Bangkok, maybe with some awesome views? Or maybe you just want to enjoy a cold drink while overlooking the skyline of Thailand's capital? No worries, I got you covered. This article features the coolest hotels in Bangkok, including some of the trendiest rooftop bars. Even if you don't stay at the hotel, you can still visit the bar and enjoy the views.
Visiting rooftop bars has become one of the most popular trends when traveling to big cities. Bangkok is no exception. In fact, it's one of the best rooftop cities in the world. Here's a list of 7 amazing hotels with fabulous rooftop bars in Bangkok!
01. CRU Champagne Bar @ Centara Grand Central World
CRU Champagne Bar is one of the newest places to the fantastic rooftop scene in Bangkok. The luxurious rooftop bar has a magnificent 360-degree view over Bangkok and during early evenings you'll get one of the most majestic sunset views in Asia. Everything oozes quality and the snacks and drinks are so good that you'll never want to eat anything else. 
During late evening and night this place turns into a good party spot for those who likes to celebrate with a view. In addition to all this, they also have a unique and own Champagne brand that you can order by glass or bottle. 
Location: 59th floor at Centara Grand Central World Hotel, one of the most affordable 5-star hotels in Bangkok, offering double rooms from $100/night. 
The closest BTS Station is Siam or Chit Lom. For the exact location scroll down to the map. 
Open from 5PM - 1AM.
---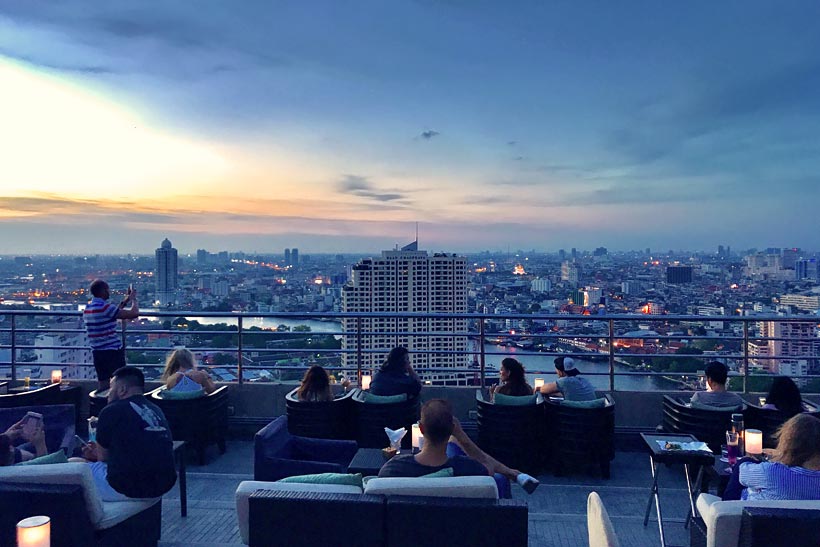 02. Three Sixty Lounge @ Millennium Hilton Hotel
If you like to drink cocktails in a relaxed and harmonious environment, the Three Sixty Lounge is possibly 
the best rooftop bar in Bangkok to visit. They also have one of the best sunset views, which can be viewed from comfy lounge sofas.
Book your place in advance and make sure to come here before 6PM to be able to enjoy daylight, sunset and darkness. You'll get some magical pictures up there. For the hungry ones, there's a menu to order some tasty and fresh Asian snacks.
Location: 32nd floor at Millennium Hilton Hotel, a popular 5-star hotel with amazing views over the river.
The closest BTS Station is Krung Thon Buri, from there it's still a 15-minutes walk. Better take a cab. For the exact location scroll down to the map. 
Open from 5PM - 1AM.
---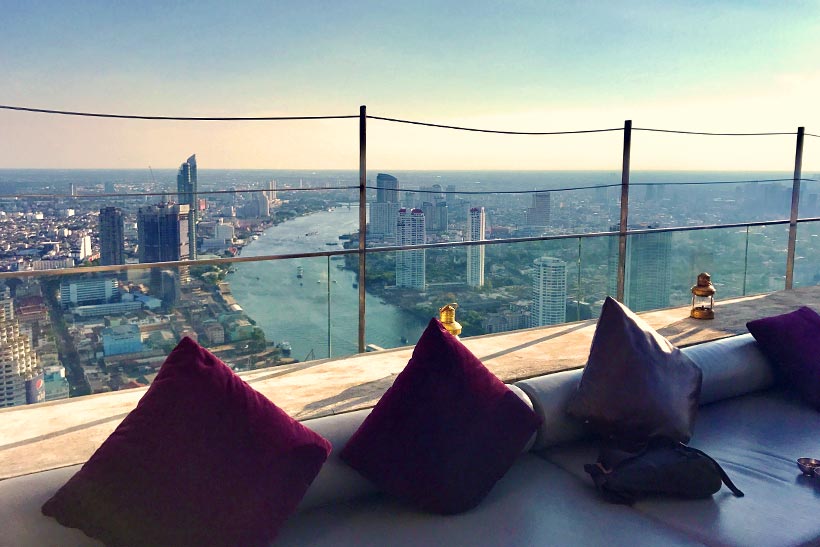 03. Distil Rooftop and Sky Bar @ Lebua State Tower
Distil Bar is the highest rooftop bar in Bangkok, located on the 64th floor at the Lebua State Tower. The terrace is quite small but with a big sofa surrounding the whole terrace. There's also some higher bar tables to hang out at. Make sure to come here right at opening (around 5:00 PM) to get a good seat.
Just a few stairs down, on the 63rd floor is the Sky Bar, known as the highest open air bar in the world. Both are well worth to visit, although I should mention that drinks and food are quite expensive, but the view and service make up for it. Just get yourself a seat and gasp out over Bangkok's skyline while sipping on a delicious cocktail. 
Location: 63rd and 64th floor at Lebua State Tower, one of Bangkok's most fabulous 5-star hotels, offering only suites, all with breathtaking views over the city.
The closest BTS Station is Saphan Taksin. For the exact location scroll down to the map. 
Open from 5PM - 1AM.
---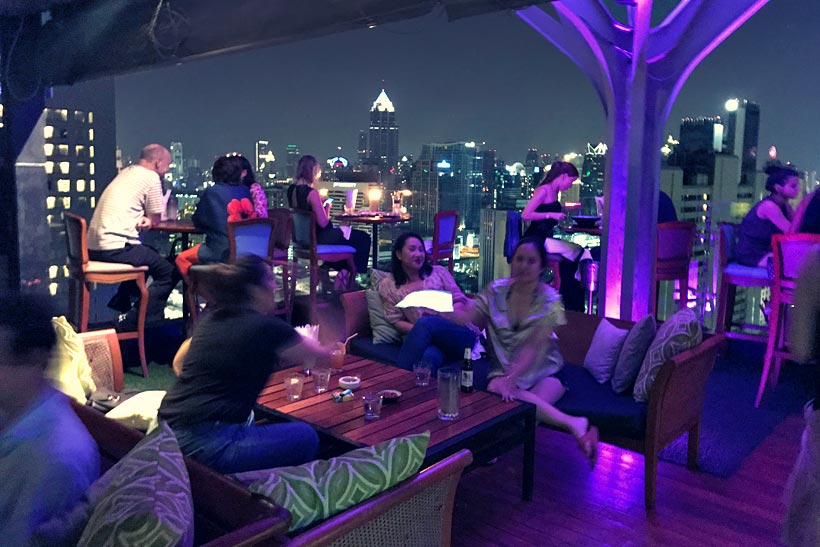 04. Above Eleven Bar @ Frasier Suites
Above Eleven is the perfect rooftop bar in Bangkok if you don't want to spend a fortune on drinks and food. This rooftop restaurant is a mix between the Peruvian and Japanese kitchen. The sashimi and ceviche are fantastic. Besides the tasty food, this terrace is also perfect for a party night.
The best way to enjoy Above Eleven is to book a table for dinner around 8:00 PM and then stay here during the whole evening, as the terrace gets a good party atmosphere at night time. The view over the skyline is amazing. 
Location: 32nd floor at Frasier Suites, a hotel offering comfortable serviced apartments with kitchenette.
The closest BTS Station is Nana. For the exact location scroll down to the map. 
Open from 6PM - 2AM.
---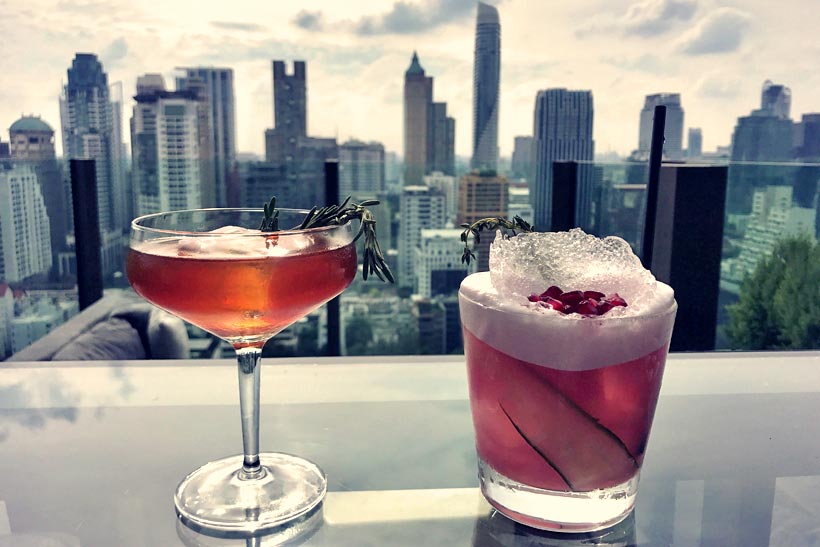 05. Char Rooftop Bar @ Hotel Indigo
Char Rooftop Bar is located on top of Hotel Indigo, right in the middle of Bangkok. It has both a nice rooftop bar and a luxurious rooftop infinity pool. The swimming pool is however only available for the hotel guests.
The bar has a fantastic cocktails list and equally great views of downtown Bangkok. Same goes for the rooftop pool, which is a perfect place to spend an afternoon at if you're looking for relaxation and to swim with a view.
Location: 25th and 26th floor at Hotel Indigo, a stylish 5-star hotel downtown Bangkok.
The closest BTS Station is Phloen Chit. For the exact location scroll down to the map. 
Open from 6PM - midnight.
---
06. Terrace & HI-SO @ SO Sofitel 
Terrace & HI-SO is another cool and trendy rooftop bar, located on top of SO Sofitel Hotel in Bangkok. 
This place has both, a fantastic rooftop pool and a superb bar. The pool is located at the 10th floor, overlooking Lumpini Park with Bangkok's skyline in the backdrop. Keep an eye on their Facebook page, they organise often pool parties, which are loads of fun!
The rooftop bar Terrace & HI-SO is perched on top of the hotel with amazing panoramic views in the same direction. Make sure to book one of the corner sofas for the ultimate rooftop experience.
Location: 29th floor at SO Sofitel Hotel, a trendy 5-star hotel with urban interior designs.
The closest MRT station is Si Lom, or BTS Station Sala Daeng. For the exact location scroll down to the map. 
Open from 5PM - 2AM.
---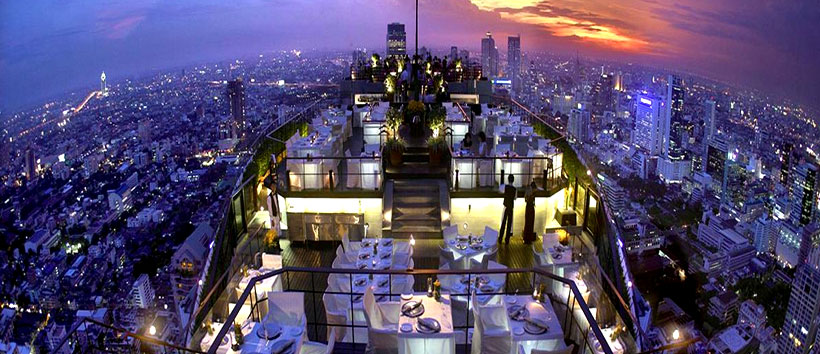 07. Vertigo and Moon Bar @ Banyan Tree
Vertigo and Moon Bar is the perfect rooftop in Bangkok for a fancy dinner. Bring your date or come here with family and friends. The view from the terrace is exceptional. Breathtaking 360-degree views over all of Bangkok.
The restaurant Vertigo serves fancy food in a luxurious environment, while the Moon Bar offers tasty cocktails to amazing views in a pleasant atmosphere. Make sure to book your table in advance and dress for success to blend in among the smart casual dress code.
Location: 61st floor at Banyan Tree Hotel, an elegant 5-star hotel in Bangkok's business district.
The closest BTS Station is Sala Daeng. For the exact location check the map below. 
Open from 5PM - 1AM.
Interested in visiting more rooftop bars in Bangkok? Check out The Rooftop Guide - it collects all the best rooftop bars from all over the world. Happy travels!
More Blog Posts about Thailand
Thank you for reading. If you like this article, please share!
---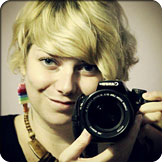 About the Author:
Sabrina Iovino started JustOneWayTicket.com in 2012. She's half German, half Italian and has traveled to 70+ countries around the globe. She feels weird to write about herself in the third person, so she'll switch now. Let's restart:
Hi, I'm Sab! This is my blog and I write about the things I love. Mostly. 
Follow me on  Facebook | Instagram | Pinterest | YouTube | Twitter
---