5 Best Beaches to Stay in Koh Samui, Thailand
Imagine paradise. The warm sun, white sandy beaches, and a sea of turquoise colors – this is Koh Samui in a nut shell. The popular Island in Thailand is every beach lover's paradise, premier choice as a romantic hideaway and a stress buster hot spot for the weary soul. 
Here you get to choose your style of laid back relaxation as each beach has unique sensational features, offering something different – be it heavenly solitude, barefoot luxury, traditional ambiance or a vibrant party atmosphere.
Koh Samui is set off the eastern shores of Thailand, surrounded by waters of Gulf of Thailand. It's the biggest island among the Chumphon Archipelago.
How to get to Koh Samui?
Koh Samui has its own airport and can be easily reached by a one hours flight from Bangkok or Phuket. Flights to Koh Samui are served by Bangkok Airways and Silk Air only, flight prices are rather steep.
A cheaper alternative would be flying into Surat Thani, which is served by plenty low budget airlines, such as AirAsia, Lion Air, Nok Air and Thai Smile. A transfer via bus shuttle and ferry will bring you from Surat Thani to Koh Samui.
Let's get started! Without further ado, here's a brief Koh Samui travel guide to help you with where to go, what to see and where to stay during your vacation in Koh Samui. Enjoy!!
1. Chaweng Beach
Chaweng Beach is set in the northeast of the island, very close to the airport. Chaweng is the largest beach town and the most sought after place among Koh Samui attractions, it is well known for its lively atmosphere and crazy nightlife.
Chaweng is a great choice for people who love to party and those who love to be part of a lively crowd, having ample choice in nightlife, scrumptious dining and shopping. For those who want to cherish the best of both worlds – laid back leisure and stirring party life, look no further: Chaweng is the place for you!
Where to stay in Chaweng Beach
Chaweng Beach offers a wide range of fantastic hotels, from budget friendly to high-end and luxurious. Some popular accommodation in Koh Samui with beachfront location are Poppies Samui, Buri Rasa Village Samui, or Samui Paradise Chaweng Beach Resort & Spa.
If you love the party scene, stay right where the action is happening at Ark Bar Beach Resort. 
2. Lamai Beach
A bit further south of Chaweng Beach you'll reach Lamai Beach – a pretty beach resort town that has a similar vibe to Chaweng Beach, but a little toned down and rather relaxed. The nightlife is a reason why people come to Lamai Beach, although it is much more quiet and less crowded, compare to Chaweng.
Other than its nightlife, there is a lot more to explore in Lamai, the beaches are awesome, the place is just perfect for nature to pamper yourself with clear turquoise waters, white beaches and a lot of sunshine, all year around. Lamai Beach is an ideal choice for budget travelers, with plenty of inexpensive accommodations, plus facilities and activities are rather cheaper here, compare to Chaweng Beach.
Where to stay in Lamai Beach
Some of Lamai's most popular places to stay include Thai House Beach Resort, Crystal Bay Yacht Club, and Lamai Wanta Beach Resort. These are some of the recommended hotels that have the advantage of beach front living and also provide value for money accommodations.
If you want to spoil yourself, the Banyan Tree Samui is the answer for those seeking ultimate luxury. 
3. Bophut Beach
Bophut is located between the Big Buddha and Maenam Beach, and combines traditional living with modern flair. The streets are lined with wooden Thai Chinese shop houses, next to fancy resorts and chic restaurants.
Bophut is a rather calming place. and is one of the reasons why visitors come here to seek relaxation in nature's lap. The beach town is clean and serene, travelers will enjoy its charming ambiance, lush nature, as well as getting to know some locals and learn about their traditional lifestyle. It's a fantastic place to indulge in some local dining experiences in an idyllic setting.
Where to stay in Bophut Beach
Most hotels in Bophut offering fantastic views of the ocean side. Some of Bophuts most popular accommodations are Peace Resort, La Briza Beach Resort and Hansa Samui Resort, you can't go wrong with any of these amazing hotels in Samui!
For a luxury stay, I recommend Vana Belle by A Luxury Collection Resort. This high class resort is the ultimate choice for stylish island living.
4. Maenam Beach
Maenam Beach attracts many travelers with its affordable prices and panoramic views of the neighbor island Koh Phangan. The beach is often visited by backpackers, because it offers great shopping deals, inexpensive dining and accommodation.
Maenam Beach is a beautiful place to relax, eat, enjoy shopping and recreational fun. if you're looking to bask in luxury can also have a great time pampering yourself at one of the swanky resorts and dining restaurants.
Where to stay in Maenam Beach
Maenam offers an array of hotels, right along the beach and sophisticated luxury resorts. Code, Belmond Napasai (good for families), and Khwan Beach resort are some of the highest rated accommodations in that area.
For unparalleled luxury, check in at the Santiburi Beach Resort, or the W Koh Samui.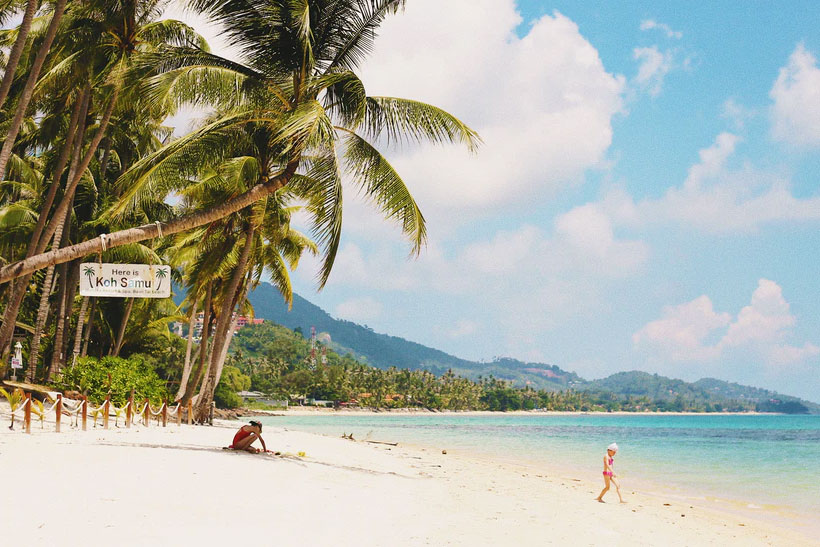 5. Taling Ngam
Taling Ngam is one of Koh Samui's favorite romantic beach spots. A serene place to enjoy a walk on white sandy beaches, dotted with coconut trees and azure waters, with amazing views of the nearby islands in the backdrop. Taling Ngam has a secluded vibe, as it is located away from the main bustling areas in Samui, making it a brilliant choice for honeymooners and couples in love.
Where to stay in Taling Ngam
Since Taling Ngam is a popular spot for honeymooners and lovers, most resorts have secluded settings with idyllic ambiances and scenic views of the sea. InterContinental Koh Samui Resort, The Sunset Beach Resort, Avani+ Samui Resort are perfect choices stays to enjoy in the beauty of Taling Ngam's beaches. 
One of the fanciest resorts in Taling Ngam is the Conrad Koh Samui, which is a dream for couples and will fulfill all your expectations on a luxury resort.
I hope you enjoyed this guide to Koh Samui! It is a perfect place to treat yourself and enjoy some time in a beautiful setting. The beach destination offers its visitors plenty of ways to soothe the soul, melt away stress or to feel alive and spend days filled with adventure and full of life... 
Happy travels!
If you like this article, please share. Thank you!
---
About the Author:
Sabrina Iovino started JustOneWayTicket.com in 2012. She's half German, half Italian and has traveled to 70+ countries around the globe. She feels weird to write about herself in the third person, so she'll switch now. Let's restart:
Hi, I'm Sab! This is my blog and I write about the things I love. Mostly. 
Follow me on Facebook | Instagram | Pinterest | YouTube | Twitter
---