Staying fit while traveling takes determination. These 9 tips will help you to stay focused, maintain your weight, eat healthy and stay in shape while you travel around...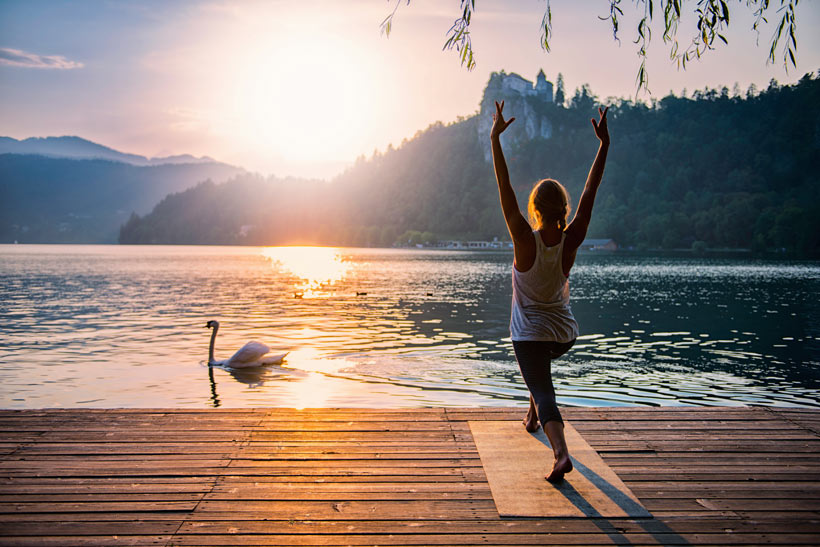 Some links below are affiliate links. At no additional to you, I will earn a commission if you make a purchase.
Reconciling a nomadic lifestyle with staying fit is no easy feat. With jet lag, busy schedules, and so much to see and do, health and fitness isn't always at the forefront of one's mind while traveling. Staying in shape, especially while traveling frequently, takes commitment and a lifestyle adoption rather than a short-lived 'I'm going to get back into shape' burst of determination.
So for the frequent traveler, here is a practical guide on how to stay in shape when you're always traveling or on the go.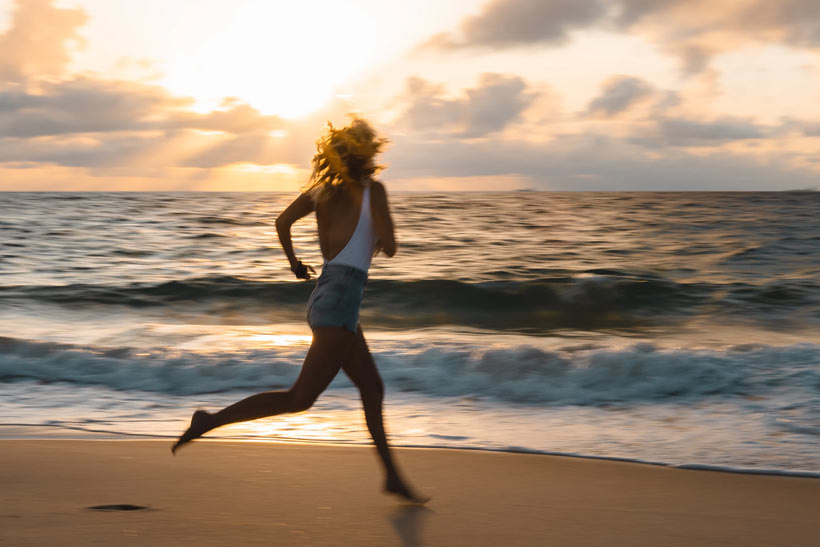 1. Walk whenever possible
It might be easier to park closest to the entrance, take public transport or take the elevator, but it is in your best interest to walk that bit further, plan your schedule with walking time instead, and to take the stairs.
Walking is overall a great way to get know a place and get some healthy movement in. Get one of those fitness watches to make sure you're walking at least 10k steps a day. The MiBand 5 from Xiaomi is a super smart and affordable fitness watch that can do much more than just counting your steps!
2. Pack an exercise band
An exercise band takes up little to no space in your luggage and can really boost a body-weight workout. It can also help improve your flexibility.
3. Always travel with an exercise outfit
Avoid the excuse of 'not being able to workout' simply because you don't have the right clothes. Pack some exercise clothes and you'll be much more inclined to actually use them! You don't have a big budget for fitness apparel? The Shinbene Store on Aliexpress is my go to online shop for buying affordable and quality yoga and fitness clothes (see photo below).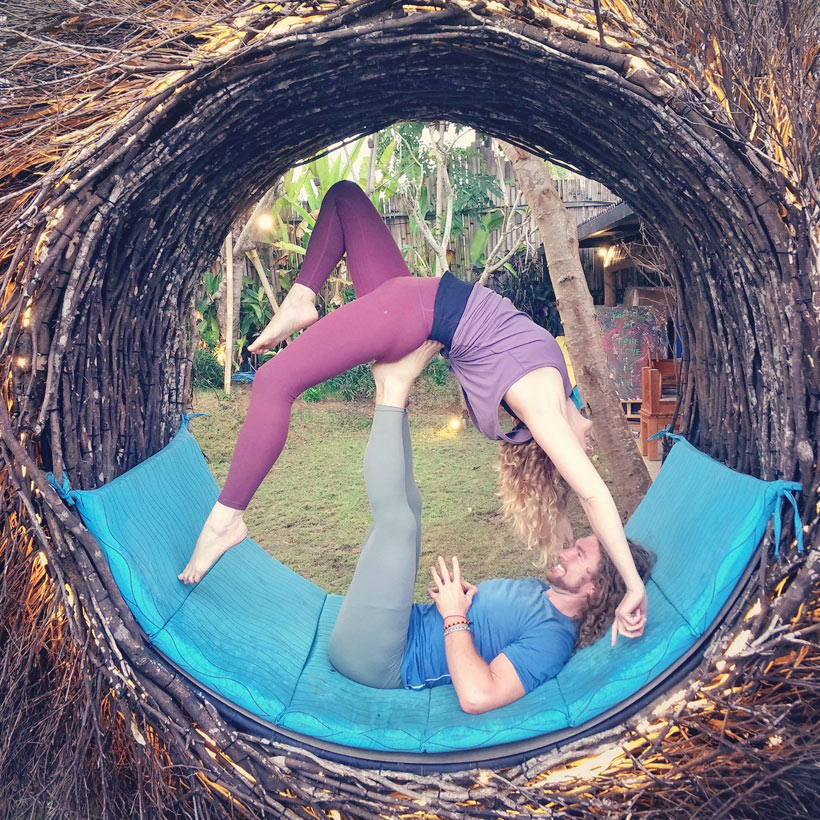 4. Use fitness apps
Writing down your exercise program or tracking your progress by hand can make things a lot more complicated when you are traveling. Fitness apps are convenient and can help bridge that gap, suggesting effective workouts that you can do in the amount of time that you have and helping you track your progress. Some of my favorite apps are Noom, which includes a detailed wellness plan, with food, exercise, and mental health aspects. Another brilliant app is Yoga International which offers a well-rounded yoga and fitness routine you can do on the go. They offer a free 30 day trial, I suggest to check it out!
5. Be creative with your workouts
When you are travelling, it is important to be okay with mixing up your workouts and to not be too picky with how you get a workout in. If you love classes, check out local classes before arriving to your destination. If you know your schedule will be packed, select a couple HIIT workouts you can do from anywhere. If you are out for a lunch and there is a pickup game of basketball, join in! 
6. Commit to healthy eating
Healthy eating is a critical part to staying in shape. Fitness will help you to get leaner, but ultimately you have to make changes to your diet if you want to lose body fat forever. If you want to know how much body fat you carry with you, you can use this handy body fat calculator.
When you travel, it can often be one of the first things to go unfortunately if you don't make an active effort. So upon arrival to your destination, go to a local market or grocery store and pick up some healthy staples. Having fresh fruit and vegetables at your fingertips makes healthy eating a lot easier.
And when you do go out to eat, make the healthiest selection that you can or at the very least, balance a 'cheat' meal with a side salad.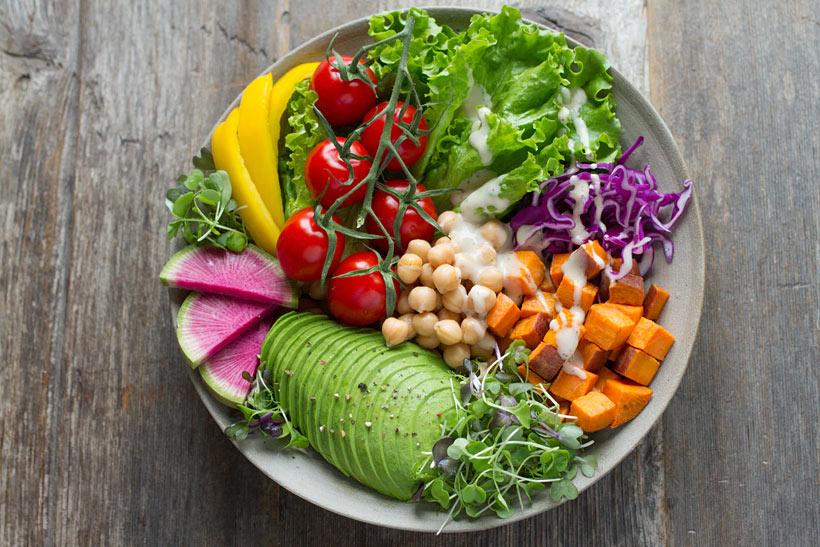 7. Stay hydrated
Traveling is really dehydrating, so you want to replenish your body and keep your hydration levels up throughout your travels. Always have a reusable water bottle with you and fill up while you are on the go!
8. Pack healthy snacks
Healthy snacks make all the difference throughout the day while you are traveling. So pick up and prepare some healthy options for your flight or car travel, and stock up on some healthy snacks once you arrive. Some great options are: fruit and nut mix, oatmeal bars, chopped vegetables and hummus, and celery or apple with almond butter.
9. Keep a positive mindset
At the end of the day, you just want to do the best that you can. There are some days where you may be able to do a 10-minute workout when you wanted to do a 1-hour workout, and that's okay. Traveling requires flexibility, so be patient and understanding with yourself when you may not be able to do everything you wanted to do. Just do your best, and you'll already be well on your way to feeling your best.
Do you have any suggestion or tips for staying in shape? 
Please leave them in the comment section below. Happy travels!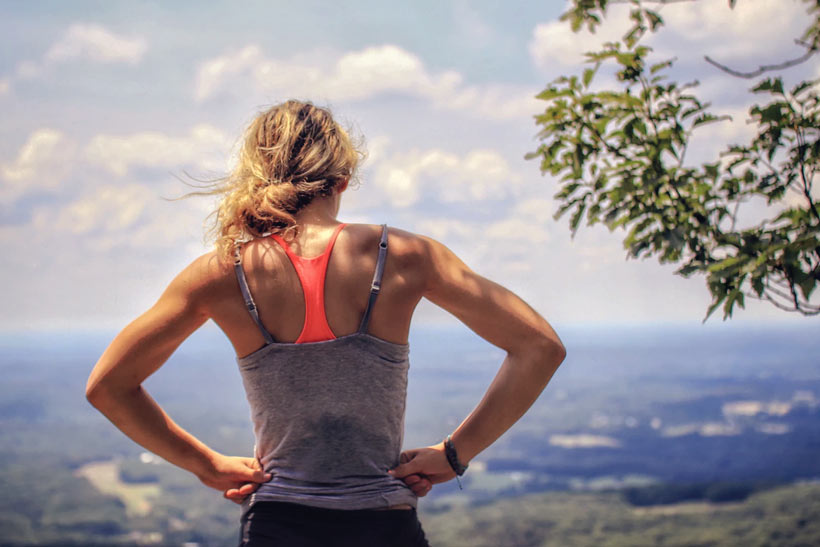 More Blog Posts about Yoga, Fitness, Wellness and Health
Thank you for reading. If you like this article, please share!
---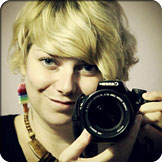 About the Author:
Sabrina Iovino started JustOneWayTicket.com in 2012. She's half German, half Italian and has traveled to 70+ countries around the globe. She feels weird to write about herself in the third person, so she'll switch now. Let's restart:
Hi, I'm Sab! This is my blog and I write about the things I love. Mostly. 
Follow me on Facebook | Instagram | Pinterest | YouTube | Twitter
---